Being a founder isn't easy.
Stress, decision fatigue, liability, and the list goes on. But no matter how hard it gets, there is always a way. Maybe "the way" isn't by doing what you're currently doing. Pivot in order? Nobody can know for sure.
But if you follow the script long enough and put in the work, stay chronically curious about how to iteratively improve, you will (probably) succeed.
Mentorship improves your odds of success
Most successful founders will agree that having an awesome mentor who's been through what you're going through before can make things a lot easier.
Sometimes work can be overwhelming, and it's times like these that it's awesome to have a bit of support from peers that totally understand what we're going through.
I just love this visual.
I am currently in downward slope heading towards that swamp right now, and I can attest to its accuracy. This shit is not easy!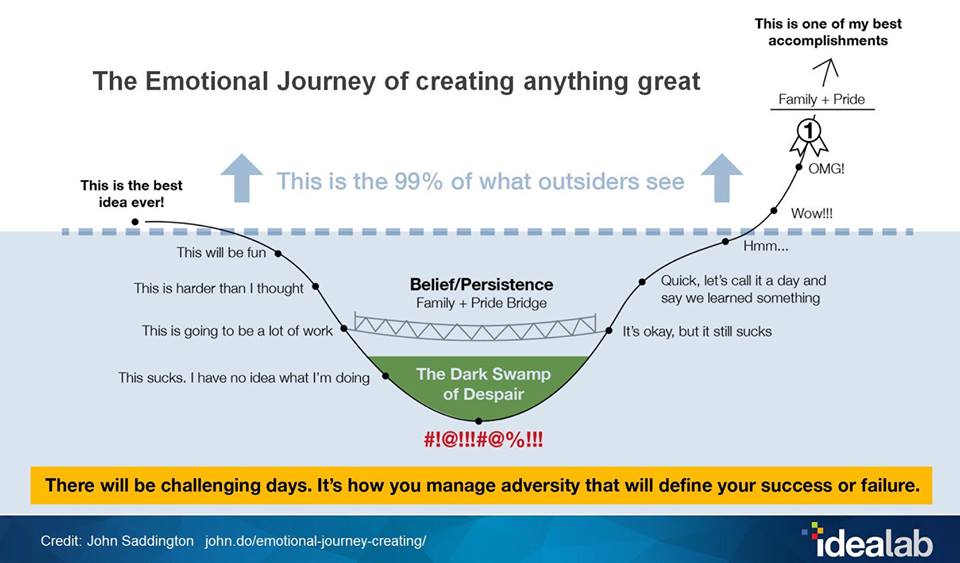 But talking to other founders who have "been there done that" can make this process much more bearable.
Getting mentored by founders isn't easy
It's hard to get mentored by successful founders.
Cutting through the noise and capturing successful founders' attention in today's age of cold emailing and spam is tough.
The successful ones are generally always busy, and the little time they do have left over to mentor peers is usually reserved for people in their close circles.
Introducing a new way to network
We want to revolutionize the way that founders can get access to other qualified founders and benefit from their mentorship and guidance.
At GrowthMentor, we make it super easy to connect with mentors who are also founders. Mentees can now toggle between all growth mentors or just growth mentors that are part of the founder's circle.
Check out that toggle switch below!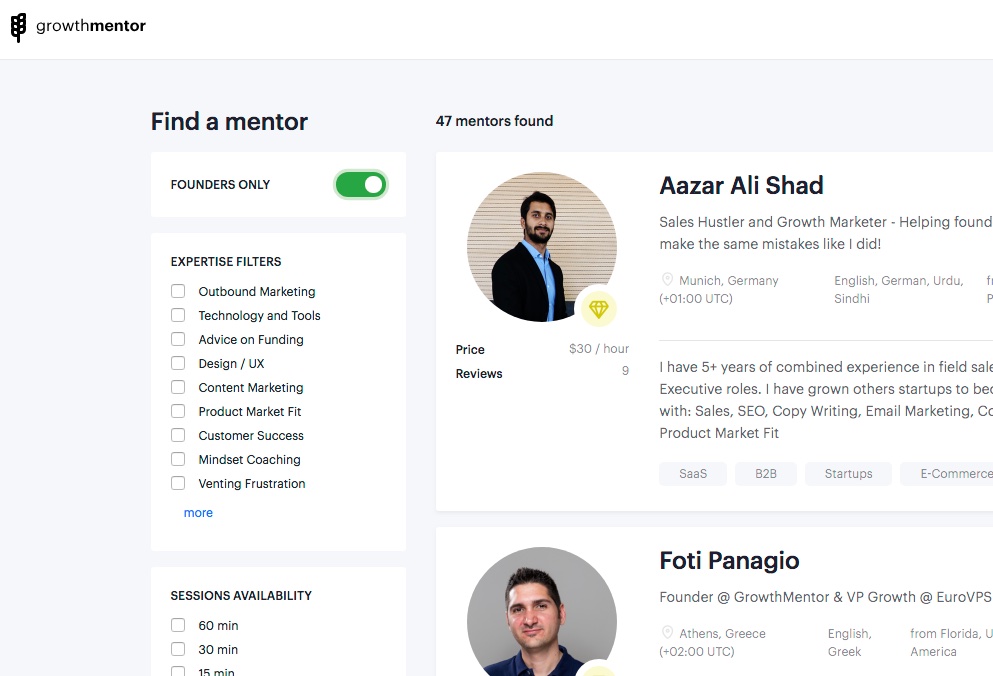 What is the founders circle?
The founder's circle consists of growth mentors that have not only demonstrated exceptional skills in starting and growing a real startup, but also have the soft skills and ethos necessary to be successful as a mentor. These soft skills are carefully vetted by our team.
Just because you're a successful founder, doesn't mean you can be a mentor. Some founders are just plain assholes that can do more harm than good to mentees.
We ruthlessly weed out the jerks.
So besides not being assholes, how do growth mentors qualify for inclusion in the founder's circle?
Their business must employ more than just themselves. (For example, creating a consultancy agency with just yourself consulting for projects, does not fulfill the criteria for joining the founders' circle.)
Their business must have verifiable customer traction and a social media presence that substantiates its existence.
Their business must be in operation for more than one year.
We wanted to make it super easy for our users to be able to quickly spot mentors who've got founder experience which is why we created the founder's circle.
What are the benefits of talking to founders?
Here are just a few use cases for your inspiration.
Get advice on how to go through the process of company incorporation
Ask about how to deal with payroll issues and staffing
Talk about all that boring stuff like hiring accountants and lawyers
Discuss how they dealt with negative PR but somehow survived it
Hear what it feels like to be responsible for an army of people and be inspired
It's these sorts of insights that you can't really get from just talking to consultants or coaches.
And on the topic of coaching…
Mentorship versus Coaching for Founders
If you spend more than 5 minutes per week on LinkedIn and are in the startup / entrepreneurial sphere, you've probably noticed a tsunami wave of self-accredited entrepreneur coaches hitting the newsfeed with force.
Some of them are ex-founders who now want to help new founders. Godspeed to them, I think that's awesome. Founder experience + soft skills of coaching (especially if they're accredited) is a combo that is worth its weight in gold for early stage first-time founders who want a little bit of assistance.
But there are many coaches that target entrepreneurs that have never started a company in their lives. They might be smooth talkers, and great coaches overall, but without real-life experience, it's difficult to make a profound impact that will not only help on an emotional level but also on a practical level e.g. "This is my <insert here startup issue> I have no idea what to do."
If you're going through a sticky situation in your business, it's best to speak with a mentor who's got founder experience, not just a coach who's good at talking and has read a couple of blog posts on entrepreneurship.