What is contextual marketing? 
Contextual marketing is a marketing strategy that incorporates reaching a specific target audience with specific content at a specific time. Leave out any of the three components, and this strategy won't work.
The concept behind context in marketing embodies delivering personalized offers, blog posts, and ads based on the most recent and relevant user interaction with your brand and your product/service. This marketing strategy focuses on creating audience profiles and buyer personas to know which content will be most appropriate for the customer and at what time.
Benefits of contextual marketing  
By 2027 contextual advertising spending is expected to reach $376.2 billion, with it being $178.3 billion in 2021. The reason why spending will more than double is that contextual marketing brings a plethora of positive results.
Increased conversions
The context in marketing plays a crucial role when it comes to conversions. Customers are more likely to enjoy the content based precisely on their most relevant needs, and as a result, it's easier to deliver just the right offer that will convert. Marketing campaigns based on contextual elements take into account location, time, previous purchasing behavior, current engagement, age, workplace, and position — all helping to create a compelling reason to finish the purchase.
Better retention
Personalized material tailored to the interests of your audience boosts overall customer experience. Consequently, users fall in love with the relevant content sent just in time and get attached to your brand that delivers the utmost value to its customers. This leads to longer trust-based relationships with the brand.
Cost reduction
Contextual marketing enables you to detect what works best for your buyer persona and what is a miss. This way you'll be spending money on promoting ads that serve customers' needs and reduce costs on irrelevant marketing campaigns.
Examples of contextual marketing
Johnson and Johnson's strategy can illustrate great contextual marketing examples. The company developed a creative ad for their headache relief pill that appears on e-brokers' websites anytime there is a greater than 100 points drop in the stock market. 
Another contextual ad for this pill was placed near gyms and shops with blood pressure machines reaching audiences with joint pains and high blood pressure when they may feel the need for this medicine the most.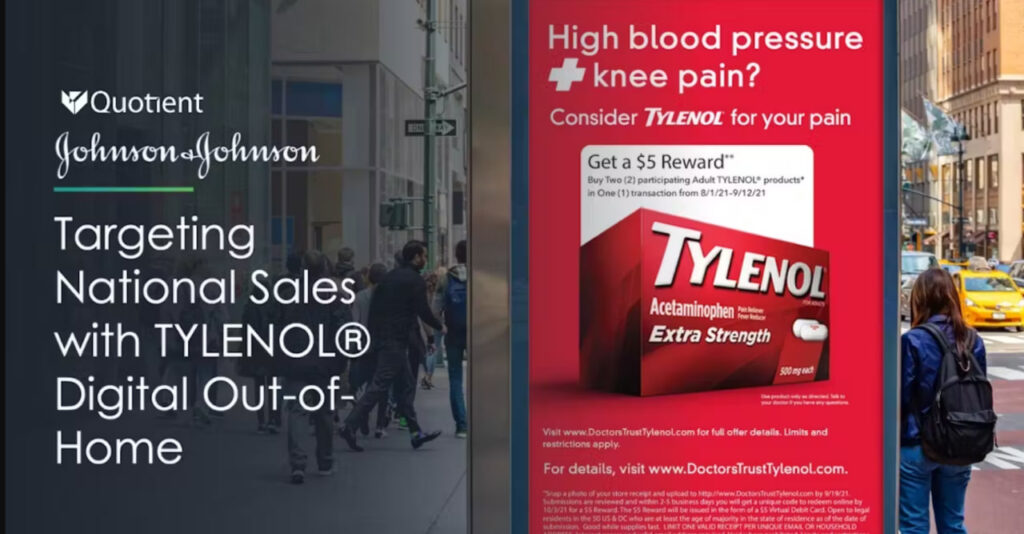 Amazon is another leading brand knowing a thing or two about contextual marketing done right. From meticulous recommendations tailored to customers' needs to perfectly timed email reminders – Amazon knows when to deliver a personalized offer based on the most relevant browse and purchase history. 
For example, to buyers looking for cat toys, Amazon will not only offer an array of toys but will also recommend goods related to this category, like cat food.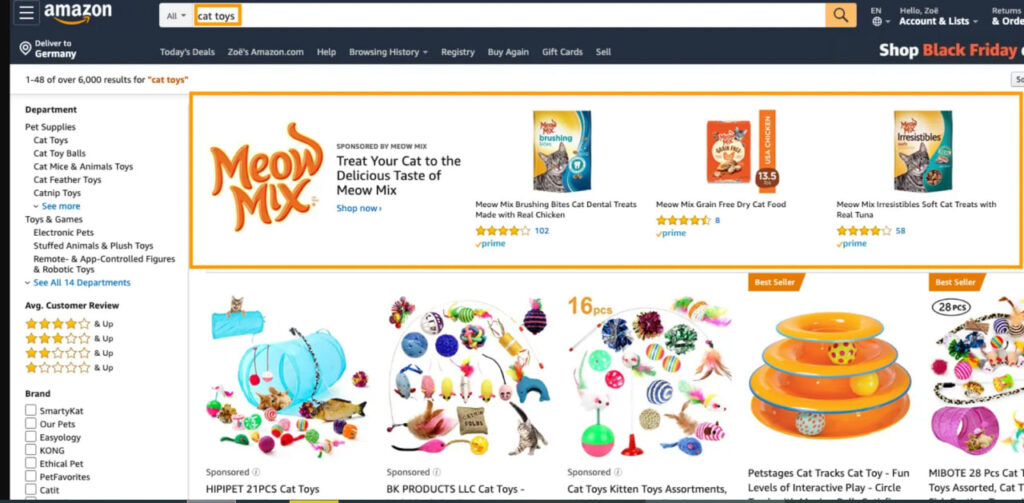 Too Faced Cosmetics is another brand known for its effective contextual marketing. The company uses dynamic emails to target users who abandoned a cart. Thanks to highly personalized offers, such abandonment cart emails increase the open rate by 40%. 
Not only do these emails contain the beauty products the customer abandoned in their cart, but also a convincing discount to motivate them to complete their purchase.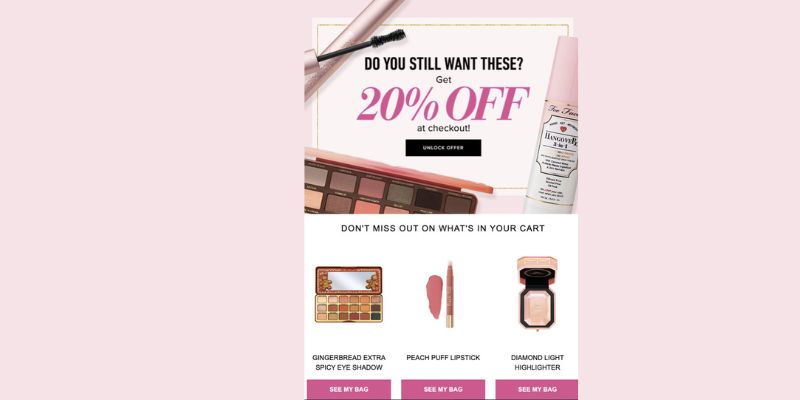 One more contextual marketing example worth mentioning is location-based notifications. Brands use push notifications with relevant content whenever their users are nearby a specific location. These alerts are based on previous purchases, browsing history, and customers' preferences.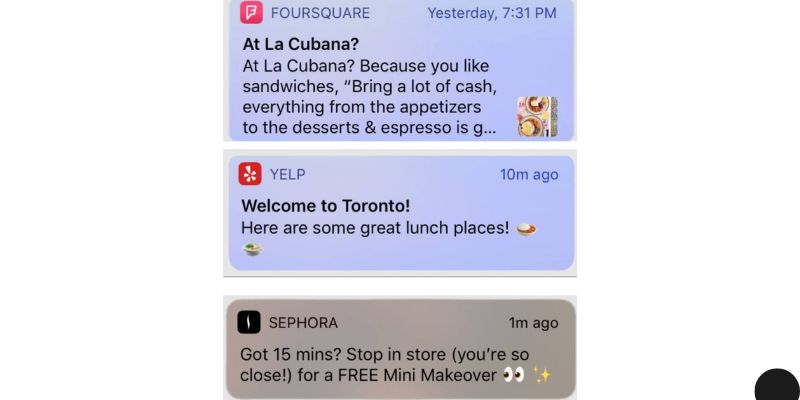 The contextual marketing approach can be applied in various fields. The collaboration between Nike and Colin Kaepernick is one example of using context to boost results in influencer marketing and improve the brand image.
By choosing Kaepernick, known for his activism against racial injustice, Nike tapped into a relevant and controversial topic. The campaign's tagline, "Believe in something. Even if it means sacrificing everything," resonated with socially conscious audiences. Nike's contextual approach successfully aligned its brand with progressive values.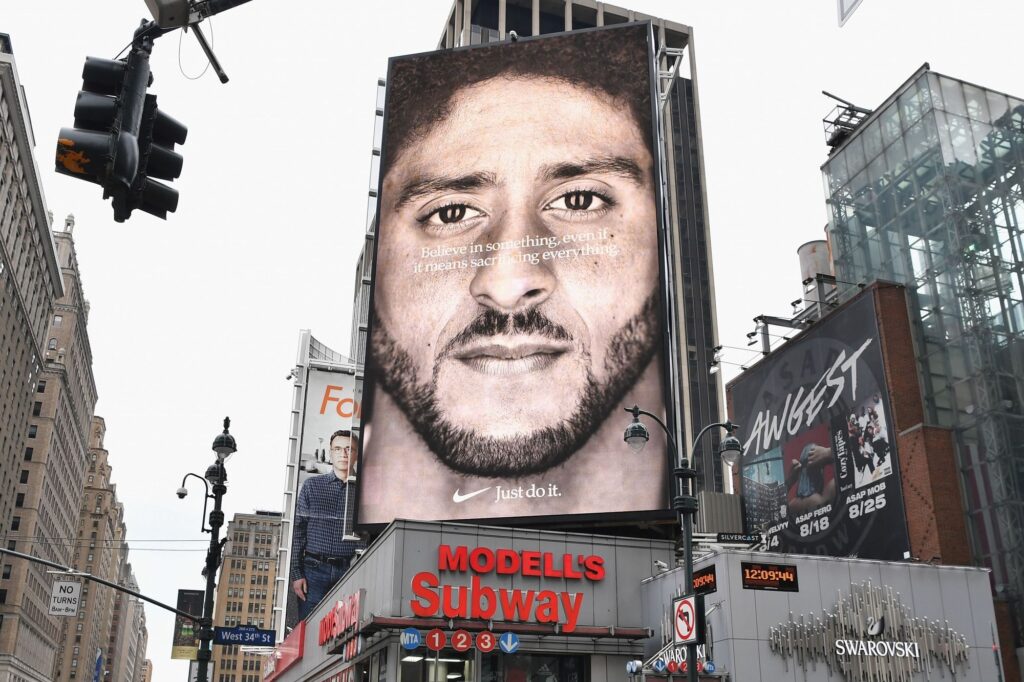 7 Steps to implement contextual marketing
Contextual marketing strategy requires meticulous planning and versatile tactics. Here are a few effective steps you need to consider.
Start with creating buyer personas
A buyer persona is a made-up concept of your ideal customer based on customer research. If you want to deliver a perfectly timed and appropriate message to the right person, first, you need to learn what drives them. Carry out research, examine your existing database, and conduct interviews with your target audience.
Tailor-specific offers on each stage of the buyer's journey
With the knowledge of your ideal customer as well as data about each unique user you can then create specific offers. Whether it's a potential customer visiting your blog page, a returning customer, or a customer who can't make up their mind to finish the purchase — they should see different offers tailored to their specific needs.
You can take advantage of automation and let the users self-select their journey. Guide your users with easy-to-navigate links that will make each journey customized. To make sure your user journey is smooth, it's a good idea to run website audits regularly to check for broken links or orphaned pages that will definitely confuse your website users. 
Leverage contextual marketing through social media
Social media is one of the most prominent contextual marketing examples. With social media advertising your brand may become a friend that is around just when they're needed. In other words, you can easily show the right content to the person who needs it at a particular moment.
Let's say someone is into skiing. They join a Facebook group for skiers. Next thing they know they'll start seeing ads for ski equipment and ski wear. Another example may be a new mom struggling to get her baby to sleep and watching a Youtube video and coming across a Youtube ad for white noise baby toys.
Employ smart CTAs
Smart CTAs are a form of targeted CTA buttons that show a different call-to-action message based on the user's behavior. Smart CTAs take into account the information about leads that is stored in the contact's base, such as the stage in the sales cycle, customer location, type of lead, previous activity, etc. This way, you increase conversion as cold leads won't be pushed too much with some aggressive CTAs, nor will sales-qualified leads (SQLs) be distracted with some blog subscription.
Gather time-relevant data
When you use context in marketing, it's vital to gather insights in real time. This way, you can reach your target audience at the very moment of their specific buying behavior. With time-relevant data, you can send a precise message that will perfectly meet your customer's needs.
Take advantage of various data analytics and conversion rate optimization tools to collect and analyze your marketing data. It is particularly beneficial when you are implementing changes or conducting A/B tests on your website. For example, you can create multiple versions of a webpage or element and measure metrics to see which performs best.
Make the most of smart forms
Just like smart CTAs, smart forms are intelligent page elements that allow you to gather valuable data about your users to offer them customized content. Such forms don't ask a user to fill in their name every single time. Instead, your visitors will be asked different questions like location, company size, or industry, helping to personalize their customer experience.
Develop dynamic email campaigns
For effective contextual marketing, you will also need dynamic emails. Such emails target each user with personalized messaging based on their previous behavior as well as current engagement. In other words, you need to segment a specific audience and deliver relevant offers based on customers' preferences and needs. For example, dynamic emails will protect you from sending a 10% discount on a product to a customer who has just recently bought it.
Send location-based SMS and push notifications
Another effective layer to your contextual marketing strategy could be SMS campaigns and push notifications. You can set up and send well-timed and location-based text messages via a text blast service to deliver personalized content to a broad audience.
Just like emails, SMS campaigns require thoughtful audience segmentation based on customer preferences and engagement history. Timely and personalized messages have the potential to yield high engagement and impressive open rates.
Conclusion
Contextual marketing is a strategy aimed at delivering a relevant message to a specific customer at a given time, place, and context. Contextual marketing approach prevents wasting resources on the wrong types of campaigns and helps to optimize efficiency. By leveraging user data and real-time insights, contextual marketing allows businesses to personalize their messaging and create a more impactful and engaging customer experience.
Frequently Asked Questions
Content marketing relates to the choice of content you deliver to your audience, including blog posts, email offers, newsletters, articles, and ads. Whereas context marketing focuses on scheduling this content and delivering it at specific timing and under specific circumstances.
Contextual segmentation is about separating and targeting a specific audience with specific content using a set of contextual objects like time, location, device, workplace, gender, age, etc. With automated contextual segmentation, one can effectively segment any audience and create a relevant offer to the real-time niche.
As with any strategy, marketing based on context also has potential risks one may run into. Among the most common challenges associated with contextual marketing campaigns are: privacy and security, wrong misinterpretation of contextual information, and technical capacity to quickly provide relevant and engaging information.