We now live in a Customer Experience economy
In a world of rapidly evolving omnichannel marketing and demanding customers, no business can afford to stand still. In fact, the pace of digital disruption, innovation, and increasing customer control means your business is either moving forward or falling behind.
80% of companies believe they are delivering a great customer experience but only 8% of customers believe they are receiving a great Customer Experience. Data shows that the experience gap is widening rather than closing. Customer needs and touchpoint considerations are ever-evolving. What was correct last year might not be the priority now.
The fact that Customer Experience is essential for a successful market position has been accepted by a large number of companies. Numerous studies in recent years have proven this: As early as 2016, almost 90% of the top 500 companies surveyed (according to Forbes) assumed that improving the Customer Experience was essential for future entrepreneurial success and an improved brand reputation. 80% of companies also assumed in aGartner survey of 2018 that they would mainly compete on the basis of the Customer Experience in the future.
But not only companies seem to regard the Customer Experience as the Holy Grail. Customers also regard it as essential for their purchasing. In a PwC study, for example, 54% of the participants stated that they would not come back a second time after bad customer experience. Approximately 32% of customers are prepared to say goodbye to a beloved brand as a whole, even in the case of a single very bad experience.
What is Customer Experience?
In summary, CX is not transactional — it's relational
CX puts you in the shoes of your customer. It is the sum of ALL of the customers' activities in pursuit of solving a problem, including interactions with a brand and its offerings.
In CX we consider and analyse the combined interactions a person has with your brand and others when they are on a mission to solve a problem. We start with the person and their goal/mission. We study the buyer journey a person goes on, mapping each and every interaction they have, what they are experiencing and how they are feeling.
That journey doesn't just refer to marketing, it includes everything pre, sale and post that they experience whilst on their mission.
Successful Customer Experience is about showing up for the customer when and where they need you, with ease and consistency on their part.
CX gives you a competitive differentiator
Many growth marketers focus on tools and strategies designed to bring customers through doors and onto websites. Only a few, however, realise that an integral part of sustaining growth is avoiding the churn of existing customers.
Many organisations understand that Customer Experience (CX) is important for retention and brand affinity. But, when it comes to investing in tools and services to do this, many businesses fail to see the long-term ROI that CX technology and strategy can deliver — even though the evidence is apparent:
Increasing customer retention rates by 5% increases profits anywhere from 25% to 95%. (Bain & Company, Prescription for cutting costs)
86% of consumers are willing to pay more for better customer experience. (Walker Customers 2020: A Progress Report)
It costs 6 times more to attract a new customer than it does to keep an old one. (TARP)
68% of customers stop shopping with a brand because of an attitude of indifference towards the customer. (TARP)
Understanding your customer experience has an impact on your bottom line by, "achieving revenue gains of 5% – 10% and reducing costs by 15% – 25% within two or three years". (McKinsey)
In the digital marketplace, customers are even more demanding than ever before. Over 50% of customers say they've switched companies solely because of poor user experience. (Clicktale Digital CX Report 2019)
Companies with the strongest omnichannel customer engagement strategies enjoy a10% Y-O-Y growth, a 10% increase in average order value, and a25% increase in close rates. (Adobe & E-Consultancy, Total Economic Impact Study 2020).
As you can see, Customer Experience is an essential component of growth hacking and can be the difference between increasing year-over-year profits and underperformance. The good news is that it doesn't matter what kind of business you're in – improving the experience for your customers has been proven (time and time again) toincrease retention, satisfaction and revenue.
How to become CX orientated
Business leaders should ask themselves if their company is truly set up to effectively manage the Customer Experience. Unfortunately, more often than not, the answer is no, as companies maintain a traditional organisational structure.
Customer Experience is all about listening to your customers and basing many of your business decisions on the feedback collected. While there are many components of Customer Experience, managing the 5 things listed below can kick-start your customer-focused growth efforts.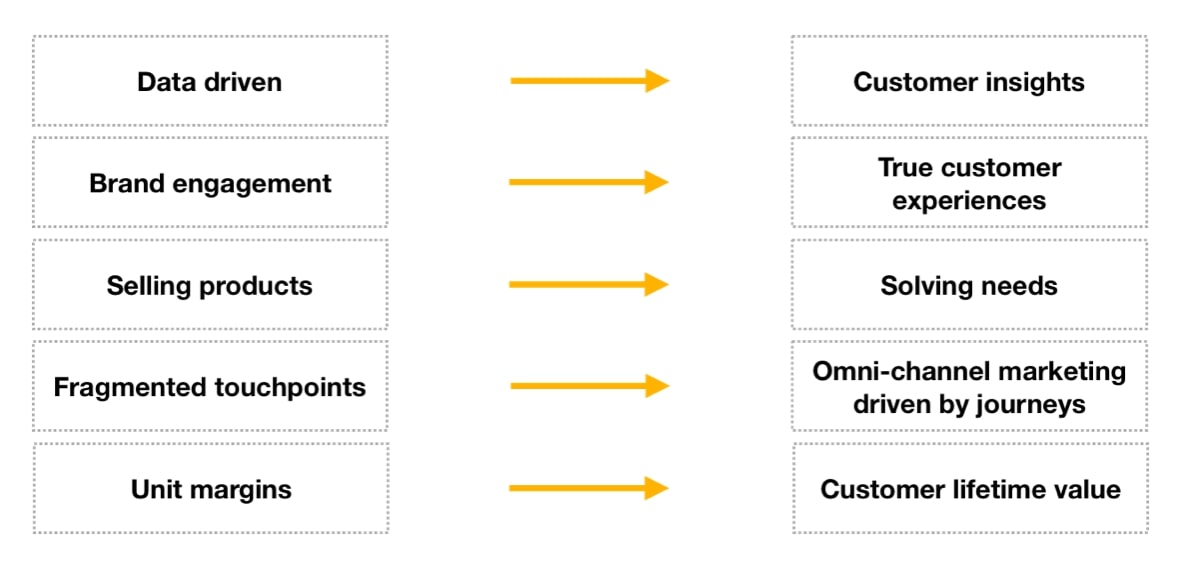 FAQ's
Before we dive into the process of CX it's probably best if we deal with some of the initial questions and common confusion around CX.
Question 1- Is CX the same as digital transformation?
No, CX is not the same as digital transformation and it is not part of digital transformation. CX is how companies go to the market and engage people over the entire course of the relationship. Human insight is the most important piece in the customer experience. Digital transformation is the process of redesigning IT architectures and business operations to reinvent customer and business processes. In other words, digital transformation isn't the driver, it's a vehicle. Digital Transformation is a tool of CX, not the other way around.
Question 2- Is CX the same as UX?
Both CX and UX teams are responsible for taking the customers' point of view to improve the success of a business. UX refers to the digital experience of a user with applications, devices, or processes. CX focus on process and service design more than product design and delivery.
In other words, UX focuses on the end-user, that is, the person using the product or service, whereas CX concentrates on the customer. Often customers are using the product or service too, but they may be buying it on someone else's behalf. UX is a very important tool and specialism within CX.
Question 3 – How would you describe a great Customer Experience?
To sum it up, customers want to achieve a goal when interacting with you. If they achieve this goal with minimum effort and feel like a human interacting with another human, you have succeeded.
If you make the experience:
Empathetic to their needs
Frictionless and seamless
Intuitive
Personalised
Person to person
Then you will succeed.
Question 4 – How can we make CX measurements actionable?
To measure CX you need a framework that tells you not only how good your customers' experiences are but also how to improve CX and what benefits to expect from doing so.
The thing is, making CX measurement actionable isn't a mystery. It's just difficult. Its a combination of Net Promoter Score (NPS), Customer Satisfaction Score (CSAT), Customer Effort Score (CES) Voice of the Consumer (VOC), Customer Opinion, Customer Churn Rate, Retention Rate, First Response Time, Average Handling Time and Customer Lifetime Value.
It requires teams to track and analyse what happens when customers interact with their brand, how customers perceive those interactions, and what customers do as a result. Conducting a CSAT survey may help you with this task.
Question 5 – How do you deliver an omnichannel experience?
*Omnichannel is a cross-channel content strategy.
The reality is, customers expect an omnichannel experience. The challenge is that the ability to meet these expectations is really hard. It requires an integrated approach across the whole business to design and delivery across a myriad of customer-facing systems, processes and functions.
To succeed the answer lies in all the departments coming together to collaborate on developing customer journeys and transition points. Companies use this to improve their user experience and drive better relationships with their audience across points of contact.
The process
To improve customer experience, you need to move from touchpoints to journeys.
You need to stop thinking offline and online, shopper and consumer. People, as in your potential customers, don't think in the way that we have segmented marketing and our businesses. They think about themselves and what they want to achieve and how they are going to achieve this.
So how do we do it?
Phase one: Understanding your customer & market
Where we will bring together research and challenge assumptions.
In this phase, we use insights (market, business & consumer) to help us understand who your key customers are. What they need and expect, how you can deliver against their expectations. As well as understanding your position in the market.
Outputs include:
Audits
Segmentation Models
Personas
Phase two: Addressing the experience gap
In this phase, we map out your customer's pain points to close the gaps between expectations and the current experience. This will provide us with the sweet spots to focus our efforts for optimal results. We need to ensure we integrate customer measures into your business KPI's.
Outputs include:
Journey Maps
Experience Architectures
Strategy Maps
Priority Backlogs
Phase three: Transforming your business to be customer committed
Working through your Priority Backlog to create disruption in your marketplace, putting customers at the heart of your organisation and driving valuable results back to the business.
Outputs include:
Internal training
Channel strategies
Marketing campaigns
Innovation sprints
Phase one
To truly understand what makes your audience tick, how to speak to them, and how to win them over, creating Buyer Personas is vital. If you have a deep understanding of what your consumer is looking for, what satisfies them and what they value, you have a chance of turning their interest intotrue brand loyalty.
Example of a Segmentation Model: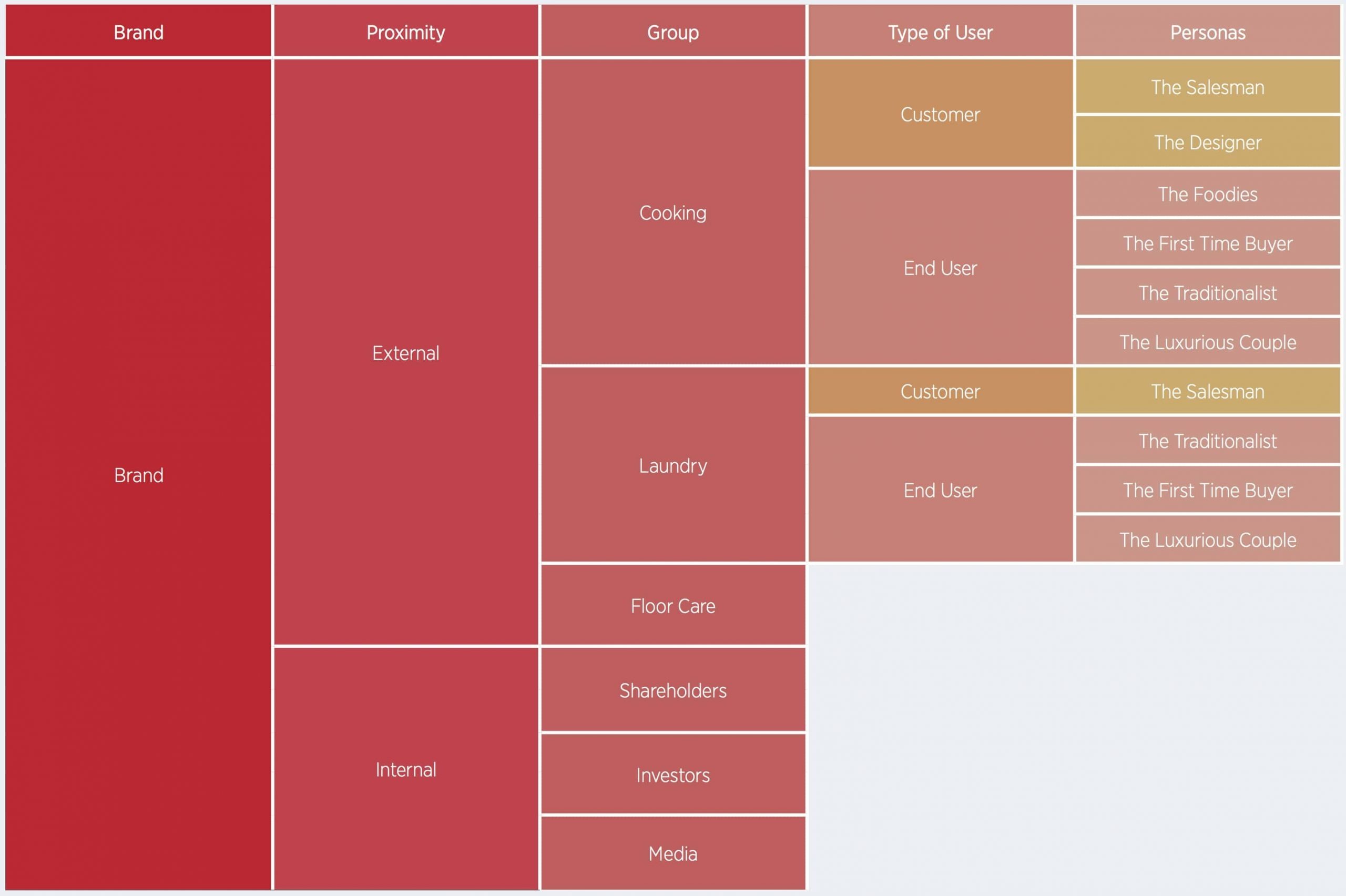 Example Personas: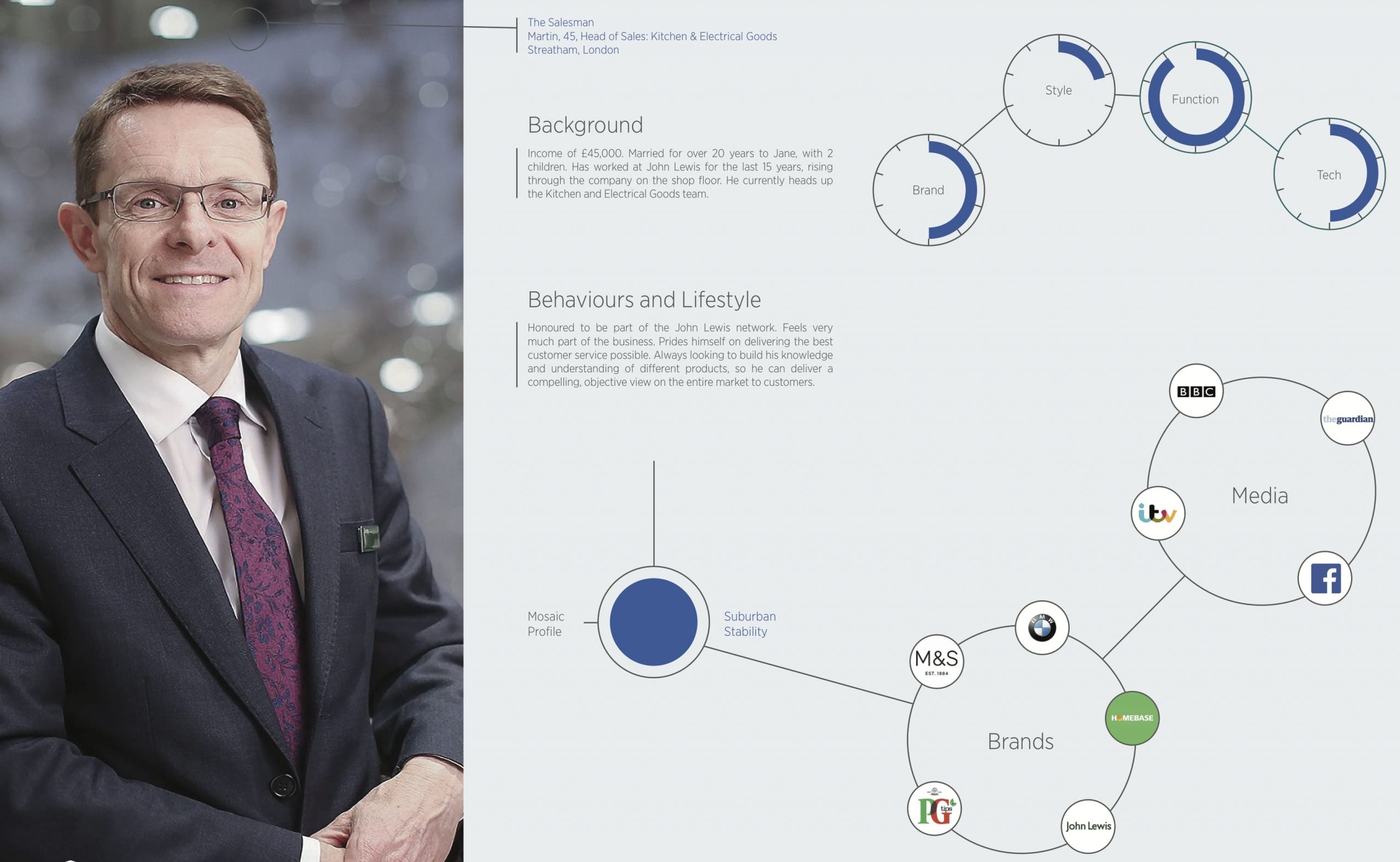 Personas are fictional archetypes that represent a company's target customers. When creating them, you want your Personas to be as realistic as possible. And the only way to achieve that is to learn as much as you can about the people you want to interact with.
The bedrock of Personas is research.
First, start off with some basic biographical information.
Next, you'll want to define their goals.
Then, it's good to clearly define the persona's frustrations or pain points.
Phase two
Journey Mapping highlights where you are delivering an exceptional experience, building loyalty and advocacy. And where you're delivering a poor experience, driving your customers to competitors.
That means you go step by step by step to depict the journey, to capture the customer's story of the experience, to depict the timeline of steps they took to go from point a to point b.
Example Journey Mapping per Persona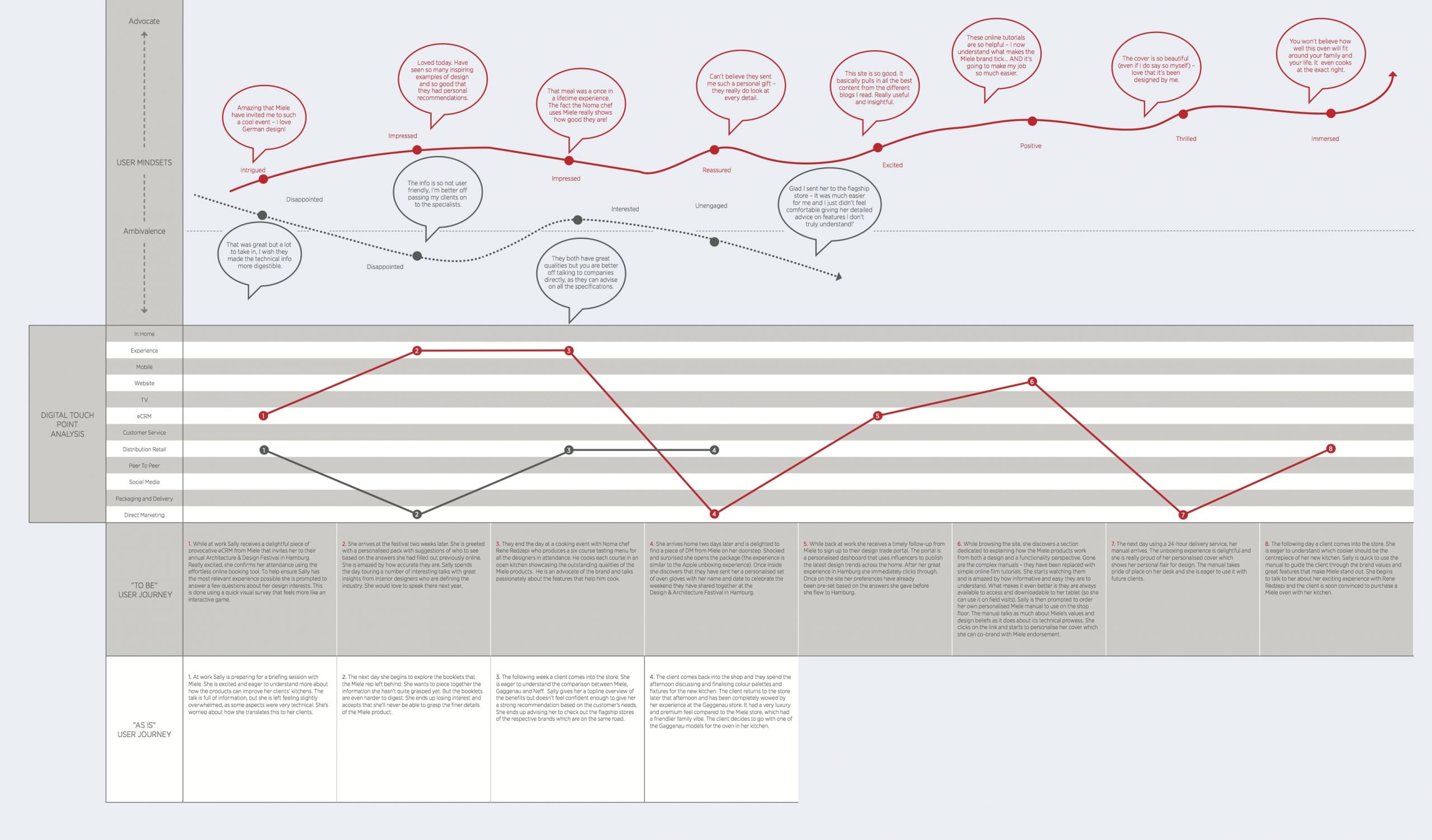 Approximately 70% of the time we develop Journey Maps. When we need to do rapid disruption in the marketplace we develop Experience Architecture Maps instead.
For CX Journey Maps we visualise the process a Persona goes through in order to accomplish a goal. Understanding what the Persona is doing, thinking, and feeling throughout the experience.
For Journey Mapping you need to:
View things from the customer's perspective
Capture any kind of detail about the experience
Able to tell where things go right or wrong
Understand what the customer is doing, thinking, and feeling throughout the experience
Able to develop the corresponding service plan to fix what's happening to support the experience
For CX Experience Architecture we take it a step further and are able to develop the corresponding service plan to fix what's happening to support the experience.
For Experience Architecture Mapping you need to have:
Journey Mapping
The user mindset
Emotional curve
The phasing
How we are going to inspire
How are we going to satisfy
Related: Learn more about onboarding
We take the insights from the Personas & Journeys and carry out a deep dive to develop insights and guiding principles. At this stage, we bring together the insights unearthed in phase one and phase two. Through these analyses, we will understand the experience gap and what needs to be done across the various touchpoints and lanes.
The output is a Strategy Map. This is our master blueprint. It is the most important aspect to get complete buy-in, as this shapes the marketing, products and services.
Strategy Map:
It summarises all the Lanes – Brand, Paid Media, Social, CRM, product development.
Summary of insights learned – what we know from the Personas and Journey Mapping
The ambition to achieve the future state
The diagnosis – what is the current core issue
Our guiding principles – our mantra for this lane
Our action plan across time – what we will do
KPI – what metrics we will track
KPI – what metrics we will track
Example Strategy Map: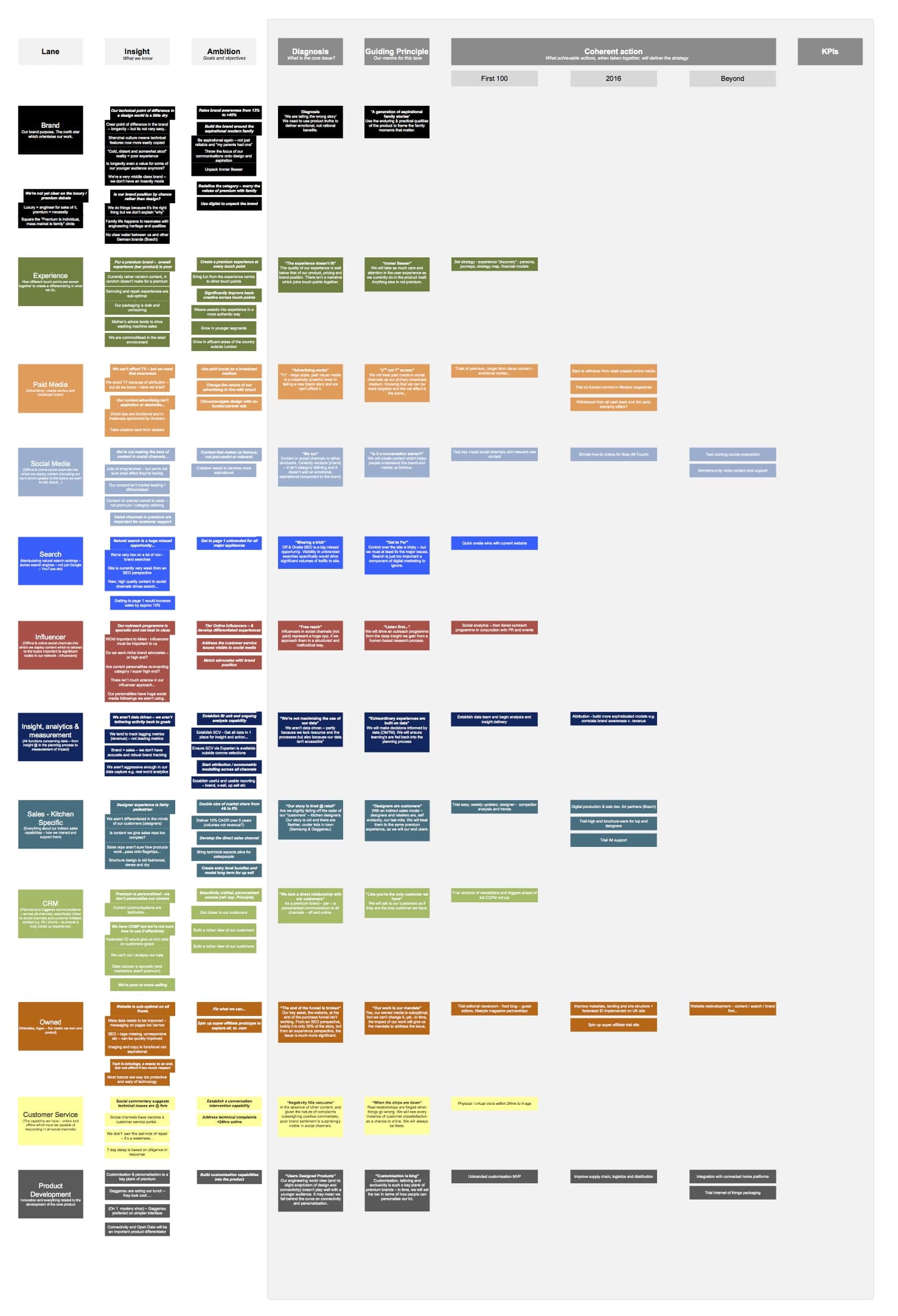 Once we are aligned on the Strategy Map we develop the Priority Backlog. This encompasses products, services, comms & marketing that we need to develop to achieve the Future State Journey's and ambitions spelled out in the Strategy Map.
We start with the hypothesis of "because", "who", "what".
Each line item on the backlog is rated in priority and we divide into squads and carry out sprints.
For example:
Because … it's difficult to find the stuff you really want on conventional e-commerce platforms.
Who.. every one of the personas
What…. value a service, which does the curating heavy lifting and suggests a small number of options on demand.
Phase three
CX is action-orientated. It doesn't live in a presentation but in the action plans and moments of interaction. It is always in a state of optimisation. Now you need to ensure your business becomes CX obsessed and uses your Personas, maps and backlog to guide each and every action and decision.
At this stage we have the blueprints and action plans, now we need to bring it to life. Working through your Priority Backlog to create disruption in your marketplace, putting customers at the heart of your organisation, and driving valuable results back to the business.
Shaping:
Internal comms – after all your staff are also your customers
Call center experiences
Staff development
Innovation plans – product development
Marketing strategies
Channel strategies
Campaigns & comms
In summary
Ultimately, becoming a customer experience business ensures that a large part of your growth marketing efforts is predicated by the needs of your customers. This helps define many business strategies and can make deciding where to invest resources easy and effective.
Ready to start growing?
It's time to choose a customer experience program that works for you and, more importantly, your customers.
Remember it is not data that drives CX but the insights from that data.