Six months ago I joined a company called HelpCrunch, which builds a customer communication software for SaaS, E-commerce and other online businesses.
Our main competitor
30x more employees
40x more traffic
So how can we compete with such a well-established company that has that many more resources?
Turns out, it's as easy as 1-2-3 (on paper)
Don't focus on your flaws
Put 10x emphasis on your advantages
Tell the world (and especially your competitors' users) about them
Figure out what your competitors' customers are complaining about the most, and make sure they know what benefits they can get if they switch from the competitor's solution to yours.
From there, it's easy to convert them – you just need to have a great product (but that's the easy part, right?)
Which channels and tactics should you invest time and effort into if you want to acquire your SaaS competitors' users?
There are two things you need to focus on:
The Right content: Produce content that will speak right to the pain points of your competitors' switchers;
The Right channel: Become 'findable' with the right content on all channels your potential competitors' switchers hang out on.
We've already tested around 20 different customer acquisition techniques, from the ones focused on immediate gains to long-term activities that bring results with time, from Product Hunt launches and cold outreach to Capterra PPC and Content marketing.
Only about ⅓ of them worked to some extent, but we were able to grow our MRR 3x in just 3 months.
As I'm sure you know, there's no secret acquisition recipe that will work for every SaaS company – you have to put different ones to the test to figure out what works best for you. I'll share our experience and experimentation process to help you acquire your competitors' existing and potential customers.
Strategies to steal your competitors users
Produce decision-stage content
Content is still king in 2019, no doubts, and you need to start your content marketing efforts with producing decision-stage content.
What is the decision stage?
Decision-stage is the phase after a prospect:
has understood the problem he/she is having (awareness stage)
decided on the solution category needed to solve the problem (consideration stage)
is now choosing between different vendors to pick the most suitable solution for his/her needs
Why decision-stage content?
If you're a relatively small or young player in an already saturated market, chances are you're not the first choice on people's minds when they think about your solution category. But when people are not happy with a current solution to their problems they start looking for alternatives. That's where you need to be, with open arms and with your advantages clearly explained.
In other words, decision-stage content is competitor-based content. Rather than going all the way back to the basics and educating your customer on how to solve their problem, concentrate on becoming visible to customers at the end of the funnel with the right content.
By focusing on producing decision-stage SEO-optimized content first you're putting yourself in a position to take the first decent bite of the market much faster.
Consider the production of decision-stage content your foundation for all other activities and channels.
Decision-stage content types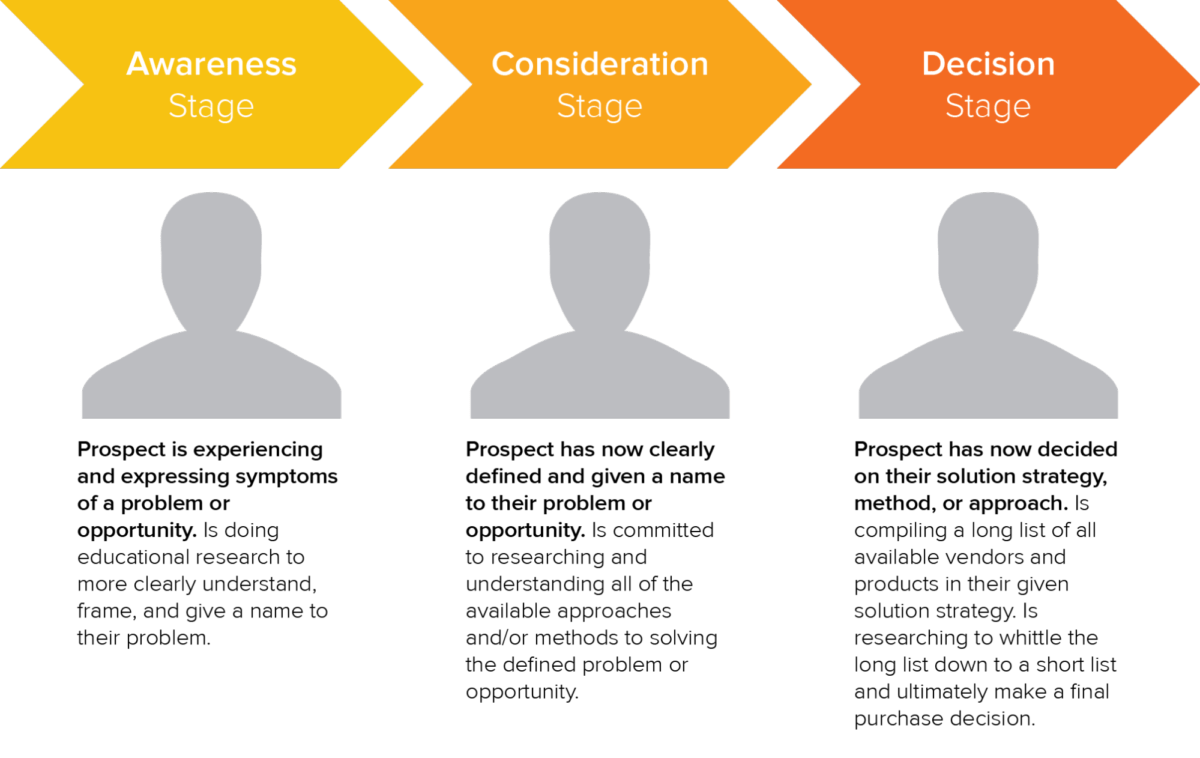 Articles
Landing pages
Experiment with those two types of content first and you'll figure out what speaks to and converts your audience best.
Distribute content to relevant communities
Your content needs to be in front of your audience's eyes as often as possible. Figure out where your audience usually hangs out and distribute the relevant content there. Establish a process where every piece of content you produce (especially decision-stage material) gets distributed to a number of third-party content platforms.
Quora
Quora has been one of the best quality sources of leads for our company.
This channel is a fantastic opportunity for almost any SaaS as the questions there tend to rank high on Google. That's due to the site's high authority and ever updating user-generated content, i.e. questions & answers.
If you've never tried Quora, I recommend beginning by answering the most relevant decision-stage questions (alternatives to Competitor X/Y/Z) with a high amount of followers.
Later on, you can go a bit down the funnel answering consideration-stage (category-based) questions that follow a pattern like Best/Free [your SaaS category], e.g. live chat software, best customer feedback tool, free cold email chrome extension.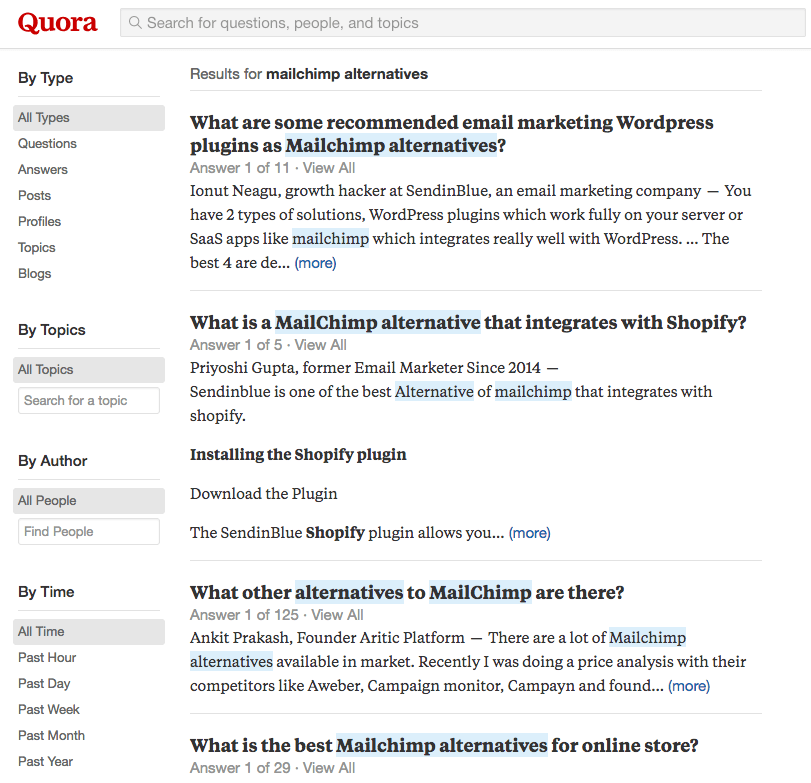 Indiehackers
Indiehackers is an excellent platform for marketing free and low-price SaaS products.
It's great for distributing your content quickly and getting a decent amount of engagement and traffic.
One simple post that took 5 minutes to write resulted in 100 upvotes, 32 comments, 1130 views, 250 new visitors to our blog, 5 new product signups, and 1 new paying customer.
Facebook groups
It's important to not just enter a new group on Facebook, post your comparison landing page (even if it's a piece of art) and sit waiting for sign ups.
Be a valuable contributor to that group, engage with other people's posts, be genuine and helpful. That will help you get more exposure to your content when the time comes.
Other content distribution platforms include:
Medium
Reddit
GrowthHackers
Viral Content Bee
Zest
SaaS Invaders
Hackernews
Run PPC
It makes sense for any SaaS to at least test-run paid traffic. Run, optimize and see if the unit economics makes sense for your organization. And you guessed it, you should promote your decision-stage content in your ads.
Google Ads
When you're just starting to market your SaaS, getting to the top relying on SEO alone is not really an option, so consider SEM.
Running campaigns on 'competitor-based' keywords is going to drive quick results for your company.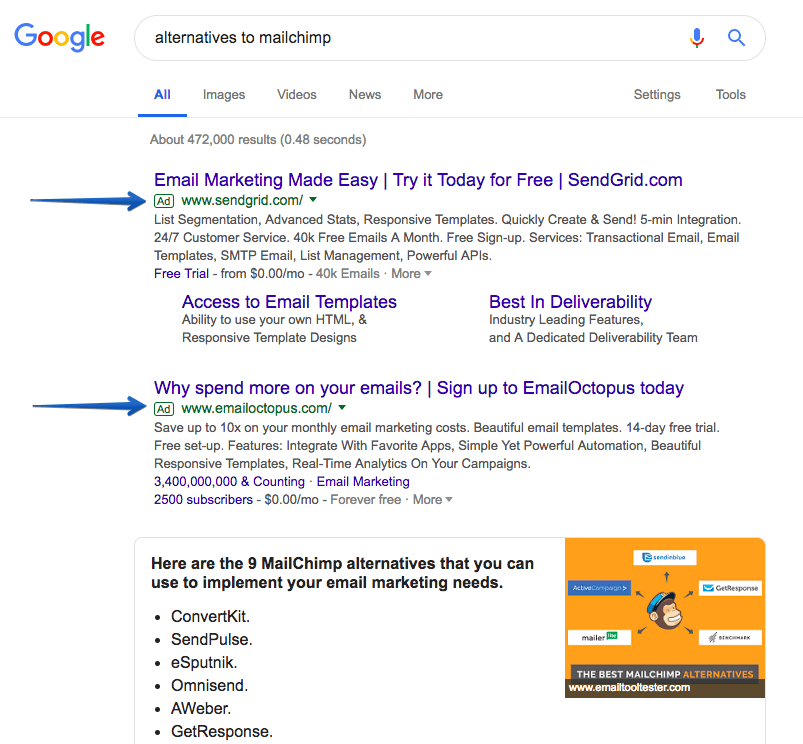 Facebook Ads
Again, if your competitors are established market players, they may appear as Facebook Interests audience. Run Facebook ads based on those.
Also, take a look at Facebook group audiences – you might find competitor groups there as well.

Capterra PPC
Capterra is a software reviews platform. Having a lot of reviews there helps you to build trust towards your product and bring you leads.
Additionally, you can run ads on Capterra to get your product featured in a respective category and substantially increase the number of leads.
By testing and tuning country bids on Capterra, we managed to go from over $400 in customer acquisition costs to just a bit over $100 in a few months which makes economic sense for us.
Run, test, and optimize your campaigns every 2 weeks to find the most optimal point of ROI.
Combine outbound and inbound campaigns
It's ideal to employ both inbound and outbound tactics in your marketing strategy to open up the most channels where your competitor's users can spot you.
It's highly important to target the right prospects in your cold outreach as outbound typically takes more resources (especially time) to do everything right.
Also, remember when we talked about making your competitor's users to see your product everywhere? That's right, we're not going to just send them an outreach cold email, but also engage with them on LinkedIn and Facebook to create an omni-channel effect.
We'll go over the step-by-step process to find your competitors' users and reach them fast.
Find competitors' users
Go to Publicwww (it's free) and insert a piece of a competitor's code.
Download the output, which is a CSV list of all the websites that have the competitor's code installed.
Note: You can also use Publicwww alternatives such as BuiltWith or Snovio's Technology checker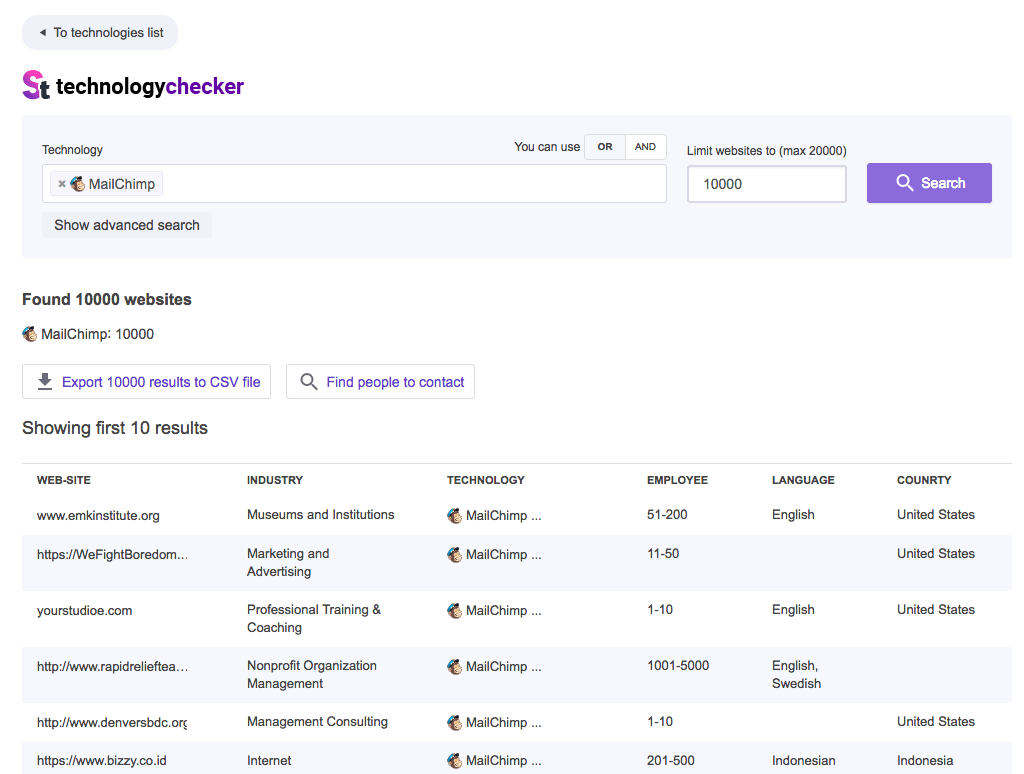 If your software does not need to be installed on a user's website, you can also check which companies use your competitor's product on Siftery. You can also find competitors' users on review platforms such as Capterra and G2Crowd. From there, you can easily scrape the data you need (first name, last name, company name) from a certain page with a tool like Data Miner.
Find competitors' users' email addresses, names, and titles
Use a tool like Find That Lead and it's bulk Domain search feature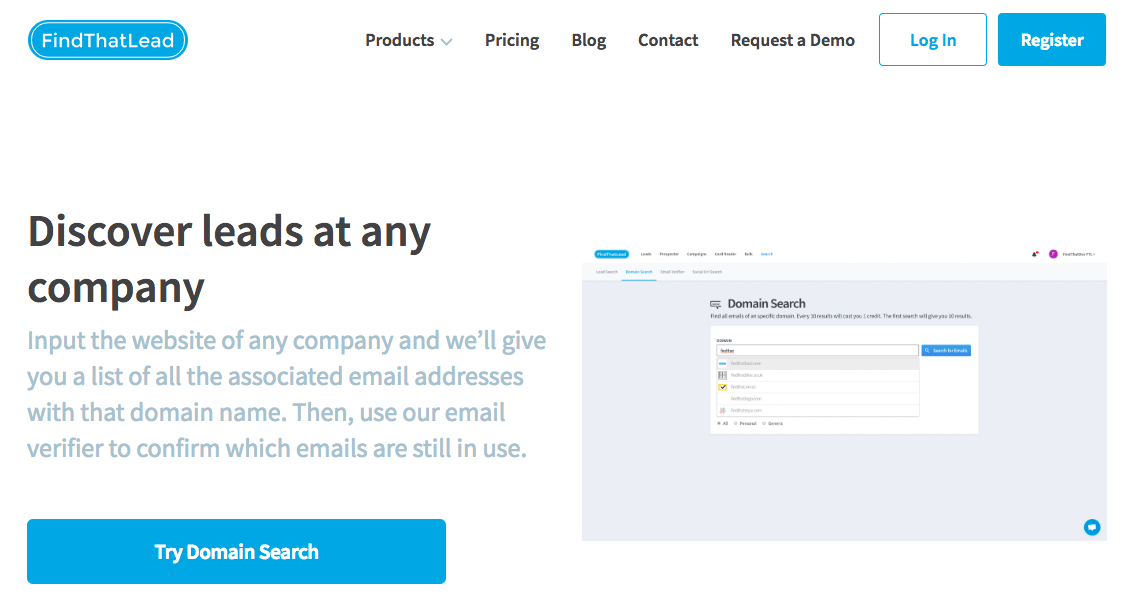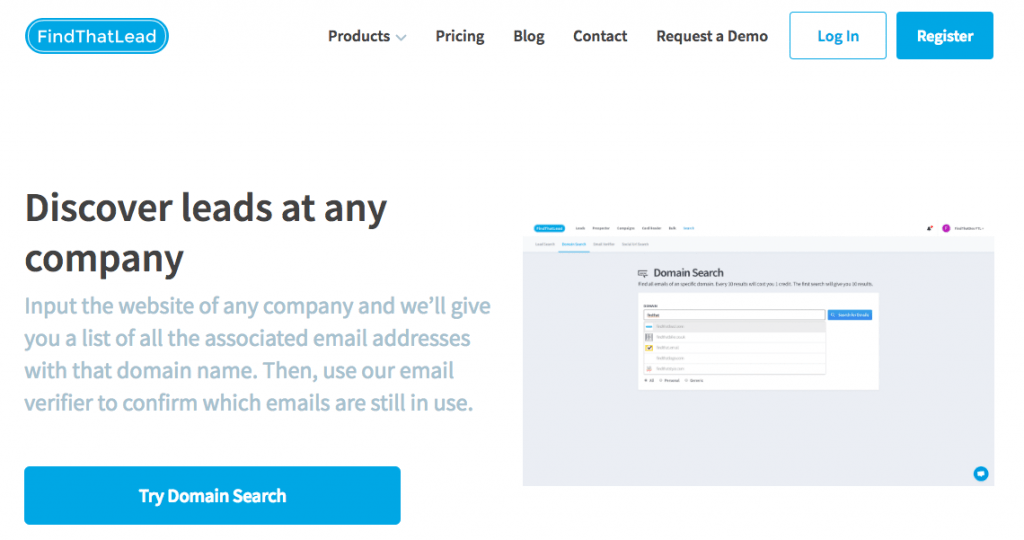 Upload your CSV list with the websites that have your competitor's code installed
Get output CSV with 10 contacts per website domain (names, titles, and emails)
Clean up the data and leave only the decision-making titles that you're targeting.
Your list will end up looking something like this:


Note: You can also use Find That Lead alternatives such as Snovio or Hunter to find email addresses.
Find competitors' users' LinkedIn profiles
Use Phantombuster's LinkedIn Profile URL finder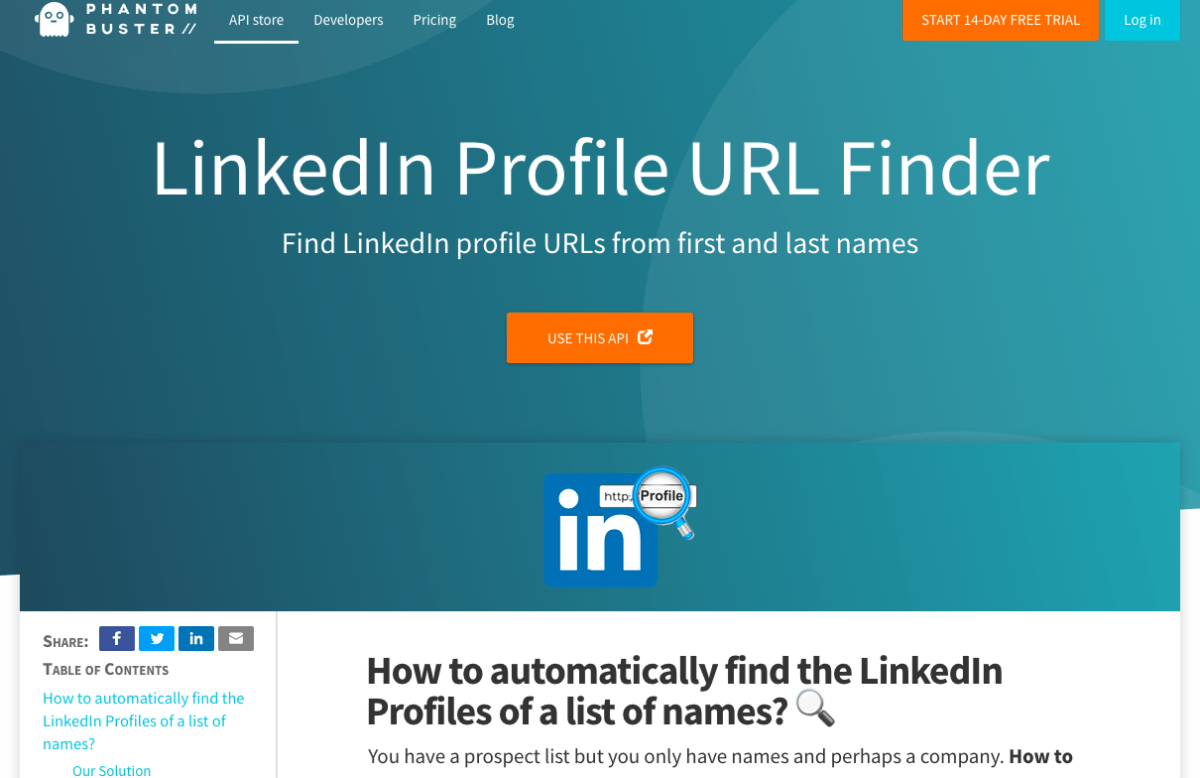 Upload the data in the spreadsheet you have (make sure to merge different cell values to get better results)
Follow the API instructions
Get all LinkedIn URL profiles of decision-makers who use your competitor's product
Connect and engage on LinkedIn
Use Phantombuster's Linkedin Network booster API to automate the process of sending invites (with messages) to the LinkedIn profiles from your spreadsheet.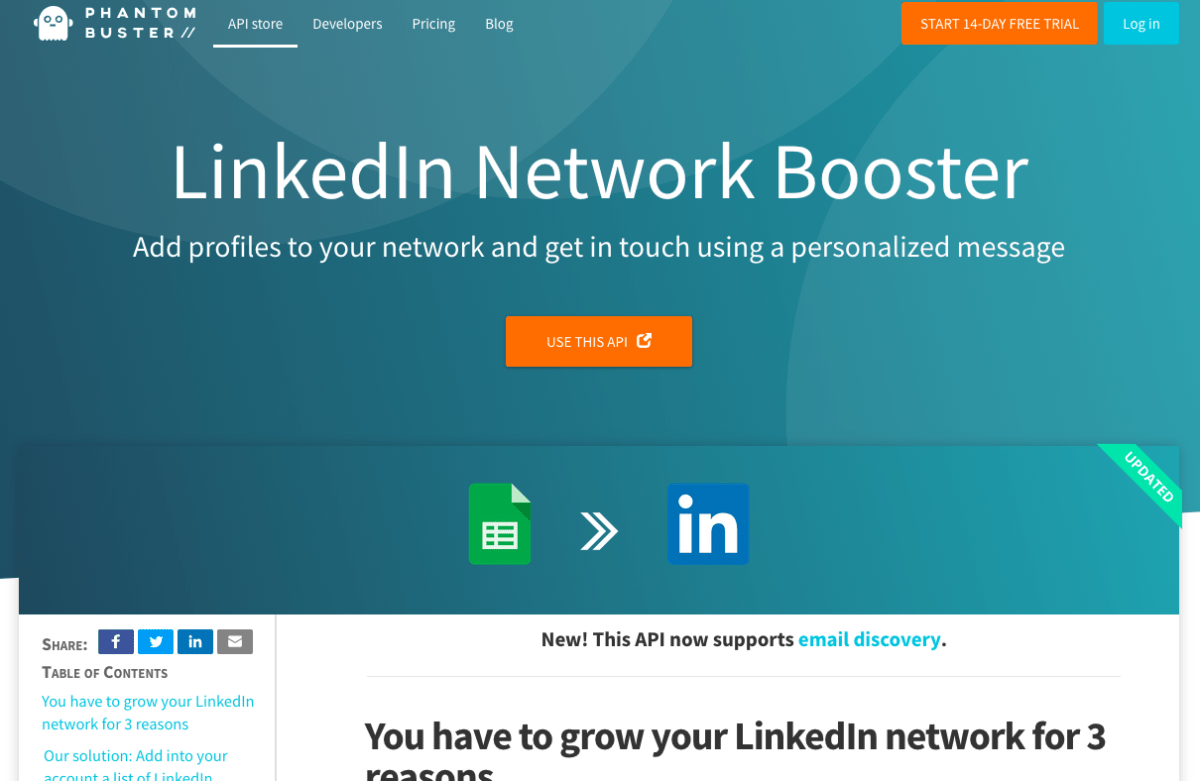 Send a cold email campaign targeting your competitor's customers
Use a tool like Lemlist to set up cold email campaigns.Lemlist allows you to automatically paste a custom image into your email.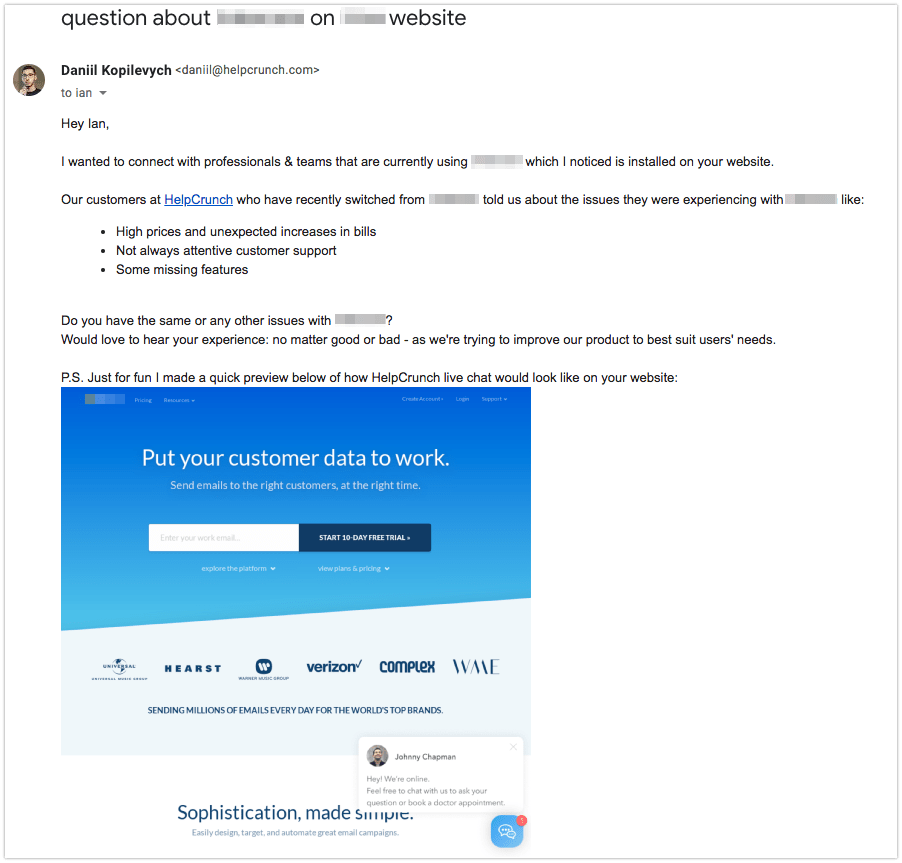 In the example above, that image consists of a screenshot of a competitor's user's website from my list (parsed automatically in the background by Lemlist) and an image of our live chat (uploaded once to Lemlist).
Be sure to also utilize the content that you created at step #1 (blog posts and landing pages) to educate your competitors' users about your product's advantages over the product they're currently using.
Create a Facebook Ad to retarget your list
Create a new ad with a new custom audience and upload your competitors' users list.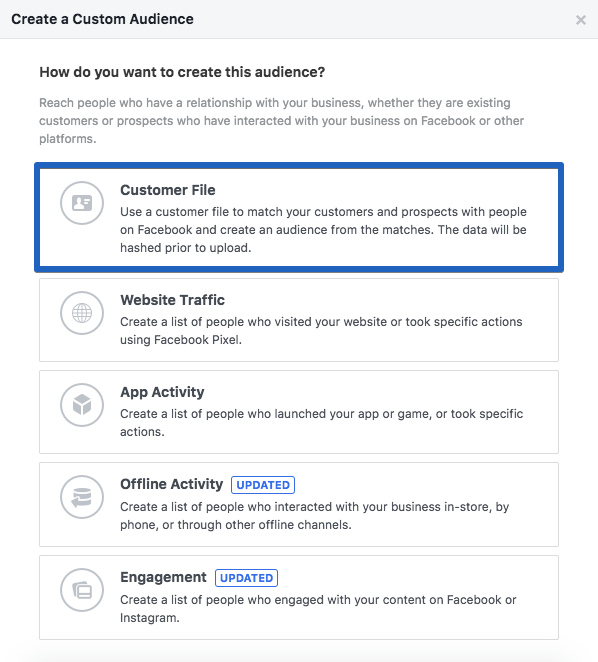 All that's left is to choose a creative and run the ad to target those users on Facebook and achieve a multi-channel effect.
Do product and promotional launches
Running launches periodically helps you create an additional buzz around your product and stay on top of your competitors' users' minds.
Have a big product update? Don't silently launch new features and wait for new customers to come – instead tell your existing and potential users about it across various channels.
One of the best platforms for launching new products and product updates is Product Hunt.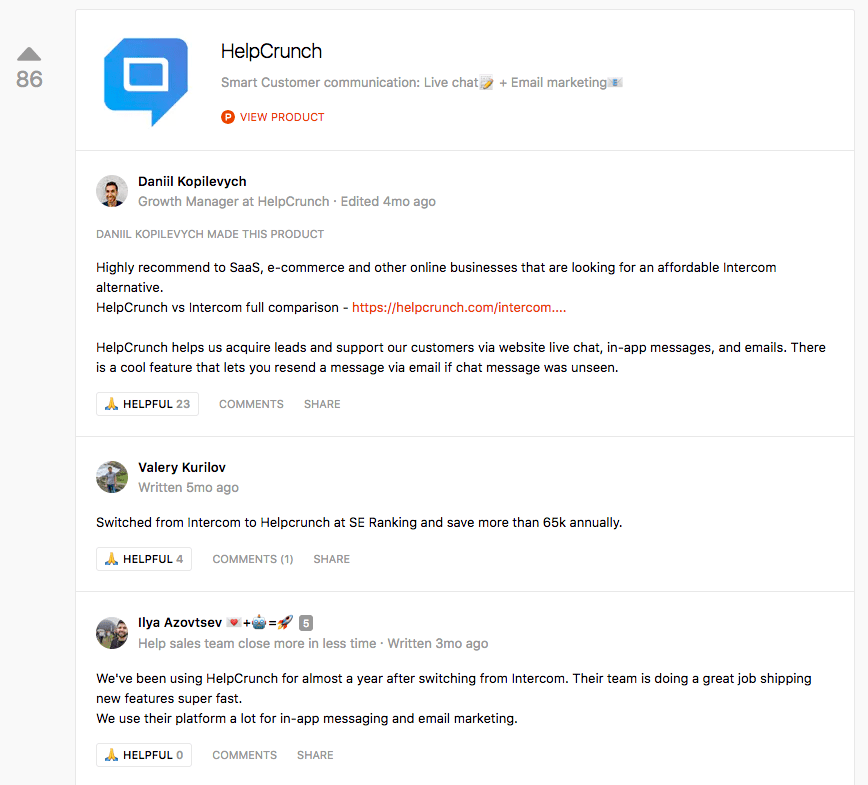 Launching your product on Product Hunt also allows you to get on pages that are well-optimized for search engines, like Ask and Collections.
Product Hunt also has lists of the best products and their alternatives in their respective categories according to community opinion.
Submitting your product there gives you additional 'rented' real-estate to gain competitors' customers.
Additionally, you can run discount or lifetime deals (LTD).
First, do research on whether your competitors have been doing lifetime deals and discount deals in the past, in what form, and on which platforms; study their results and buyers' feedback.
There are dozens of places you can put your LTD, from Facebook communities like SaaS Mantra to dedicated platforms like Dealify and Appsumo.
Launching an LTD will allow you to:
Get a new audience to know and use your product
Get a new set of user feedback
Stress-test your product, servers, and customer support
Bring in quick cash revenue.
Bonus tip! Don't just acquire your competitors' users, but help them become your customers
Focusing on acquisition alone in your marketing strategy is insufficient for any SaaS product.
Making existing or potential competitors' users use your product instead of competitors' requires marketing efforts throughout the whole AARRR funnel.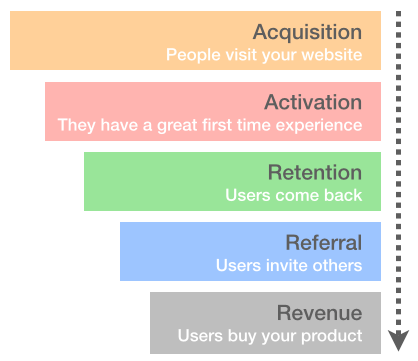 For starters, after your users first discover your landing page, make them feel like they're in the right place and help convert.
Send them an automated greeting message via live chat to spark conversation and move them further down the funnel.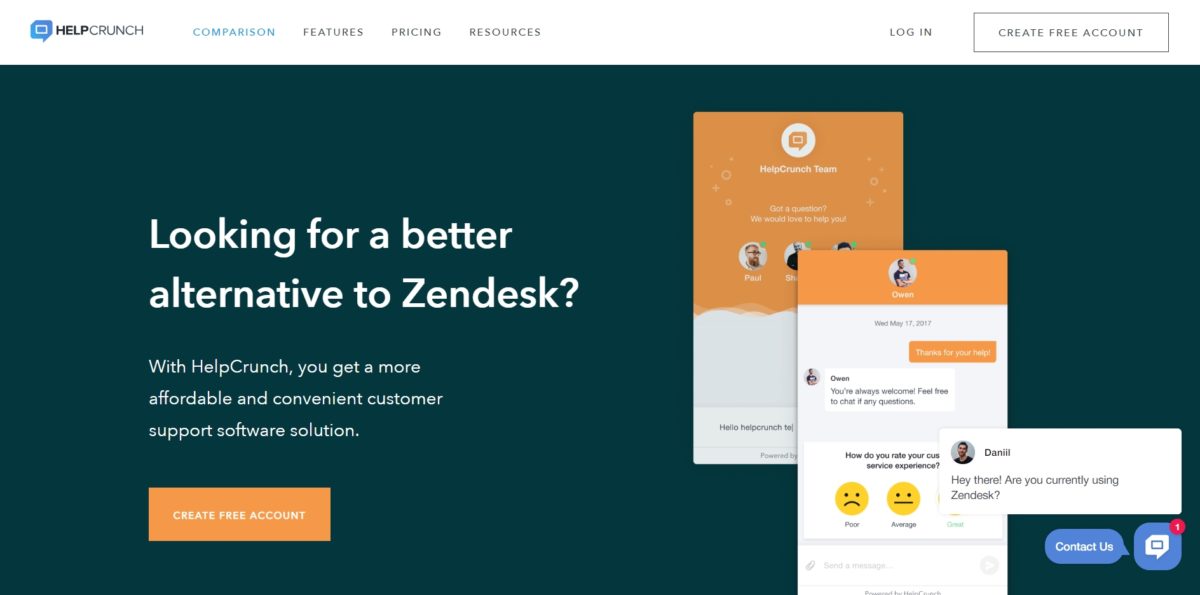 Once they sign up for your product, send them an email sequence of messages crafted specifically for their case.
Educate new users on how your most important features work and send the materials on how to quickly migrate their data from your competitor's product to yours.
And after they become happy customers, make them brand ambassadors.
Encourage them to spread the word about your product to their friends and network who are still using competitors' solutions.
Nota bene: bear in mind that none of these tactics will work unless you have a better product than your competitor does, at least in some crucial aspects. Those aspects should be THE reason for leaving your competitors' product for yours.
The most important tip and step would actually be #0 – study your competitors' pros and cons thoroughly and ask your customers who switched why they did.
Go implement those tactics now and let me know how they worked for you.
Cheers!