Zed Huang of MenubarX turned to Product Hunt because he knew that there were a lot of people on the site who used Macs and loved productivity apps. They launched on January 3rd and were named product of the week on January 8th.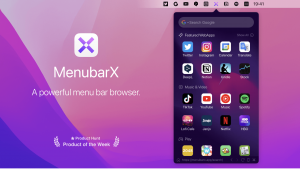 He'd made the decision to launch there a few weeks earlier after spending months developing it through multiple iterations until they had an MVP. They turned to Product Hunt to see if there was a demand for it. They decided that if people liked it, they'd continue; otherwise, they'd cease development.
Before turning to Product Hunt, they had five users and they were all his friends. After the first day, they'd taken on 4,000 new users, and they've now hit 60,000. That's an increase of nearly 80,000% in one day and 120,000% in total.
Here's how they managed it.
"We kept discussing new features with users, launching some of them in the following variants."

Zed Huang
Preparing for the Launch
Before launching on Product Hunt, Zed spent three days creating screen shots, videos, animations and test content. On top of that, they reached out to several large Twitter accounts, some of which had over 10,000 followers.
During the launch, they maxed out their engagement by replying to every comment and review that they received, especially when it came in the form of feedback or requests. They also went out of their way to add as much functionality as they could based on people's requests, which has led to a huge amount of positive feedback, including an average of 4.9/5 from 3,000 reviews across various app stores.
"Every piece of feedback deserves to be taken seriously."

Zed Huang
They attributed much of their success to using their logo and deploying animations. Zed also encourages people launching on Product Hunt to create a video, because a picture tells a thousand words and video runs at 60 frames (i.e. pictures) per second.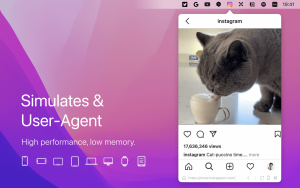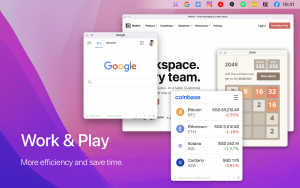 How MenubarX Ranked First
Zed is based in China and his developer is in Japan, and so they used tools like Telegram and Google Meet, as well as Github for code and Figma for design. They noticed that they had a large amount of interest from Japan and Korea, and so they created versions in those languages to better cater to those audiences.
They were able to achieve a high ranking on Product Hunt by making their app free to download. They also included a reminder on the app which asked people to go through to Product Hunt and click the upvote button.
"Users will return a favor with a favor."

Zed Huang
They didn't track how many users they sent through to Product Hunt, but they estimate it to be at around 20%. This is partly due to the fact that the app was available for free and so people wanted to repay the company in any way they could.
Other key wins for MenubarX included:
Adding the Product Hunt badge to the MenubarX website and updating the rank in real time

Asking people on Twitter to upvote the Product Hunt listing

Choosing the right topic (Mac and Menu Bar apps)

Creating a Twitter card

Creating a YouTube demo video

Developing new features based on user requests

Making an animated GIF for Product Hunt use

Offering a limited time free download event

Replying to each comment that they received

Preparing promotional material to be shared through their website
"Videos are much better than screenshots."

Zed Huang
MenubarX's Launch Plan
MenubarX had a three-step launch plan, with Product Hunt helping them to achieve the first two steps:
Release a minimum viable product (MVP), experiment with user responses and then decide whether to continue developing the app.

Get the first 10,000 users and consider the benefits.

Join SetApp's paid app ecosystem for more paid users.
They augmented their launch on Product Hunt with a large amount of social media and blogger outreach, reaching over a million people on Twitter alone through the high-profile accounts that posted about the launch. They were also featured in YouTube videos which picked up over 30,000 views, as well as on Hacker News and a wide range of blog sites.
The results speak for themselves, with 1,041 upvotes and a 4.9/5 rating out of 11 reviews. They were the top product of the day and the second top product of the week, with an upvote from Product Hunt founder Ryan Hoover.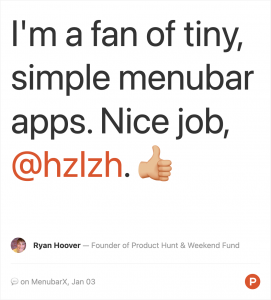 About MenubarX
MenubarX is a powerful menu bar browser that allows users to explore their favorite websites from a miniature menu bar, providing functionality that's just like that of the native apps.
The idea was inspired by Instagram, because founder Zed Huang loves using Instagram but was disappointed by the lack of mini apps available for it. He talked to a developer friend living in Japan, who created a demo that Zed fell in love with. The rest is history.
You can find out more about MenubarX by clicking here to visit their website or by clicking here to visit their page on Product Hunt.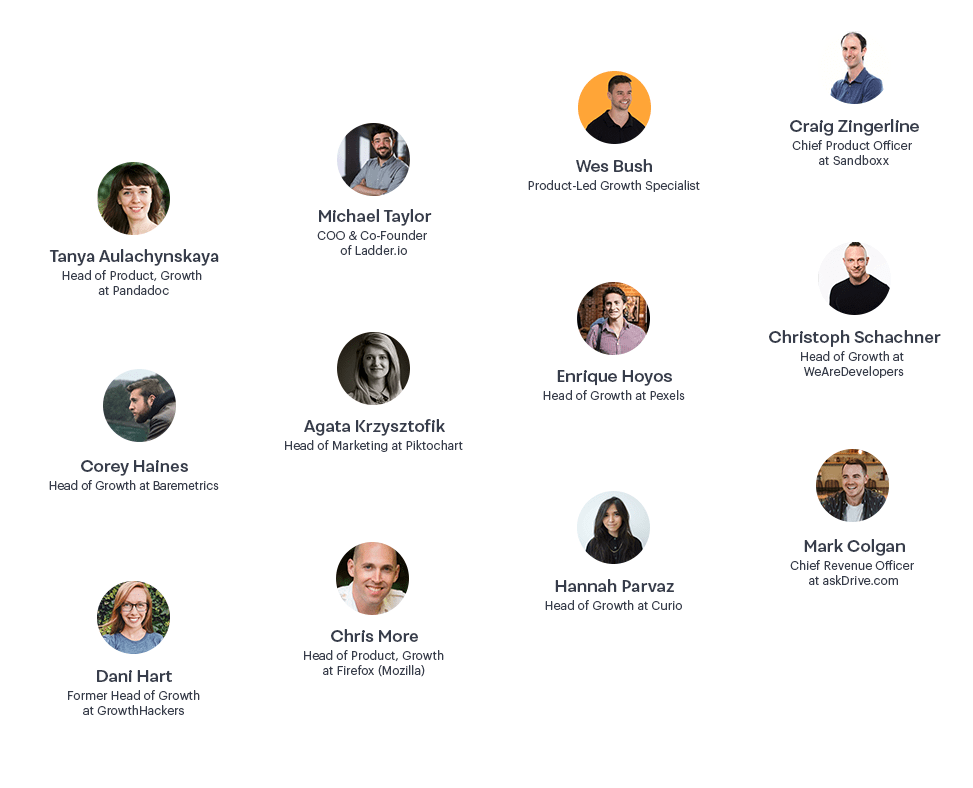 Interested in learning more about growth strategies?
Get 1:1 calls with Growth Experts
Learn more