When you start your business, you need to understand that you're not the only one who is selling that product or service. There will be hundreds of other businesses that will sell similar products or services.
So what makes you different from them that people should opt for your brand over your competitors? Unless you know the answer to this question, you won't be able to attract quality leads or generate sales. 
That's where Unique Selling Point (USP) comes in. Your USP is essential for distinguishing your product, service, or personal brand in the competitive market. To be successful with your business, you need to tell your users about your USP.
It will help you stand out from your competitors, giving your audience a reason to choose you over them.
What is USP?
USP or Unique Selling Proposition is the essence that makes your business stand apart from your competitors.
It is the core strength that differentiates you from your competitors and gives your business an identity of its own. Your USP helps communicate what makes you so distinctly valuable to your users.
How to structure your USP
If you want your USP to clearly communicate your unique features, it's crucial for you to give it a proper structure. For that, it needs to be super relevant about what it offers and specific about how it helps your target audience. 
For instance, if you're selling custom-printed T-shirts online, your USP could be offering exclusive designs inspired by local street art. This unique approach sets you apart and appeals to a specific audience looking for wearable art that captures the essence of their community.
The most effective part comes in when you tell them what benefit you can offer to your users.
How does your USP add value to your brand?
As mentioned above your USP helps you stand out from the crowd by giving you a competitive edge in the market. When you have a well-defined and strong USP for your brand, you can clearly communicate the value you offer to your customers.
It's a great way to make your target audience resonate with your brand. This, in turn, will motivate them to convert, even if they have to spend a few bucks more. 
Besides, when you have a memorable USP, it's easier for people to remember and recall your brand when they make a purchase decision.
What makes a compelling USP?
Simply having a USP doesn't work. It has to be compelling enough to attract quality leads to your business who convert. If you are thinking about the long-term success of your business, you need to make your USP sound compelling to your users. There are a number of things that can make that happen. Let's look at some of them.
1. Focusing on customer value
One of the most effective ways of coming up with a compelling USP is to focus on customer value. For that, you need to first understand your target audience's needs and problems. Once you identify that, try to craft your USP directly around that problem and show how you can help them solve it.
Another way of making your USP customer-centric is by highlighting your benefits rather than your features. You should also clearly communicate the positive results your users can expect from you.
2. Identifying service gaps or opportunities
Another brilliant way of coming up with a compelling USP is by identifying service gaps and opportunities in the market. Do your research and understand the strengths and weaknesses of your competitors. 
You can also reach out to your competitors for feedback to analyze their unfulfilled needs, pain points, etc., and even ask for suggestions. This will help you identify the service gaps in the market. You can then turn these gaps into opportunities and create a compelling USP.
3. Assertive but defensive
A strong USP should always be assertive of its own strengths and should be able to protect its own position in the market. Don't hesitate to highlight your strengths or emphasize your weaknesses.
In doing so, always use strong and assertive language that reflects your confidence. It is also super effective to use action verbs and impactful adjectives to highlight your benefits.
To validate your point, you can also use social proof. This can be user testimonials, reviews, user-generated content, etc.
What a USP is not?
Many businesses confuse a USP with things that it's actually not. It's important to remember that your USP helps you differentiate your business from your competitors. So it's not just a slogan or a tagline.
It's more than that. It's not a generic statement that can be used across different businesses. Your USP should specifically state what is unique about your business. But it's important to note that it shouldn't be a promise that you can't deliver.
Examples of brand USPs
Let's look at some popular brand USPs.
1. Canva – Empowering the world to design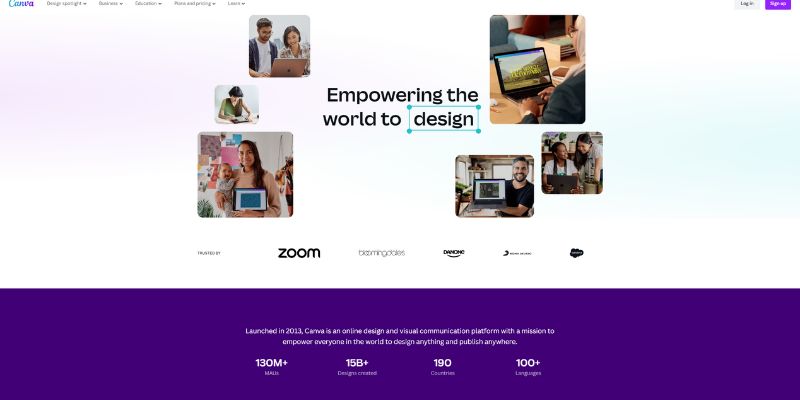 Canva the graphic design platform has an amazing USP. The platform focuses on making graphic design a simple and cost-effective process for everyone. It tries to convey its uniqueness in a few simple words.
2. Shopify – The platform commerce is built on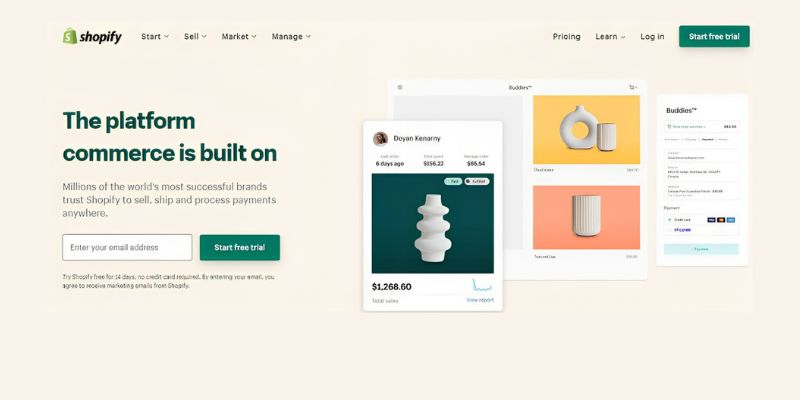 Shopify is another brand that has a powerful USP. It's a user-friendly platform that helps anyone create eCommerce websites without any codes. Its USP delivers a clear message to its users in a few words.
How to communicate with your USP?
There are several ways of communicating with your USP. For example, you can incorporate it in your website landing pages, in your headings, taglines, slogans, etc.
You can also use social media for it. Create some valuable and eye-catching social media posts to reinforce your message. The same can be done through your email marketing campaigns.
Some businesses even highlight customer testimonials that showcase how their USP helped the user solve a problem.
Conclusion
Finding the right USP might not be a one-day job. It takes time and effort. But it is one thing you can't miss if you want to stand out in the competition. It will ultimately help you drive more leads and boost your conversions.
Frequently Asked Questions
Yes, it can but ideally, it's only one all-encompassing value proposition
USPs are often summed up in one statement which should have ten or fewer words.