Are you tired of relying on outside sources to get your message out there?
Do you feel your brand's voice is being drowned out by digital noise?
Well, there's good news – you can take complete control of your brand's message with owned media.
By creating and managing your own digital channels, you can tailor your messaging and content to your audience, and establish your own unique voice and identity.
We'll explore how to create an effective owned media strategy, the benefits of using owned media, and common mistakes to avoid.
So, if you're ready to take your brand to the next level and make your voice heard, keep reading!
What is owned media marketing?
Owned media encompasses the digital channels that are under your brand's ownership and control, including your website, blog, and social media profiles.
This stands in contrast to earned or paid media, as owned media empowers you to take complete control over your brand content and messaging.
By forging your own digital platforms, you have the opportunity to finely tune your message for your specific audience and create a one-of-a-kind brand identity.
As a budget-friendly approach, owned media paves the way for cultivating a devoted fan base, enticing and retaining customers, building communities as well as fueling conversions and sales.
Owned media benefits
The use of owned media for your brand and business has many advantages.
Let's break down some of the owned media perks:
Cost-effective: No need to spend money on ads or rely on third-party platforms to share your content. Owned media lets you engage with your target peeps without burning a hole in your pocket.
Build brand identity and loyalty: Whip up your own digital platforms to forge a unique brand identity that resonates with your audience and, over time, breeds loyalty and higher engagement.
Drive conversions and sales: Flaunt your products or services, nudging people to take action, skyrocketing conversions, and ringing up those sales!
Establish a strong online presence: Build a powerful online presence for your business that helps your brand flex like a champ amidst the digital chaos.
Optimize for search engines: Fine-tune your content for search engines to drive traffic to your website, blog posts, and visual content.
Measure effectiveness: Gauge effortlessly the effectiveness of your digital channels, granting you invaluable insights into what's rocking and what's, well, not. It's like having a crystal ball to help you fine-tune your strategy and keep your brand on the up and up!
Forms of owned media channels
Your company can use a number of digital platforms to spread the word about itself when it comes to its owned media properties.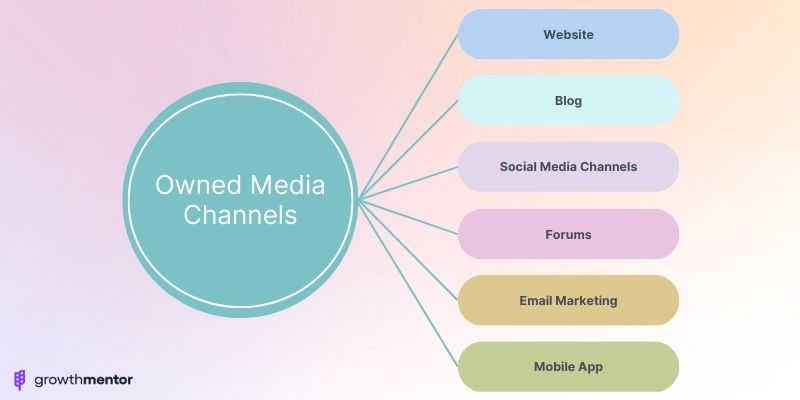 Here are some popular digital platforms you can use:
Website
Being the central portal for all of your digital content and messaging, your website is one of the most significant owned media channels.
Blog
A blog is a fantastic tool for producing unique material, and compelling content that speaks directly to your audience and can be utilized to increase website traffic.
Social media channels
You may connect with your audience on social media accounts like Facebook, Twitter, and Instagram and create a community centered around your company.
Forums
Forums can be used to offer customer service, respond to inquiries, and exchange information. They are also a terrific method to connect with your audience and create a community around your business.
Email marketing
A wonderful method to stay in touch with your customers and give them helpful material engaging content, promotions, and updates is through email marketing campaigns like sending them a newsletter.
Mobile app
An effective owned media channel for connecting with your people while they're on the go is a mobile app, which can also be utilized to offer them specialized products and services.
So, there you have it! A handful of digital platforms to help your brand spread its wings.
What is the difference between owned, earned, and paid media?
Apart from owned media, in digital marketing, we use other types of media to reach our target audience. These include earned, and paid media strategies.
It's also essential to understand the difference between paid, owned and earned media, as each type of media offers its own pros and cons.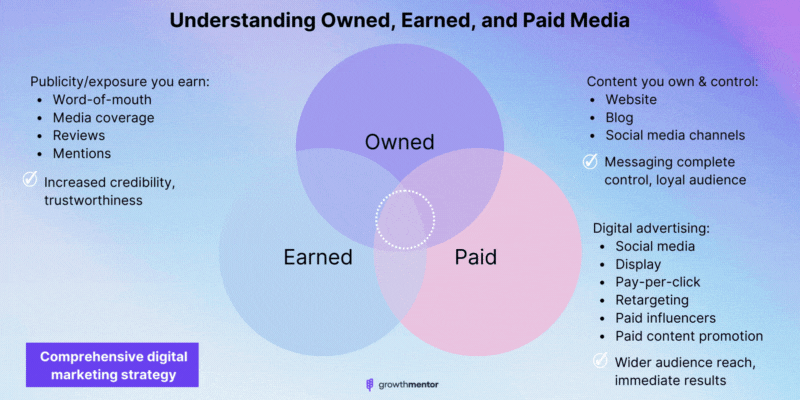 Owned media vs earned media
Earned media strategy is like a freebie—your brand gets attention and recognition from social media mentions, good word-of-mouth, and customer reviews. Sure, it's harder to manage, but it's often more credible since it comes from a third party, not the brand itself. Plus, it's organic, making it easier on the wallet than paid media.
Owned and earned media are like cousins—different in terms of control and cost-effectiveness. While owned media lets you call the shots, earned media is more trustworthy and wallet-friendly.
The smartest digital marketing strategies mix owned and earned media, balancing their unique pros and cons.
Owned media vs paid media
Paid media is all about shelling out cash for digital paid advertising space—think display ads, social network ads, or pay-per-click ads. It may not be the most thrilling part of online marketing, but targeted advertising helps you cast a wider net.
Paid media's claim to fame is its ability to target specific demographics and interests, ensuring your message lands in the right laps. Plus, it can boost conversions, lead generation, and website traffic in a very short time. But let's be real, it can be pricey, and its effectiveness depends on the funds you've got. Since it's coming straight from the brand, people may not find it super genuine or trustworthy.
On the flip side, owned media lets you fully control your marketing content and messaging without breaking the bank on ads. It helps you craft a unique voice and identity, and over time, it builds stronger connections with your customers. Plus, it's usually kinder to your budget in the long run.
Finding that sweet spot between owned and paid media is the key to rocking your digital marketing strategy. They've both got their ups and downs, but when you use them right, they'll help you reach your target customer and crush those marketing goals.
Crafting your very own owned media strategy
It's time to create a strategy that's in tune with your business goals and values.
Not sure where to start? No worries!
Follow these steps to shape a rock-solid owned media plan: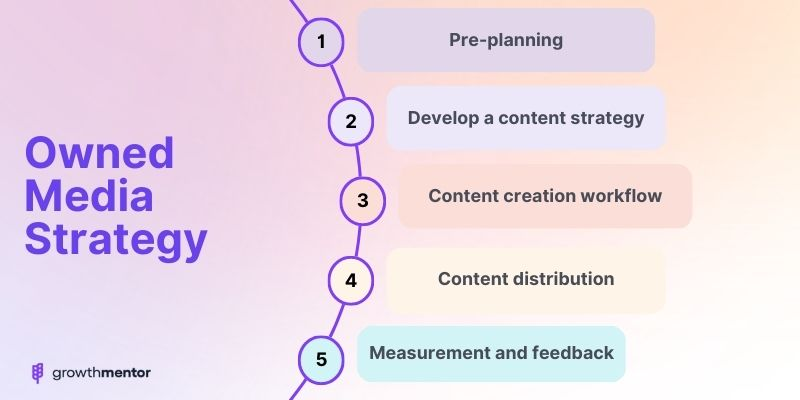 Step 1: Pre-planning
Kick things off with some pre-planning to pinpoint your customer persona, goals, and messaging. Trust me, it's worth it.
Step 2: Develop a content strategy
Next up, get ready to whip up a content strategy. You'll want to create top-notch marketing content that aligns with your brand's values and vibes with your target audience. Be creative and brainstorm around different content formats. Think blog posts, videos, infographics, thought leadership pieces, press releases – the works!
Step 3: Content creation workflow
Once you've got your content ready, it's time to develop a smooth content creation workflow. This means mapping out the steps involved in creating, editing, and publishing your content. It'll keep your content consistently on-point and on-brand.
Step 4: Content distribution
When it comes to owned media, distribution is crucial. Share your content on your website, social media channels, and email content marketing to reach your community and potential customers and drive them to your website.
Step 5: Measurement and feedback
Finally, you'll need to measure and track your results to see how well your strategy is working. This way, you can make adjustments as needed and keep getting better over time.
Best practices for your owned media plan
So, you're all set to develop your strategy, huh?
Before diving in, consider these tips to make the process even more effective:
Stay Consistent: Keep your branding and messaging on point across all mediums to establish trust with your followers and potential customers.
Go for Quality: Prioritize high-quality content that adds value to people interested in your product or service. This can be an insightful blog post showcasing an actual case study, a workshop video with steps to create a content strategy or an engaging social media post.
Befriend SEO: Leverage search engine optimization by using relevant keywords and meta tags to increase visibility and draw more organic traffic to your website.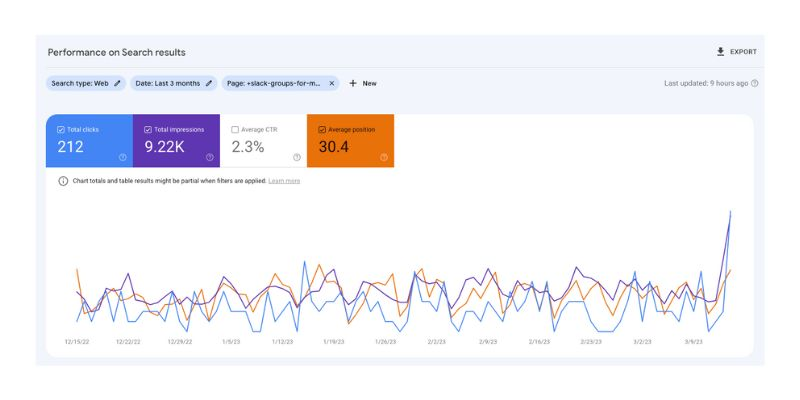 Keep It Interactive: Engage with people by replying to comments and messages, inviting feedback, and fostering a community around your brand.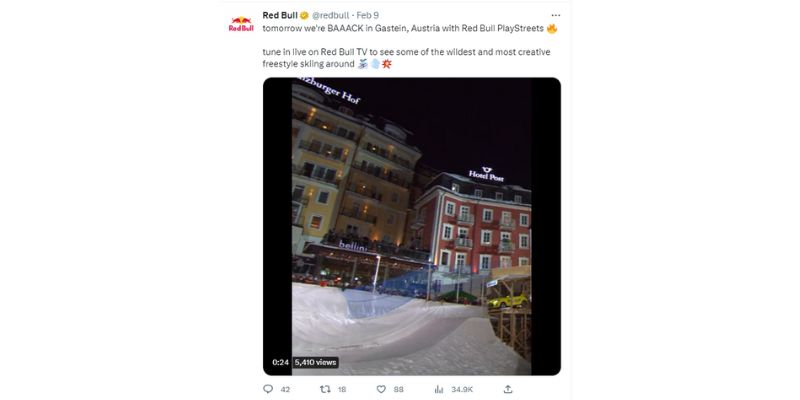 Owned media plan common mistakes
Developing your strategy can sometimes be challenging. We know, we have been there.
Even the best of us can make some slip-ups while planning our owned media marketing efforts. But don't sweat it – we've got your back!
Quality vs. Quantity: Don't trade content quality for quantity. Focus on crafting high-quality content that truly benefits your customer persona.
Overlooking SEO: Skipping SEO means making it harder for people to find your content. Be sure to optimize with relevant keywords and meta tags.
Inconsistent Branding: Inconsistency in branding and messaging can muddle things up. Keep it coherent across all marketing channels.
Forgetting Engagement: Ignoring engagement by not responding to comments and messages may harm your relationship with your followers and potential customers.
Final thoughts
Owned media plays a vital role in a well-rounded digital marketing strategy.
Crafting and sharing top-notch content via owned media mediums helps businesses boost brand awareness, increase engagement, position themselves as thought leaders, and engage with their audience in a genuine way.
There are plenty of perks to owned media – better brand control, cost-efficiency, and long-term sustainability, to name a few.
That's why it's key for businesses to build an efficient plan that aligns with their overarching marketing goals and objectives.
So, if you haven't taken the plunge yet, start investing in owned media now and witness the benefits for yourself!
Frequently Asked Questions
Owned media refers to content and distribution channels that a brand owns and controls, such as its website, blog, social media pages, and email marketing.
Owned media is content and channels that a brand owns and controls, while earned media is content or mentions of a brand created by third-party sources.
Owned media can be optimized for search engines through tactics like keyword research, on-page optimization, and link building.
Owned media is often more cost-effective over time as it requires upfront investment in content creation and channel development, but has long-term benefits.
Examples of owned media channels include a company's website, blog, social media pages, email newsletters, mobile apps, press releases, and forums.
To develop an effective owned media plan, businesses should pre-plan, develop a content strategy, establish a content creation workflow, distribute content, and measure and receive feedback.