What is a replenishment email?
Replenishment emails are automated messages designed to convince existing customers to buy more of a product they purchased previously. They are used by industries that sell products or services that need to be replaced or replenished.
Food items, beauty products, pet supplies, and software subscriptions are four categories that can benefit from this strategy. For example, a company that sells moisturizing lotion may send customers a replenishment email when they estimate their supply is running low.
The time to send this marketing email will vary between industries and individual companies. It depends on the product and how long each purchase is expected to last.
Very few people will get their email at the same time. Replenishment emails are triggered based on the day someone makes a purchase. This is because each person's supply will run out at a different time.
A customer that buys a 30-day supply of green tea will run out well before someone who made the same purchase two weeks later.
The important thing to remember about replenishment emails is they are an invaluable part of email marketing. Most business leaders and marketers can use this tool to connect with their audience and improve sales.
What are the benefits of using replenishment emails?
There are plenty of benefits that come with using replenishment emails.
The most notable benefit is improved customer retention. If there's no way to keep customers engaged after their first order, they may decide to stop buying from your website. As a result, businesses lose old customers just as quickly as they gain new ones.
Ideally, you want to extend customer lifetime value as far as possible. Sending gentle reminders to restock helps achieve this goal.
Replenishment emails allow marketers to show customers that their business matters by showing that they anticipated their needs before the person even realized they were running low.
Another benefit is improved email engagement across the board. When subscribers see companies are willing to help them, they are more likely to open other, unrelated emails.
You should also know that replenishment emails are easy to operate. After the initial setup, the entire process is automated. You'll still want to create campaigns or adjust offers as you go, but you'll never have to wonder if your emails will be delivered on time. It's also worth mentioning that automating these types of emails can boost revenue by 320%.
Five factors all successful replenishment emails have in common
Now, let's look at the five main factors all successful replenishment emails have in common.
Eye-catching subject line
Research suggests that 47% of all emails are read or deleted based on the subject line alone. If the subject line and pre-header text don't seem relevant to the subscriber, they will likely skip over your email or delete it entirely.
The best replenishment email subject lines are interesting, and relevant and use action words to convince readers to click through. Here are a few examples you can use: 
Hey, [Name]! Your supply is running low
Stock up and save!
[Name], we noticed you're almost out of [product]!
Renew your subscription now, and keep the same great price!
A sense of urgency
Replenishment emails should have a sense of urgency. The goal is to get customers to stock up before they run out. Customers may forget to buy more until it's too late if there's no sense of urgency.
At that point, they can decide to check out similar brands and could switch to a competitor before they resupply. This isn't an ideal situation for business leaders who want to boost retention and customer satisfaction.
Adding urgency also inspires fear of missing out (FOMO). As the name implies, FOMO is a feeling people get when they feel like they won't be able to take advantage of an offer, experience a new product, or attend an event.
Believe it or not, 7 out of 10 millennials report experiencing FOMO regularly. This trend is largely due to the rise of social media and "always-online" lifestyles.
You can add urgency to replenishment emails by using phrases like limited-time, one day only, or exclusive offer. There are plenty of other terms to choose from, depending on your industry. Experimenting with FOMO in replenishment emails typically leads to more clicks and sales.
The right timing
Sending replenishment emails at the right time can significantly impact conversions. These messages are designed to reach customers before their products run out or their subscription expires.
If the email is sent too early, the subscriber may ignore the message because their stock isn't running low. Similarly, waiting too long could result in the user moving on to a different company.
In order to determine when a subscriber needs to replenish their stock, you need to understand how long a customer will use each purchase. Some products, like monthly subscription services or supplements with a 30-day supply, are cut and dry.
Other products and industries require a little more creativity. One of the easiest ways to figure out the best time to send a replenishment email is to send a feedback form. Ask them about your products, such as how long an average order lasts. Compile this data, and you'll better understand when you should send replenishment emails.
Personalized offers
Research shows that four out of five customers expect businesses to provide personalized content and offers. Emails that sound like they were sent to everyone on your email list will not win you any favor.
There are quite a few ways to add a touch of personalization to these emails.
First, include the subscriber's name whenever possible. Subject lines, email copy, and even promotions should show the user you're talking directly to them.
It's also important to show people products they actually purchased or may enjoy. For instance, a brand could say something like, "While you're restocking on [a product they purchased], we thought you'd like to see [upsell offer]". Relevancy is key to making this strategy work. 
When creating replenishment emails, offering discounts that align with each customer is vital. If someone spent 100 dollars on dog food a month ago, send that person a promotion for 25% off their next purchase of all dog products.
Clear call-to-action (CTA)
Finally, all good replenishment emails have a clear call-to-action (CTA).
A CTA is what you'd like the customer to do at the end of the email. In this case, the CTA is to stock up on a product they already purchased.
The easiest way to clarify your call-to-action is to use targeted, concise language. You don't want to overcomplicate things, or a subscriber may hit the back button without taking action.
Contrasting colors for your call-to-action will make it pop off the page, which could result in more users following through and replenishing their stock. Use a color psychology chart and a color wheel to determine the best contrasting colors for your CTA.
It's also a good idea to stick with one call-to-action per email. If there are too many choices, readers may experience choice paralysis and decide to leave.
Replenishment email examples + template
Example 1: Apple replenishment email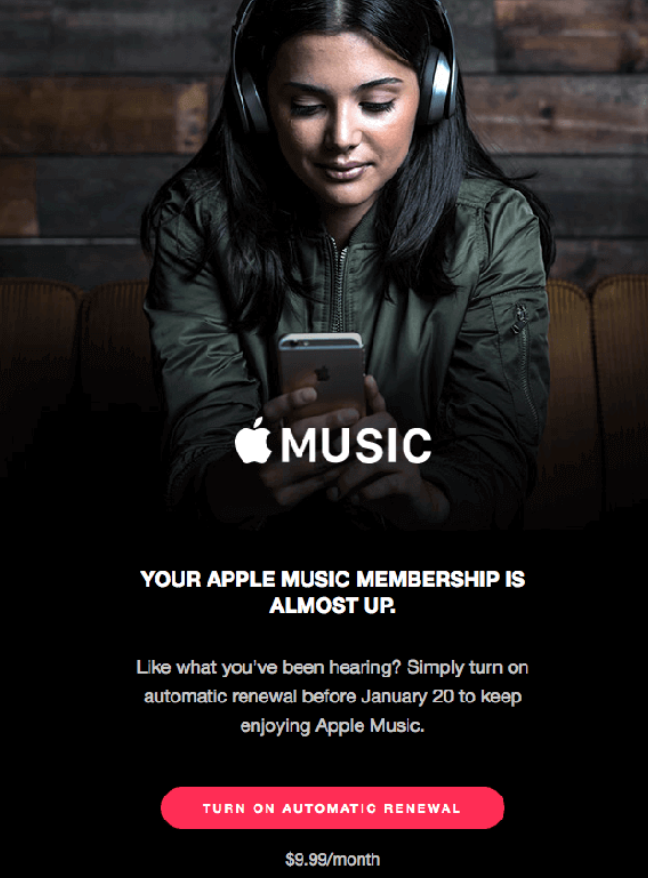 Example 2: Dollar Shave Club replenishment email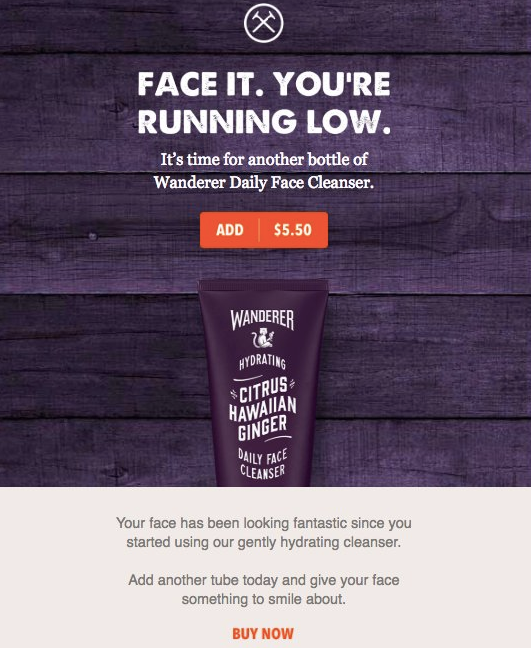 Replenishment email template 1
"[NAME],
Your life just got easier with Auto-Replenishment!
You've got a lot of things on your mind, but remembering to re-order your [PRODUCTS] shouldn't be one of them.
We're excited to introduce our Auto-Replenishment program – the easier, automatic way to reorder your [PRODUCTS], inspired by your feedback. Once you enroll in Auto-Replenishment, we'll automatically deliver a new supply of [PRODUCTS] straight to your door before you're scheduled to run out, at no extra charge.
AUTO-REPLENISH NOW
You'll never have to manually reorder [PRODUCTS] after enrolling, and you can update your preferences at any time. We're hoping that this service is just another way we're making your experience with [BRAND NAME] more convenient and personalized for you.
If you have any questions, please contact our live chat support or check out our FAQ page.
Best,
[YOUR SIGNATURE]"
Replenishment email template 2 
"Hi [NAME],
Running low? Keep it up! Consistency is the key to good health!
We wanted to get in touch with you to make sure you have plenty of time to order [PRODUCT NAME] before your last bottle is empty.
[PRODUCT NAME] helps recharge and rebuild your body's natural energy source. Reorder today and save 10% when you enter [DISCOUNT CODE] at the checkout.
REORDER NOW
Let us know if you have any questions, we're here to help.
[YOUR SIGNATURE]"
Templates from www.LiveAgent.com
Final words
Replenishment emails are an essential part of every successful email marketing strategy. These messages help business leaders connect with shoppers and turn them into repeat customers.
When used correctly, replenishment emails also create a positive experience for people who are already loyal to your company. Instead of monitoring how much of a product they have left, users know they can depend on your business to send them an email when it's time to restock.