Navigating the SaaS coaching market in 2023 isn't a walk in the park.
It's flooded with "experts" making big promises, while their focus seems to be on their personal brand rather than your business's success.
You're not seeking a personality cult. You need a coach who's truly invested in your progress, has recent hands-on experience working in an operator role in a SaaS startup, and understands the unique pains of a bootstrapped founder.
Also, your budget isn't unlimited.
You've hustled hard to allocate a chunk of your monthly revenue to invest in growth coaching.
A coach demanding more than $2,000 a month? That's not in the cards. You'd be better off just hiring a fractional at that price point who will also roll up their sleaves and get their hands dirty.
Unfortunately, the reality of Google's results for "saas coach" can feel eerily similar to the parade of dropshipping "gurus" offering one-size-fits-all courses.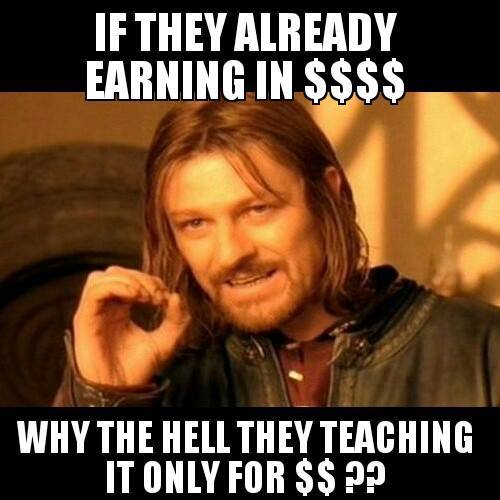 They draw you in with an appealing intro call, only to push their premium packages and obscenely priced courses and masterminds later.
Your SaaS startup is unique, with its distinct market, customers, and product. A templated course can't account for these specifics.
Adding value to bootstrapped SaaS founders needs to go beyond knowledge transfer. Founders should be looking for relevant industry experience, a personalized approach, and a genuine commitment to your success.
Why mentorship is the new coaching in the SaaS world
Understanding the nuances between 'mentoring' and 'coaching' can often be tricky.
Traditionally, coaching is seen as a more formal, structured process, focused on achieving specific short-term goals. On the other hand, mentoring is typically perceived as a more holistic, long-term relationship, emphasizing personal growth and career development.
However, in the SaaS environment, these lines have blurred.
What startups need today isn't just short-term tactical advice; they need strategic guidance to help them through various stages of their growth journey.
This is where GrowthMentor steps in, offering a blend of coaching and mentoring – bringing together the best of both worlds.
Combining short-term action and long-term strategy
Our mentors are experienced SaaS operators who, just like coaches, help define your immediate goals and craft strategies to achieve them.
They bring specific expertise in areas like Facebook ads, SEO, content marketing, and more to solve your immediate challenges.
But what sets GrowthMentor apart, and makes this approach truly effective, is the shift from passive to active learning.
Traditional courses like Reforge, CXL, and Demandcurve, while often packed with value, have you on the receiving end of a one-size-fits-all stream of information. While you're able to absorb the material, it's often up to you to adapt this information to your unique business context.
Contrast this with GrowthMentor's one-on-one coaching format, where learning is a dynamic, interactive process.  Instead of merely absorbing information, you're actively discussing your unique challenges, asking specific questions, and receiving immediate, tailored feedback.
Our SaaS coaches don't just offer general advice—they provide customized strategies and solutions based on their knowledge and your specific needs. They share not just their knowledge but their relevant, hands-on experience.
This kind of active learning fosters a deeper understanding and equips you with actionable insights that can be directly applied to your business—ultimately fast-tracking your growth journey.
Helping you steer clear of the SaaS "guru" landscape
Our mentors start relationships with the intentions that aren't monetarily motivated. Give Give Take. This is the general vibe here at GrowthMentor.
Here's how it work:
With a GrowthMentor subscription, you can access a broad range of 600+ mentors, each with their unique skill sets, at no additional cost. This level of accessibility and affordability is unheard of. There's literally no other platform in the world that gives you access to book 1:1 time with hundreds of badass SaaS operators for just $85 per month. It's like having a Netflix subscription where instead of unlimited videos, you get unlimited calls with mentors with 5+ years operator experience scaling SaaS startups.
So when you're searching for a "SaaS coach," consider GrowthMentor as a starting point where you can build relationships with mentors, see who you get on with, and if there's mutual chemistry, you can negotiate a long-term coaching package with them.
Our mentors, with their blend of coaching skills and mentorship spirit, might just be the perfect fit for your needs.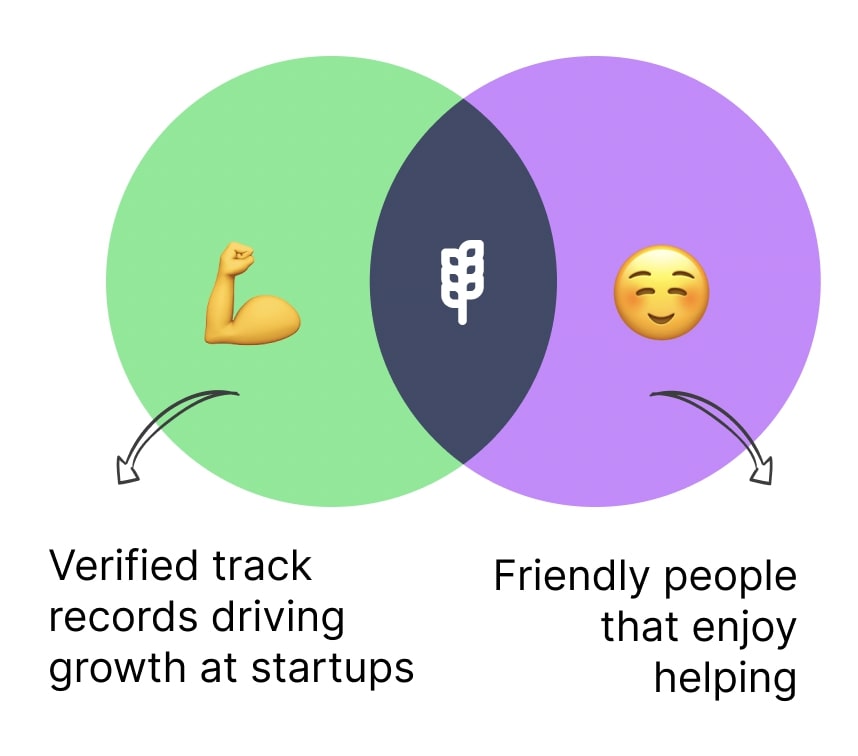 Vetted Mentors, Real Experience
Unlike most SaaS coaches that overpromise and underdeliver, GrowthMentor has carved out its unique space because we thoroughly vet all our mentors, focusing on not just their hard skills but also their soft skills. All the mentors on GrowthMentor are practitioners, actively involved in driving growth at small and large SaaS startups across a variety of different industries.
Their hands-on experience in SaaS is verified and tracked.

Beyond immediate goals – nurturing growth mindsets
All mentors on GrowthMentor must embody the mentorship ethos of personal and professional development.
They help instill a growth mindset, guide founders in recognizing their strengths, and support them in overcoming their weaknesses. They're there to help you adapt and evolve, not just in response to immediate challenges but also to prepare you for future growth.
Fully transparent results for your peace of mind
We understand the significance of trust when choosing a mentor or SaaS coach and encourage you to dig deep into reviews left by founders who were once in your shoes, struggling to make sense of how to grow their SaaS startup. For further insights, you can browse through the detailed profile pages of our mentors and even look them up on LinkedIn. Everything's above the table here. It's all about finding the right match for your unique SaaS journey.
Achieve more for less with GrowthMentor
GrowthMentor is designed with respect for bootstrapped SaaS founders and their budget constraints. As a member, you gain access to over 600 vetted growth mentors, each bringing a unique perspective and set of skills to the table. Whether you need specific advice or broad strategic discussions, our mentors are ready to provide the expertise you need, with 74%+ of the mentors actually offering their time for free as a means to "give back" to the community and pay it forward.
Setting up monthly coaching packages
In GrowthMentor, not only can you access on-demand advice from hundreds of vetted SaaS mentors, but you also have the option for a more immersive experience through monthly coaching packages.
Understanding the value of continuous support, many of our mentors offer the chance to work together on a monthly basis, providing an ongoing touchpoint for advice, strategy, and feedback. These monthly coaching packages are completely flexible and tailored according to the mentor's offered communication methods, time stipulations, and pricing.
How to Request Monthly Coaching
Interested in going deeper with a particular mentor? Just visit their profile and look for the 'Request Monthly Coaching' button. This will give you a comprehensive outline of their monthly coaching offer—what it involves, the methods of communication, and the cost.

It's important to note that we highly recommend booking a single call with the mentor before subscribing to their monthly package. This allows you to gauge if there's a good rapport between you and the mentor, ensuring they are a perfect fit for your needs.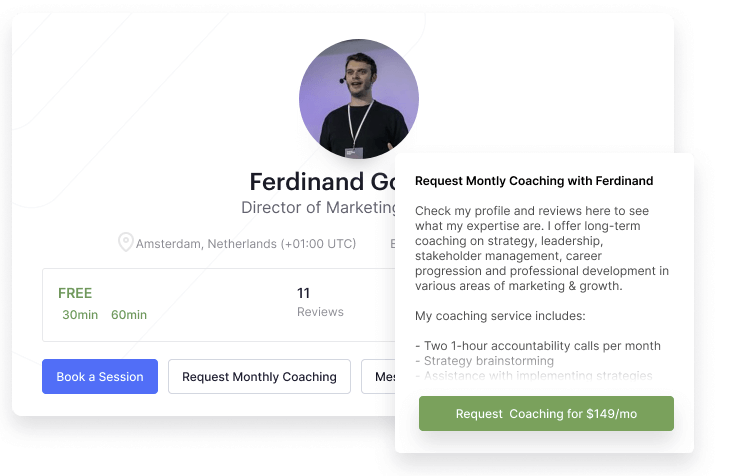 Booking Your Coaching Package
Once you've decided on the mentor and are ready to proceed with the monthly package, our admin team will be there to assist. Your card on file will be charged for the full amount of the package as a session on the platform. These packages are not recurring by default, providing you with the flexibility you need. If you find value in the ongoing relationship and decide to go for a second month or more, just alert our admin team, and we'll help you set it up.
By setting up a monthly coaching package, you're investing in a collaborative, ongoing relationship with a mentor who is as committed to your growth as you are. Get ready for a more personalized, intensive growth journey with GrowthMentor.
Recommended SaaS coaching packages

Kosta Panagoulias
Kosta is a successful entrepreneur who has experienced the journey of growing a company from the ground-up. He started in his parents' basement with no money and no tech experience and managed to build his business to a successful 7-figure cash exit.
Passionate about helping other driven entrepreneurs achieve their dreams, Kosta offers a coaching service centered around accountability and strategy. His coaching services are ideal for those in need of an unbiased mentor to keep them focused and aligned to achieve their vision.
Kosta's coaching package includes two 1-hour accountability calls per month. These calls provide an opportunity for mentees to check-in, discuss their progress, and receive personalized advice. He also offers strategy brainstorming sessions, where he helps entrepreneurs generate and fine-tune their business strategies. Additionally, Kosta provides assistance with implementing these strategies to ensure their successful execution.
His coaching services are priced at $400 per month, providing a cost-effective solution for entrepreneurs who are looking for expert guidance as they navigate their business growth journey.

Craig Zingerline
Craig Zingerline is a seasoned entrepreneur and CEO of Velocity Growth, using his expertise to help startups prosper. He has co-founded six companies, advised approximately 200 more, and holds a record of success in all aspects of startup strategy, including product, marketing, and growth. His portfolio includes significant work with B2C, B2B, and E-commerce companies, which has won over 60 web awards, including three Webbys.
Craig's strength lies in the depth of his experience, be it bootstrapping startups or steering marketing teams with substantial weekly budgets. His core specialties within growth include retention-based growth, activation, experimentation, and email marketing. His insights have also guided companies through successful fundraising efforts, with a personal record of raising over $2.5M for startups across B2C and B2B sectors.
Craig offers a wide array of services, including advice on bootstrapping, email marketing, growth marketing, PPC strategies, product management, product-market fit, SEO, sales, and even a sympathetic ear for venting frustrations. With his deep understanding of the ups and downs of startup life, Craig provides not just strategic guidance, but emotional support for the challenges that founders often face.
His coaching service is designed for those looking for a no-nonsense, experienced mentor to guide them through the unique challenges of running a startup. With Craig, you'll get the insights of a 6x founder, with a ton of wins and fails under his belt, ready to help you navigate your startup journey.
Craig's monthly coaching package includes:
One 30-minute 1:1 meeting per week
Unlimited communications (you can text/slack/email him anytime)
He charges $400 per month for his coaching services. However, due to high demand for his time, he is very selective about whom he works with. Thus, he emphasizes the importance of ensuring that it is a good fit for both parties.

Joran Hofman
Joran Hofman is a SaaS founder with a knack for bootstrapping startups and building strong, efficient teams. As the founder of the SaaS startup Reditus, a Partner Management Tool designed specifically for B2B SaaS companies, Joran has spent the last 1.5 years building a company from scratch without external funding.
Prior to Reditus, Joran was part of the startup Leadfeeder where he began when the company had only 18 people and no dedicated Customer Success (CS) department. By the time he left 4.5 years later, he was the Head of CS, managing a team of 25 professionals. His experience in CS makes him an expert in reducing churn, building the department, and setting meaningful KPIs and goals.
Joran is also a champion of remote work, having spent more than five years managing remote teams and building his startup with remote employees. His knowledge in this area can be instrumental for businesses looking to adapt to a remote or hybrid work model.
Joran's coaching service provides guidance and advice across a range of areas including general startup building, sales & marketing, and customer success. His offering is tailored to those who need a sparring partner, or a "mirror" as he calls it, and extends to areas such as creating processes, outsourcing projects, and recommending a host of tools to enhance business operations.
His passion for solving business challenges with innovative, tech-driven solutions shines through in his approach. Keeping the client at the forefront of every decision, Joran is driven by creating revenue opportunities and building products that truly serve customer needs.
Joran's monthly coaching package includes:
Consultation on a range of topics including startup building, sales & marketing, customer success, and more
Acting as a sounding board for your ideas and strategies
Providing insights on building remote teams and managing remote work

Kristie Holden
Before launching her consulting career, she served as the VP of Marketing for a B2B SaaS company, where she guided the firm to multiple 7-figure revenue levels in a highly competitive market. Her purview extended across marketing, sales, and customer success departments, ensuring optimization of conversion and retention throughout the customer journey.
Kristie's current focus involves partnering with B2B SaaS startups and NFT projects at various stages, from pre-launch to scaling. Many clients seek her guidance when they face slow growth and require a strategic, experienced marketer to elevate their strategies. She aids companies in developing a concentrated marketing strategy and plan, tailored to the company stage, target market, budget, and timeline.
Her track record includes helping companies to double their revenue through strategic repositioning, boosting organic traffic tenfold with an SEO-focused content strategy, and nearly doubling a company's trial-to-subscription rate. Moreover, she's facilitated startups in forming strategic partnerships to expand brand awareness and generate demand.
Kristie's monthly coaching package caters to CEOs or Marketing Leaders in B2B businesses that need assistance in achieving substantial marketing results.
Her services, priced at $1,000 per month, include:
Weekly coaching sessions focusing on a range of topics, including market research processes, go-to-market strategy and plan development, metrics planning and tracking, optimizing campaigns for performance (across both organic and paid channels), messaging, content marketing and funnel building, and leadership topics such as team-building, hiring, and onboarding.
Providing guidance on the Jobs-To-Be-Done framework and how to implement and roll it out across your organization.
Insightful and data-driven strategies tailored to your business's unique needs and goals.

Justyna Ciecierska
As a seasoned growth executive, Justyna Ciecierska showcases a wealth of experience ranging from working with major corporates like Cisco to SMBs such as StartMail. As the founder of Experimenterra.com, she actively creates products for startups and solo entrepreneurs. She excels at execution, focus, and alignment, aiming to drive growth across all levels of an organization.
Her skills include:
Team Building: Justyna has a knack for fostering teams, even when not formally part of her role. She has been called upon to coach teams for her clients and is currently sculpting a growth team at DotControl.
Content Marketing: Believing that execution and consistency hold 80% of the key to a successful content strategy, Justyna helps her clients move from strategy to execution using her "baby steps" mantra. Her content creation skills are evident in her newsletter, and she's helped multiple clients optimize their content for SEO.
Email Marketing: Justyna has successfully established email marketing automation for e-commerce clients, generating significant revenue. She's coordinated tool migration for various clients and maintains the email marketing for her newsletter.
Growth Marketing: She is experienced in designing data-driven growth strategies, as evident from the 75% yearly revenue growth she facilitated for an e-commerce client. Justyna is an expert at aligning multi-disciplinary teams to attain growth objectives and employs an experimentation process for it.
Mindset Coaching and Frustration Venting: With firsthand experience in overcoming personal obstacles and doubts, Justyna now coaches her peers in managing their challenges. She has a unique approach to transform frustrations into motivation.
For a monthly fee of $400, Justyna offers:
• A solution if you're struggling with growth structure for your small business, starting as a marketing manager, being the sole marketer on your team, or facing issues with hiring and team management.
• Guidance to create a growth roadmap and help you traverse it.
• Assistance in gaining clarity and focus to restore your confidence.
• Preparation for difficult meetings.
• Regular sanity checks.
This package includes weekly check-in meetings, Slack/Skype/WhatsApp/email access, and documentation like roadmap, notes, and resources. If you seek a skilled, empathetic, and experienced coach to guide your SaaS startup's growth journey, Justyna Ciecierska is an excellent choice.

Kosta Panagoulias
Jason Amunwa, a seasoned product management veteran with 12 years of experience, offers a wealth of knowledge to SaaS businesses. He's been the driving force behind world-class design and development teams, overseeing the creation of a variety of SaaS and mobile products in fields such as HR Tech, Healthcare, and Insurtech. These products, used by over 450,000 people and companies, boast a strong track record of acquisitions and fundings.
Here's what Jason can offer as your SaaS growth coach:
Deep understanding of your business' strengths and challenges.
Custom, detailed, and plain-English data analysis.
UX/CRO feedback and strategic guidance towards sustainable revenue growth.
Insight into your "North Star" growth metric and help in prioritizing your product's feature pipeline.
Strategies for accelerating your feature development and release process.
Key areas of focus include:
Improving signup conversion and user activation.
Lowering Customer Acquisition Cost (CAC).
Boosting user acquisition and upgrade conversion.
Reducing churn and customer support costs.
Increasing average Customer Lifetime Value.
For $599 per month, you gain access to Jason's extensive expertise and insights. Communication is primarily via Zoom and email, supplemented with platforms like Slack/Discord, Notion, Trello, JIRA, and Github.
Success stories from other SaaS founders
These are the stories of real SaaS founders who have overcome challenges and achieved their goals with the help of our mentors.
From Belgium to the USA, our reach is global and our impact is profound.
A Virtual Leap Forward with Kosy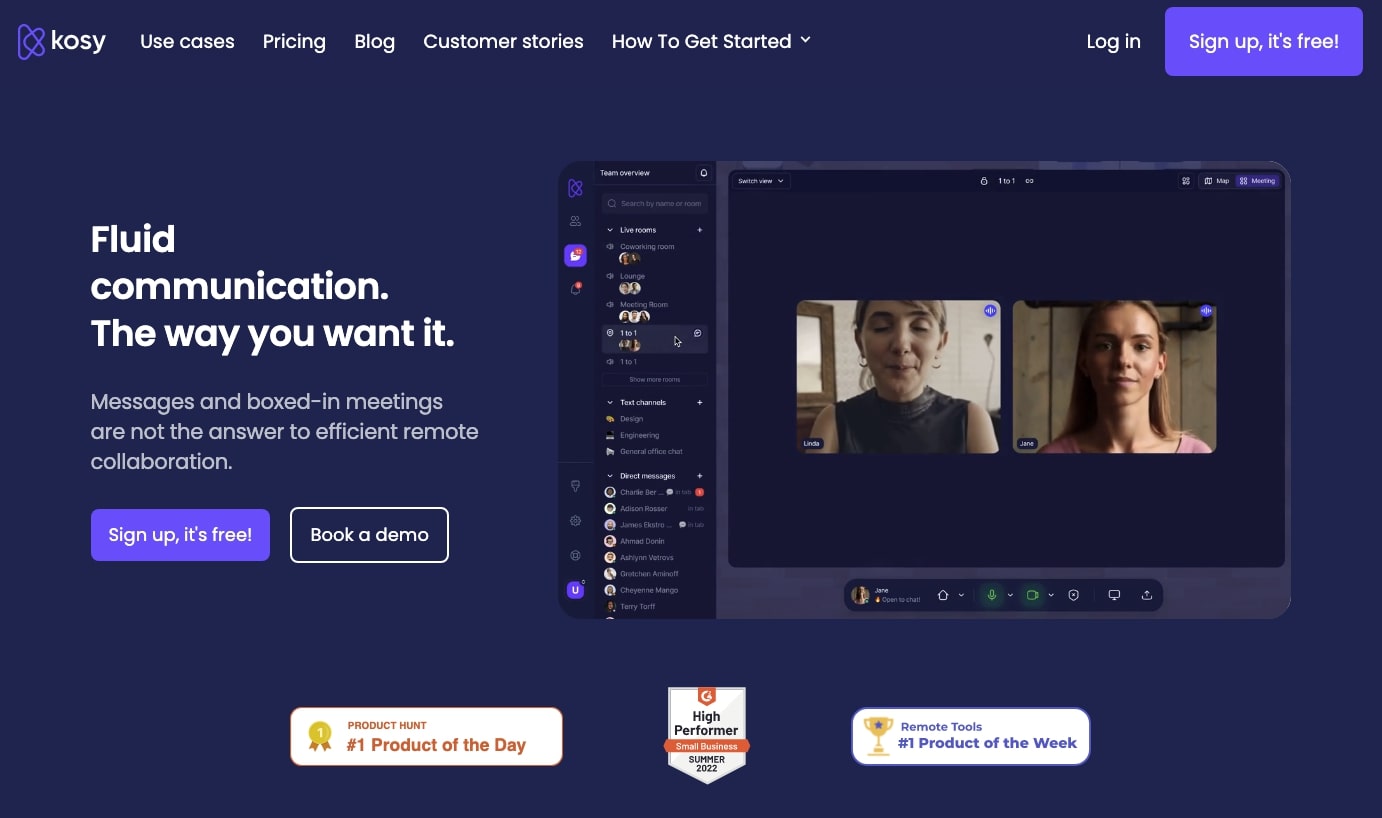 Kosyoffice is a rising star in the SaaS remote work solution space. Based in Belgium, they're building virtual spaces designed to boost connection and productivity for remote teams. When the team found themselves stuck on certain topics, GrowthMentor was there to help them progress.
Yanis Mellata, the co-founder, found tremendous value in being able to consult with a mentor who could provide guidance on specific challenges, particularly when refining the product onboarding experience.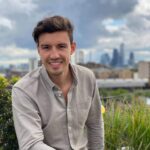 GrowthMentor helps me progress faster on certain topics that I have no clue how to progress on! By speaking to various experts, it makes it a lot easier to understand what we know and what we don't know about a certain topic.

Yanis Mellata - Co-Founder of Kosy
Despite already having a robust network and other resources, Yanis was drawn to GrowthMentor for the speed, usefulness, and value it offers, particularly for SaaS startups.
Read the full Kosy's Growth Story here.
Shortcut to Success with EmbedSocial

In North Macedonia, EmbedSocial, a SaaS platform for user-generated content, has discovered the key to growth in their sector: mentorship. From being part of accelerators and programs to creating an advisory board, they have always recognized the invaluable benefits of learning from mentors.
Head of Growth, Kate Bojkov, values GrowthMentor for the specific type of mentorship it offers: experienced advice from those who have walked in her shoes in the SaaS industry. This practical, experienced-based approach saves her time, money, and resources, which would otherwise be spent on making the same investments and facing the same challenges as others in her field.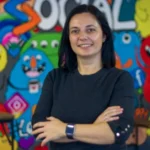 "Talking with people who actually were in your shoes can save you tons of time and money. I definitely think that signing up for GrowthMentor just makes sense."

Kate Bojkov - Co founder and Head of Growth at EmbedSocial
The speed and ease with which she can find a mentor who has faced the same challenges as her are what Kate appreciates the most about GrowthMentor. One of these mentors, Jake Stainer, has been instrumental in helping EmbedSocial structure their entire SEO process.
Beyond her own professional growth, Kate found the platform helpful in assisting her team members in overcoming their unique challenges.
Read the full EmbedSocial's Growth Story here.
Let's wrap this up
In a nutshell, whether you're a novice or a seasoned SaaS veteran, having a dedicated coach by your side can drastically reduce the learning curve and pave the way to success.
We've showcased six stellar SaaS coaches (which represent just a small % of available SaaS marketing coaches available within the GrowthMentor ecosystem) – Kosta Panagoulias, Craig Zingerline, Joran Hofman, Kristie Holden, Justyna Ciecierska, and Jason Amunwa.
Each comes with a unique set of skills and experiences that span various sectors, from bootstrapping and building a 7-figure business to honing expertise in customer success, managing remote teams, or developing data-driven growth strategies.
Their services are designed to provide expert guidance, acting as a sounding board for your ideas, and help you to navigate the turbulent waters of SaaS entrepreneurship. Prices range from $400 to $1,000 per month, depending on the coach, offering a level of engagement to suit different budgets and needs.
We've also seen real-life successes like Kosyoffice and EmbedSocial that have benefited from our mentorship.
Are you ready to scale your SaaS?
Take a leap forward, choose your coach, and start growing today.
Get in touch with me to find you the perfect SaaS coach
Click the link below and book a 15 minute matching session. You'll talk directly to me, the founder of GrowthMentor. I've interviewed all the mentors on GrowthMentor, and my super power is matching.
Let's do it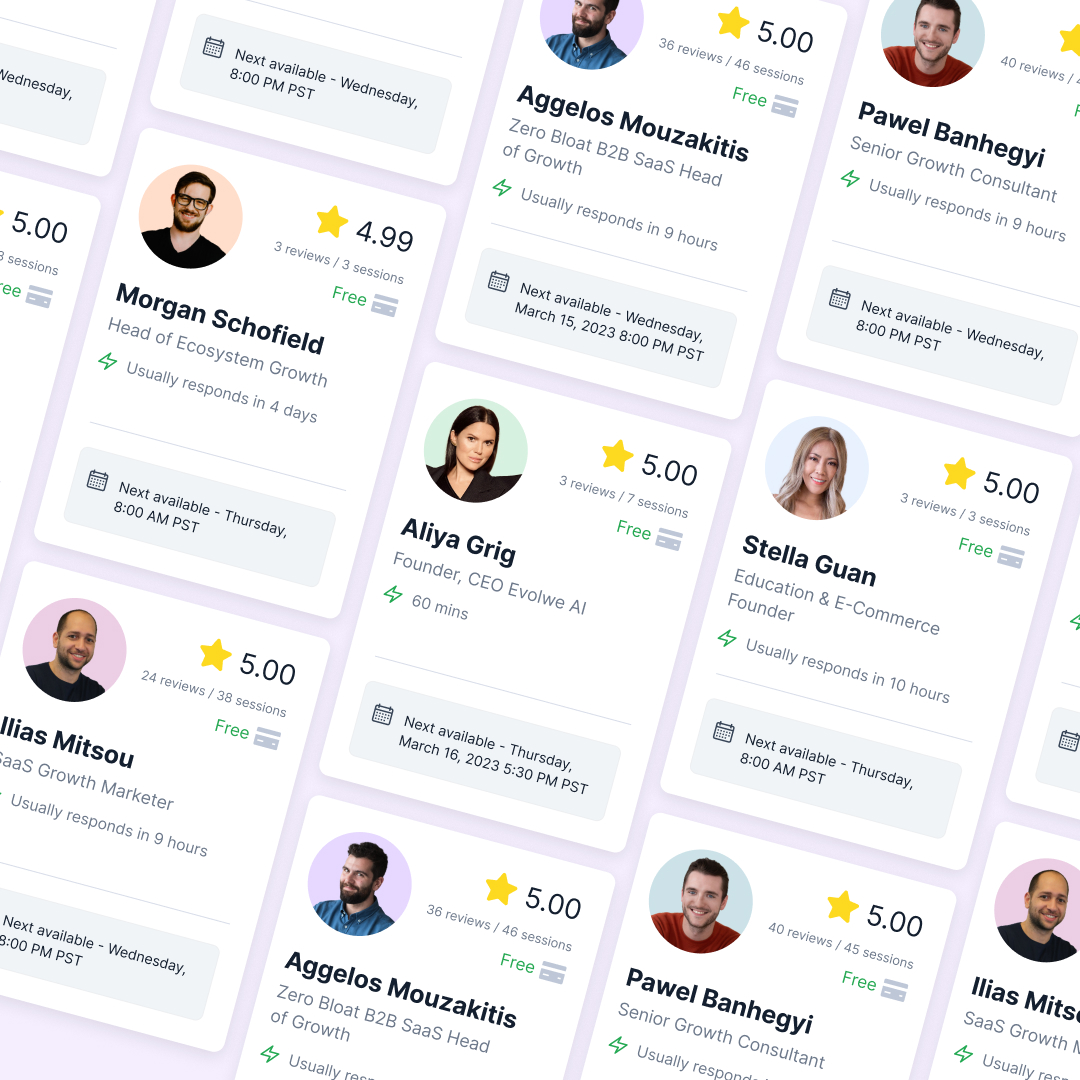 Frequently asked questions
Think of SaaS coaching as having a seasoned tour guide while navigating the wild terrains of the SaaS landscape.
These folks have been there, climbed those mountains, and got the T-shirt.
They can help you tackle everything from sharpening your SEO game to nailing your product's user experience and even streamlining product management.
A SaaS marketing coach is like your startup's personal trainer but for marketing muscles.
They'll help you define your target audience, carve out an effective content marketing strategy, and optimize those conversion rates until they're singing.
And the best part?
They know the SaaS field like the back of their hand, so they can help you tailor your marketing efforts to your industry's unique needs.
Absolutely, yes!
SaaS coaches are like your personal GPS system – they can help you make sure you're on the right path and even reroute if necessary.
They can bounce off your ideas and strategies and offer solid feedback based on their own hard-earned knowledge.
This means less time wasted on detours and more time driving straight towards your goals.
You bet!
Platforms like GrowthMentor aren't just about coaching – they're also a passport to a global community of pros and mentors in your field.
Through 1:1 sessions, you can form relationships with these experts, absorb their insights, and even find doors opening to new opportunities.
It's like having a VIP pass to an exclusive club of SaaS rockstars.
The million-dollar question!
While it can vary depending on your goals and challenges, most SaaS founders find coaching to be a game-changer.
We're talking faster problem resolution, supercharged growth strategies, skyrocketing confidence in decision-making, and a serious boost to your business growth.
Don't take our word for it – our customer stories are the real deal, showcasing the kind of results you could be looking at.