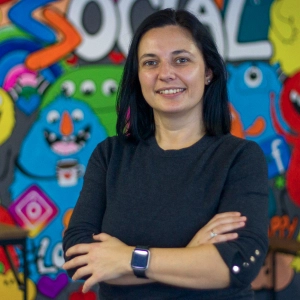 Within GrowthMentor, I could easily find people who have faced my problems, willing to share their actual experiences.
Kate Bojkov
Head of Growth at EmbedSocial
Before you learned about GrowthMentor, how did you deal with the challenges you faced?
We recognized the great benefits of learning through mentorships very early in our startup journey. We had the chance to be part of great accelerators and programs where we met with our first more official mentors.
Later on, we even wanted to create an advisory board and asked a few high-profile local businesspeople to join.
Still, we realized that growing a SaaS business is very different from other companies with a different business model. That is why now we look mostly to talk with SaaS mentors, and GrowthMentor makes finding specific types of mentors very easy.
Tell us about what you are currently working on.
I am one of the co-founders of EmbedSocial, a SaaS platform for user-generated content. My job is to acquire users, discover new use cases, and constantly look for new growth channels.
Currently, I am trying to scale our content marketing activities. This includes discovering new ways to get to unique content, hiring more outside content writers, and building a system for re-using our in-house data.
What ultimately compelled you to sign up for GrowthMentor?
I signed up with GrowthMentor in its early days and talked with a few mentors to give it a try.
For me personally, it was a no-brainer decision as my company already had mentors, and we knew the benefits that this concept could bring to us.
I definitely think that talking with people who actually were in your shoes can save you tons of time and money. This means that they already paid the resources to face the challenge you are currently facing, and it is a shortcut for you to solve it without needing to make the same investment.
So signing up for GrowthMentor just makes sense 🙂
What's your favorite thing about GrowthMentor?
How quick and easy I can find somebody who had my problem and is willing to talk with me and openly share their actual experience.
Any specific mentors that stand out in your mind as super helpful?
Jake Stainer helped us a lot in structuring our entire SEO process.
How has GrowthMentor helped you?
Professionally, it helped me to find very similar-minded people that are very rare in my community. Also, it helps me to find help for some of my team members, who have particular challenges that more experienced mentors can assist them in solving.
What three adjectives would you use to describe GrowthMentor?
Helpful, Reliable, Easy
Join the community
Enjoy the peace of mind that advice is always only one Zoom call away.