Samir Smajic is the Founder and CEO of @ GetAccept, a SaaS tool for sales professionals to design, send, track and market their proposals to get more deals digitally signed.
Why did you decide to apply to Y Combinator?
We're four Swedish founders who've run businesses before, but mainly in northern Europe and Scandinavia. With this new idea, we realized it was something that could become global, and we really wanted to change something instead of doing something small. That's why we looked across the Atlantic to see whether we could start something in the US because that's where this kind of tool will get the most use.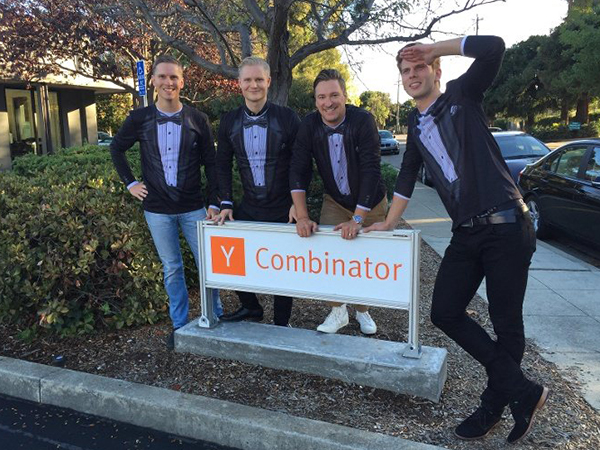 We realized that it was a competitive space and that it would be hard to just come over. So we sent one of our co-founders over and then he went down to the Valley. When he was talking to people, they said we needed to either build up to $1 million in Annual Recurring Revenue (ARR) or to look at incubators like Y Combinator and 500 Startups.
We investigated and saw that there was still a week left to apply for Y Combinator. So we decided to go all out on that, and here we are.
One of the main reasons for applying for Y Combinator was that in the Nordics building the business because we thought we had a really good idea that we could grow globally. We really wanted to change something (i.e. how business-to-business companies make deals and so on), and Y Combinator was our entry route for the US market and ultimately the rest of the world.
You mentioned $1m ARR. Is there some unspoken revenue benchmark that VCs look for before investing?
Definitely. We pitched to around 10 venture capitalists, and they all said that it's hard to move to America and to fundraise, especially as a Swedish company. It's very expensive here, which makes it difficult to run a business.
So basically, they said that we either had to get to that point with the ARR or we had to go through some kind of incubator before we'd even have a reason to speak to them.
How much traction did you have at the time of your application?
Honestly, we didn't have any product. This was in August 2015, and we'd started development that summer. We got our first beta users in September/October, which was at around the same time as our interview.
When we went into Y Combinator, we had something functional and a few beta users, but nothing that was fully out there. So it was very much in the early days, but we moved quickly after that and we released new features and integrations at a very quick pace.
If you want to get into Y Combinator you either need a very good team who's been building things before and proving they can do it or you need a crazy idea or some unique insight that solves a problem in a way that's never been thought of before, or you preferable have both.
What was the makeup of the founding team?
We have four founders, which from their perspective was perhaps a few too many. But from our perspective, we built this team specifically for this startup.
A kick-ass developer who focused on the tech side but with a great business mind. Matias has an entrepreneurial background, building companies and selling one here in the Nordics. I got involved very early at the market-leading CRM company in the Nordics and had experience as a product manager, splitting my time between tech and sales. And then we had Carl, who used to run a sales consultancy organization.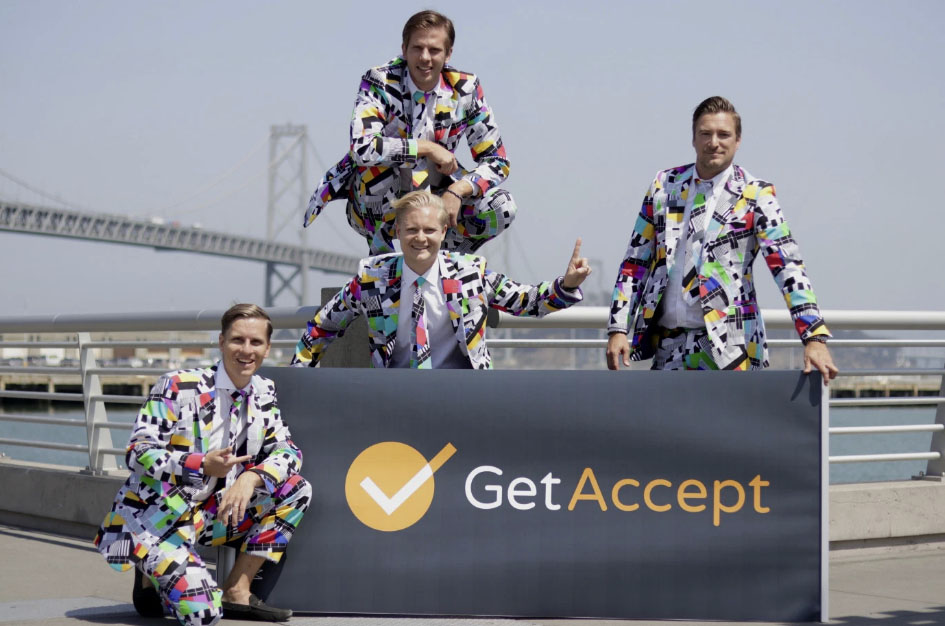 We'd structured the company around the idea that we had our techie, then me in the middle with Matthias working on marketing and Carl working on sales, although all four of us are passionate about sales, if I'm honest. But we're passionate for sales in different ways. This is another thing that made us stand out to Y Combinator when compared to other companies that were focusing solely on technology. We had selling covered quite early and we made revenue in January 2016, the month after launching the product.
We were growing 23% week-over-week through the whole Y Combinator program with money on the bank, which was quite different from any of the others.
What was your go-to-market strategy when you launched while in Y Combinator?
In the beginning, we focused on outbound and inbound sales. One good thing for us is that every sent document is a potential for us. Every time someone uses GetAccept to send something, it helps us spread the word about our brand, an extreme viral effect as the customer base grows. So we get quite a lot of inbound leads that we can reach out to.
We were also working two markets thanks to being based in the US. In the daytime, we were serving the United States, and in the nighttime, we were serving Europe. So it was like one team of four people covering two different shifts until we hired someone in Europe whose job was more or less to book meetings.
That combination took us quite far, especially in the beginning when we were ramping things up. And we're learned loads. We were doing everything ourselves, from sales to onboarding, and we were also using the product ourselves to find more and more ways to improve it.
How much time and effort did you spend on the application?
We had a week to write the application, and we're not native English speakers, which made things more difficult. It was mainly me and Matthias doing that, and it took the two of us a full week.
As for the actual interview, we didn't understand in the beginning that all of us needed to go. Luckily, Matthias and Jonas were already in the US, and so we decided that it made sense for all four of us to go. We knew that we were better at pitching and presenting our idea than we were at writing applications, so we knew we'd have a good chance if we could get in front of them and explain what we were doing.
We flew over a couple of days before the interview. Jonas had found some website which listed a bunch of Y Combinator interview questions and wrote a small script where a new question flashed up on screen every ten seconds or so. We ran that for a couple of days until we felt like we could pass every question.
Because there were four of us, we also made sure that we were strict about who was doing what. I handled all of the questions on growth and how we were looking into building the company. Matias answered all of the marketing questions, Carl had the sales questions and Jonas covered anything to do with tech. We also managed to squeeze a two-minute demo into the interview.
There was a lot of preparation. We spent a whole week just going over it all again and again. In the beginning, we'd write down the answers to the questions and then really think through whether they were good answers or not. If we weren't 100% happy with them, we'd tweak them until we were. We spent a lot of time thinking about the language that we used because we're not super used to business English. We had to make sure that no matter what we were talking about, they could understand it quickly and easily.
Also, some people go to the interview and focus on the wrong areas. They need to think about what makes their idea unique, because many people are exactly the same thing. For example, I've lost count of how many lead generation tools I've been pitched. There are tens of thousands of those things, and I think only 1% of people can answer the question of what makes their companies unique.
It doesn't have to be the product. It can be the team. It can be how you put things together. For us, it wasn't so much that the solution was unique, but rather it was the technique behind it.
We were able to combine different tools into one because we think there are too many sales tools out there. We combined them in a way where it really makes sense, then put a few extra touches in to make it really special. But there are no extremely advanced techniques behind it, in the same way that there's nothing particularly advanced about Uber.
Our team has been growing and selling to companies for a long time. We found out that 60% of all deals which included a quote or proposal ended up in the Valley of Death where nothing happens. People can really resonate with those findings. We can ask them, "Have you experienced this before?" And then when people say yes, we can provide them with a solution that will actually help them.
What were the biggest benefits beyond just the money from joining Y Combinator?
It wasn't much money to be honest.
For us, networking was more important because we all came from Europe. It was like graduating from school. There was a big field of green grass, but we didn't know how to address it. So for us, it was more about networking. We got to network with all the other alumni, as well as everyone from investors and VCs to integration partners like HubSpot, Salesforce, etc.
Did you leverage the Y Combinator network as a sales channel?
We decided to save that for later because we already had great traction from our outbound sales. We didn't want to go to the demo day and only have Y Combinator companies as customers.
Afterward, I do regret that we didn't push harder on the Y Combinator companies from the start, the optimal would have been to have a mixed setup.
Do you have any final tips for founders thinking of applying?
Preparation is key, and figure out what makes you unique and making sure that you communicate it in an easy way. In our case, it was the team plus the combination of how we put different features together in a single platform to solve a unique problem that we'd had ourselves and that other people, including the Y Combinator partners, could relate to.
So to summarize; Preparation and really understanding the problem and the solution, then explaining it as simply as possible.
Read the next interview
The story of when 8 x Co-Founders flew from Denmark to San Francisco for Y Combinator
Read interview