SaaS is an awesome space to be in.
Low barriers to entry
Recurring revenue
Almost infinite scalability
But for every high profile success story, there are literally thousands of failed startup attempts.
Yep, failing = learning, but it still sucks.
Mentorship can improve your odds
In the SaaS world, everyone's crazy about the latest growth hack tactics. But the most effective growth hack of them all is the oldest in the book:
Talk to successful people doing things similar to what you want to do
Ask them what worked for them (and what didn't work)
Leverage their insights to prevent the type of mistakes that are totally avoidable
Build relationships with them in the meanwhile
The skills necessary to excel at growth in SaaS are broad and varied, including:
Product management
Performance marketing
Content marketing
Social media
And the list goes on…
It's impossible to be an expert at everything. That's where SaaS mentors come in. Having the ability to jump on a call with an expert on-demand and talk through your challenges can be a game-changer.
Finding a SaaS Mentor: The Old Way Vs. The New Way
Traditionally, finding a SaaS mentor has been a challenge. The process is often time-consuming and can feel awkward. Thankfully, there's an easier way now. By signing up to GrowthMentor, you can filter mentors by expertise, company, industry, language, and price, and book a remote mentorship session.
The benefits of this approach are clear:
Benefits:
No time wasted
No awkwardness
Guaranteed interest in mentorship
Vetted, high-quality mentors
Real-world experience from respected SaaS companies
Below are 30 mentors currently working in high-growth SaaS startups. These mentors hail from various backgrounds and expertise – from product management to performance marketing to customer success, and more. Feel free to click into their profiles to learn more about how they can help you. Remember, they are all super friendly and are eager to help you out.
Ready to #GetGrowing with the help of a seasoned SaaS mentor?
Featured mentors with a verified track-record of success growing SaaS startups:
Name
Role
Company
Key Accomplishments
Kosta Panagoulias

Co-founder

Web4Realty

Bootstrapped a SaaS out of my parent's basement with zero dollars in the bank, and no tech experience. That company was successfully acquired in a 7-figure cash exit.

Pratibha Jain

VP of Growth Marketing

Gradle

 1st demand gen/growth marketing leader at three of the companies I've worked at and have built my team from scratch. I have a lot of learnings from those experiences that I can share with anyone who is looking to start their growth marketing/demand gen function.

Michelle Teo

Head of Marketing

Rounded
Scaled several bootstrapped startups breaking through their first 6 and 7-figure ARR's, so I'm well versed in leveraging tactics that don't involve spending big $$$ on ads.

Moran Khoubian

Sr. Director Marketing

Yotpo

A founding member of Yotpo's Partner program. Built and lead the Partner Marketing team, strategy, and execution supporting Yotpo's global partner ecosystem of SI, ISV, platform, and alliance partners.

Sam Gregory

Marketing Director

Caura

Going from 1-100, evolving positioning and strengthening PMF in a rapidly changing niche B2B market (£0.5m to £32m revenue)

Jonny Butler

Head of Marketing

Leadfeeder

Grew the marketing team at Leadfeeder from five to 11 people and managed a team of 25 marketers at Dealfront

Jonathan Francis

Growth Marketing Manager

WSO2

Developed and implemented a global content marketing strategy, utilising a diverse mix of channels, including content syndication with international publishers, LinkedIn evangelism, influencer engagement, and organic social media, leading to an 81% increase in sales-qualified leads in 12 months.


Neil Bainton

Co-Creator

Mailchimp

Took Mailchimp from $200k to $250 mil in seven years with no outside investments. Created an import company in Moscow, Russia with no outside investment. Grew business to include distribution across 11 time zones and $50 mil in sales.

Louie Pascua

Program Manager

Dropbox

I've served as the interim product manager for the Search Indexing and Foundations teams while simultaneously bringing organization and technical expertise across a group comprised of 100+ team members across PM, Eng, UX, DS, QA, PMM and CX.


Jon Falker

VP of Marketing

Redica

I have led marketing for three SaaS apps. One B2C and two B2B. The B2B companies are quality and regulatory intelligence for life sciences companies, and product management software focused on empowering continuous discovery and helping weave it into continuous delivery.


Monica McMahen

Director of Marketing

Photonic

I've helped companies double or triple revenues and exit. I've worked in marketing teams of 1 person (me) and of 20 or 100 people, with budgets from $0 to $8 million. I can help you get the most out of whatever you have to work with across a wide variety of channels and tactics. Experience in B2B SaaS, B2B hardware and D2C.


Jillian Wood

Director of Content

Coconutsoftware
Ran content, comms, social, PR, and branding at early stage fintech startup. Accomplishments include rewriting website copy, supporting the development of a new strategic narrative, managing the production of a new explainer video, SEO pillar pages, an annual benchmarking report, and more.


Kate Syuma

Head of Growth Design

Miro

I'm the Head of Growth Design at Miro, as well as Growth Advisor & Mentor. I joined Miro in 2017 as a part of a small team of 50 people and passed from a startup to a successful SaaS company through hyper-growth. I was a part of the founding Growth team and over 6 years co-strategized Miro's growth across Acquisition, Retention, Monetisation, and Community Platforms. I covered experimentation across the whole funnel, conducted hundreds of customer interviews, and validated 100+ hypotheses.

Mark Szelenyi

VP of Product

ON24
Product management leader for high growth enterprise SaaS platform from $0 – $150M and IPO. Responsible for developing and implementing product strategy and roadmap, executing successful platform releases, collaborating with executive stakeholders, and building relationships with strategic customers.

Vivek Valayapathy

Digital Marketing Manager

Quadient
I lead a digital marketing team at a B2B SaaS company. I have 8 years of experience running performance marketing and website optimization projects. In my last 3 roles, my team has scaled revenue 2x from digital channels. If you have a demand generation and conversion problem, I can help.

Kevin Veitia

Social Media Marketing Manager

Canva
Achieved a $0.03 CPA for Canva, grew their userbase by 250,000 in just a few months, and gave their brand more visibility than if they took out a Superbowl ad for a fraction of the cost then contact me today.

Daniel Choi

Growth Marketing Manager

Ramp

I'm a Growth Marketing Manager at Ramp (the fastest-growing SaaS or fintech company of all time by revenue, having grown to a $100 million revenue run rate in two years from launch). 2nd hire on Growth team; own implementation, experimentation, & reporting of paid acquisition channels ($XM monthly spend for Google, Bing, FB, LI, Twitter, StackAdapt, Reddit, Amazon, Taboola, Quora, & Dianomi) while scaling our team from 2-10 in 5 months.

Olga Mykhoparkina

CMO

Chanty
Built a marketing team from scratch, got from 0 to 10,000 teams in 2 years.

Shailvi Wakhlu

Head of Data

Strava
I am the former Head of Data from Strava and Komodo Health. As a data professional, former software engineer, and entrepreneur, I've had the opportunity to build some great products. I have influenced companies such as Salesforce, Fitbit, and the company I co-founded.

Mariana Racasan

Marketing Director

Zenhub
I led the repositioning and rebranding of Zenhub, establishing and maintaining consistent and compelling messaging and positioning across all marketing touchpoints. This effort resulted in a $10M Series A for the company, which helped capture an even larger market beyond GitHub.

Lyubima Petrova

Demand Generation Manager

Mobilexpense
Responsible for our demand generation strategy through performance marketing activations. Keeping an average CTR on Google of 11%. Optimising channels such as LinkedIn ads and Google ads are part of my daily focus. Ensuring data quality and an optimised CRM and CSM system and processes while in constant collaboration with our Sales and Product departments.

Phil Gamache

Director of Growth

Pelago
– Director of Growth at WordPress.com and Automattic. You may have heard of WordPress, they power over 40% of all website on the Internet.
– Head of marketing Operations at Close, a fully remote boostrapped team led by some of the smartest minds in SaaS sales, content marketing and SEO
– Director of Marketing at Klipfolio, one of the most powerful BI tools for SMBs and startups

Haley Carpenter

Manager Strategy Consulting

Optimizely
I've worked at some big names in the industry including CXL and Optimizely and have built, scaled, and ran research programs for all kinds of businesses in all kinds of industries. I've also consulted and trained. I'm versed in about any methodology. I'm tool agnostic and can use most common tools on the market.

Erika Barbosa

Head of Growth Marketing

Observablehq
Growth focused marketing leader who is revenue minded with 15+ years in demand generation, growth marketing and data analysis. Value-driven track record of creating and executing data-driven strategies to drive revenue growth and bringing products to market.

Daniel Kurrasch
Head of Sales, Central Europe

Shopify
I've spent the last 10 years building up teams of various sizes and cultural backgrounds, from 2-3 up to 50 people in both, IRL-as well as remote only environments and probably have interviewed 500+ sales executives and managers.

Elliot Volkman


Director of Brand, Content, and Community

Drata
I currently work with Drata, the fastest growing risk and compliance technology solution provider (SaaS company). At Drata, I lead an amazing team of creative and strategic thinkers who fuels a much of our marketing organizations capabilities in an integrated motion that ranges from messaging, brand awareness, campaigns and programs, content, podcasts, webinars, and our annual conference.

Shahar Barkai

VP of Global Growth

Ox Security
I have managed 2 companies, 6 brands and multimillion pipeline and budget. I have made 1 exit (as a GM), got one startup to a unicorn stage, and accelerated two other startups to hyper growth in 8 digits ARR.

Anna Dzehilevych

Senior Growth Product Manager

Maze
– Introduced and implemented a growth engagement framework, which helped to define the main strategic direction for the next year
– Together with the growth and analysts team introduced and developed a company-wide engagement dashboard

Priya Bhatia

Growth Product Lead

7shifts
Key member of the GTM team – helped bring many products to the market through deep technical expertise and market competitive understanding. Helped drive experimental launches, collaborating with sales and drove contextual discovery.

Charlie Windschill

Director of Growth Marketing

Ortto
Agile demand gen marketer with 8+ years experience working in the NoAm and EMEA regions. I specialise in helping growth-stage organisations achieve goals through innovative strategies including product-led and content-led growth. Generalist with expertise in integrated campaigns, digital channels, events, and partner marketing. I enjoy collaborating with cross-functional and regional counterparts and am passionate about building highly engaged, motivated teams that are empowered to do their best work.

Want to browse hundreds more SaaS mentors?
We're the first and only platform offering flat-rate subscriptions for unlimited access to world-class SaaS mentors.
Browse 600+ Mentors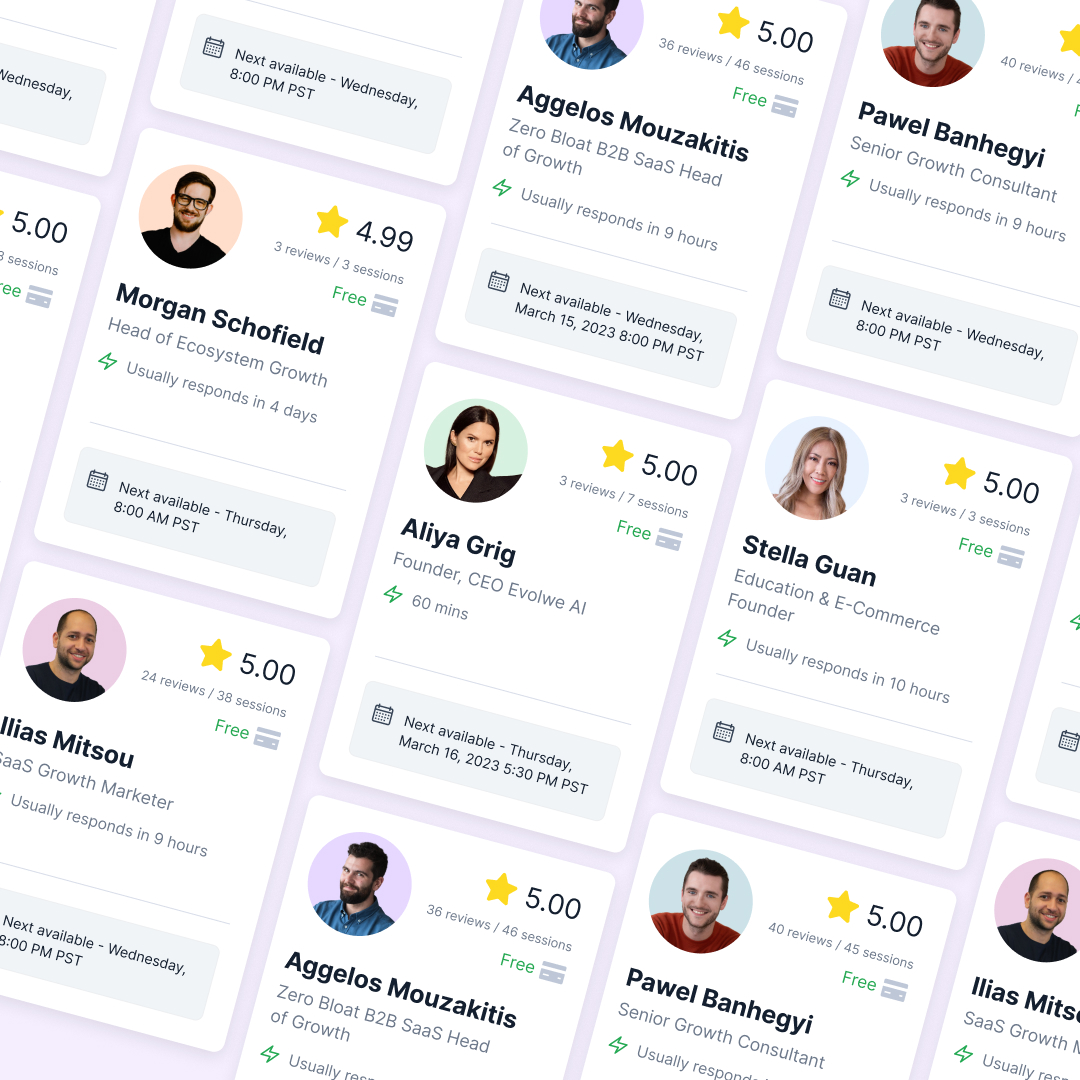 It's important to have more than one mentor
The idea of finding a single Yoda-like mentor to guide you through every challenge you'll face growing your SaaS startup is naive.
It's not just about having a mentor.
It's about having the RIGHT mentor for each specific growth challenge.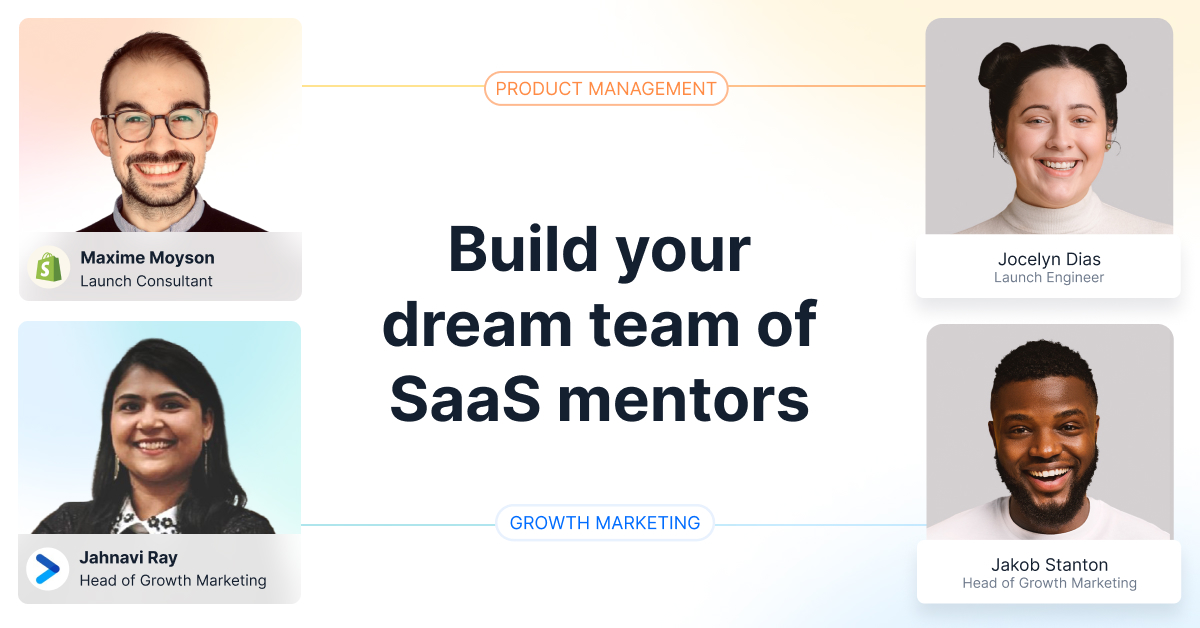 That's why we've built GrowthMentor around a multi-mentor approach:
Scaling your SEO strategy? Chat with a seasoned SEO expert like Dimitris Drakatos who scaled organic search from 0 to 2.5M monthly organic visits in 12 months at Peanut-app.io, a VC-backed startup in the women's health space.
Dealing with burnout? Book a session with Dani Hart who was VP of Growth at GrowthHackers and has gone from completely burned out to living a life and working with intention on her own terms.
Building an experimentation program? Chat with someone like Jason Barbato who developed, launched, and scaled a $40M+ growth hacking program at IBM, running 200+ experiments.
Bootstrapping a SaaS? Talk to a founder like Kosta Panagoulias who bootstrapped his startup and recently sold it in a 7-figure cash exit (as a non-tech founder)
Experiencing hyper-growth? Chat with someone like Daniel M. Choi who helped scale growth at Ramp to a $100 million revenue run rate in two years from launch.
Don't limit yourself to just one mentor.
We encourage our members to curate a "mentor dream team," and with 600+ vetted mentors to choose from, it's super easy to do just that.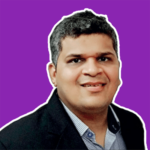 "I've learned to think how SaaS companies think. This has helped me improve my messaging and communication."

Rishabh Bhandari - Founder at contentbeta.com
"How did you find all of these amazing SaaS mentors??
This is something that we are asked quite often.
Our secret lies in our vetting process.
Besides an impressive work history and verifiable track record of success growing SaaS startups – mentor applicants who make it onto the platform have to be nice people.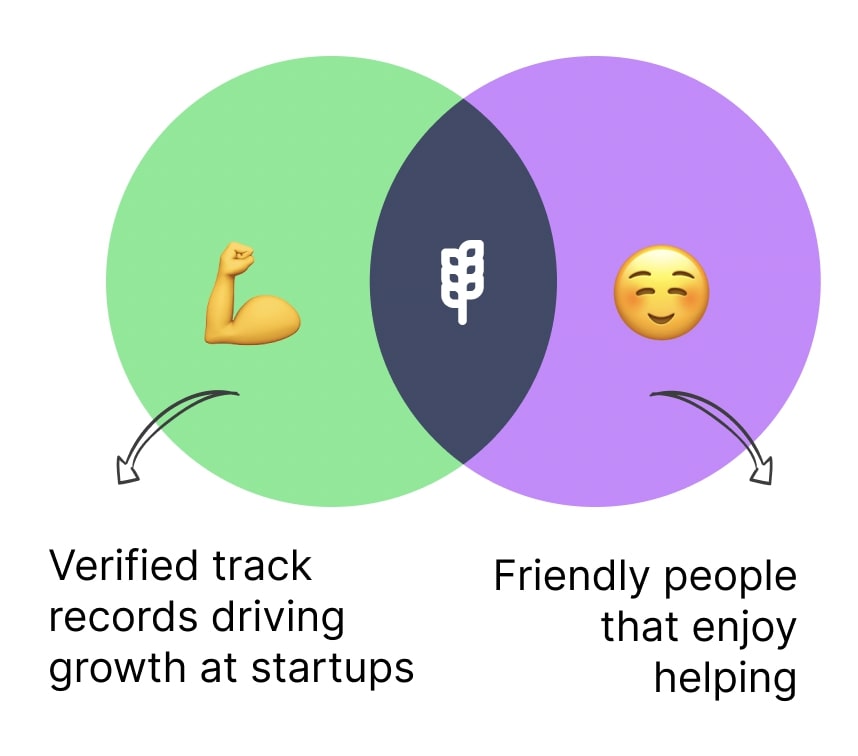 Humility, kindness, and warmth are things that we look for in the mentor vetting process.
Does this person have the patience to hop on a call with a total newbie?
Can they hang with someone who is even more advanced than themselves in a certain area?
These soft skills are what set Growth Mentors apart from other "gurus".
What do people talk about with SaaS mentors?
The topics you can discuss with a SaaS mentor are broad and varied, tailored to your specific needs and challenges.
Here are the topics booked on GrowthMentor in the last 30 days: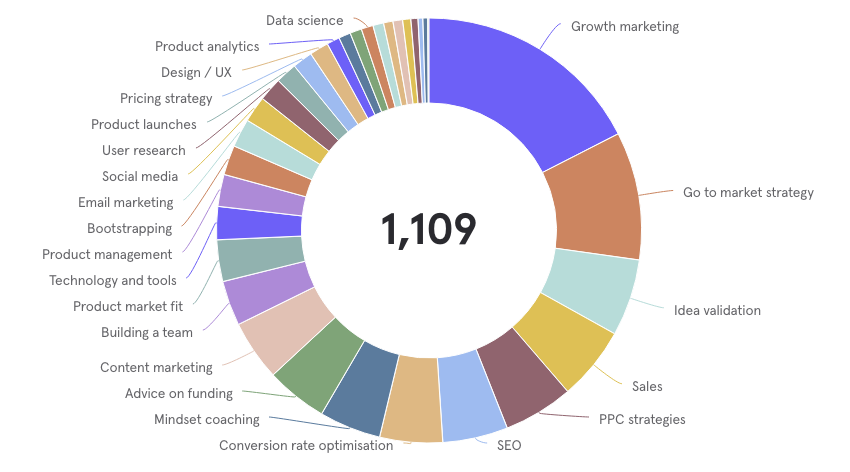 But generally speaking, the below are the most popular topics:
Product Development: If you're in the early stages of developing a SaaS product, your mentor can provide invaluable guidance on product-market fit, feature prioritization, and UX design.
Business Strategy: SaaS mentors can help with defining clear business goals, choosing key performance indicators (KPIs), and creating a roadmap to reach your objectives.
Growth Tactics: Discuss various strategies for customer acquisition, retention, and expansion. This could include discussions around sales funnels, pricing models, churn reduction, and customer success strategies.
Marketing Strategy: Your mentor can help you design and implement effective marketing strategies, from content marketing to SEO, SEM, and social media strategy.
Fundraising and Investor Relations: If you're seeking investment for your SaaS startup, a mentor can provide guidance on how to pitch to investors, negotiate terms, and maintain healthy investor relationships.
Leadership and Team Management: As your SaaS company grows, so do the challenges of leading and managing a team. A mentor can provide advice on hiring, team culture, conflict resolution, and more.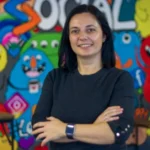 I definitely think that talking with people who actually were in your shoes can save you tons of time and money. This means that they already paid the resources to face the challenge you are currently facing, and it is a shortcut for you to solve it without needing to make the same investment.

Kate Bojkov - Head of Growth at EmbedSocial
Choosing the right SaaS mentor
With 600+ mentors to choose from selecting the right is easier said than done. When speaking with our members, one of the common themes I hear is, "I feel overwhelmed! There are so many awesome people, and I don't know who to speak to first!"
Here are a few tips:
Identify Your Needs: Define what you expect from your mentor. Are you seeking guidance on product development, marketing strategies, fundraising, or leadership? Knowing your needs will help narrow down the choice.
Check Their Expertise: Review the mentor's background and experience. Are they experienced in the areas you need help with? Do they have a proven track record of success in the SaaS industry?
Alignment of Values: A mentor whose values and work ethic align with yours can greatly enhance the mentoring relationship. This alignment can also foster a comfortable environment for open, honest discussions.
Communication Style: Each mentor has a unique style of communication. Some might be straightforward and direct, others may be more reflective and explorative. Make sure their style resonates with you and facilitates your learning.
Remember, choosing a mentor is not a one-size-fits-all scenario. It's about finding someone who understands your goals, challenges, and aspirations, and who can guide you on your unique SaaS journey.
Wrapping it up
Having a SaaS mentor in your corner can be a total game-changer, offering you a seasoned perspective, personalized advice, and a boatload of real-world wisdom. They've navigated the same maze before and can help you dodge pitfalls and grab golden opportunities.
With GrowthMentor, you're not just getting a mentor. You're getting a real person who's as nice and approachable as they are experienced. We don't do preachy gurus. We do genuine folks who are passionate about sharing their knowledge and helping you grow.
Ready to dive in? Come and explore our crew of SaaS mentors on GrowthMentor. Whether you're after product development tips, marketing strategies, or just someone to bounce ideas off, there's a mentor waiting to chat with you.
Grow your SaaS startup faster with 1:1 mentorship
If you're serious about growth, you need more than "thought leadership" blog posts, courses, and podcasts.
Create Account