This post is part of the Co Founders series
2.

6 Most Popular Websites to Find a Co-founder for Your Startup
Pilots don't fly alone; world leaders are surrounded by experts advising their decisions, surgeons have assistants by their side. Going alone is unfeasible in pretty much every profession. So why would you do it for a startup?
Being a solopreneur can make decision-making more stressful and complex. And let's be honest, you may have many strings to your bow, but there will always be some skills you lack.
There are many reasons 90% of startups fail, but one is the lack of a co-founder and a network of people with startup expertise.
Choosing the right co-founder is one of the most important decisions you make when launching a new venture. You need the perspective of someone with different experience who is strong in the areas you aren't.
But where to find that person? You could use your network, ask for recommendations, referrals, and search online communities. Another option is to browse one of the sites dedicated to helping you find your co-founder.
Want some honest feedback about each of those sites? How easy are they to use? What about the quality of the people you can find on them? Check out these reviews to learn more.
Top Websites to Find a Co Founder
Ok, so the only slightly biased review here may be for Growth Mentor. However, that's only because we rate the people who offer their expertise on Growth Mentor so highly.
The mentors available are from world-leading companies that want to share their knowledge with others. They are here because they want to share their expertise and help others learn what they had to learn the hard way.
Pros
When you create a profile on Growth Mentor, you can select 'find a co-founder' when you choose your networking objective on sign up.
The onboarding process is smooth, and you can be very specific when finding the right person to give you advice or potentially become a co-founder.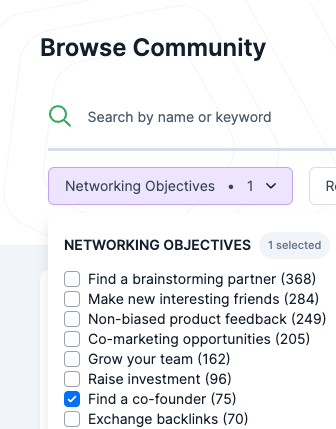 Browse the list to see if someone has the expertise you are looking for, and reach out to see if they would be interested in connecting.
Here's a podcast episode of two people who met on GrowthMentor and are now running a 6-figure business together.
Cons
Growth Mentor is not a co-founder-specific platform; many mentors aren't explicitly looking for a co-founder. As a result, it may take some time to nurture relationships and find the right person to bring your vision forward with you.
What's the Cost?
$30 a month for the quarterly light plan
$56 a month for the yearly pro plan
Most of the top mentors offer their time for free, so you can schedule a call and pick their brains about your start-ups' challenges.
What's the quality of the people on the platform?
It's super easy to see how many calls a mentor has completed and reviews from other mentees. In addition, the ratings are beneficial to see which specific challenges the mentors have helped other people with.
The mentors are referred by other experts and go through a vetting process to become growth mentors. There are almost 300 mentors available who speak around 35 languages between them.
Reviews
Growth Mentor has a 4.9 rating on Trust Pilot, with many happy mentees sharing their experiences.

The freemium model offered by Start Hawk makes it super easy to register and start looking for your co-founder straight away. It takes less than 5 minutes to set up a profile; you simply answer a few questions: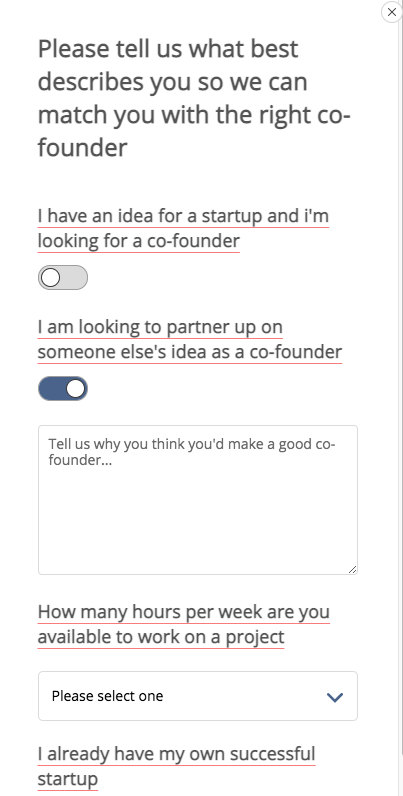 The homepage lists people's profiles with a little about whether they have the idea or want to get involved with someone else's idea. You can use the filters to sort through profiles to find a founder in your country, for example.
There is a quick view option which makes it easy to browse people's profiles. If someone catches your eye, you can click through to see their pitch for their startup and why they would make a good co-founder.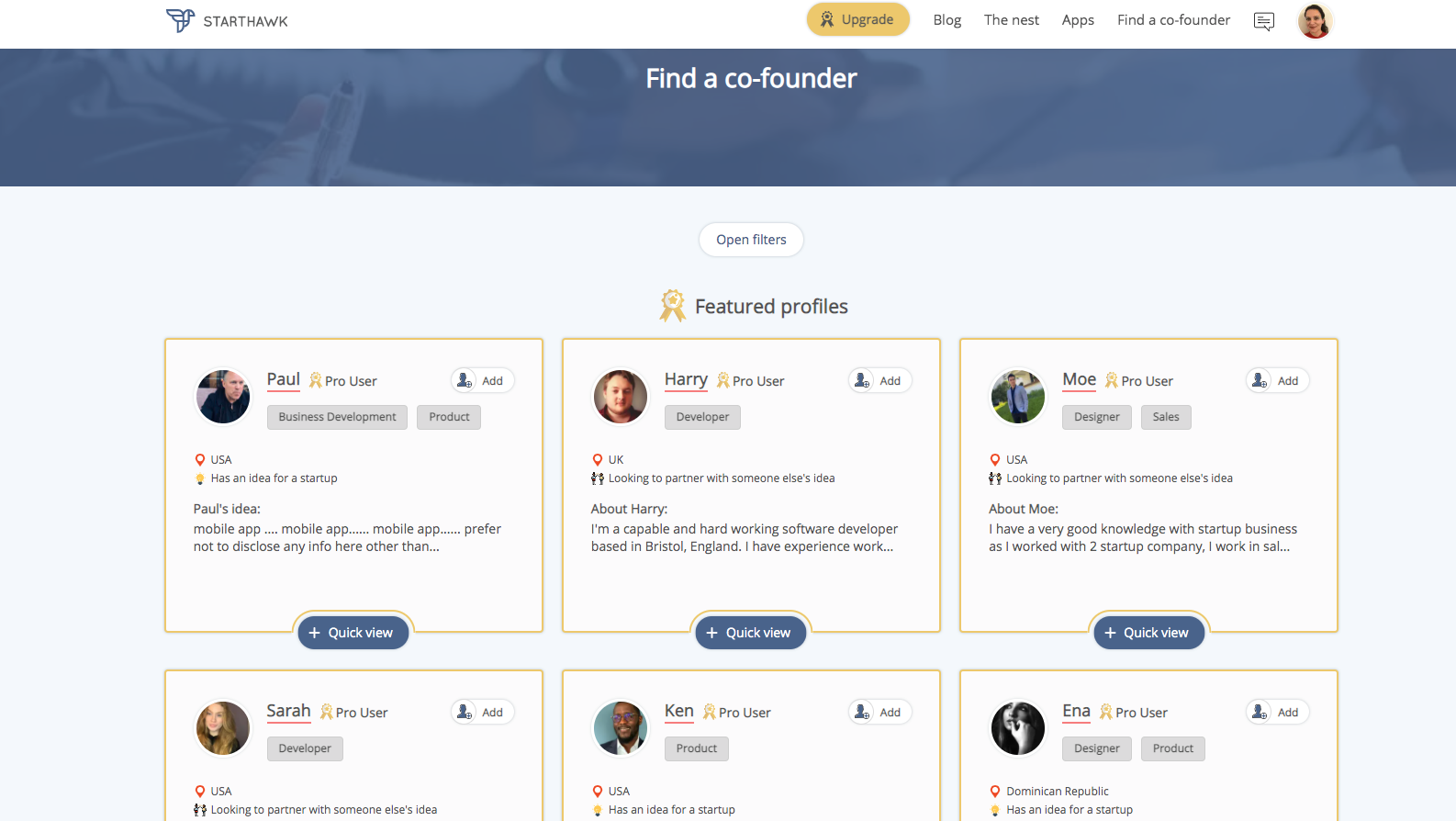 You can also use the site to search for jobs at startups.
The platform offers a solid advice section via the blog and answers essential questions for founders. They cover topics such as interviewing a co-founder and how to write messages to potential co-founders that will receive replies.
There's a community forum called 'The Nest' where you can ask questions for other founders to answer, and community members upvote the topics.
On Start Hawk, you will find founders from every industry from businesses all over the world.
Cons
You can't see which companies people have worked at, and the bio is very limited; you don't need to enter many details to have a profile listed on the site.
The main con of the platform is that it seems like anyone can sign up, which may dilute the quality of the people you can find on it. In addition, there doesn't seem to be any type of vetting process to approve people to the platform.
You could spend a lot of time filtering through people to find the right match amongst hundreds of profiles. Unfortunately, it's also hard to know how up-to-date the profiles are.
Cost
The freemium model makes it easy for anyone to sign up and create a profile immediately. If you want to upgrade to a Pro account, you get benefits such as unlimited messaging and a featured profile on the homepage.
Signing up to a Pro account is:
$19.99 for 3 months
$16.99 for 6 months
$14.99 for 12 months
Reviews
There aren't many reviews of people who have successfully used Start Hawk; here are people's thoughts on Product Hunt.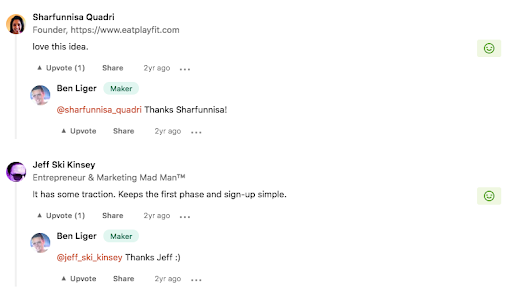 Startup accelerator Y-combinator has a platform for founders and potential founders to set their goals, get advice, learn from the startup curriculum and find co-founders.
The platform offers an eight-week course for startup founders; you are assigned a mentor and can attend group sessions. These sessions allow you to ask all the burning questions you have about your business.
Pros
The dashboard is easy to use; you have immediate access to the curriculum of 22 videos that answer questions such as how to pitch your startup to how to improve your conversions.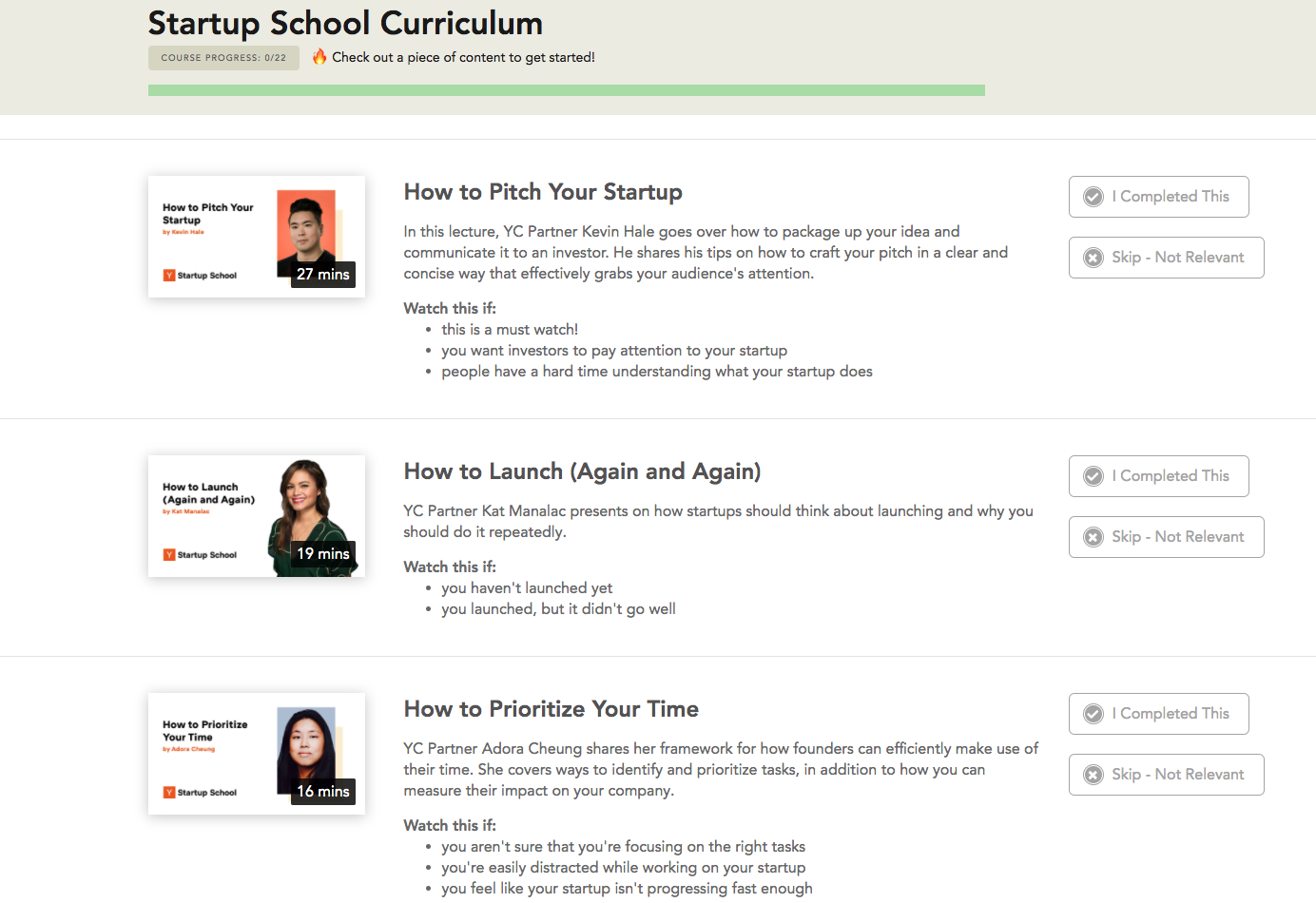 You also get access to hundreds of videos and guides in the YC Library. These are all created by startup experts who have gone through the process of founding their own company.
The quality of the content is very high, and you can learn everything you need to know about starting a business using YC startup school.
Startup school is free to use, and anyone can sign up. If you are still in the ideation phase, you can join the program. You can also join if you already have an established startup. If you sign up as an aspiring founder, you get a ton of advice on finding a co-founder.
The directory helps you find other companies and connect with others in the YC community, full of experts on all things startup.
Cons
This platform isn't solely for finding co-founders, so you need to actively network if finding a co-founder is your primary purpose.
Cost
It is entirely free to take the Y Combinator Startup School course and become a community member.
Everything that comes as part of membership, including access to the community of founders and mentors, is also free.
Reviews
Founders and spiring founders who have used the startup school to accelerate their knowledge and make connections in the startup community are very optimistic about their experiences.
The people using the platform are real founders, and there isn't any spam or fake profiles as with many of the other co-founder platforms.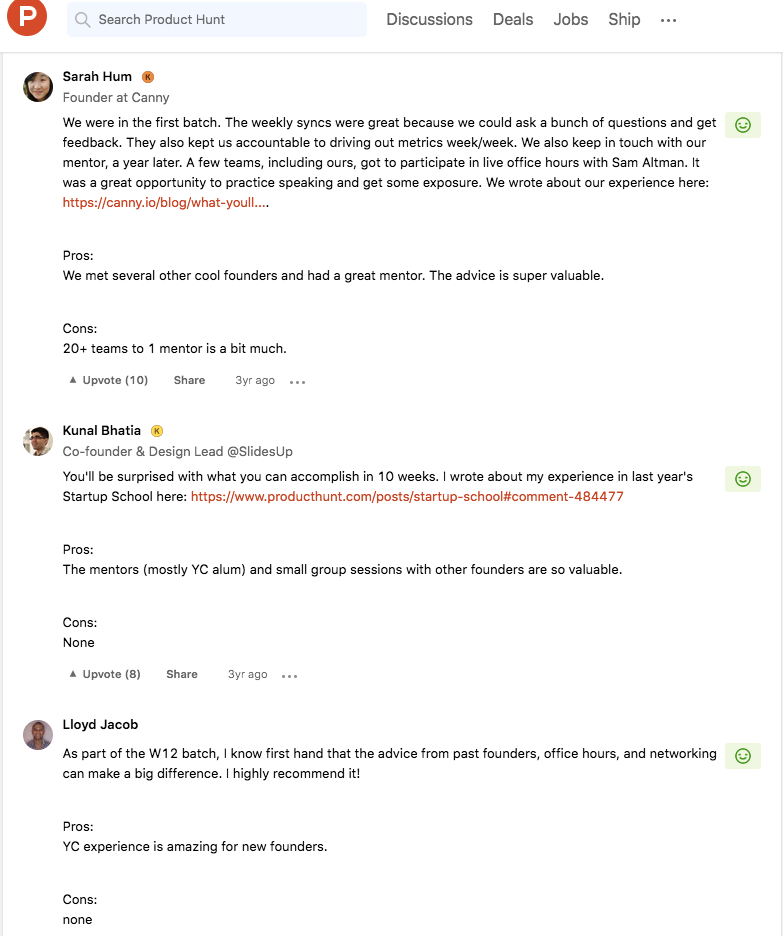 A co-founder site where people can place listings for a co-founder like they would job ads. They are very specific and state what type of co-founder they are looking for. The site is full of tools applicable to new founders.
Pros
FoundersList was founded by startup pros who know what's important when searching for a co-founder. They share their knowledge and expertise via the FoundersList podcast.
They also host startup and founder events to help people network and learn from experts in their field.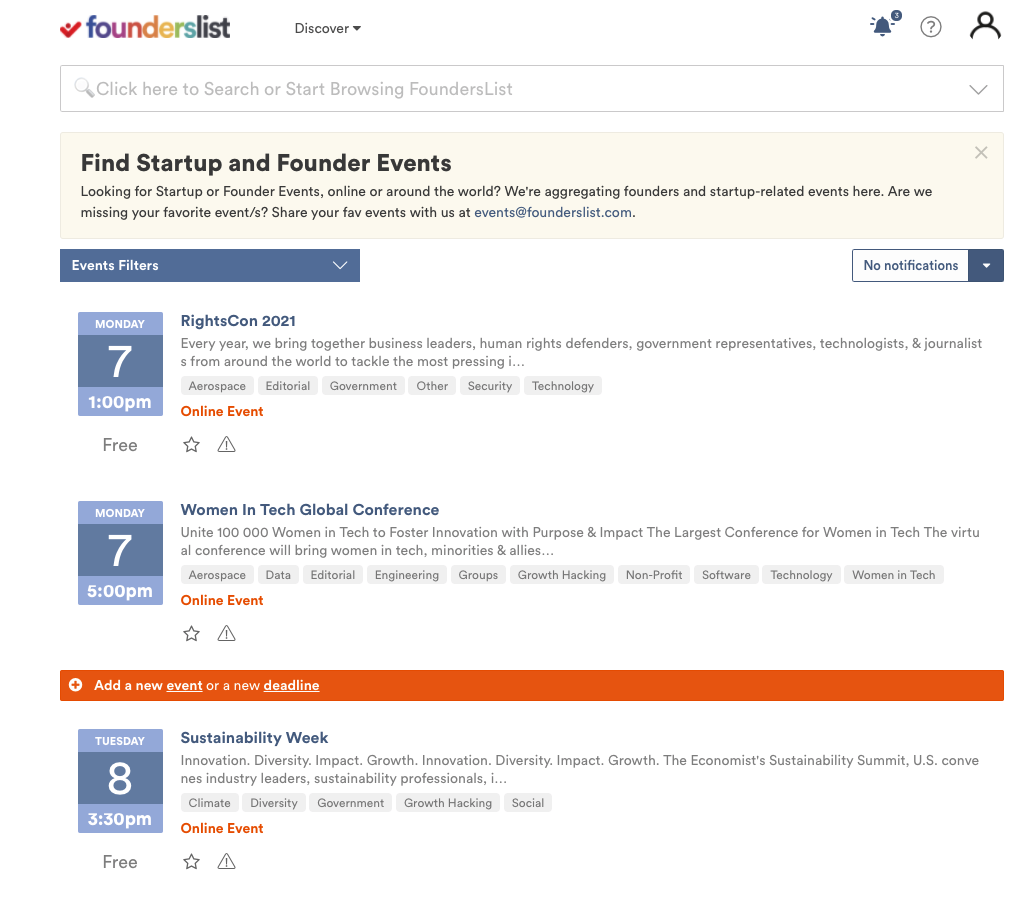 A list of tools for startups with heavy discounts is another valuable feature of the site.
The site is straightforward to navigate, and you can receive notifications when new co-founder listings are posted. Upvotes and comments are encouraged on the listings to bring the most lucrative opportunities to the top.
You can also receive email notifications to alert you when new opportunities arise.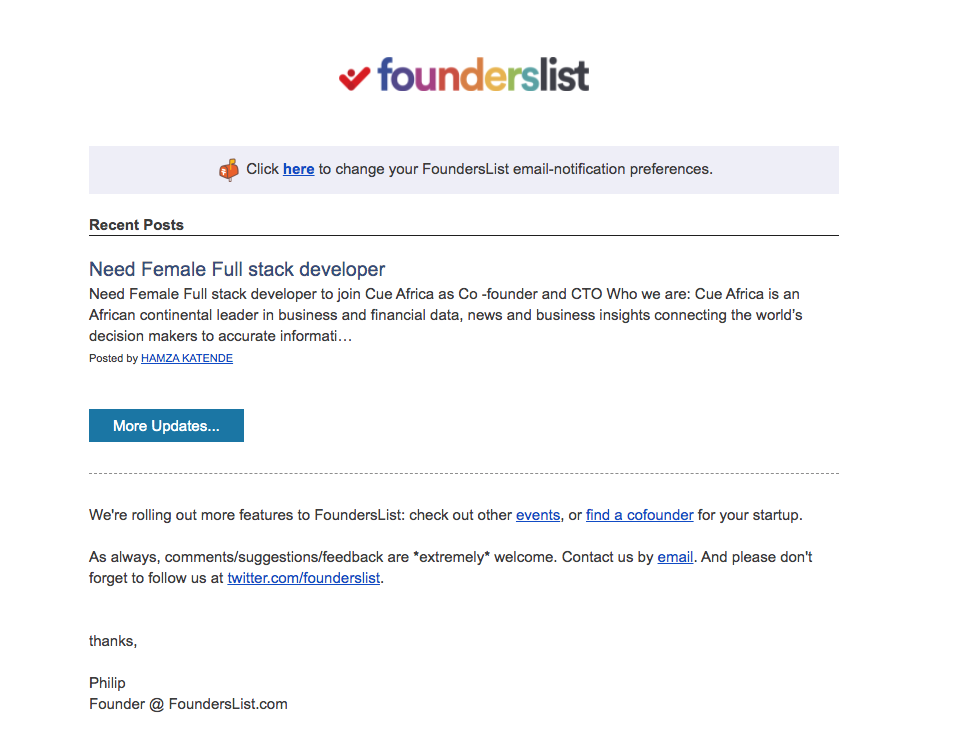 Cons
There currently aren't that many listings on FoundersList – about 25.
People don't list personal profiles; it's purely the listings of opportunities that currently exist. As a result, there's less opportunity to connect and collaborate with someone with the potential to co-found a business but who's still in the ideation phase.
Most of the opportunities listed are for start-ups that are already established.
It's hard to tell about the caliber of the people who list opportunities on Founders List. However, many of the startups searching for co-founders already have funding.
Cost
It's completely free to sign up to FoundersList, create a profile and send messages to people who post opportunities.
Reviews
There aren't many reviews of the site itself, but Product Hunt has positive reviews about the idea.
The reviews of the podcast are all positive; these guys know what they're talking about. The podcast is also insightful if you aren't sure what you should be looking for in a co-founder.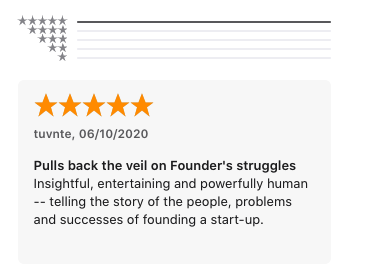 Position themselves as leaders in the co-founder dating business; in 2016, they acquired the site Co-founder Dating.
With over 400,000 community members, it's free to sign up and start searching for people to connect or collaborate with.
Pros
There is a vast network of people on the site. They also share links to their social media and LinkedIn profiles which is great if you want to connect outside the platform and see if someone is who they say they are.
You can filter by location and expertise and find a mentor if you are looking for one.
A community forum lets people ask start-up-related questions and find potential collaborators.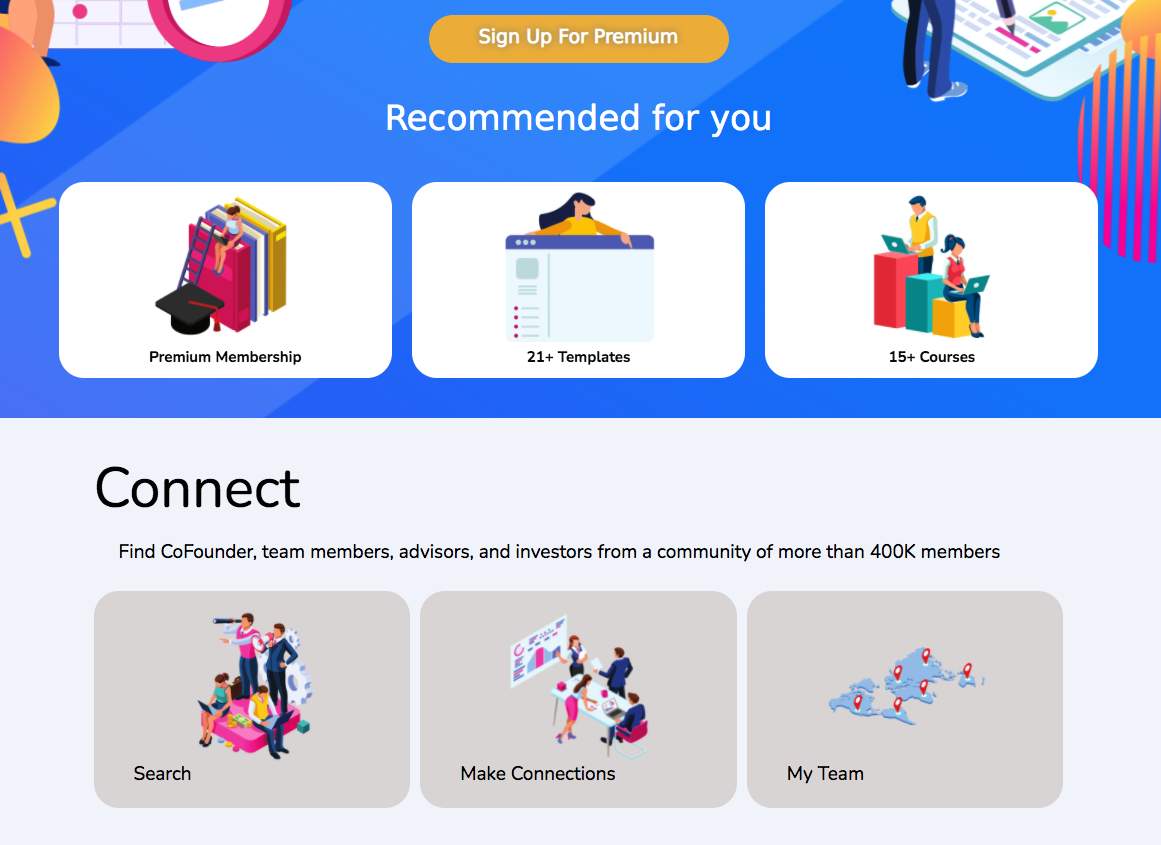 Cons
There are so many people listed on the site that it can be a little overwhelming.
The site's user experience is buggy and confusing; there are too many things going on, making it hard to navigate. A new tab opens with every option you click on too, which is irritating.
Many of the profiles seem to be inactive, and there are a lot of fake profiles. A lot of people on the platform are soliciting work rather than looking for a legitimate co-founder.
If you use this site, be prepared to be inundated with spam messages.
Cost
Although free to sign up, you can't send more than two messages unless you upgrade to a premium account.
You are pushed to buy premium membership at every given opportunity. It seems like you can't use the site very much unless you pay for a premium membership which costs:
12 months premium is $14.99 a month ($180)
6 months is $16.99 a month
3 months $19.99 a month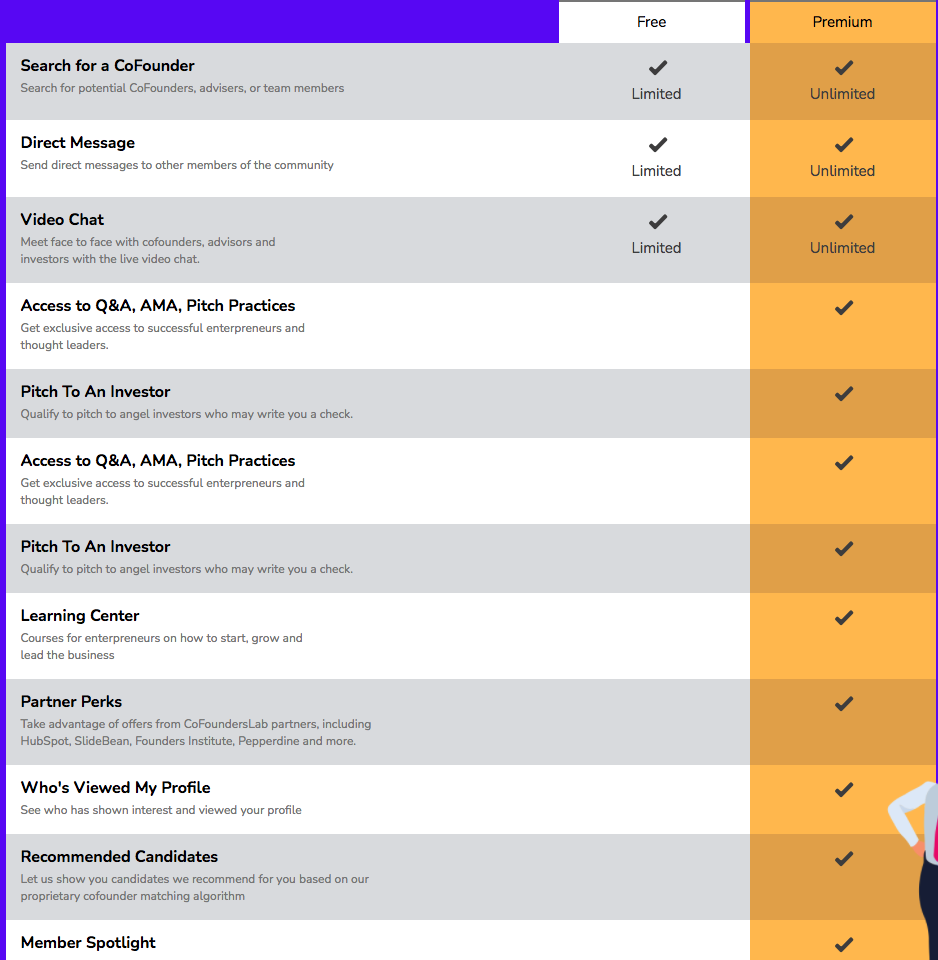 There are various courses for sale too which cost between $200 and $500. In addition, they sell membership to their startup accelerator for $29 a month.
Reviews
Despite a vast community and 10k following on LinkedIn, people who have used the service don't rate it.
It's hard to find a legitimate founder due to inactive and fake profiles; it is also tough to cancel your subscription once signed up. People have had problems signing up and are still being charged for months after canceling their subscription.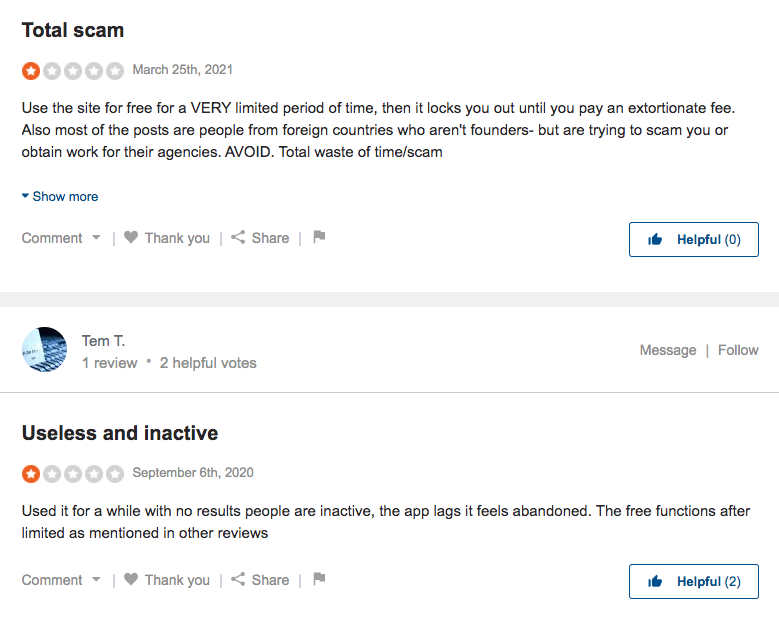 You can join founders nation if you have a startup idea, are looking to join a startup, or looking for a co-founder.
Pros
The platform is free to use, easy to sign up for, and people's profiles have detailed information about their start-up.
Cons
Anyone can sign up; there doesn't seem to be a vetting process. You just need to answer the following questions to get a profile: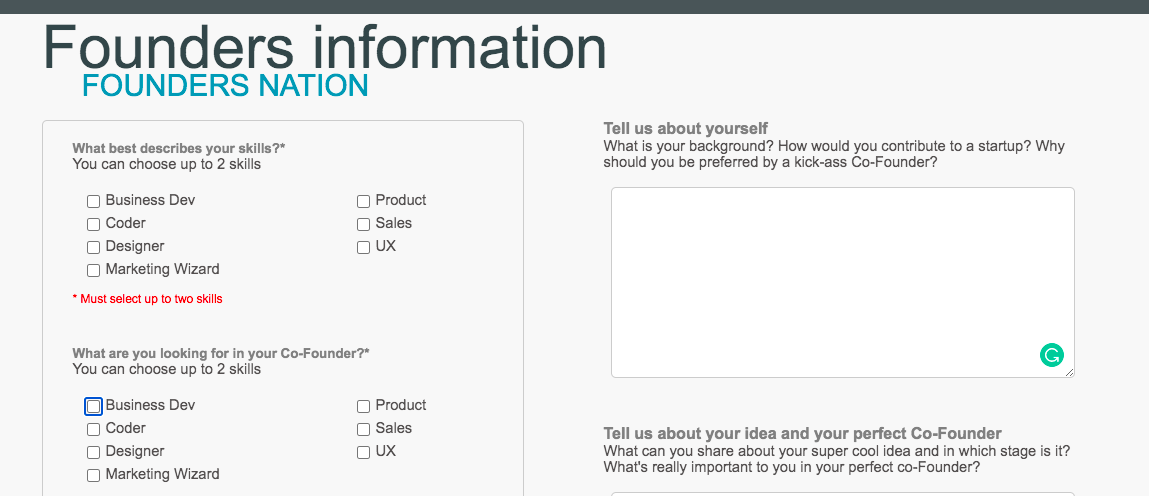 Who knows if the site is still active, though!
The last blog post is from 2016, and the last time anything was posted on social media was in 2017.
You can still create a profile, but the profiles from other founders don't seem to be active. The user experience is terrible, and it's tough to find the other founders to browse. Spam messages are also rife on the platform.
I signed up to test it out and was immediately inundated with messages like this: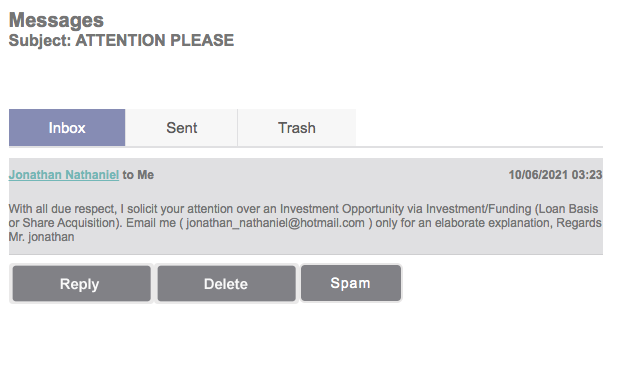 It also seems impossible to delete your profile once you have created it.
Reviews
Reviews for this service aren't glowing. It seems the large user base is detrimental for finding any potential co-founders of any quality.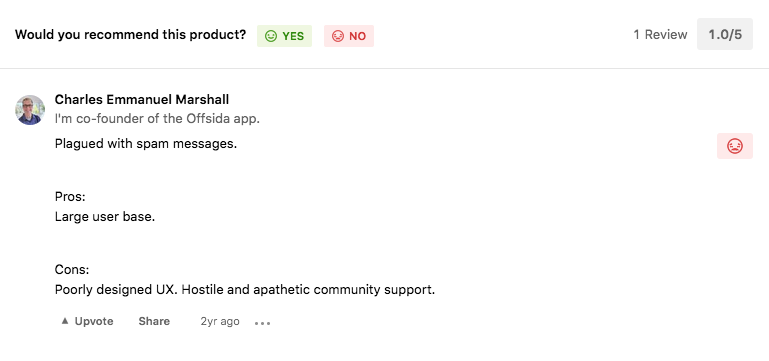 Grow Your Startup With A Strong Network
To manage your expectations- finding the ideal co-founder isn't going to be a quick or easy process. You'll meet with many potential contenders before finding a fit for your business and its needs.
Depending on where your strengths lay, you will search for either a technical co-founder or a marketing co-founder. Use some of the platforms we mentioned in this article to build your network. The wider your network, the more chance you'll have to meet someone who has different strengths but shares your vision.
The most important thing when building your startup is to talk to people. Talk to your customers; talk to people who have been where you are now. Exhaust every avenue to get your questions answered. There are hundreds of people out there who have advice to share about founding a company. Talk to them; they don't want you to make the same mistakes they did!
With a strong network of people with the expertise you can rely on, you may discover you don't need a full-time co-founder after all. Instead, you can grow your business using the advice of the experts in your community.
Start building your community of startup experts with Growth Mentor community networking.