Many SaaS companies struggle to organize their marketing teams effectively – leading to ineffective marketing campaigns that waste time on channels that won't provide adequate returns. Hiring the right talent and structuring your marketers effectively is the best way to ensure your marketing strategy remains balanced and diverse.
At GrowthMentor, we believe that 1-on-1 sessions with growth and digital marketing mentors are an effective way to figure out the delicate considerations and nuances of building an effective SaaS marketing team and scaling your SaaS startup. Find out how world-class guidance from SaaS mentors can help you build a great marketing team later on!
What are the different roles within SaaS marketing? What is the ideal SaaS marketing team? How can this structure help ensure your SaaS business is marketing effectively and investing in the right channels? In this article, we'll explore how your B2B SaaS company should approach its marketing team structure.
What are the roles within a SaaS Marketing Team?
Before we delve into the ideal marketing team, it's important to explore the main roles and disciplines that form SaaS marketing.
Roles broadly fall into four core areas. These are:
Growth Marketing
Product Marketing
Content Marketing
Brand Marketing
These are not mutually exclusive areas, however. For instance, product marketing requires SEO content demonstrating value through evergreen blog posts. However, each of these disciplines must be addressed in any marketing team structure, no matter the size of the business.
Can smaller businesses combine these roles? Sure, but equal weighting must be maintained between all four areas. As SaaS businesses grow, businesses may find it useful to split their marketing departments into separate teams based on these areas.
What is Growth Marketing?
Also commonly referred to as demand-gen marketing, growth marketing is the process of identifying and scaling up user acquisition and engagement through experimental marketing channels.
The goal of growth marketing is to generate high-quality leads while also decreasing the cost of customer acquisition.
Where growth marketing sets itself apart from other marketing disciplines is a key focus on user engagement and retention beyond merely being concerned with acquiring a customer.
The responsibilities of growth marketers include:
Identifying new user acquisition channels.
Defining target users and optimizing marketing campaigns to target desired users.
Starting and maintaining marketing campaigns.
Handling marketing automation and finding new ways to streamline the marketing process.
Analyzing campaign results and refining strategies iteratively.
Optimizing user processes and customer journeys to improve engagement.
Implementing measures to increase CSAT and customer referrals.
The strategies that growth marketers use lead to growth that is both rapid and sustained – as the focus is made on increasing the customer lifetime and thus reducing the customer acquisition cost (CAC).
What is Product Marketing?
Product marketing provides the synergy between product design and marketing communications.
Through optimizing the positioning, messaging, and design of your SaaS products, product marketers aim to propel adoption and retention by communicating features, use cases, and success stories to potential customers.
The responsibilities of product marketers include:
Identifying a SaaS product's unique value proposition.
Creating awareness and interest in a product.
Ensuring marketing campaigns accurately demonstrate the product's value and benefits.
Optimizing messaging to better reflect the value-addition properties of the product.
Optimizing the product's positioning and working with product teams to ensure product-market fit.
Using email marketing to send out retention and acquisition emails or feature updates.
Ultimately, the goal of product marketing is to make sure potential customers know exactly what the product can do, and to cultivate knowledge of both the product and the consumer within every process of the business – marketing, sales, or product design.
What is Content Marketing?
The king of inbound marketing – content marketing refers to the use of original content to generate new leads and educate customers.
It's a strategic marketing approach that focuses on creating and distributing valuable, relevant, and consistent content to attract and retain a clearly-defined audience — and, ultimately, to drive profitable customer action.
The responsibilities of content marketers include:
Research into the target audience and find opportunities for thought ownership.
Keyword research to find low competition search terms.
Creating high-quality content such as blogs, articles, social media posts, infographics, podcasts, and more.
Optimizing existing content and web pages to rank better in search results (SEO).
Editing and proofreading content to ensure it fits with an organization's style guide and voice.
Publishing and promoting content.
Monitoring the performance of SEO content and amending content strategies where needed.
What is Brand Marketing?
Brand marketing refers to any marketing method that builds, enhances, or maintains an organization's brand image. This includes PR, events and community engagement, brand storytelling, and brand graphic design – and also teeters on enhancing the customer experience (CX).
Brand marketers are responsible for developing and executing marketing plans and campaigns that promote the organization's products or services. They work with other members of the marketing team to create a cohesive marketing strategy that is consistent with a brand voice and then develop and execute specific marketing tactics that support that strategy.
Brand marketers also play a key role in shaping the brand's identity. They develop and manage the brand's messaging, and work to ensure that the brand's voice is consistent across all channels. They also create and manage the brand's visual identity, including its logo, tagline, and other branding elements.
Small SaaS Business Marketing Team Structure
We'll start by describing an ideal marketing team structure for a smaller SaaS business. Why are we splitting our recommendations by the size of the company? The marketing requirements of SaaS businesses change as the business grows, and so do the resources for marketing at a company's disposal.
Small firms and startups require lean marketing teams and don't benefit so much from departmental separation.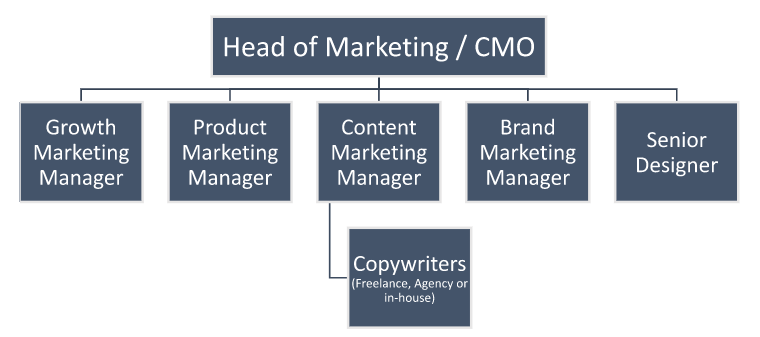 At the very top of the pecking order is the head of marketing or the chief marketing officer (CMO). This is the team member that oversees all marketing operations.
The responsibilities of a head of marketing include:
Developing marketing plans and strategies.
Overseeing and planning the marketing budget.
Hiring marketing managers and approving other marketing hiring decisions.
Developing and managing relationships with external partners.
Liaising with other executives and ensuring cohesion between marketing and product teams.
In the very early stages of your business, it may be useful to work with a marketing co-founder. This ensures your SaaS business places marketing at the forefront of its initial strategy.
Tip: GrowthMentor makes it easy to connect with a marketing co-founder through its community search page.
Even for small SaaS businesses, we believe that having a dedicated team manager for content marketing is extremely important. Creating high-quality content should be a key focus from the very beginning as it's the best source of inbound marketing and ensures organic growth.
The use of good copywriters ensures your content is well-written and researched, and also allows you to scale your SEO content creation. Copywriters can be outsourced through freelancers or SEO agencies or hired directly – depending on your available resources.
A dedicated graphic designer is also vital to ensure your brand image stays consistent and marketing material looks great. We've expressed the Senior Designer as a distinct role as a small business may not need dedicated designers within each marketing team. A centralized design team ensures all branding stays consistent across all marketing channels.
Medium SaaS Business Marketing Team Structure
As SaaS firms grow, more marketing team members will need to be added to the structure. (We're considering a medium-sized organization to have an annual revenue of between $20-$100m).
Here's our ideal structure for a medium-size SaaS business: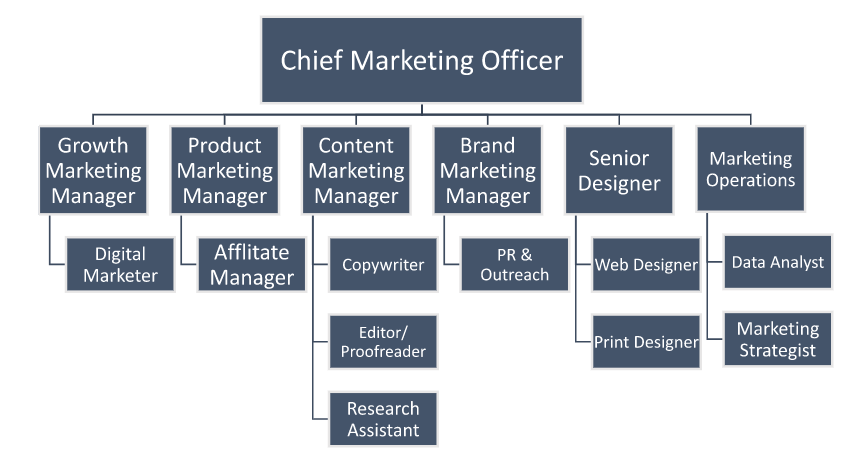 The main addition here is a marketing operations manager. A larger SaaS business requires a more focused marketing strategy that is both data-driven and product-led.
A marketing ops manager works with the CMO to develop and refine marketing strategies. This department is especially important for analyzing the results of marketing strategies, and so dedicated data analysts and strategists are useful here.
Expanding your content marketing team allows you to scale your SEO content faster. Some SaaS firms prefer to have a department for outbound marketing, which will encompass content marketing. Research assistants for keyword research and editors help your content marketing team pump out higher quality content faster.
For medium-sized firms, digital marketing channels such as PPC start becoming increasingly useful. A dedicated paid marketing team therefore can be created under growth marketing. Some SaaS firms prefer to create an outbound marketing department to encompass their growth marketers. However, we consider growth marketing to be a more lucrative channel than PPC, so we'll retain a growth marketing department in our structure.
Large SaaS Business Marketing Team Structure
Once your SaaS business becomes a large enterprise, your marketing department will become a significant sector of your business. Why? As your product matures, it becomes more difficult to achieve growth through product and feature development.
Therefore, the key to continued demand creation is effective marketing campaigns. For instance, some of the largest SaaS firms like Salesforce and Atlassian regularly spend 40-50% of their revenue on sales & marketing.
To match the increased importance of marketing, your departmental teams are bound to grow. Here, each marketing channel will have the budget and resources to grow into self-contained teams.
The size of these teams largely depends on how much your organization values each channel. For instance, Salesforce launched Trailhead as a particularly useful inbound marketing service for their main product – dedicating an entire team and resources to developing one unique thought ownership marketing channel.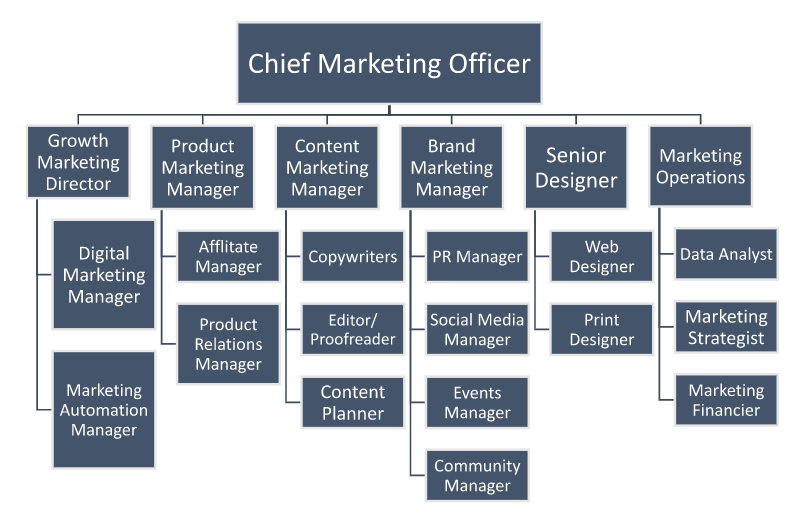 Here, we've given an indicative representation of how a large SaaS company can departmentalize those channels they find particularly lucrative. Here, we've added a marketing automation team headed up by a distinct manager. Automation plays a part in marketing a business of any size, but a slick automation solution is essential when working with campaigns at the scale needed for large SaaS organizations.
Under brand marketing, we've added separate teams for social media, events, and community relations. For any SaaS business, their social media accounts and campaigns are a front of their brand. With large businesses, a poor social media strategy could hurt growth or even damage the business. That's why companies like Atlassian, Salesforce, and Zoom invest so heavily in social media strategies.
Managing your relations with existing users helps increase user retention and engagement. At this scale, a dedicated team managing how your organization interacts with your community is also vital.

Many SaaS businesses prefer to create three executive-level positions in the hierarchy to better manage each area of marketing. Here, we've given an example of "digital and content", "demand-gen", and "marketing-ops" departments. Some may prefer "outbound", "inbound", and "marketing-ops" here too.
Why do this? It may become too unwieldy for a single CMO to oversee all marketing operations – and so each director asks for individual overseers for their department and section of the funnel.
Develop your marketing strategy with GrowthMentor
The structure of your marketing team will ultimately depend on what your SaaS business requires from its marketing operations.
We hold some common beliefs that both content and demand-gen (or growth marketing) should be powerful forces in your marketing operations from day one. However, outside that, team structures are flexible and malleable depending on your unique needs.
We believe working with a mentor is the best way to figure out how to structure your team and propel your SaaS product to success.
GrowthMentor is the best place to find a mentor for growth, marketing, and more. GrowthMentor connects you with the world's top 3% of startup and marketing mentors from companies like Facebook, Atlassian, Amazon, and more.
Mentors will deliver personalized guidance, answer your questions instantly, and jump on 1-on-1 calls for more detailed advice. It's easy to get started. Just create an account and start exploring our panel of growth marketing mentors today!