I started building a marketplace in 2017 when I saw a need for an online marketplace for mentorship.
Growing GrowthMentor over the last five years and having 100+ mentoring calls with other founders has allowed me to observe and experience the challenges of online marketplaces.
Many start with a promising idea, fail to validate it, or see no traction and end up closing their marketplace business within a year or two.
The reasons differ. It's either lack of market validation, an unsustainable business model, or no growth trajectory.
However, when your online marketplace takes off, you will see the following benefits:
Crazy network effects
Growth loops up the wazoo
Mouth-watering valuations
And lots and lots of fun
In this guide, I'll share tips on validating, building, launching, and growing your online marketplace. I hope you find them helpful.
The importance of planning
If you want to build a successful marketplace, one of the most important things you can do is to start with a planning stage.
Your plan should include the following:
Statement of the problem you are trying to solve
Market research
Validation of your marketplace idea
Choosing the right business model
This will give you a clear understanding of the market, the problems your potential customers' problems, and the solutions they seek.
According to CBInsights from 2021, "no market need" is the second biggest reason for startup failure. It accounts for 35% of all failed startups.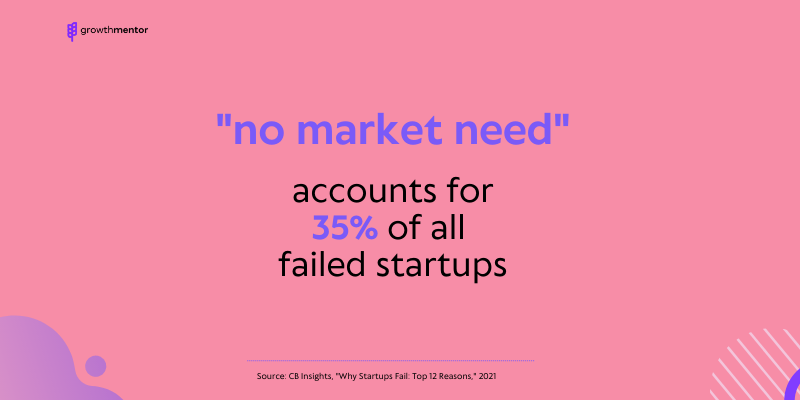 Identify a problem worth solving
Your first step is identifying a problem you want to solve with your marketplace. Ask yourself these questions:
What is the problem?
Why is this a problem?
How can this problem be solved?
Who has the problem?
When people facing the problem be willing to spend money to solve it?
Examples of marketplace problem statements
Uber
Founded: 2009
Current valuation: $69bn (source)
Problem: The unreliability of hailing a taxi.
Airbnb
Founded: 2008
Current valuation: $60bn (source)
Problem: Being broke and needing to pay higher rent
Flexport
Founded: 2013
Current valuation: $8bn (source)
Problem: Freight shipping was a traditional pen-and-paper industry with multiple untrustworthy middlemen that was extremely opaque and lacking customer control.
Faire
Founded: 2017
Current valuation: $12.59bn (source)
Problem: The risk of taking on new products deters small retailers from expanding their portfolios, so tradeshows are a significant derisking opportunity where retailers get a better sense of the risks associated with a new product and vendor.
Doordash
Founded: 2013
Current valuation: $29.4bn (source)
Problem: Restaurants couldn't afford delivery drivers and delivery drivers were underutilized.
Map your problem onto a canvas.
Here's an example of the problem canvas I made for GrowthMentor in 2017, well before we wrote our first line of code.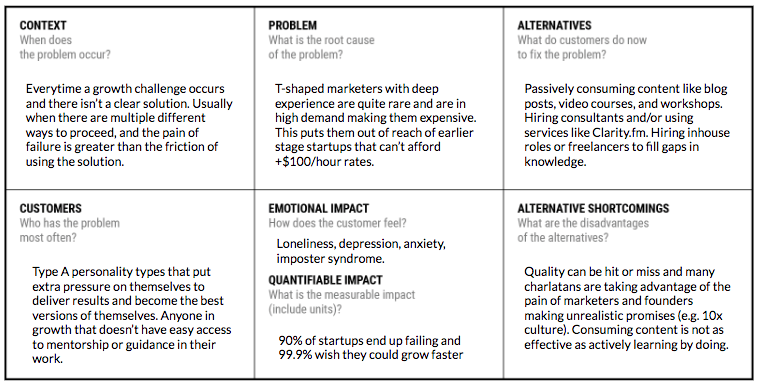 Done? Awesome.
Time to do some research.
Research your target market
You should conduct extensive research to gain a deeper understanding of the following:
Market size
Market segments
Competitors
Target customers
Market size
Assess the potential market size and its growth potential. You can find reports online showing you the valuation of this market. Although getting into and winning a smaller market might be easier, you need to think about how this would impact your business model.
Market segments
There may be some promising niches in your target market that nobody else is targeting yet. It's helpful to divide your market into market segments and analyze each deeper. This will help you choose the best niche for your marketplace startup.
Why might focusing on one market segment be better than on the whole market?
That's how the majority of big marketplace businesses got started too. First later, they grew and expanded to other niches.
Uber was initially a taxi replacement. Then it expanded to the food delivery market
Amazon started as a small online bookstore and expanded into an e-commerce company
Airbnb started by offering short-term room rentals and became a solution for business travel, home rentals, and unique travel experiences.
Competitors
Nowadays, it's impossible to find a market without competitors. They will be there. Either direct or indirect.
Do your research to understand who your competitors are, how long they have been around, and how good their solutions are at solving the problem you are trying to tackle.
This will help you understand common business models in your target market, identify the strengths and weaknesses of your competitors, and create a better go-to-market strategy later.
Target customers
Who are your target customers? Understanding both sides better is essential to create personas for both your supply and demand.
You can create their profiles by answering the following questions:
Who are your buyers and suppliers? What are their demographics?
What is their job role?
How big is the company they work at?
In which industry do they operate?
What are their main goals and challenges?
How do they learn?
How do they make purchase decisions?
Once you profile them, it's time to find and create a list of people who match the profile of your potential customer and supplier.
You could create that list by:
Doing LinkedIn research
Using a tool like Apollo.io for list building
Generating beta signups through promotion on BetaList and Betabound,
Running Google Ads to generate some initial subscribers
The last approach is the one that I chose to generate a list of potential target customers for GrowthMentor, more about it in the next section.
Validate your marketplace idea
Once you have a list of people who could be your potential buyers and suppliers, survey or interview them to validate your target market.
Let's use the example of how Harri Thomas validated his marketplace — Respondent.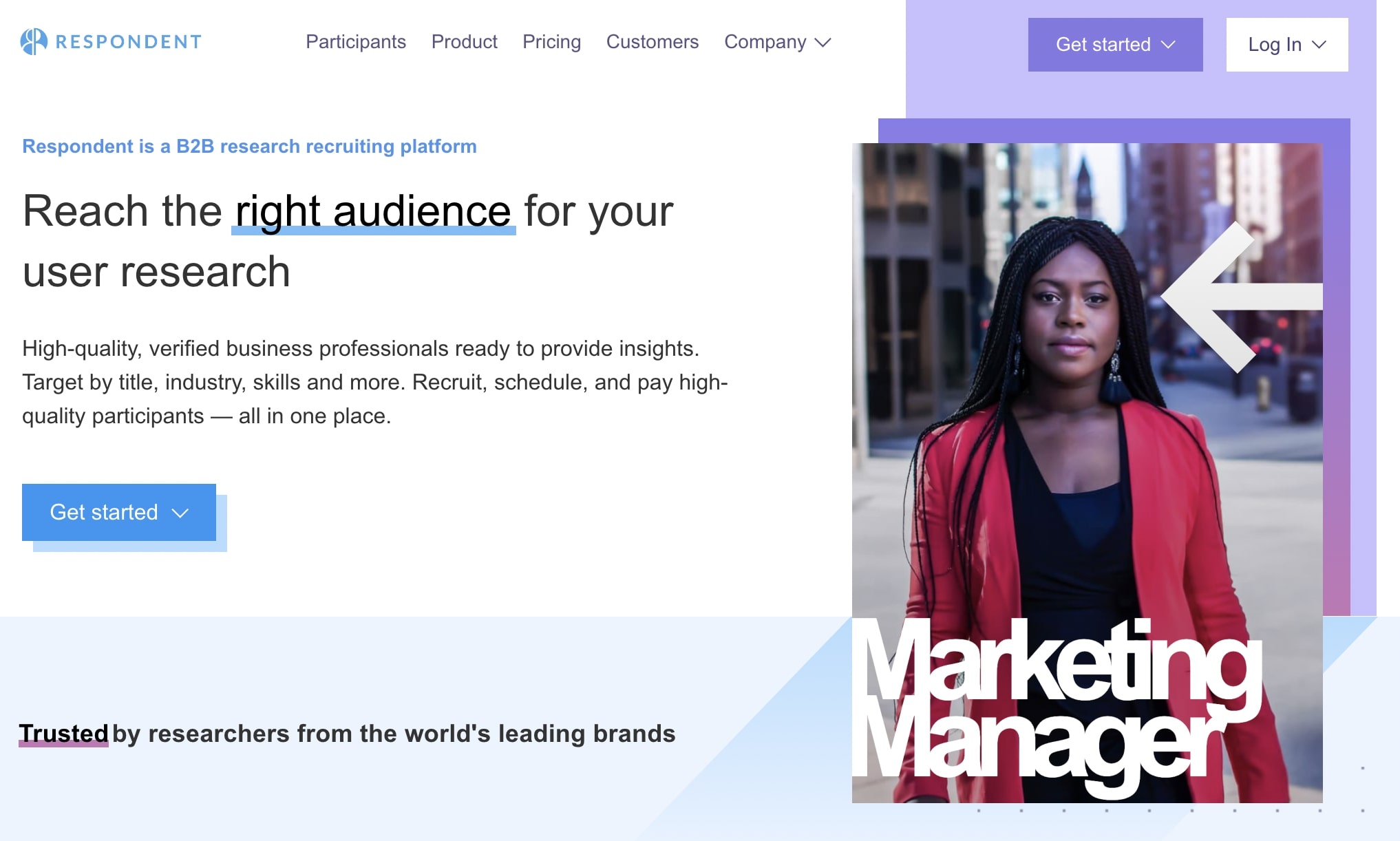 Before co-founding Respondent, Harri was working as a researcher at an agency.
He had just been promoted and was responsible for revenue generation and profitability. He noticed his most significant cost item was participant recruitment. Still, even though they were paying a lot of money, they weren't getting the right types of participants into their study despite offering them hundreds of dollars to participate.
This was the pain point that he wanted Respondent to solve.
Identifying the pain point wasn't enough for Harri, though. He wanted to validate that a business could be built around solving that pain. His perspective was that the only way to validate a business is by having people pay for it.
The first step was to find someone willing to pay them to recruit participants (demand side).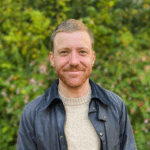 We built demand by pursuing heavy outreach via LinkedIn. Once we found someone who was willing to pay us to recruit participants, we went out and found participants (the supply) that matched the customers' criteria.

Harri Thomas - Co-founder at Respondent.io
Finding people willing to pay is the ultimate form of validation.
Harri used the conversations with these early adopters to inform their future sales strategy moving forward and ultimately raised $4.5mn from institutional investors.
Respondent is now one of the leading B2B user research marketplaces.
But what if it's not possible to get early adopters to pre-pay you before the marketplace is built?
In these cases, you can compensate by going overboard with customer discovery. There's no exact formula for this, but here's what worked for me.
Five steps I took to validate my marketplace idea in 2017
Created a beautiful pre-launch marketplace website (or rather a landing page)

Spent $500 on Google Ads to drive traffic to it

Incentivized subscribers to jump on user research calls with me and

Used that data to iterate on messaging
Below's the pre-launch landing page I made for GrowthMentor while validating the pain point hypothesis.

In retrospect, here's what I'd do today:
Narrow down my ideal customer persona (supply and demand side) as much as possible
Identify the trigger points that activate the pain
Find the overlap of steps 1 and 2 on LinkedIn
Send a connection request and offer them $50 to jump on a user research call with me
Hindsight's 20/20.
I could have gotten the same results by skipping the effort I took to build out the pre-launch landing page, and instead of giving my money to Google, I'd give it to my potential early adopters.
Here are some mentors that can help with customer discovery
Now that you've at the very least attempted to validate your marketplace idea let's get into the meat and potatoes.
Building a minimum lovable product
After you've performed interviews and clearly defined the customers' needs and pain points, ⁠it's time to start building your minimum lovable product (MLP).
No, it's not a typo.
Your product prototype needs to be functional and "do the thing" that would solve your users' problems. But the minimum viable product is not enough anymore.
It would be best if you had something lovable about your marketplace platform.
It can be:
Your design and user experience compared to clunky old-school alternatives
Your vetting process and curated collection of inventory
Your disruptive business model (think: 0% commission)
Anything uniquely loveable
For us at GrowthMentor, it was a combination of our vetting process and super comprehensive mentor profile pages that gave background info on what tools they were good at.
The answer to what'll make your online marketplace "lovable" will be discovered through your discovery calls.
But how do you build an online marketplace?
Deciding on your marketplace technology stack
You've got two choices when building a marketplace platform.
You could build it from scratch and own the entire codebase
You could leverage no-code tools
Building a marketplace yourself
This option is much easier if you are one of the following (or ideally a combination thereof):
A software developer
A product designer
A product manager
A full-stack growth marketer
Very rich
If you're none of the above, you will need to build a development team, so be prepared to bring the cheddar.
I paid around $40k to Ragnarson over six months to build our minimum lovable product.
Back then, the average hourly rate for marketplace software development we were paying was around $40. Now it doubled to $80.
The cost savings of outsourced software developers we used to enjoy pre-COVID have largely evaporated. The marketplace development costs would be closer to $80k if we were to have done it today.
Note: The $40,000 I spent during the initial development stage was just the beginning. Your software development is never "finished". There are always bugs, feature requests, pivots, etc. The work (marketplace development expenses) will never end.
Marketplace economics don't work in favor of bootstrapped, non-technical founders. With a 15% commission, you'd need to push $100,000/month in GMV to net just $15,000 of profit.
Bare minimum product components you'll need to build:
Profile pages for supply-side (or listings)
Filtering, sorting, logic, Think: Elastic Search
On-demand transaction capabilities and disbursal of payments and commission using either Braintree, Stripe Connect, or a similar alternative.
Messaging system so demand and supply can communicate
Breakdown of the roles you'll need:
Someone that can design all the screens: ideally someone that has done this type of work before. Asking a run-of-the-mill web designer to own product design for a marketplace website and platform is like telling a Cessna pilot to fly a Boeing 737. It's not the same thing.
Someone that can do product management: (e.g., speak to users, manage engineers and designers, manage product roadmap)
Someone that will engineer it: You'll need at minimum of two software developers —one frontend and one backend. It's unrealistic to think that a single "full-stack" developer can build an online marketplace from scratch.
Someone that will own the go-to-market strategy: Think: How will we solve the cold start problem e.g., get demand when there's no supply and vice versa?
Someone that can execute the go-to-market strategy: Think: Programmatic SEO, targeted cold outreach and subsequently scaled outreach, PPC campaigns, growth loops, UGC, etc.
Someone that will own operations: Think: Vetting supply/demand, dealing with support issues, payouts, creating documentation, FAQs, processes, hiring, etc.
Someone that will pay for all of this: Investors, rich Uncle, etc.
The more hats you can wear, the less reliant you'll be on securing external funding, which will get you more leverage down the road if/when you decide to raise. In my case, I owned all roles except for product design development until we found a product-market fit.
Building a marketplace using no-code
Not a developer or product designer?
Don't have loads of cash lying around to invest in a crapshoot?
Don't despair, there are other ways you can create your marketplace platform with much less risk by using no-code platforms.
When I started building GrowthMentor in 2018, these tools were rudimentary, so I opted out and decided to build my technology stack, but today they're not that bad!
Here are some of the good marketplace website development platforms: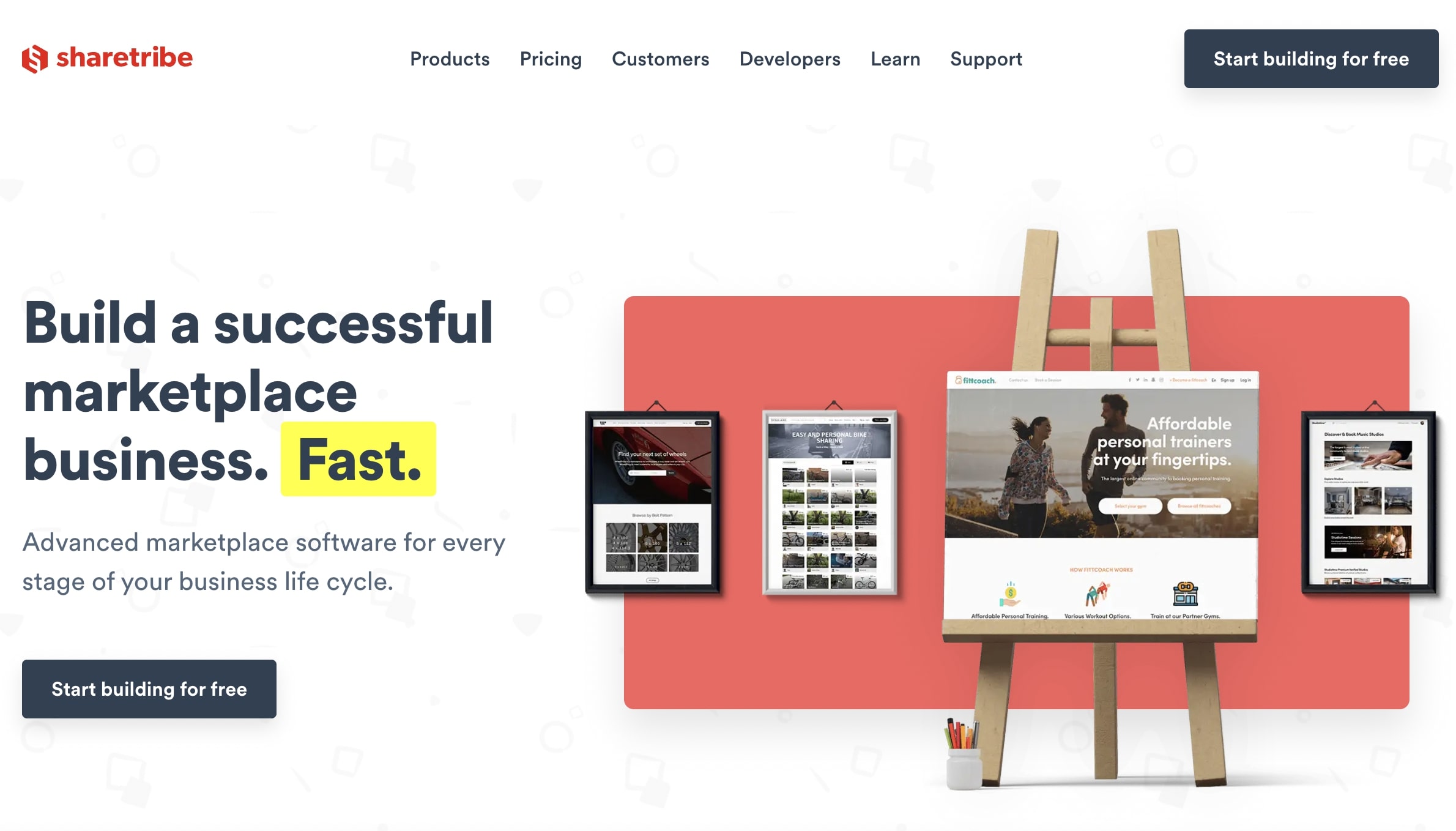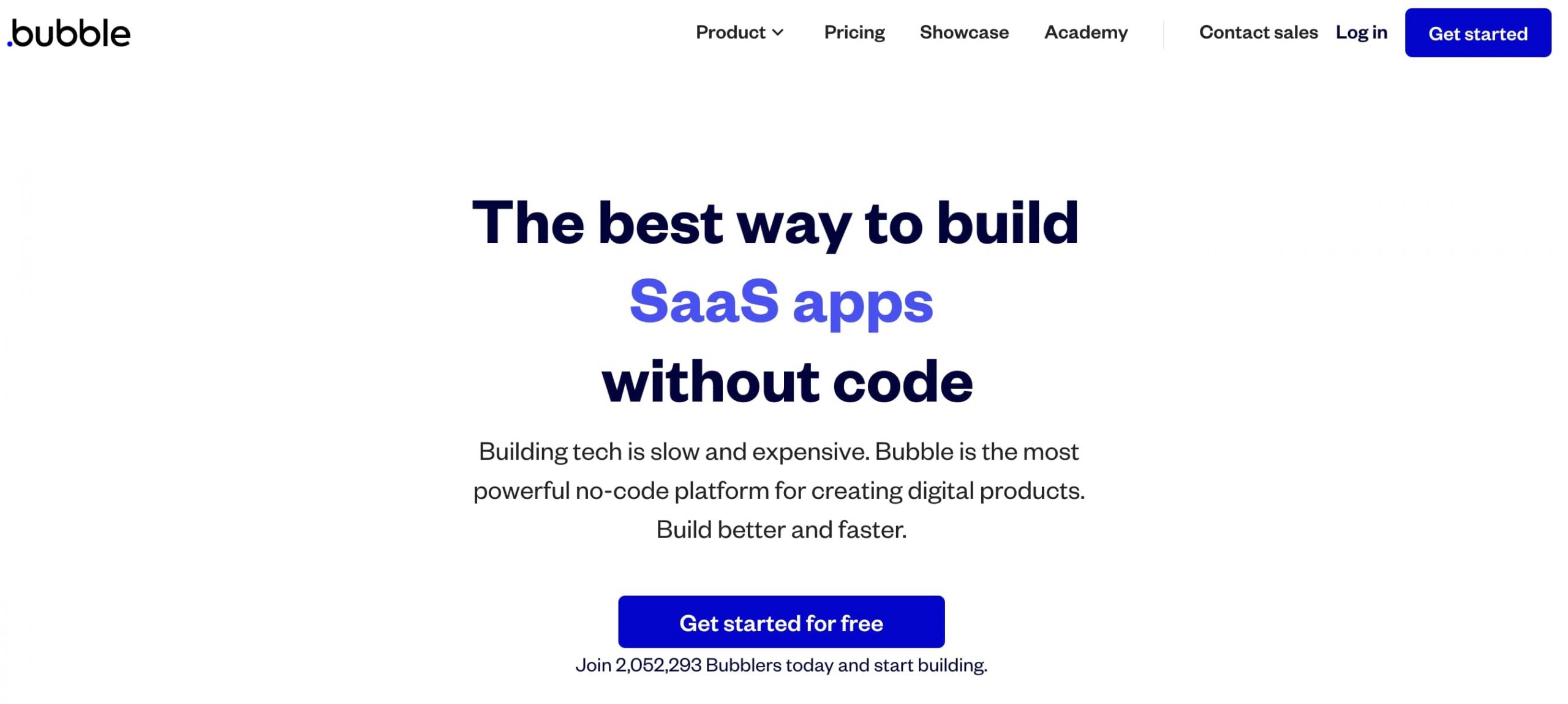 Founded: 2012
Pricing: Starting from $25 per month
Marketplaces using Bubble: Marketplace for hiring no-code developers, Marketplace for finding influencers in UAE, Marketplace for locum doctors.
Editor's thoughts:The most flexible no-code platform out of the bunch here is the one with the steepest learning curve. Having said that, you can use ready-to-go templates to build a marketplace to save time. Here are some excellent premium templates. But if you get stuck, finding a reliable Bubble freelancer who knows what they're doing for under $100 per hour will be a challenge. And at those rates, you start to wonder, why am I not just building an online marketplace website and platform myself?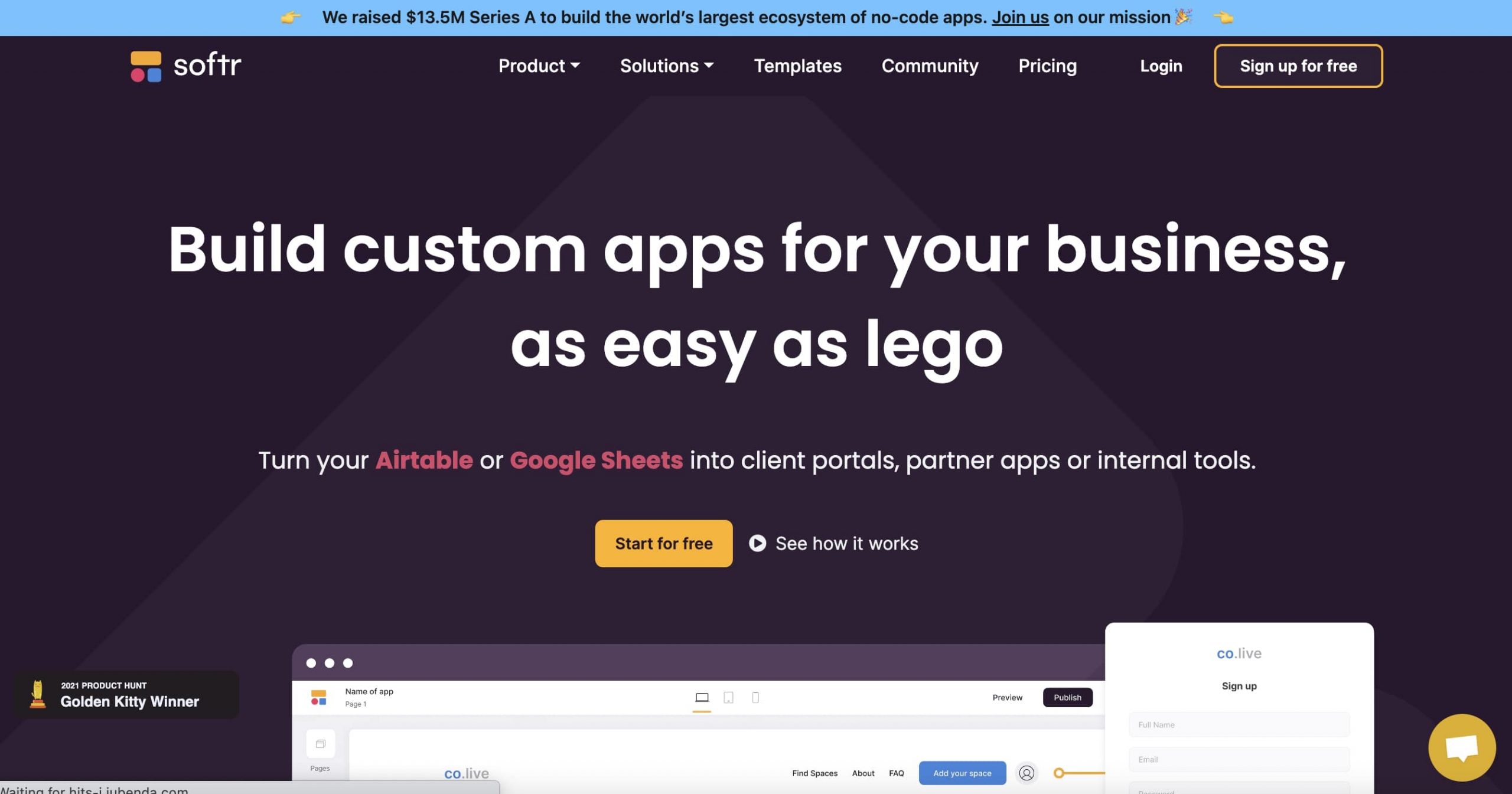 Quick question. Are you considering using No-Code to build your online marketplace?
If yes, consider using one of the no-code experts on GrowthMentor as a sounding board.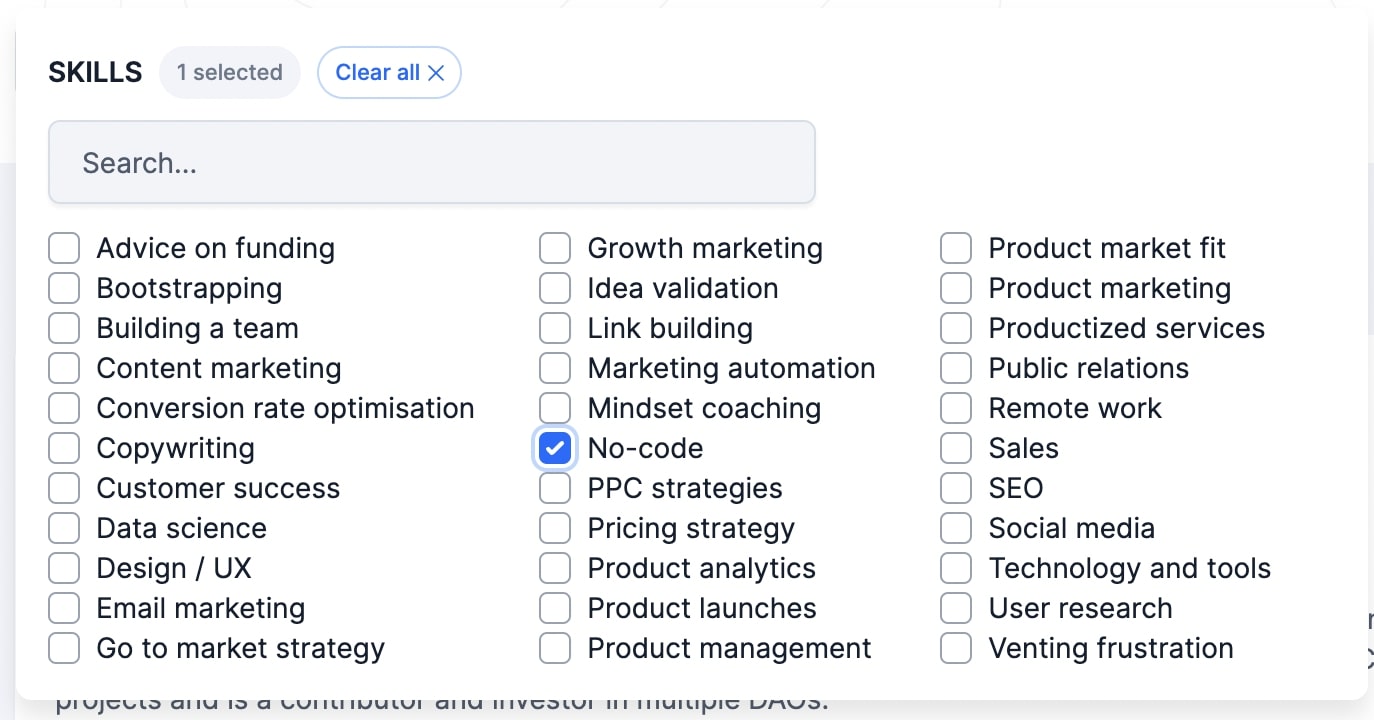 Mentors you can use as no-code sounding boards
Choosing the right marketplace business model
Unlike Saas, where choosing the best business model is relatively straightforward, online marketplaces are a bit more complex.
Airbnb, Etsy, Cameo, Craigslist, Zillow, and GrowthMentor are all marketplace platforms. Yet each uses a different revenue model to make profits.
For most marketplace websites, charging a purchase-based commission is the best-fitting marketplace business model. However, the commission model is not always the right choice.
For example, it would not work for GrowthMentor since more than 70% of our mentors don't charge for their calls. That's why, in our case, it made more sense to go with the subscription model.
Some marketplaces, like Etsy or Amazon, combine different revenue streams and work with a mix of various marketplace business models.
I will shortly give you an overview of the five models you could choose from.
Commission Model
Subscription Model
Listing Model
Featured Listing or Ad Placement Model
Freemium Model
Commission Model
The commission model is a revenue model where your online marketplace charges a fee from each transaction as a commission. This could be charged as a percentage of the transaction value or as a fixed fee.
The commission model is the most common business model for online marketplaces.
The marketplace may charge either the seller or the buyer or take a commission from both.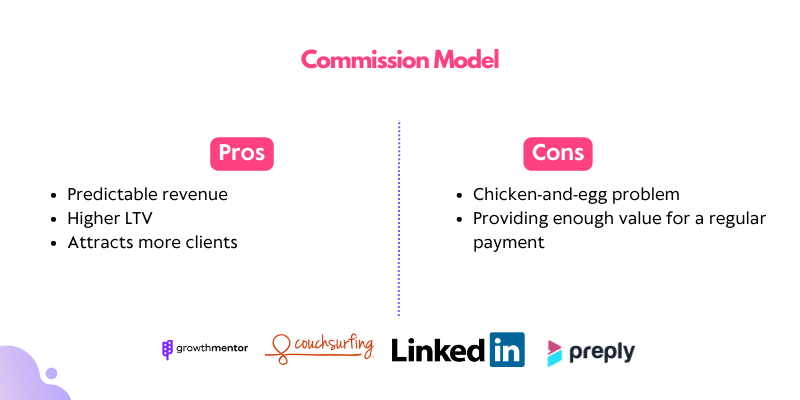 Subscription Model
The subscription model is a revenue model where a user is charged a monthly, quarterly, or yearly subscription fee for access to the online marketplace.
As mentioned before, this is the model we use at GrowthMentor. In our case, the subscription fee is charged to individuals or companies seeking unlimited calls with vetted mentors. We do not charge the mentors, and we also do not take any fee from the paid calls.
The subscription model is a good choice for online marketplaces that do not have the resources to facilitate the transactions between the users or whose business model doesn't involve transactions between the demand and the supply side.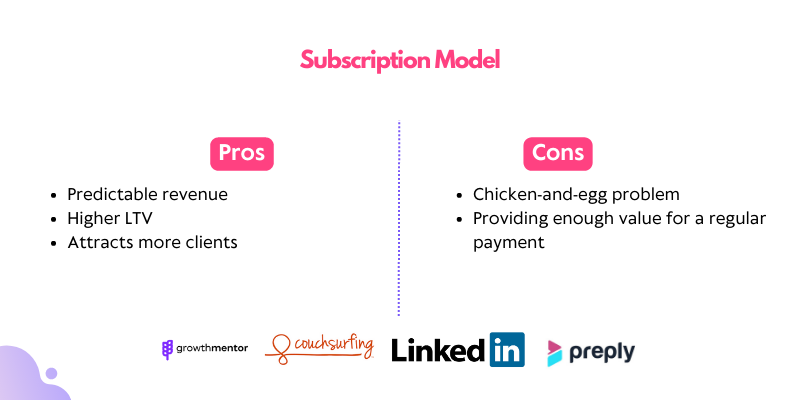 Listing Model
The listing model is a revenue model where a seller is charged a fixed fee for each listing posted on the marketplace.
While with the commission model, your profit depends a lot on the quality of the product and the sales skills of your suppliers, the listing model allows you to generate income even from less popular products and sellers.
Marketplaces using this model: Etsy, eBay, Realtor, Amazon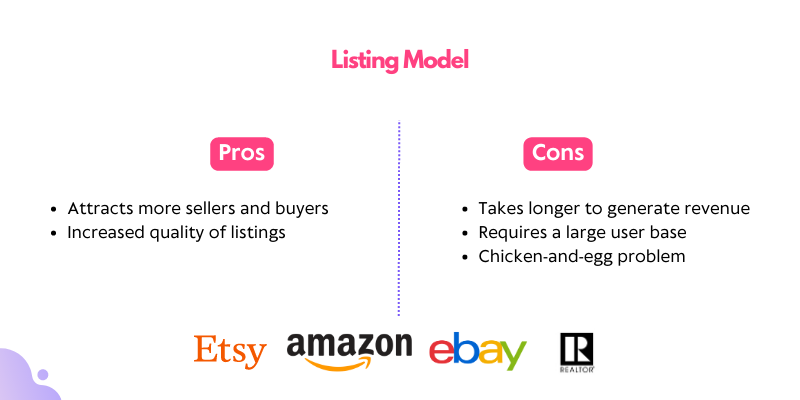 Featured Listing or Ad Placement Model
The featured listing or ad placement model is a revenue model where sellers are charged a flat fee for increased visibility on the marketplace.
Sellers or service providers pay for a featured listing to be shown on the top of search results, making them more likely to be chosen.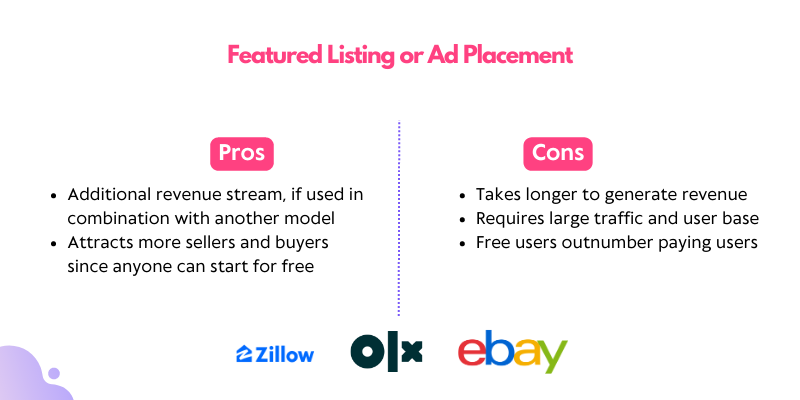 Freemium Model
Freemium is a revenue model where anyone can join and use the marketplace for free. It offers premium features for which users pay on top, a premium subscription option, or cross-sells other services.
This model is tricky since it's challenging to generate revenue. The premium features offered by your marketplace need to be very attractive.
A great example of a freemium online marketplace that does it well is Unsplash.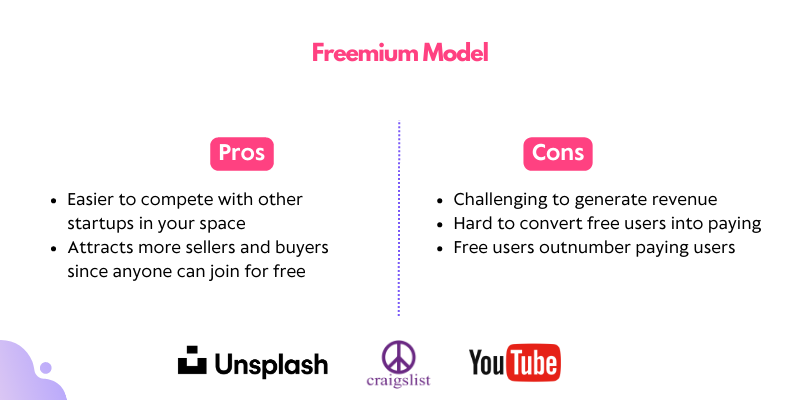 Solving chicken-and-egg problem
One of the biggest challenges when kickstarting an online marketplace is solving the chicken-and-egg dilemma.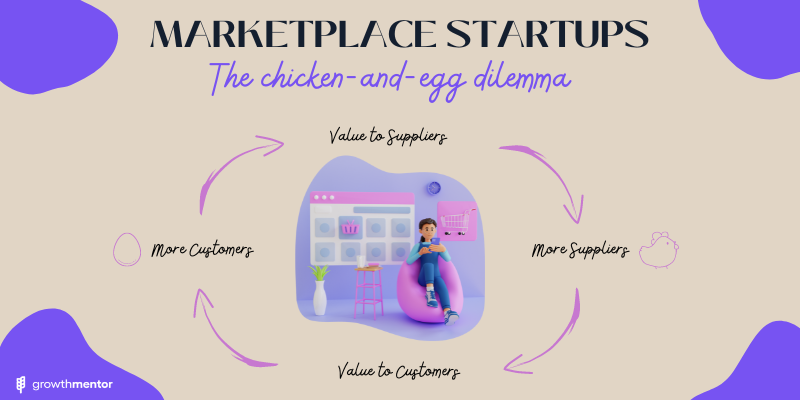 You need to decide what comes first—chicken, aka the seller, or the egg, aka the buyer.
Solving this is one of the most critical steps you need to take before defining your go-to-market strategy and launching your online marketplace website.
In the case of GrowthMentor, we focused on driving supply first.
In the three months of our soft launch in September 2018, we pre-seeded the supply side with a strong pool of mentors. It was easier than we anticipated.
People in growth generally love talking about growth, so convincing early-access mentors to join us through LinkedIn outreach wasn't challenging.
Etsy is another example of an online marketplace that focuses on supply first.
They sent their team to attend weekend art and craft shows a few months before the launch.
They distributed handmade promos and craft show kits to the sellers attending the shows and encouraged them to sign up for Etsy.
Etsy also collaborated with craftster.org, an online message board with 100k members. This way, when they were ready to launch Etsy, thousands of sellers were excited to sign up and try it.
For most marketplace startups, focusing on the supply side before the launch is the right approach. This will make your marketplace more valuable to the initial users.
Launching your online marketplace
Now you have your MLP and enough initial supply to offer value to your first customers.
You are ready to launch your online marketplace website!
Plan your launch in two phases:
Soft launch: low-key beta launch to gather product feedback from the first 100 users
Hard launch: proper marketing launch event to acquire as many new customers as possible
Soft launch
Start planning your beta launch ahead of time.
The sooner your start, the higher the chances that you will hit your goal of 100 signups on the launch day. It will also buy you more time to gather feedback and improve your MLP.
Prepare a launch plan that covers the following:
Launch date
Product messaging (tagline, description, founder's message)
Product images and video
Special offer for beta testers
Decent landing page with product information and a signup form
List of pages on which you plan to promote your beta:

BetaList
Betabound
Relevant Facebook and LinkedIn groups
Quora (questions related to the problem your product is solving)

List of people matching your target persona:

Twitter, Instagram, and LinkedIn followers of your competitors
Slack groups members
When you launch your beta, focus on gathering as much feedback as possible and building relationships with your early adopters. The trust you build with these first 100 users will help you promote and grow your business later.
Now iterate and improve your MLP based on the soft launch feedback.
Hard launch
Once you are ready for the public launch of your online marketplace, create a new launch plan. Plan at least one month ahead, especially if you are considering launching on Product Hunt.
GrowthMentor didn't launch on Product Hunt, at least not yet.
As a founder, I decided to save Product Hunt for later and launched by dropping a request for feedback on the SaaS Growth Hacks Facebook group instead.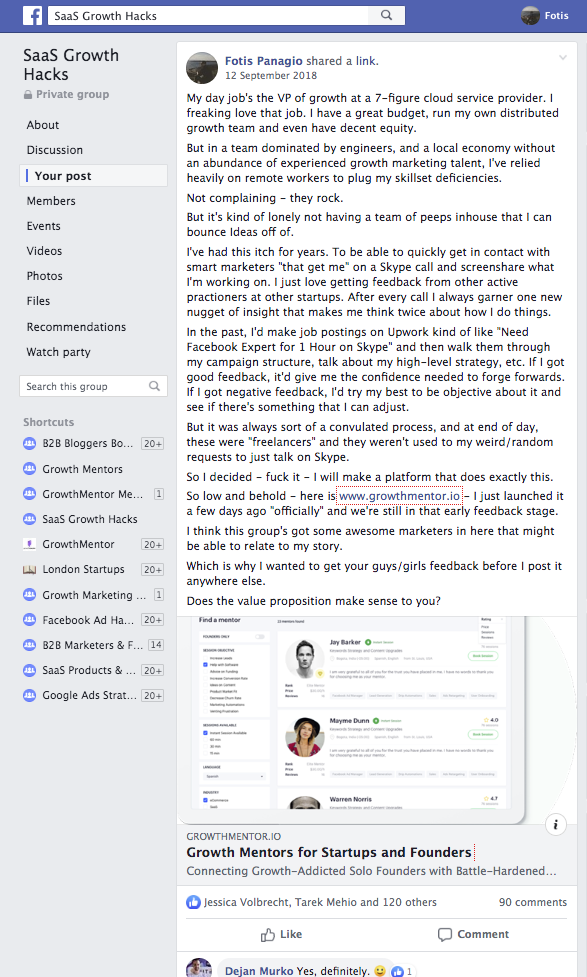 This helped GrowthMentor generate 500 early customers in the first two months after the launch.
However, if you are planning to launch on Product Hunt, here are some tips I gathered from Agata Krzysztofik.
She has project managed the launch of four products on Product Hunt. Her first product got some traction but no product of the day. The second product got the #1 product of the day, the third got the #3 product of the day, and the fourth got the #2 product of the day.
Nine steps to a successful launch on Product Hunt
Here are the nine steps that, according to Agata, should help you have a successful launch on Product Hunt:
Announce upcoming launch using Product Hunt Ship
Secure a hunter

A good hunter is a PH power user: has gold or silver medal on PH, +1k followers, and a track record of past hunted products in the top 3. E.g., Chris Messina
Secure your hunter 1-2 months ahead of your launch – the best hunters get booked out fast!

Prepare launch content

Name
Tagline (Tip: add numbers or emojis)
Description
Product link
Product Thumbnail (Tip: use a GIF)
Product video
Product images
Founder's message

Prepare a special offer for the PH community
Secure an agency: Their team will cover the launch for the entire 24-hour cycle, helping you promote it among their community.
Create your support community:

Reach out to relevant PH members and share your product before the launch.
Create a list of relevant Slack communities
Ask your network for help

Create promotional assets

Email banners
Social media visuals and videos
Homepage banner

Stay engaged on the launch day

Like and respond to comments from the PH community
Reach out to your support community (step six) for support (don't ask for upvotes!)
Share your offer via video on LinkedIn, Twitter, or Reddit

Tag @ ProductHunt on Twitter and Facebook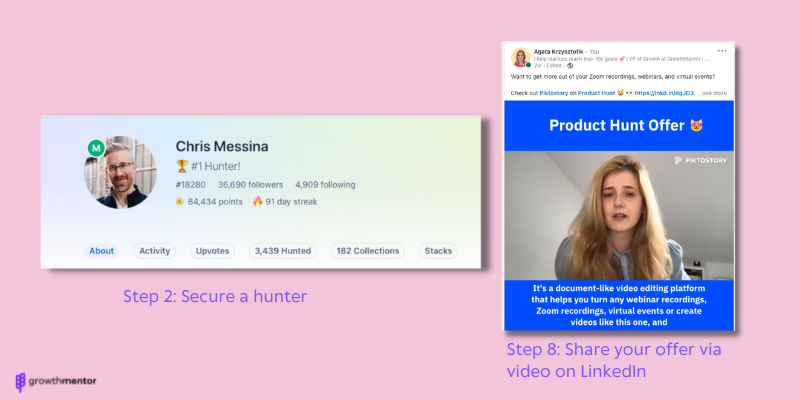 Growing your online marketplace
Growing a marketplace platform is different than growing a regular startup.
Online marketplaces are two-sided, so you need to focus on growing your customers and suppliers.
You will acquire your first customers during the launch of your online marketplace. Make sure to nourish these relationships. As your business grows, you will need to scale your customer acquisition efforts.
Choosing your marketing channels to grow the demand
Choosing the right marketing channels is crucial to the success of your marketplace platform.
You should develop a marketing strategy that resonates with your target market and builds brand awareness. This may include SEO, social media, influencer marketing, email marketing, or other tactics.
At GrowthMentor, we focus on the following marketing channels:
SEO & Content Marketing
Word of mouth & networks
Google Ads & Social Ads
Outbound Marketing
70% of our marketplace website traffic comes from SEO and content marketing. From the beginning, GrowthMentor has invested a lot in content-led SEO.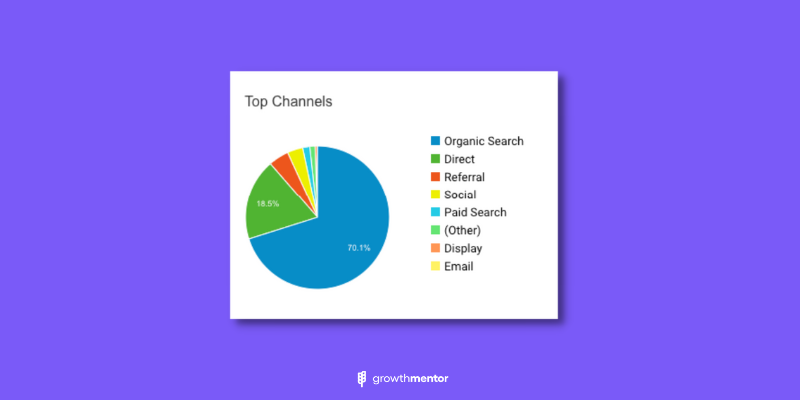 We got into the habit of releasing at least one new blog post per week. 55% of our organic traffic is generated through the blog.
We also create glossary, industry, roles, and tools landing pages that drive organic traffic to our marketplace website.
Each of the 500+ mentor profile pages is indexed by Google, generating an additional 2% of our organic traffic.
From the beginning, we also generated a lot of demand through word of mouth and other people's networks like LinkedIn.
Most of our customers are startup founders who often have no one to talk to. After their first call with a mentor, they experience an "aha moment" and want to tell their friends about it. Word of mouth was our #1 source of acquisition at the beginning.
Many of our mentors a mini-influencers on LinkedIn or Twitter, so whenever they post about us or add us to their profile page, it's a win for us.
We try to make it a win-win relationship for both. For example, we share their stellar mentor session review on LinkedIn and tag them. Then they reshare it, comment on it, or like it making it visible to their network.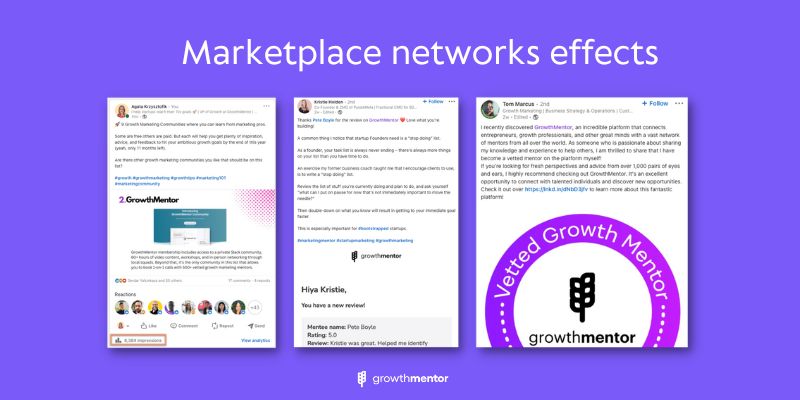 In 2023, we are planning to invest more in referrals. We are building a referral program for both mentors and mentees.
For mentors, we plan to enable shareable links allowing their referrals to create a free account and book a free call with them. Once their referral becomes a paying customer, we will share a percentage of the subscription revenue with the respective mentor.
We are also investing more in outbound marketing.
We are using this channel to promote our new team plan to startups who want to invest in mentorship as part of their professional development budget. GrowthMentor for teams is an excellent solution for startups looking to upskill their employees.
Other channels we are doubling down on in 2023 are video marketing and paid advertising.
We are launching a revamped version of our podcast. We have also launched new Google Ads campaigns and are experimenting with social ads, mainly on Facebook and LinkedIn.
The interesting thing is that to grow the channels, we are working with our mentors. We are lucky to have some of the brightest minds who can advise on how to make Facebook ads, Google ads, and video marketing work.
Growing the supply side of your online marketplace
We covered the growth on the customer side.
But outside of growing your customers, you must continue growing supply.
For GrowthMentor, we are getting an average of 300 mentor applications per month without spending any money on driving supply. What works for us is the unique network effect for online marketplace startups. Existing suppliers attract new ones.
Here is how it works for us:
Word-of-mouth
Linkedin (mentor badges, experience on the profile page, posts, podcasts)
Searchable mentor profiles
Community and networking
Guest blog posts
Early on, we established a four-step recruiting and vetting process that helps us grow the supply side with mentors who help us maintain our online marketplace's highest quality.
For every online marketplace, the growth of the demand and supply side will work differently.
It's crucial that you experiment with different channels to find the top 2-3 that will work for your marketplace.
Once you identify the channels, it will come down to scale them so that you can get the most out of them.
Online marketplace resources
Here are some of my favorite resources to help you on your journey.
Getting advice from marketplace mentors
Launching and growing a marketplace startup is a challenging but rewarding journey.
By planning, developing a product that meets the needs of your target market, defining the right go-to-market strategy, and focusing on growing your marketplace, you can build a successful business in 2023.
If you want to get founder-to-founder advice from someone who has launched a successful marketplace, my profile's here if you want to chat!
Speaking of which, on GrowthMentor, you will find 50 other marketplace mentors who grew such vertical and horizontal marketplaces as Shopify, Fiverr, Preply, Calmerry, and more.