Executing random marketing activities in the hope that something will work is not a strategy. Hope isn't a strategy.
Planning and designing campaigns that will reach your customers in a targeted and measurable way is a strategy.
If you feel overwhelmed with designing your first-ever marketing strategy, using a framework is a great place to start.
The SOSTAC® framework is one of the most effective ways to write a marketing plan.
What is the SOSTAC framework?
The SOSTAC framework, created by PR Smith in the 90s, is the abbreviation for
Situational Analysis,
Objective,
Strategy,
Tactics,
Action,
Control & Measurement.
Why use the SOSTAC framework?
You can apply the framework in many different business scenarios, and the key difference to other marketing plan outlines is it includes implementation stages.
SOSTAC goes into a lot of detail and depth, which can help you develop a solid plan that won't let you waste your marketing budget on pointless, illogical strategies.
Giving your marketing plan a defined structure can be beneficial when pitching to investors or presenting your budget to company directors.
The framework can help you with:
Ease of organizing marketing campaigns and providing focus
Providing clear logic and data to analyze
Making informed decisions about your strategy and tactics
Ensuring you deliver results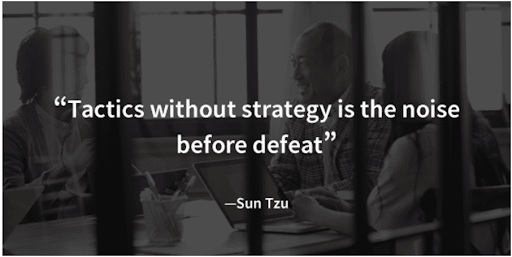 In other words, SOSTAC® stands for
Situation: Where are we now?
Objectives: Where do we want to be?
Strategy: How do we get there?
Tactics: How exactly do we get there?
Action: What is our plan
Control: Did we get there?
Structuring your first marketing strategy

Before you begin the document, here are some ground rules:
Make sure it's TO THE POINT
Make sure it's not beyond 9 pages with an 11-pt. Font size
Have clear headings; add tables wherever necessary
Ensure you give sources/references/links which you might have used, which can be in the appendix.
Here's an example of the document's flow:
Introduction: 1 Page
Situational Analysis: 2 pages
TOWS (threats, opportunities, weaknesses & strengths) Analysis: 0.5 pages
Vision, Mission, Objective: 0.5 pages
Strategy & Key Value Proposition: 2 pages
Tactics: 1.5 pages
Action, Controls & Measurement: 0.5 pages
Critical Success Factors: 0.5 pages
Risks, Mitigation & Conclusion: 0.5 pages
Appendix: References/Sources used for the document
Introducing your organization
Begin the document by giving a short introduction of your organization, including:
Name of the organization
Type of organization Company's establishment details, structure, shareholding pattern, etc.
Size of organization: Revenue, number of employees, geographical information and which countries and cities are your targets.
Range of products/services: Describe in detail the product /services that you are selling.
Customer base: Target audience, 1P database size, etc.
Overall Industry Overview: This could be in a tabular form mentioning

Categories where you are present,
Avg. selling price,
Key players, leaders & challengers,
Key benefits of the product/services,
Overall estimated sellout of all brands put together,
Growth potential (high, low, mid)
Commentary on your current area of focus within the industry along with opportunities/challenges for the industry.
For example:
An overview of the wearables market in X country

Applying the SOSTAC framework
After the above introduction, we begin with the SOSTAC® model.
1) Define the Current Situation
S (Situation) This is a detailed examination of a company's market presence based on internal and external factors.
Analyzing the External Situation
For a strategic audit of the external situation, you could use the PESTEL framework.
P (Political): How is the current political situation impacting the business/industry, including corporate taxation, other fiscal policy initiatives, free trade disputes, antitrust & other competition issues?
E (Economic): How is the economic situation impacting the business? For example, e-commerce is expected to jump from x billion to y billion, growing at an annual rate of x %. Also include interest rates, employment rates, inflation, exchange rates, etc.
S (social): Info on demographics of your targeted markets, what are the current trends, what is in demand, attitude towards working conditions, and consumer beliefs.
T (technological): what technological trends will impact your industry? You could include, but are not limited to: Automation, R & D may impact costs and competitive advantage, technology infrastructure (like 5G, IoT, etc.), and cyber security.
E (Environmental): if any significant changes may affect your industry, such as carbon footprint and climate change.
L (Legal): Industry regulation, licenses, and permits, employment and consumer protection laws, and protection of intellectual property.
Auditing the Internal situation
Internal Analysis can reveal how your business is performing and help you adapt to course corrections if your plan isn't achieving the expected results.
There are several components in an internal situational analysis:
Customer Analysis: What needs & motivations does your target customer have that you are trying to solve?
Competitor Analysis: What steps are you currently seeing from competitors? What new launches are in the pipeline, what features/benefits are they harping on, and what market share?
Distribution/channel analysis: What is the distribution model, and what is the difference between online/offline?
Internal Environment: Input on resources, competencies, and capabilities. You could make a table with your insights on internal areas, including workforce, cash flow, product development, price competitiveness, distribution, culture, leadership, and management style.
You can rate these areas from the lens of competitive advantage (Low, Mid, or High) and Priority (High, Critical, Low, etc.)
Once you are done with External & Internal Analysis, you could summarize by drawing a TOWS (threats, opportunities, weaknesses & strengths) table like this:

Now start with defining your Current Vision & Mission
2) Define your Objective
The "O" from SOSTAC is Objective:
What is the SMART (Specific, Measurable, Attainable, Relevant, Timebound) objective that you have set for your company?
An example:
S: To increase customer reviews by 25%
M: You'll monitor the number of reviews on a month-by-month basis
A: Last year, you grew reviews by 15%, so 25% is achievable
R: Reviews affect sales in your top channels
T: You will compare the number of sales vs. reviews with this year and last year
3) Define the Strategy
The second "S" from SOSTAC is Strategy.
What plan/strategy do you have in place to achieve the objective set?
How are you going to be different from the competitors?
What are the compelling reasons for a customer to buy your product?
Use STP (Segmentation, Targeting, Positioning) to support your strategy.
Segmentation
Define the key customer segment to prioritize. Customer segmentation can be based on income/occupation/social status, customer behavior, or style.

Targeting
This is the market attractiveness for your defined customer segments.
You can draw a table with the first column on the product you are targeting, and the 2nd column is the customer segment, using 4 key criteria for putting a weighted score for each product and segment.
The criteria:
Size/Growth of the segment,
Accessibility,
Investment Potential,
Competitors.
Based on the highest score adding the score from each criterion against the product and the customer segment, you can define which customer segment and product to prioritize.
Targeting: Market Attractiveness- (Weightage given on a scale of 1-10)

Remember: high competition will have low weightage
Once you have done this exercise, you can make another table to see how you are internally placed to address the product to the segment.
The criteria could be
Strength of USP,
Expected Profitability,
Market Knowledge,
Cost Proposition.
A table can look something like this:
Your company's strength in serving the below segments: (Weightage on a scale of 1-10)

Remember: The higher the cost proposition, the lower will be the weightage
Now, adding up the total score between the two tables, you know which product to which customer segment to address for your marketing planning.
Ensure all of the customer segments are measurable, homogenous, and distinct for this exercise.
Finally, you can use a GE Mckinsey 9-box matrix.
On the X axis, you have market attractiveness; on the Y, you have company strength in serving the segment (strong or weak).
By plotting the key segments based on the results above, you now know exactly the product/customer segment combination to prioritize.
GE Mckinsey 9 box Matrix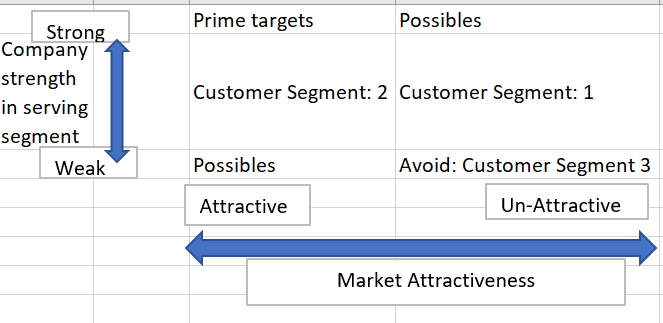 4) Define the Tactics
Now comes the T from SOSTAC, which stands for Tactics.
Define all the actions you would take from Ps of marketing. How will you get to the planned objective?
Product (which is already covered above)
Price: Gross profit, marginal profit calculation, etc.
Place: Channel/distribution plan
Promotion plan (digital marketing, public relations, advertising, etc.)
5 ) Define the Actions
A for Actions, where you define how you are going to implement your tactics.
This operational project plan will break down the work, who is doing what, when, and how.
Set deadlines for when you want specific actions completed and define how you will track progress at timely intervals.
6) Controls & Measurement
Here, you define, what will be measured, how it will be measured & monitored, the tools/resources to measure, the frequency of measurement, and the expected outcome of each measurement period.
You can conclude your story by giving an overview of various budget calculations:
Break-even point (units)
Contribution %
Return on marketing investment
Various provisions
Gross & Marginal profit forecast etc.
Forecast of sales (revenue, units, etc.).
Give the top 3 Critical Success Factors (CSF) that will be the most important for this strategy.
You could end the document by mentioning the Risks & Mitigations & adding a Conclusion:
What are the different risks: Strategic, Operational, Financial, and what steps will you take to mitigate them?
Add an Appendix referencing the different sources.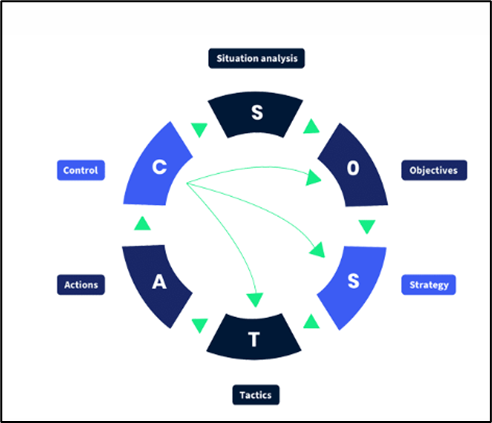 Build your marketing plan step by step
Writing a detailed marketing plan will allow you to reach the right customer segment in the right place, at the right time, with messaging that resonates with them.
Analyzing your tactics on an ongoing basis will stop you from wasting your budget on things that don't work, and continue to tweak your messaging until you get it right.
Do you need help with creating your first marketing plan? Get in touch with a Growth Mentor who can review your plan and advise you on how to get it right.
Want to speak with Srinivas?
Talk to Srinivas about your startup's marketing strategy
View Profile