When you start a company, going it alone can feel daunting, overwhelming, and downright scary. There will be elements of founding your business that don't play to your strengths.
Founding a startup doesn't have to be an uphill struggle; there are plenty of people out there who have been in your shoes who want to help you avoid mistakes and thrive. These people are startup advisors.
We've collated everything you ever wanted to know about startup advisors in this article.
What is a startup advisor?
A startup advisor has industry expertise and experience that helps new businesses get on the right track to growth.
Startup advisors are often company founders themselves who already sold their successful startups. They have spent years working with startups and may also be investors.
They share their business knowledge, networking connections, potential investors, and skills, so startup founders make fewer mistakes when building their businesses.
What do startup advisors generally do?
A startup advisor provides business advice, shares their learnings, and gives recommendations to improve the startup. They can also introduce you to their network, which is excellent if you look for talent or want help with raising investment.
You can find a startup advisor for just about any area of expertise, but the most common areas of startup advice are growth, marketing, and product. It's rare to find an advisor who covers all areas of expertise you need help with; this is why early-stage startups often create a board of advisors.
Some people will offer advice and mentorship on the technical aspects of your product too. You use your advisor as a person to bounce ideas off and help you to solve problems.
The extent to which your advisor gets involved with your business is up to you. Some will only provide top-level advice, whereas some will get more deeply involved in the nitty, gritty. If you choose a more involved advisor, they take on more of a mentorship role.
Why do advisors want to help founders?
Most advisors live and breathe all things startup; they have been in the startup world for years or decades.
Prestige aside, many advisors offer their advice because they want to see other startups succeed. They don't want entrepreneurs to make the same mistakes as they did when they started out.
Advisors may be looking to invest in new, innovative ideas, and they offer their advice as part of the investment. Some advisors want equity or stock options in return for their time and expertise.
When someone becomes a startup advisor, they may get a 'Board of Advisors' title like Hannah did in the screenshot below.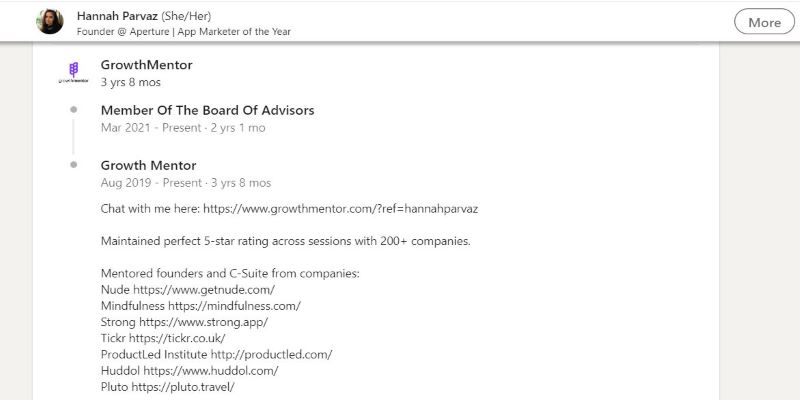 This not only legitimizes the startup as they have industry experts involved with their venture, but it also looks great for the advisor too.
What to look for in a startup advisor?
The traits of your startup advisor will depend on the stage you're at with your business. Perhaps you need help with a specific challenge, or you may just need someone to give you feedback on an idea.
Small business owners may be looking for someone to help them find their first customers. In this case, you'll probably want to find a business advisor who is more of a mentor who wants to get involved in your numbers and help you get your feet off the ground. For this, you'll likely find the right skill set with somebody who's grown a successful startup from scratch before.
If you are a larger, growing tech startup, you may want to find someone to advise you on raising capital and making connections and partnerships. In this case, you'll look for someone with business expertise who is well connected.
It's essential to choose the right startup advisor for your business. To get the most from them, they need to understand and believe in your vision. You want to find someone you can build a trusted relationship with who will give you solid, honest advice.
You also want to look for a startup advisor you can rely on; it's crucial to make it clear from the get-go how much time you expect them to give you.
Every individual brings different values to the table; however, there are a few generic good and bad traits you should look for:
Looking for a mentor to quide your startup towards success?
GrowthMentor provides 1:1 sessions with more than 500 vetted mentors!
Get Started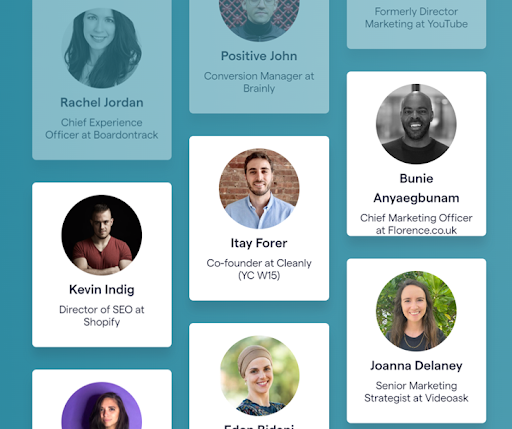 Now that you know what to look for in a startup advisor, let's discuss where to find them!
Where to find startup advisors
Finding startup advisors right for your company can be demanding as you want to find those who can provide the most value to your business. Here are some places to find them.
On-Demand Online Platforms
GrowthMentor
We recently launched a dedicated page to help you find startup advisors. Here you will find a selection of world-class advisors who are less expensive than the market rate. Why? They want to give their time back to help startups grow and succeed.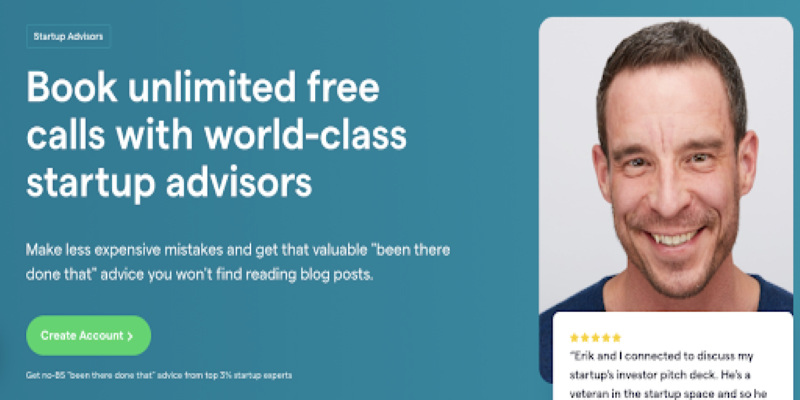 Eric Bullen is an expert on product-market fit, funding, customer success, and mindset coaching. He charges $155 for an hour consultation. Book a call with him here.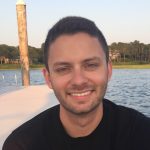 Erik and I connected to discuss my startup's investor pitch deck. He's a veteran in the startup space and so he knows exactly how to craft a great pitch. His feedback was really insightful and will be a huge help as we continue to iterate. Je's also just a really great guy, so I highly recommend talking with him. Thanks, Erik!

Nick O'Hara, Former Founder & CEO at Canaryapp.io
Marcos Bravo C. has expertise in branding, content marketing, social media, and mindset coaching. His mentees praise him for providing them with resources on crafting messages they can implement straight away. A one-hour call with him is $19. You can book a session here.
Felix Wong is an investor and head of growth at AngelHub. He will provide you valuable tips on your fundraising deck and advice on your investment metrics. The return on the investment of $20 for a one-hour call is unmeasurable. Book a session with Felix here.
Lukas Hertig is a sales expert who can give you insightful knowledge into product-market fit and marketing strategy. You can book a call with him for $25 an hour here.
Mentorcruise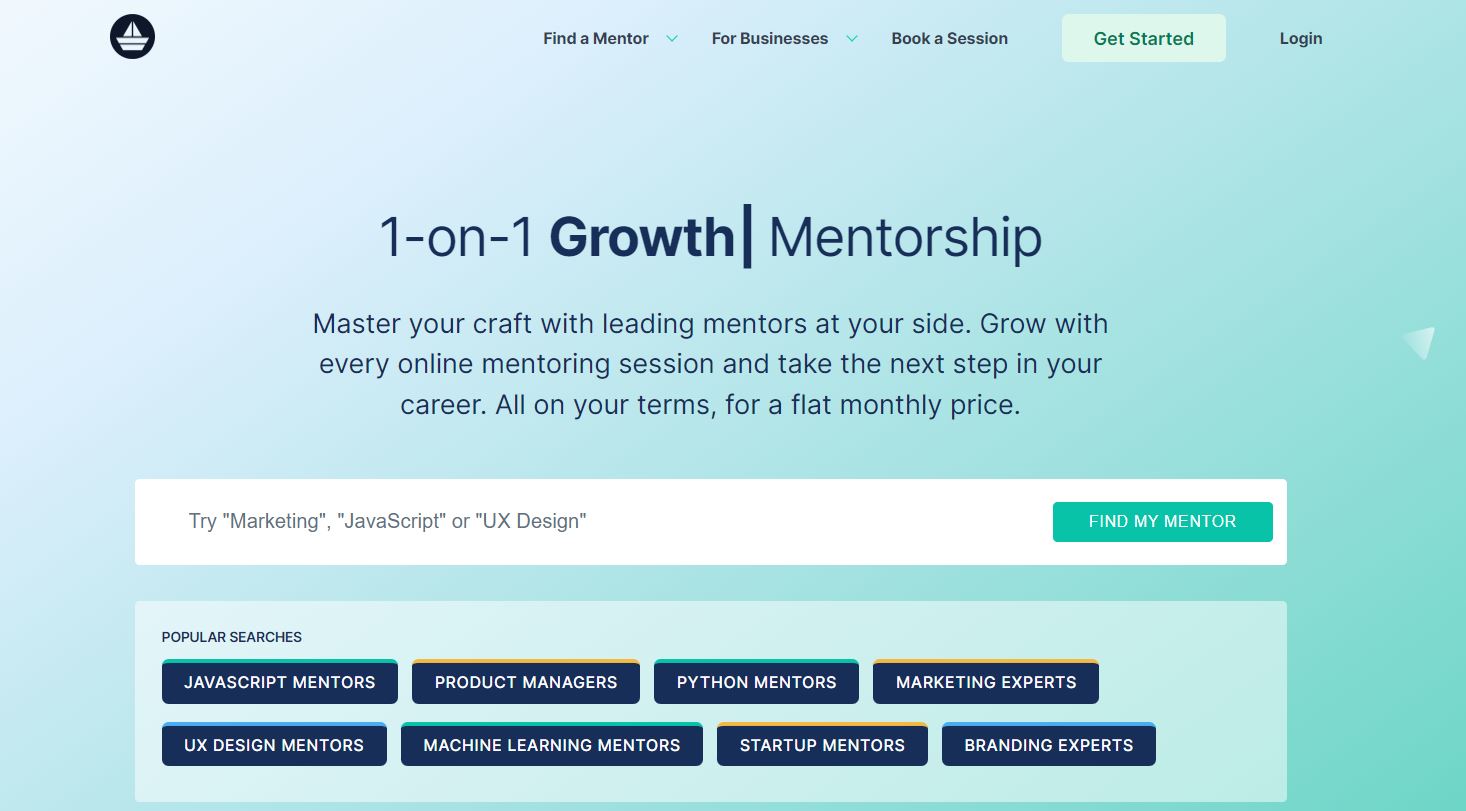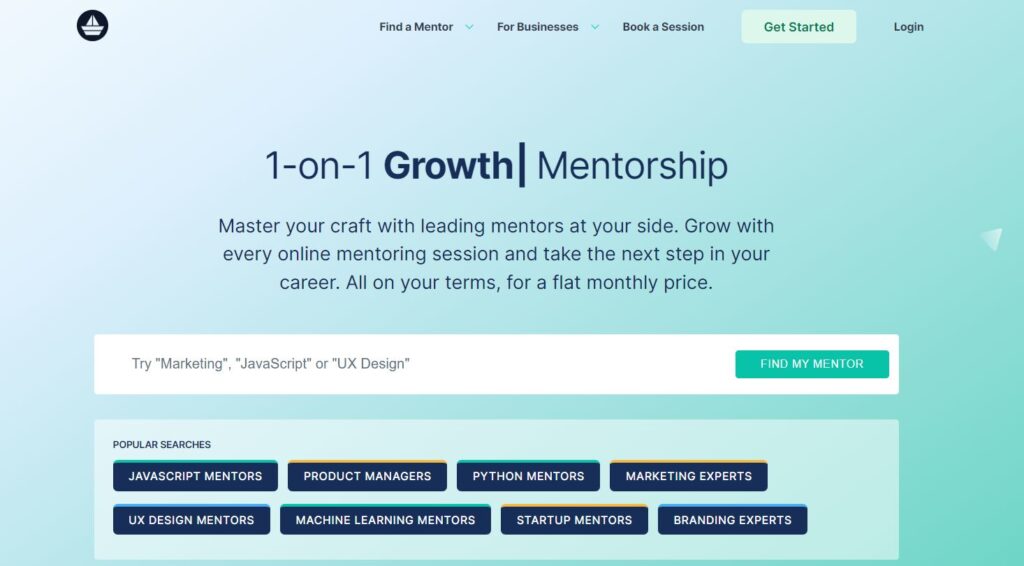 This platform offers mentoring if you want to improve your technical skills. If you are looking to up your coding, machine learning, or UX design skills, you may find a mentor on this platform.
However, this site is catered more for individuals looking to upskill their careers in tech than founders looking for a startup advisor.
Clarity.fm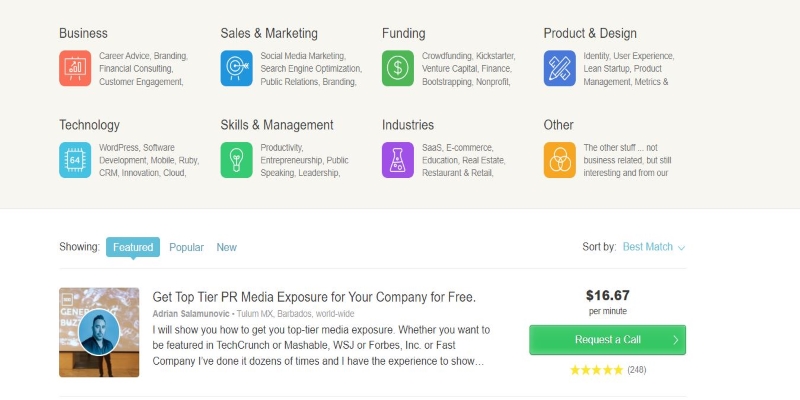 There are some excellent mentors with strong startup backgrounds on this platform. Yet, the motivation of this platform seems to be more for money and prestige rather than a genuine desire to support growing startups. Many of the advisors act in the interest of income rather than a genuine desire to support other entrepreneurs.
Incubators, Accelerators, and Venture Capital Funds for an early stage startup
When you go through an elite startup accelerator program such as YCombinator and Techstars, they assign you a startup mentor. It's important to remember that only about 1% of applicants are accepted onto these programs, so it isn't a viable option for finding advisors 99% of the time!
You will receive coaching from your mentor while you're in the program, but as soon as it's over, they may no longer be there to support your growth. They are allocated by the investors and will get equity but may not have a strong interest in helping you overcome your challenges.
It's more effective to find your own startup advisor who has a genuine interest in what you are doing, can give you niche advice, and be a sounding board for your ideas.
Cold emailing startup advisors
The best option (after GrowthMentor, of course) to find advisors you want to work with is to reach out to them directly. You can reach out to people you admire who you think have the right background to support you.
It's better if you get an intro from a mutual connection (did you know we can do this for you at GrowthMentor?), but reaching out via LinkedIn or cold email are also options.
If you're using cold email communication and don't have a mutual introducer, use VoilaNorbert.com to find their email address.
Email template for asking someone to be your startup advisor:
Hey [CONTACT NAME],
I love your work. I've been following you for a little while now, and I particularly enjoyed [PIECE OF CONTENT]. I just wanted to reach out to you because I'm a huge admirer of the work you've been doing, and I'm currently looking for someone to be a startup advisor for my startup [STARTUP NAME].
It'd be great to hop on a call or to drop you an email (whichever you prefer) to talk about this some more. Is that something you'd be interested in? Please let me know, and keep up the good work! Thanks.
Do you need an advisory board?
What is a startup advisory board?
A startup advisory board is a group of advisors you bring in for consultation across various disciplines. Startup advisory boards sometimes meet in union with you to give you advice. So whether you're looking for accounting skills, product advice, sales insights, or strategic alliances, you can have people on your board with all those skills.
Related: Learn more about Customer Advisory Boards
Benefits of having an advisory board
Is having more people on your board a good thing, though?
When you have a group of people advising you, having different perspectives can be helpful for making decisions.
If you are a fast-growing startup, you may be working on several projects at once as you scale. You may want to raise investment but at the same time hit your growth targets. In this case, it would be best to have an expert on raising funding and a growth expert on your board of advisors.
Being able to mention industry pros as your board of advisors also looks excellent for your business. You have the seal of approval from these experts who want to work with you.
Here's what GrowthMentor's board of advisors looks like, and we think you'd agree it looks pretty cool to have these respected people on our team.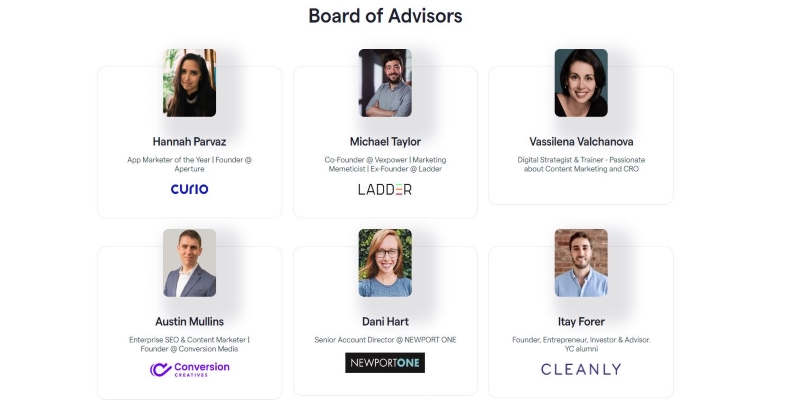 When an advisory board is a bad idea
Although a board can be helpful to bring in varying expertise, sometimes it can get too much. Some founders prefer to work with just one person first and bring in more advisors as the company grows.
A single advisor can get more involved and stay better informed about your business' goings-on. A board will want to have different levels of involvement, and keeping them in the loop may end up being more hassle than it's worth when you first start out.
"Sometimes you don't need multiple advisors. You think you might for diversity reasons, but there's a point of diminishing returns that creeps up on you really quickly. You need to be aware of what that point is."

Fotios Panagiotakopoulos - Founder of GrowthMentor
Mentors vs. advisors: What's the difference?
The role of an advisor is to help you with specific challenges and tell you what your solutions could be. Your advisor will also offer you access to their network.
A mentor is someone who has been in your shoes. They've started a business; they've learned the hard way. They can share with you the ups and downs of their career and how they got to where they are. Mentors are usually a few years ahead of you in their career and can share wisdom and specific advice as they coach you.
The need for mentorship is clear, as shown by the 24,000 completed mentoring sessions on GrowthMentor.
When do you need something more than a mentor, and how can you decide your company's advisory needs?
When startup mentors are ideal
Mentors tend to have a different motivation from advisors. They offer mentorship from a selfless place. They are more concerned about seeing you grow and your company's success than they are about financial rewards. Mentors provide their coaching in a more informal capacity.
Mentorship is perfect for smaller stage (pre-series A or seed round) startups who don't want to give up too much equity or get stuck on a hefty monthly retainer. Finding a mentor is an ideal option if you're looking to bounce some ideas around and get some practical tips.
When startup advisors are ideal
Advisors are officially on your payroll and have skin in the game. They get equity most of the time, but on platforms like GrowthMentor, you can hire them for a fixed monthly price without giving up equity.
Since there's a financial investment, you can expect more from an advisor. They are more open to sharing their contacts and offering regular strategic and hands-on assistance when needed. If you want a consistent, reliable person with relevant expertise on your side, then hiring an advisor is the best option.
A single formal advisor is the best choice if you are still growing and want someone heavily invested in what you're building.
Looking for a mentor to quide your startup towards success?
GrowthMentor provides 1:1 sessions with more than 500 vetted mentors!
Get Started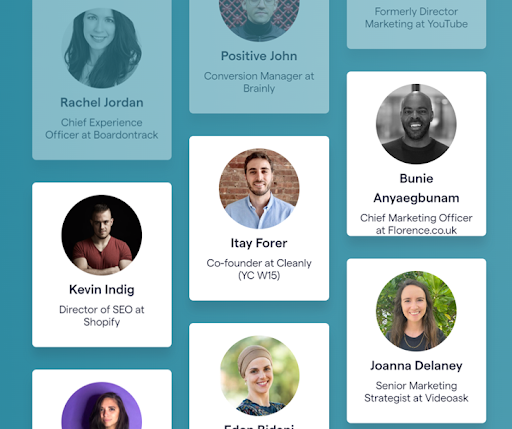 How should I pay a startup advisor?
You have two options when it comes to paying your startup advisor. You can pay them a flat fee per month of involvement in your company, or you can offer them equity.
Payment options will be different depending on how advanced your company is. If you still aren't sure that you need a full-time advisor, monthly fees could be the way to go.
Paying a startup advisor in equity
If you choose to pay your startup with equity, keep in mind that the stake is usually between .25% and 1%.
Let's take a look at how you make an equity agreement with your startup advisor.
Setting up a compensation agreement template
You need to set up a startup advisor compensation agreement when you agree to pay advisors with an equity stake. This legal document states the amount of compensation the advisor will receive in return for certain activities.
Knowing the exact clauses to use in this agreement can be difficult, especially if you have never created something like it. You need to follow best practices and make sure you cover all the finer details.
We've consulted hundreds of mentors on GrowthMentor who have formal startup advisory experience and crowdsourced the intel to create an advisor agreement template. This valuable resource takes all the hard work out of creating your advisory agreement.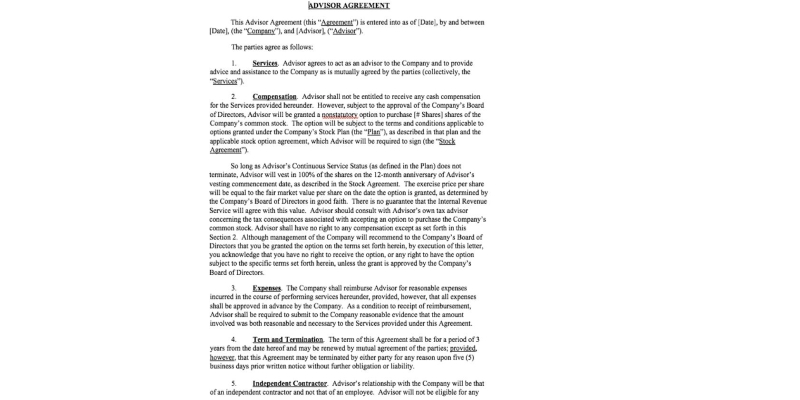 A note on vesting schedules and cliffs
When agreeing to share equity with your advisors, you may want to look into vesting. This means the advisors will receive their equity once they have earned the right to. They can't receive their equity until they provide the services they agreed to.
You can partially vest your advisors, which means they become increasingly vested over time. Cliff vesting is when you agree that they become fully vested (get access to all their equity) on a specific date.
Paying a startup advisor via a monthly retainer
A standard rate for a startup advisor monthly retainer is around $2,000.
Monthly retainers give you an element of flexibility. If you decide you no longer need an advisor or you want to switch advisors, you aren't tied into a compensation agreement.
Offering equity can tie you in with someone that you may outgrow or no longer want help from.
The startup advisors on GrowthMentor charge between $150-500/month, much lower than the industry average. How can they do this? Because they are more interested in helping your business to thrive than they are in the income they can make from their advice.
Getting the most out of your startup advisor
Now you know all about finding your advisor and how to pay them, here's some advice on making the most out of your advising relationship.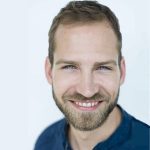 It can be frustrating when founders and entrepreneurs ignore advice and go back to their old ways very quickly. If they aren't brutally honest about their situation and challenges, it can be difficult to advise them

Johannes Radig, Startup Advisor for 500 Global
Find an advisor who's a fit for your business
I hope this was helpful in your search for a startup advisor. Having someone to advise your startup brings immense benefits; you don't have to go through the early days of founding a business alone, and they can open many doors for you.
Finding the right advisors for your business may take some time as you want to hire somebody with relevant experience who also understands your vision. Once you find the right person, the value they can add to your business is incomparable to anything else.
Still, need some help in your search? We can recommend someone from the GrowthMentor community for you. Feel free to get in touch to let us know you're looking.