Let's go all middle school on this break-up note and see how GrowthMentor is the perfect alternative to hiring a marketing agency.  As with relationships, timing is everything 😉
Agencies are a Commitment
I just can't commit at this time.
Hiring a marketing agency is a big commitment and we all know that commitment isn't for everyone.  Or maybe I should say, there is a time and a place for commitment – look at George Clooney.
There is a time and a place where hiring a marketing agency to handle the growth of your business is exactly the right thing to do.  To over-simplify things let's say after you've found product market fit and have a nice cushy marketing budget to play with.
Get ready for some dating analogies!  I promise there will be no eggplant emojis 😉
Let's compare bootstrapped founders to singles folks in their 20's.
Both are eager to start their journey and looking to grow as much as possible so that they can live their best life. #YOLO
Do they have a ton of cash in the bank?  Nope.
Do they live on ramen noodles to get by? Probably.
Do they want to meet new people and try new things? Yup!
Do they want to settle down and commit to a set payment each month (whether it be a mortgage or an agency fee)?  Hell no!  Remember #YOLO
As a new startup you have a lot of work to do before you can settle down and feel comfortable forking out your hard earned cash to an agency.
You don't need to commit to that retainer, what you need to do is educate yo'self and do the damn work.
You don't need to do the work forever, but think of it as a right of passage.  You'll look back on these early years with fondness later on, just as many look back on their single years and reminisce of the 'good ol days'.
You may hate it while you are in the thick of it, learning SEO/many failed Tinder dates – but some day you'll look back and smile about it.
With GrowthMentor you can get the professional advice that you desperately need without the commitment of an agency or high ticket consultant.  Many of our members describe it as a resource they keep in their back pocket.
Instead of the commitment of an agency, you can have 425+ experts on speed dial (is that still a thing?) that you can contact when you need them.
Marketing Agencies are not the Enemy
I really like you and I think you are swell, but I don't want a serious relationship right now.
We're going to really stretch here and compare hiring an agency to marriage 😀  Many single peeps have marriage as the end goal, something to look forward to – but just not right now.
As a new startup, you want to prove yourself.  You are in at the ground floor and want to be part of something big.  You know that includes lots of learning, long nights and failures – sounds a lot like my dating life in my 20's!
Having the ability to hire a growth marketing agency and let them do their thang is the goal.  I'm talking 4 hour work week type of shiz.  Unfortunately most of us aren't there yet.
Using GrowthMentor to help you hack your learning curve is the best way to survive these early days where you are so overwhelmed and feel like your head will explode at any minute.  We even have a category for mentors who help with 'head exploding'!
Dani was just the tonic I needed! She was full of helpful advice on developing and maintaining a positive mindset, which is much-needed for a bootstrapping entrepreneur like myself. I feel that I now have a toolkit to continue on my journey with renewed energy and enthusiasm.
Flexibility and Freedom
I'm looking for something more casual and if I'm totally honest, I'd like the flexibility to see as many people as I can. 
I don't think I need to get into the dating comparison with this one or I will probably end up using the eggplant emoji.
Single people don't want to be tied down – they want to flirt, they want to test the waters, they want to play the field until they find the right fit.
Many marketing agencies have their super strength niche focus.  For example Skale is specifically geared towards B2B SaaS brands looking to dominate SEO.  You may be a B2B SaaS, but are you at the right position to pay this top notch agency and focus solely on your SEO?
You probably need to be focusing on different areas besides just SEO and need to be flexible with your resources and efforts.
You want to be able to meet with new people when it's convenient for you and not be on a rigid schedule.
With GrowthMentor membership you can swing from mentor to mentor and book calls when the time is right for you.  One week you can talk with Positive John about experimentation and the next with Vassilena about content marketing.
Your growth marketing needs change from week to week, so your go-to source for advice needs to be flexible.
It's just not the right time for an Agency
If I was looking for a big commitment, you would be the one I would want to be with forever, but that's just not where I am at right now. Please respect my decision at this time and know that I hold you in the highest esteem.
When the time is right to make that commitment and settle down with a mortgage and 2.5 kids growth marketing agency, allow us to introduce you to some of our favorites The 9 Best Growth Marketing Agencies We'd Trust Our Lives With.
Again, this should be the GOAL.  You can sit back with your mojito and let someone else worry about your marketing because you my friend have made it!
Until that time comes, get to work!  Upskill your team, outsource what you can and work smart.  But know that you don't have to figure this all out on your own.
There are tons of people in the same boat as you and also a bunch of vetted pros that want to help you maneuver the muddy waters of startup growth.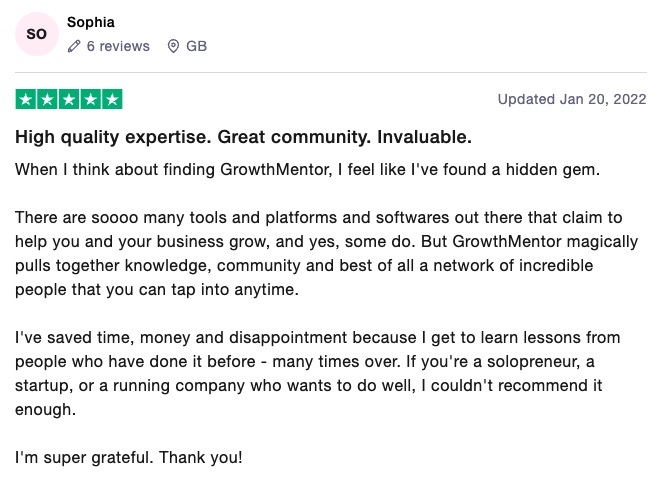 Take a look at the vetted mentors we have that can help you with your growth challenges -> Browse Growth Mentors