You want to get better at content marketing.
But how do you go about learning the skills you need?
In this guide, you'll discover seven content marketing courses that will help you master the intricacies of content marketing, expand your career horizons, and identify new opportunities to connect with your audience.
Best Content Marketing Courses
CXL – Technical Content Marketing Minidegree Program

Are you looking to gain advanced-level skills to generate leads, traffic, and sales with your content? Are you willing to put in the strive it takes to complete a mini degree? Then this certification program by CXL institute is for you.
After 29 hours 15minutes of videos and study material, you'll learn how to create and implement a content strategy that works. You'll discover how to select the appropriate topics, put them together into a strategy, and promote the content on the most effective distribution channels.
At the end of this program, you'll be able to identify the topic areas your business should own, plan and produce content on these topics, and win traffic, leads, links, and shares with that content. If you're chasing vanity metrics or looking for cheap hacks, this program isn't for you.
The program is taught by instructors who are carefully hand-picked and vetted to ensure they are the best in the world at what they do.
Founder: Peep Laja
What you'll learn: Content marketing research, user research, advanced keyword research, content production, content distribution, ROI for content marketing, attribution, and more
Who's it for: Budding content marketers, content editors & strategists, SEO experts, and social media influencers
Price: $599 for the first user and $299 for each additional user (for teams)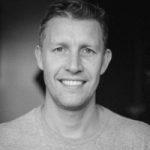 Anyone would benefit from CXL Institute, and that goes from interns up to CEOs. That's really been the case in our company. After their training series you're fully equipped… you can go off and implement your learnings straight away.

Matthew Roach, Digital & Marketing Director at Harbour Hotels Group
Grow & Convert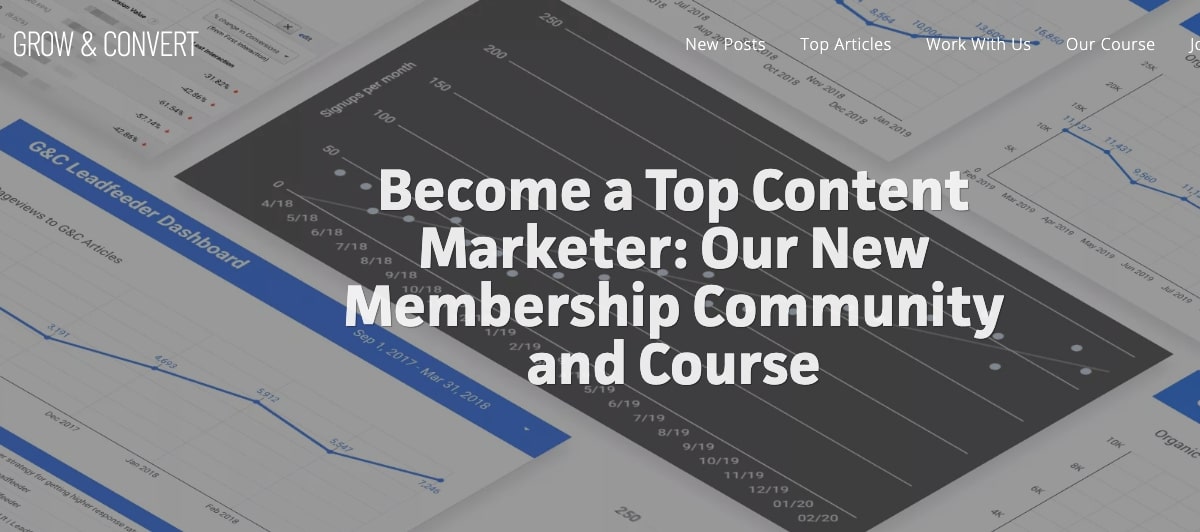 The content marketing course by Growth & Convert is a complete system for performing content marketing for virtually any business, including writing, content strategy, promoting, and converting traffic from the content. With this course, you'll confidently walk into any company and discover:
What they're not doing correctly
What opportunities are untapped
How they should shift their content strategy
How to measure conversions
This is a course like no other; it is case-study based in order to help you learn the strategies that work best for your business type – GrowthMentor is an example of their B2C case study business. The course videos are simple screencasts that only take 5-15 minutes of your time.
To support the dynamic nature of content marketing courses, Growth & Convert has built theirs as an ever-evolving discussion. Instead of watching a static repository of videos, this course constantly updates to add new lessons, concepts, and methods being tested.
The course also incorporates a member community where you can interact with other members over videos, ask questions, and listen to expert videos from pros like Brian Dean – founder of Backlinko.
Founders: Benji Hyam and Davesh Khanal
What you'll learn: Content strategy, writing, promotion, and conversions
Who's it for: Beginners, B2B marketers, B2C businesses, and SaaS enterprises
Price: The course has a lifetime pricing of $699. You can pay through a 6-month payment plan for $135/month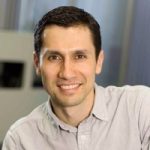 This is the course I wish I had when I first started out as a content marketer. It would have saved me months of wasted effort. The moment I started applying the promotional techniques that Benji & Devesh outline, I had my first post hit 6k unique views in just 3 days.

Dave Peralta, Outreach Marketer at Hotjar
Looking for an SEO course instead?
Superpath Pro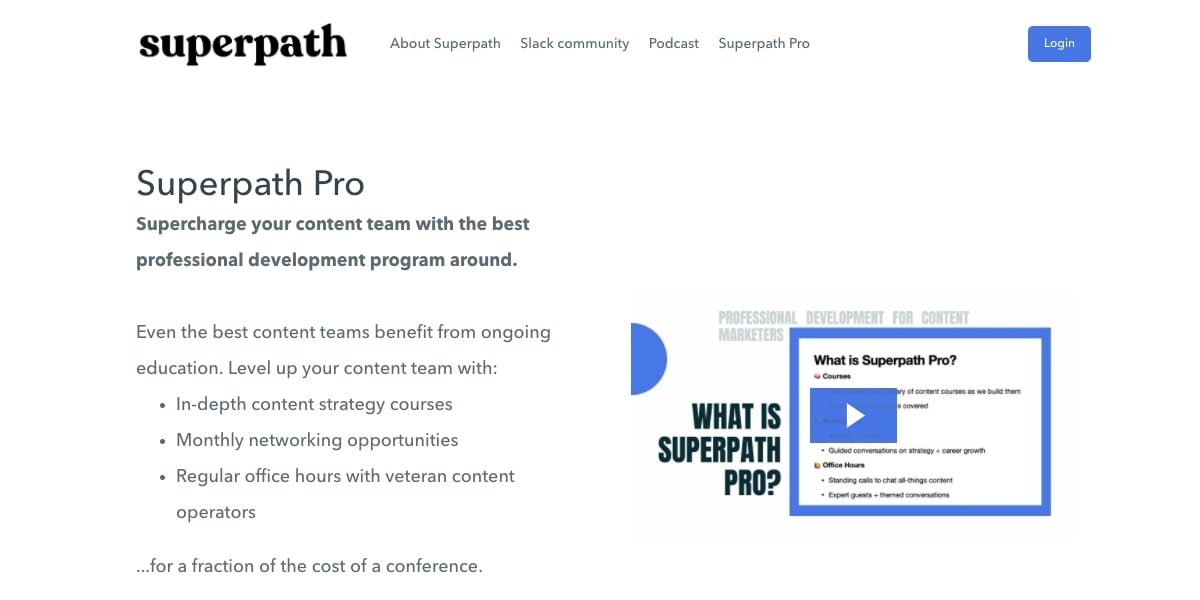 Want to level up your current content team with the best professional development program? Then this is the membership for you, which includes best content marketing courses. For the fraction of the cost of a conference, your content team will benefit from in-depth content strategy courses, monthly networking opportunities, and regular office hours with seasoned content operators.
This course doesn't just give graduate-level content education, it provides a balanced curriculum, the opportunity to contribute to course topics, as well as help navigating real-world content challenges.
Superpath Pro is constantly building and launching new courses. Currently, the membership will give you access to 7 products:
10 advanced content marketing concepts
A study of the content team structure
How to conduct a funnel depth audit
How to build a successful and lucrative career in content marketing
How to report on content marketing
How to talk to your CMO about content marketing
Want to preview the course before signing up? Just provide your email and you'll receive a few samples of what to expect.
Founder: Jimmy Daly
What you'll learn: Advanced content marketing concepts, content team structure, building a successful content marketing career, and how to report on content marketing among others
Who's it for: Content managers, heads of content, directors of content, journalists, content marketers, and freelancers
Price: $50 per month per person or $500 per year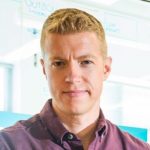 Three things I love about Superpath

(1) Solves a real problem. Very few content marketers have access to high-quality educational opportunities. (2) Delivers it in multiple modes (courses, calls, slack, etc) AND stacks biz models (ie the job board). (3) Logical yet innovative progression, given his background—great way to deliver awesome value w/ more scale and help more people.

If you're building a paid community of any kind, tons to learn here. If you're building a content marketing career, tons to learn as well!

Sam Shepler, CEO at TestimonialHero.com
The Blueprint Training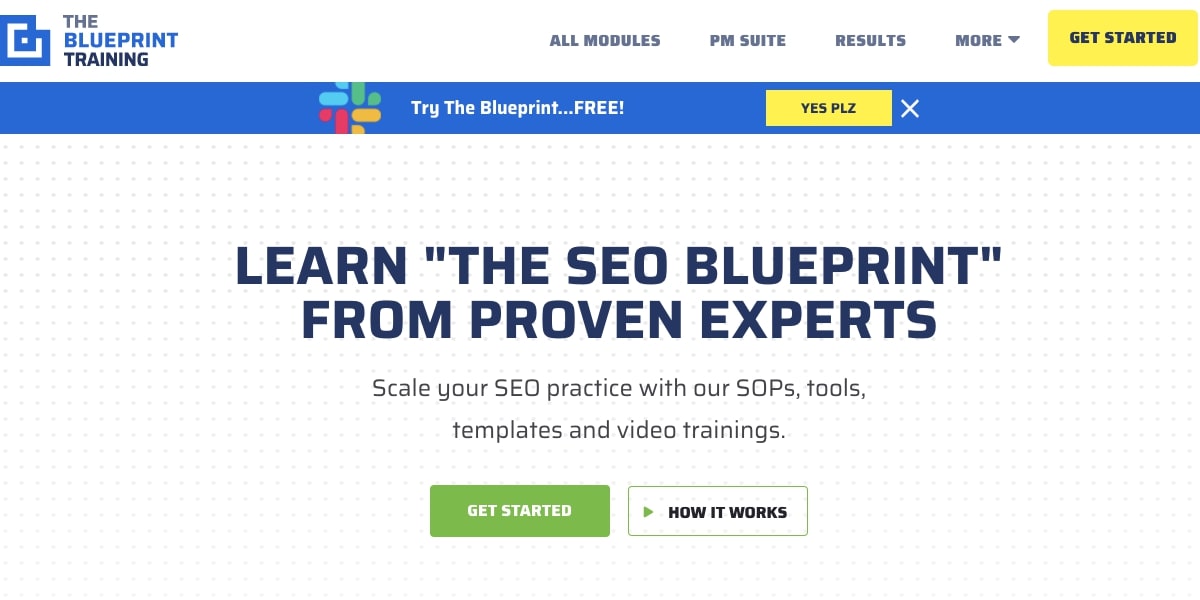 The content marketing course by The Blueprint Training isn't your conventional marketing training – and it could be the missing link to your marketing efforts. Implemented by over 500 marketing professionals, this training has quickly become the go-to manual for agencies that want to build their content teams in-house.
You'll learn using process-focused video training to understand the content marketing process. This 17-module course includes topics on SERP intent, content tactics, audience personas, and topic ideation among others.
Your course membership gives you lifetime access to a Slack channel with more than 500 agency owners sharing their knowledge on a daily basis. You can also schedule 1-on-1 consulting calls to iron out any issues you could be experiencing.
Founder: James Reynolds
What you'll learn: Creation and management of content generation, how to execute multiple content tactics, content strategy, technical SEO audit, link outreach, and SEO reporting
Who's it for: Agencies, in-house teams, and marketers
Price: $2,999 for lifetime access. You can pay in 3 installments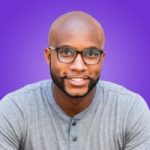 The frameworks taught in The Blueprint have helped my agency scale to new heights.

John Saunders, CEO at 5Four Digital
ClickMinded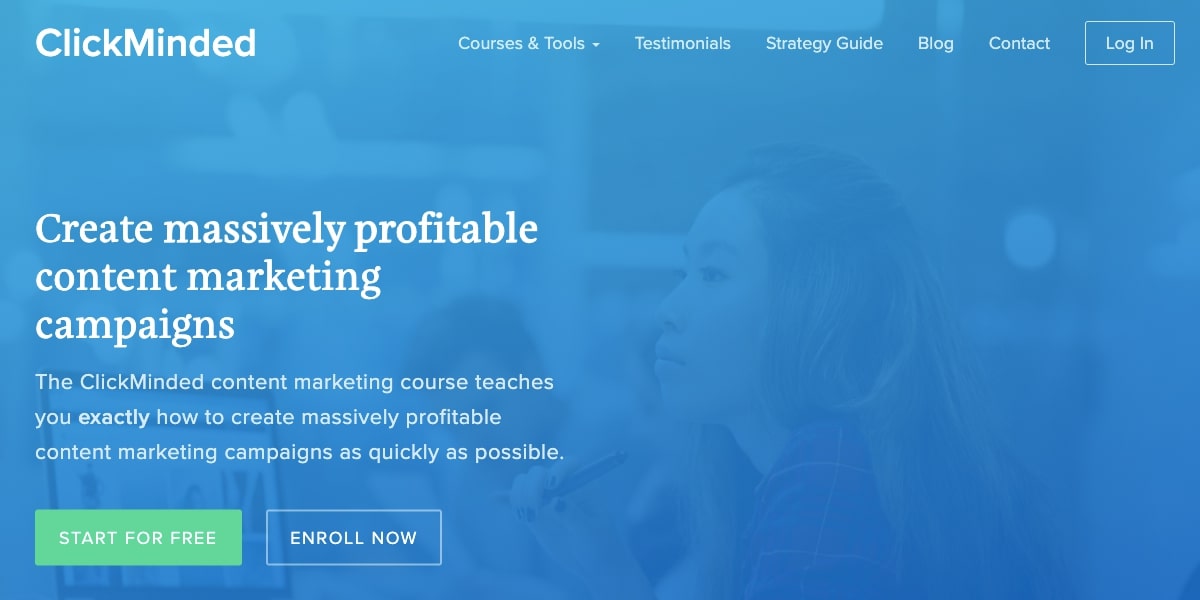 Are you tired of generic content marketing advice that doesn't address the actual purpose of content marketing? Then you need to enroll in this content marketing course that teaches you how to develop profitable content marketing campaigns in the shortest time possible. This content marketing framework is anchored around the philosophy: delivering the right message to the right audience at the right time.
This course starts off by helping you understand the role of content marketing in your marketing funnel as well as the importance of differentiating content marketing and copywriting. You'll interact with proven content formulas on how to create blog posts, social media posts, YouTube videos, and podcasts that attract huge traffic to your website.
This interactive course offers printable/downloadable slides, quizzes at the end of each lecture, free lifetime course updates, and a risk-free 100% money-back guarantee.
Founder: Sophie Tahran
What you'll learn: Content fundamentals, optimization, audience segmentation, building a content calendar, channel selection, effective copywriting, starting a content program from scratch, and more.
Who's it for: Agencies, content marketers, and copywriters
Price: $997 for lifetime access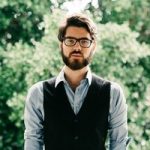 As a growth consultant working with tech companies, I'm also in-need of sharpening and updating my skill set. Sometimes it's just reminders or advanced tactics and strategies, sometimes it can be learning a whole new skill. I've taken many ClickMinded courses that have helped me do a better job for the companies I work with and close higher ticket clients.

Roy Povarchik, CEO & Founder of Stardom.io
Content Marketing Institute Certification Course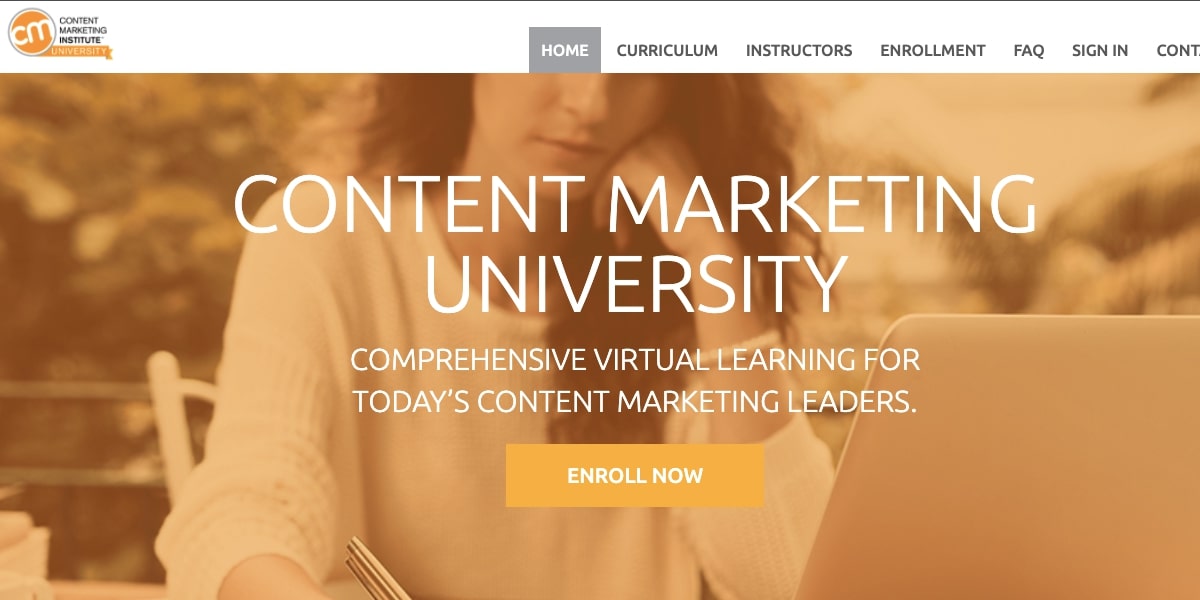 The Content Marketing Institute certification course is a self-paced program covering the full spectrum of content marketing, including planning, channels, audience, process, conversation, and measurement. Enrolling in this program gives you exclusive and complete access to all materials for a period of 1 year from your sign-up date. All lessons are available upon subscription, and you'll have immediate access to any new lessons added to the curriculum.
The course instructors are the best-in-class content marketing educators, authors, and practitioners who have been carefully handpicked by the CMI team. They include Andrew Davis, Ardath Albee, Doug Kessler, and Margot Bloomstein.
While you can enroll as an individual, the course also offers group licenses for teams or entire organizations.
Founder: Content Marketing Institute
What you'll learn: Covers the full spectrum of content marketing, from planning and process to conversation and measurement
Who's it for: Professional content marketers, agencies, corporations, and nonprofits
Price: $995
Ahrefs – Blogging for Business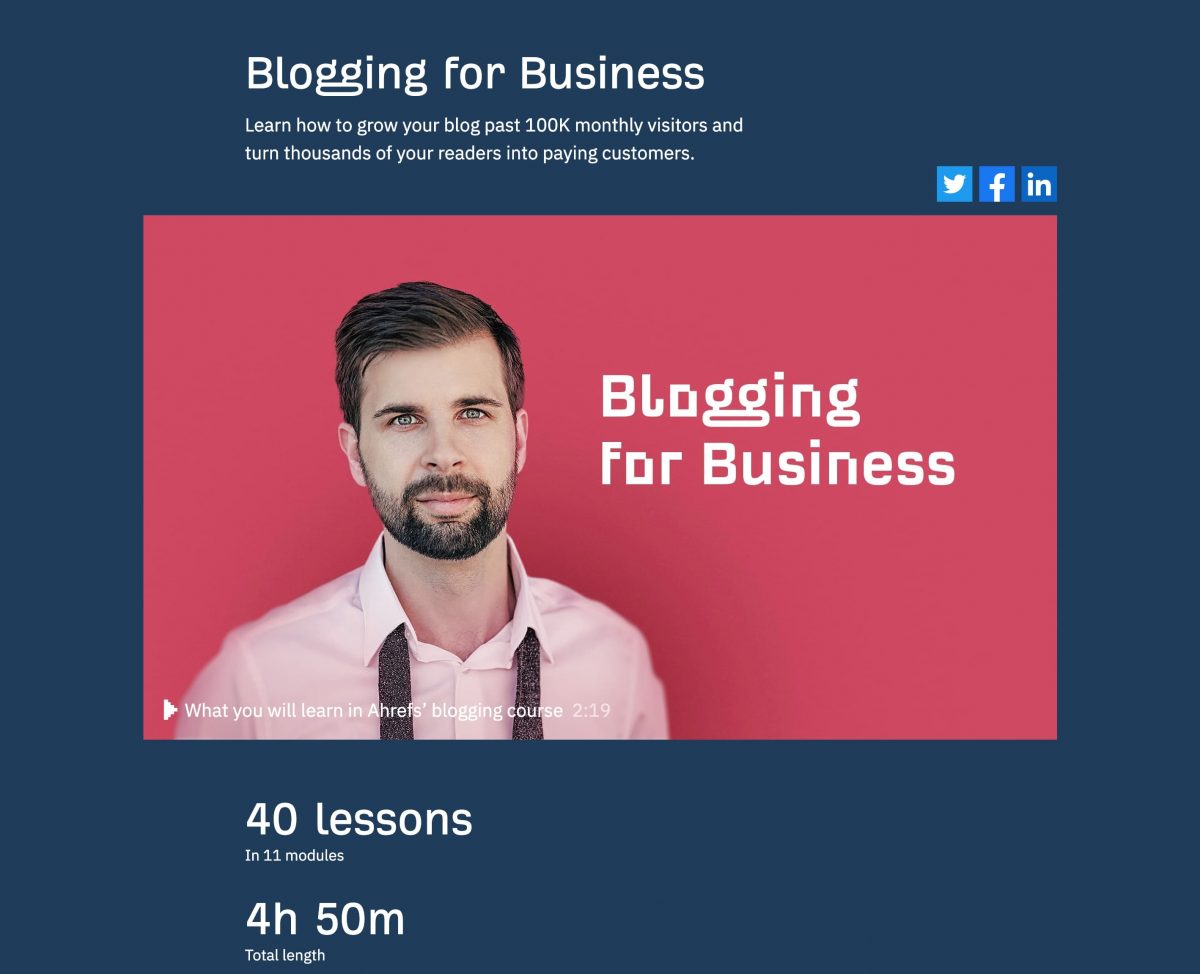 Content marketing, SEO and blogging go hand-in-hand, and the blogging for business course by Ahrefs seeks to emphasize the importance of proper blogging. With this course, you'll learn how to grow your blog beyond the 100k monthly visitors mark and turn hundreds of readers into paying customers. This 4 hour 56 minutes course features 10 tutorials, each of which expounds on various blogging concepts.
The course starts off by highlighting the importance of blogging for your business and the compound effect of content marketing. The 10th tutorial wraps up the course by teaching you how to build links and promote your content through blogger outreach.
As extras, the course also features guest interviews from Noah Kagan, Bryan Harris, and Ramsay Taplin – and it's all entirely free.
Offered by: Ahrefs
What you'll learn: Strategies of growing a blog, analyzing the traffic potential of your blog, how to find excellent content ideas, how to create link-worthy content, and more.
Who's it for: Business owners, bloggers, and marketers
Price: Free
Google Digital Garage – Promote a Business with Content
Looking for a free content marketing course? Google has your back. This 3-hour beginner course comprises 4 modules that will help you learn how you can promote your business by leveraging the power of content. You'll also discover how tools like content marketing, video, and social media can help your business get noticed and connect with a larger online audience.
This is one of the best content marketing courses out there that features video tutorials, end-of-topic assessments, and easy-to-implement tips. Working through this course is as easy as enrolling, tracking your progress, and completing module quizzes.
Course offered by: Google
What you'll learn: Social media basics, making the most of video, writing for online audiences, content marketing, and measuring your success in content marketing
Who's it for: Beginners
Price: Free
Conclusion
Depending on your goals, you may discover that some content marketing courses are a better fit than others. Try a free course to gauge your interest if you're just beginning. But if you want more advanced material to optimize your company's content efforts or advance your career, a paid course may be more suitable.
Be cautious about overtraining – you don't want to learn too much and implement nothing.
Learn by doing it practically while focusing on active learning.
This way, you'll hack the learning curve like crazy.
And that's where GrowthMentor will come to your rescue.
If you want to learn actively and have an expert by your side as you start executing, then you may consider booking 1-on-1 calls with one of our experienced content marketing experts to help you get started or excel in your efforts, no matter where you are in your content marketing journey.