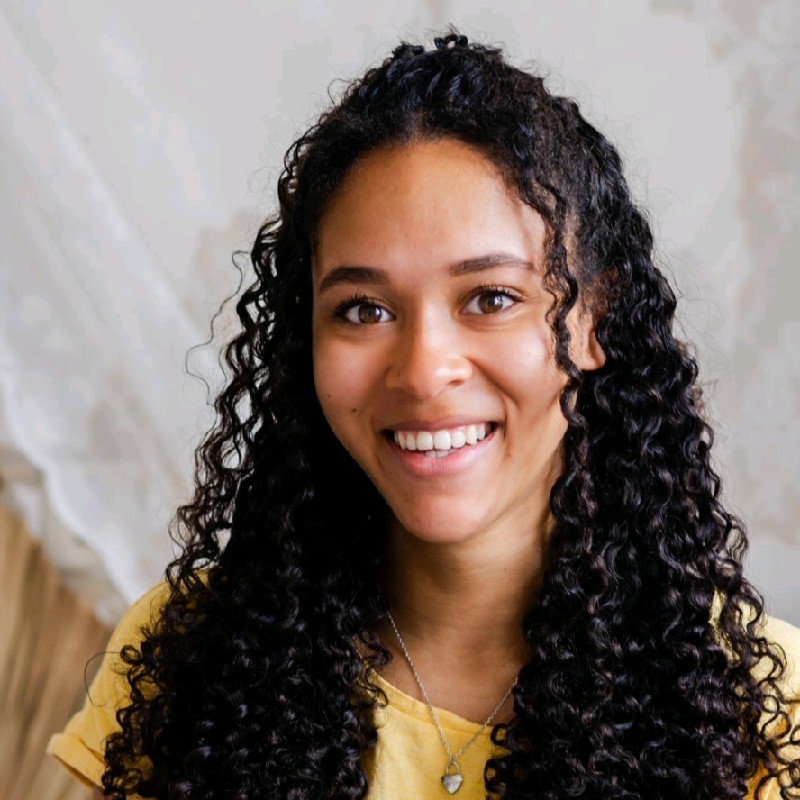 I LOVE the mentors! They're so extremely kind and helpful.
Tenicia van Aalten
Before you learned about GrowthMentor, how did you deal with the challenges you faced?
Google, Google, Google… I've very recently graduated, meaning I don't have a lot of practical experience yet.
I did work for a growth hacking agency for almost a year, where I learned some basics.
This was not enough for my current job.
I'd rely on watching YouTube videos, following courses, and Googling stuff. For me, this meant running into one obstacle after the other.
Tell us about what you are currently working on.
AirHub is a drone software and consultancy company that helps governments and first responders implement drones in a safe, legal, and efficient manner.
I'm the first and only marketeer/growth hacker, responsible for helping the company grow. Since it's still a start-up, my responsibilities vary from implementing and tracking growth hacks, to being the project manager of, for example, the launch of our new website.
What ultimately compelled you to sign up for GrowthMentor?
Finding GrowthMentor played a big part in me taking the job I currently have since I'd be the only marketeer. There would be no one who could teach me what I needed to learn, no one to ask questions.
I'd be cutting myself in the fingers if I had taken this job without a mentor.
I can already hear you thinking… So why would you even take this job as a newbie, to begin with? Isn't a traineeship or a growth hacking agency a better option?
I simply couldn't turn down such a big opportunity. I'd be working in a fast growing, innovative industry for a company where I can do whatever I feel like is best. I have all the freedom in the world, like an experienced growth lead would have.
Besides this meaning I have to be careful my focus isn't off, and that I don't always know what's best, it also means my skills will grow like crazy.
When I worked for the growth hacking agency, I quickly noticed I had to focus on certain tasks. This meant I wasn't learning about other things which are important for a growth hacker.
At this company, I get the opportunity to become an all-round growth hacker!
And all of this is thanks to GrowthMentor.
What's your favorite thing about GrowthMentor?
I LOVE the mentors! They're so extremely kind and helpful, I can always tell they love doing it. There's also such a variety of mentors, you can always find one that fits your needs.
Is there a specific session/mentor that stands out in your mind as super helpful?
Jack Gierlich, I'm sure he sees this one coming. He mainly helped me with Google Ads.
Besides him being so helpful, friendly and inspiring, I also love his approach. It's not just talking, he walks me through the steps of how to do something.
After my call with him I felt so confident I completely changed everything in Google Ads.
Since then my boss told me that we landed a new customer and asked where they came from.  Turns out it was from the ad set I made after my call with Jack!  I definitely can thank Jack for that sale.
Based on things you've discussed in calls, do you have any results to tell us about?
Creating structure in the chaos. When I started with GrowthMentor, I felt very overwhelmed with everything I had to do for this company. I didn't know how to go about it. I've had functional calls during which someone walked me through, for example, Google Ads step by step.
But I also had calls about the mental part of it all, like imposter syndrome. Having access to both makes for such a powerful combination.
How has GrowthMentor helped you?
Having GrowthMentor backing me up definitely improved my confidence in the job. I've had mentors tell me to just get started, that I had to simply break the ice.
While this might sound like simple advice, it's something I needed to hear.
What three adjectives would you use to describe GrowthMentor?
Amazing, Easy-going, Helpful
Join the community
Enjoy the peace of mind that advice is always only one Zoom call away.