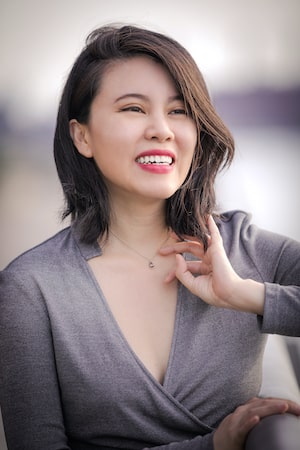 "I love that GrowthMentor has such a diverse range of mentors and many of them offer free or very low priced consultation."
Stephanie Houng
CEO/co-founder of market-network company & Chief of Staff for an e-commerce brand
What are you currently working on?
Komedy curates teams of professional comedy creators and marketing consultants for brands to help bring a more engaging, humor voice to ads that get shared.
My other project, Dollop, is Japan's first CBD wellness brand.
Where did you get advice before you learned about GrowthMentor?
I would search endless blogs and ask people I knew for help.  I would also try my luck and reach out to people on LinkedIn to see if I could get a response.
What ultimately compelled you to sign up to GrowthMentor?
The direct access to so many great, and most importantly diverse, mentors. The ability to tap into free mentorship.
What's your fav part of this community?
I love that GrowthMentor has such a diverse range of mentors and many of them offer free consultation.
I constantly have different problems and don't know who to seek for advice.
GM's feature allows me to post help wanted so that mentors who are interested in helping me can reach out to me.
I don't see myself leaving GM anytime soon.
Do you have any rock-start mentors that you care to mention?
I like Sergi and Felix a lot. Other mentors have been wonderful as well!
Based on things you've discussed in calls, do you have any results to tell us about?
Sergi has helped me a lot with OKRs and other parts of managing a startup.
How has GrowthMentor helped you?
I feel like I've only scratched the surface of what the Growth Mentors can help me with. I also should tap into the general wisdom of the mentors too.
I love that GM hosts virtual conferences – although I haven't managed to make the time work yet. But I do hope to attend some of the sessions soon.
I am a big fan of the accountability program and knowing that the resource is there for me when I need it.
I'm so excited to see more initiatives to come out of GM. I also love Foti and Jessica – you guys are so wonderful, helpful, encouraging, and approachable.
GrowthMentor in 3 words…
Helpful, indispensable, supportive
Join the community
Enjoy the peace of mind that advice is always only one Zoom call away.