The current US Bureau of Labor Statistics (BLS) statistics show that around 20% of startups fail in the initial two years, 45% in the first five years, and 65% in the first ten years. In addition, only 25% of new businesses continue for 15 years or more. Surprisingly, these statistics have been consistent since the 1990s.
While that might be a good sign for entrepreneurs in the US, you can't ignore the other businesses getting closed each year. But, of course, with better planning, funding, adaptability, and consultancy, these startups can thrive and succeed in the market.
At GrowthMentor, we have a startup consultant team that can teach you everything about making your business a success. We will break down every aspect of startup consultancy to ensure the long-term financial growth of your new venture. So, let's get started!
What is a startup business consultant?
Many people confuse a startup consultant with a business consultant. However, the job descriptions for both professionals vary significantly. A startup business consultant is actually a third-party guide or advisor who gives deeper industry and market insights, especially to startups or new businesses.
On the other hand, business consultants collaborate with an established company's senior management teams. They focus on strategy development at the corporate level, including branding, marketing, and logistics departments.
Almost every startup has to undergo several challenges in its early stage, including lack of skilled labor, financial issues, formulating the right marketing strategies, etc.
By hiring startup consultants from a reputable platform like GrowthMentor, you let these professionals assess your startup's critical aspects, such as company procedures, hiring issues, finances, marketing efforts, brand presence, and more.
Moreover, startup business consultants identify loopholes in your functions and suggest how to mitigate risks and manage resources.
A startup business consultant also:
Provides an informed and independent perspective about your startup's progress
Evaluates your startup's capability to take advantage of opportunities and fill gaps in your business
Gives a realistic budget for product development and launch
Identifies market competition and target audience to develop marketing strategies accordingly
Predicts the scope of a product or service
Helps in strategy formulation, especially marketing and customer acquisition
Establishes management-related structures, including HR policies, cash-flow management, etc
Trains your existing sales and marketing team about accelerating the company's processes for quicker success
All these efforts result in your startup's strong brand reputation in the market, ensuring its long-term success.
Key areas that a startup consultant focuses on
The services of a startup consultant extend to several business aspects. Hiring a startup expert helps in five key business areas, including:
Market research
Market research is one of the ground-setting parts of every startup, as it is the foundation for all sorts of strategic planning. It refers to analyzing a business' target audience and competitors to plan, resource, and make decisions accordingly.
According to Statista, the pharma sector contributed to around 18% of the global market research spending in 2020, followed by the media and entertainment industry with 15.8%. This shows that market research is quite essential.
Startup business consultants do this heavy lifting for you. First, they analyze your market segment, research industry trends, competitors' strengths and weaknesses, and the target audience's needs and expectations. After the analysis, the consultant helps your sales and marketing teams formulate informed and effective strategies.
This creates your startup's unique brand identity and visibility in the market, helping you stand out from the competition.
Roadmap development
An effective business strategy provides a clear and specific roadmap to companies. When it comes to startups, strategy development is the most critical step. If you've established a business with no detailed roadmap or clear objectives, a startup consultant can help you develop one.
A startup business consultant will assess your existing plans (if any), make recommendations, and give you a blueprint for a new business model.
For example, suppose your startup business consultant suggests you post more Facebook ads in the evening. In that case, that's because they've identified that that's where most of your target audience is, and that's when they're most active.
Based on your target audience's likes, dislikes, most-used terms, and activity schedule, a startup marketing consultant also recommends to your sales and marketing team the correct tone of voice that connects you with your customers.
Financial modeling and project management
It's quite challenging for startups to win and execute a project correctly. A startup consultant evaluates all the project requirements and plans a strategy for effective management. This may include improving a startup's lead generation, marketing, and branding aspects.
Similarly, a startup consultant also benefits the financial modeling of new businesses. A financial crisis in the early stages of a startup contributes to around 82% of its failure.
A startup business consultant dives deeper into your financial plan and available resources to identify better investment areas. This ensures that your money is invested in the right aspects of marketing, sales, and recruitment, enhancing profitability and reducing the chances of failure due to the financial crisis.
Processes management
A strong management system upholds your business and takes your business out of a crisis. A startup consultant ensures that your business processes are streamlined with your goals to reduce the chances of setbacks and errors.
When your operations are properly managed, you can maximize your existing resources more efficiently.
For example, if you're struggling with deciding what business process to outsource and what to keep in-house, a startup business consultant can help you with it. This professional analyzes the potential of your employees and your business' financial capability and steers you accordingly.
In fact, the global annual average revenue growth of management consultancies was estimated to be around 8.8% in 2020 compared to 2019. So it's only getting higher and higher!
Coaching and mentoring
Many startups struggle with hiring skilled workers in the beginning. That's when a startup consultant helps your business out. Startup marketing consultants at GrowthMentor serve as coaches and mentors for business employees and educate them through all the significant processes.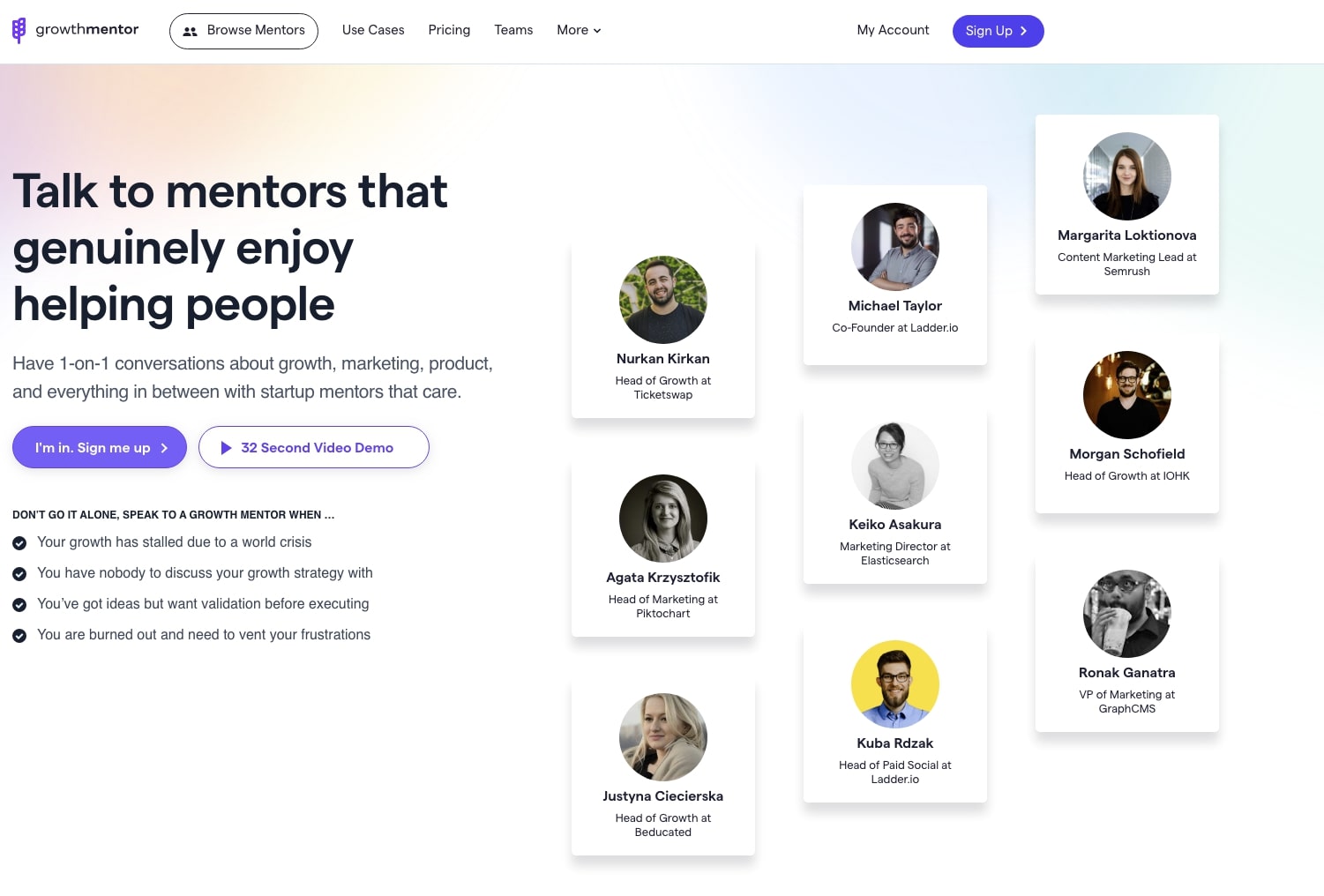 Startup business consultants tell success stories to your startup's employees to motivate them to learn more and more. They organize complete training sessions that guide your employees about the intricate details of how to make a startup sustain in the market, scale it up, and turn it into a big, profitable company.
Mentoring sessions cover finances, sales, marketing, leadership skills, and communication.
Why hiring a startup consultant is the best decision for your company
Now, you may be wondering: "Does my startup need a tech startup consultant?" Here are five primary reasons you should consider hiring a marketing consultant:
An unbiased outside perspective
A startup consultant is a third-party advisor without affiliation with any company or your competitors, so their opinions are unbiased and honest. Every startup needs to realize what they're doing wrong and what it can do to improve.
A startup consultant sees your business from every perspective, including the industry, target audience, competitors, and market struggles. These experts monitor your business model's progress and give you constructive feedback based on facts and the actual state of your company.
For example, suppose your marketing is spending too much on social media advertising while completely ignoring old-school TV commercial advertising. In that case, a startup consultant will tell you that the most comprehensive marketing technique includes both traditional and modern means of advertising, not just one.
Having perspectives from someone outside your employee pool also helps you identify several internal and external threats that may have missed your eyes. This assists in formulating better strategies, overcoming flaws, and beating the competition.
Specialized and relevant industry expertise
Many tech startup consultants and marketing consultants are experienced entrepreneurs with a strong record of establishing their own businesses from scratch and making them successful. Thus, these professionals have more knowledge and industry expertise than you think.
A startup business consultant can identify whether your startup can survive within a particular market or not. They also develop a comprehensive plan for your startup's decision-makers and executives to help them think from an expert's eyes.
Customized business plan based on your goals
Since every startup's goals, funding, and industries are different, there is no "one-perfect plan" that makes all of them simultaneously successful. Instead, a startup consultant understands your company's specific needs, challenges, and goals to help you overcome most initial-stage obstacles.
For example, assume that you've launched a new cafe in town. You have an extensive breakfast and lunch menu that include croissants, freshly-brewed coffee, omelets, toast, etc.
Let's say you want to focus more on your omelets and tell people how you make them fresh at the live station. Plus, you want to stand out from other cafes by telling people that you offer omelets from different origins, such as Mexican, French, or Japanese.
A startup consultant would help you cover all these things in an engaging story, consisting of the best messaging style, visuals, marketing strategies, and tone of voice. Then, you can post this story on different platforms, like TV commercials, social media sites, newspapers, magazines, etc.
Cost reduction and time-saving
A startup consultant is an investment. Although you're spending a significant amount of dollars on the consultant's salary, doing so reduces your startup's costs and saves time in the long run. That's because a tech startup consultant focuses on your business' sustainable profitability.
For example, if your HR team spends generously on the recruitment campaign, a business consultant will point out such areas. In addition, they will tell you about cost-effective alternatives for attracting, hiring, and acquiring new talent.
Moreover, a startup consultant helps your legal team lower taxes. They also suggest the best product development and launch budget based on your current financial resources. These experts save time by streamlining and improving your business processes, helping you cut costs side by side.
Exposure to extensive, valuable resources
It's almost impossible to access broader market insights in the early days of your startup unless you've invested hundreds of dollars in an experienced research team. But considering limited sources, you can't do that too.
Since startup consultants are experienced professionals, they are exposed to valuable industry resources that assist your company in its development phase.
These resources are primarily white papers and different in-depth market surveys, competitors and customer analysis tools, and benchmarking competencies tools.
Is hiring a startup business consultant expensive?
The cost of a startup business consultant primarily depends on the nature of the payment. For example, some tech startup consultants prefer charging by the hour, while others like to be paid on project-based or performance-based fees. Many also opt for a flat fee structure.
Some other factors that determine the costs of hiring a startup business consultant could be:
The type and nature of services you want
The experience level of the startup consultant
Your industry, competitive landscape, and geographical location
The duration of the services you need, whether one-time or continuous.
At GrowthMentor, our startup consultants charge at an impressively-low rate. Upon signing up, you'll be offered a membership pricing rate that starts with only $75 per month (billed quarterly) and $60 per month (billed annually).
How to choose the right startup consultant
Some key factors to consider when selecting a startup marketing consultant include:
Portfolio: Prefer the startup consultant with a solid portfolio of case studies that depict their past experiences, the nature of clients they've worked with, and the type of industries they were associated with. The portfolio helps you understand if they're the right fit for your startup.
Strong Communication Skills: Since a startup consultant's primary job is to give suggestions, discuss problems, and convey feedback, ensure your startup consultant has strong communication skills.
Offers Personalized Solutions: Ensure that your startup business consultant is determined and motivated to provide tailored solutions for your business goals. The best startup consultant seems invested in your business, gains relevant industry knowledge for a better action plan, and knows your target audience.
Next step: Join hands with specialized startup consultants on GrowthMentor
A startup business consultant evaluates your business' financial situation, requirements, and available resources to give you suggestions accordingly. They tailor the perfect approach for your business model and set realistic startup goals and KPIs. These goals could be short-term, such as hiring new employees this month, or long-term, like increasing your income by 10% in the next ten years.
Now you know how important it is to have a startup business consultant on your team in the starting years of your company. Let's move on to hiring the best marketing consultant to prevent initial obstacles, avoid blunders that most startups make, and develop the best strategies.
One way to do this is through the GrowthMentor, where it's pretty easy to access growth experts from renowned companies like Facebook, Amazon, Google, GrowthHacker, Uber, PandaDoc, and more!