At 7am on a Saturday morning in February at the Athens International Airport our Greek founder was getting his last taste of home in the form of a cheese pie.  One can't leave Greece without one last tyropita!  That was the official start of our journey.
Don't worry- I'm not going to do a play by play of what we ate and did every second of our trip.  For that you can watch our Instagram Highlight (it does start with the cheese pie).
The History
This whole Startup Grind Conference  hullabaloo started for us back in November when we decided to make the trek west and dive deep into the startup world of the Silicon Valley at the ripe young age of 4 months old.
Financial provisions were made, weddings were missed and stressing over a pitch deck for a few days were all part of the package.
You can read all of the 'press release' fun stats in our previous post about heading to the conference.
https://www.growthmentor.com/exhibit-startup-grind/
The Logistics
Pre-Conference Prep
As exhibitors, we were given all sorts of info before we arrived in Redwood City.  We had a rep assigned to answer all of our annoying questions and we felt well prepped for the experience.
We wanted to connect with as many startups as possible before attending so we started a private Facebook group and invited all of the founders of the 200 exhibiting startups.  How does one go about a task like this, you may ask?  That must takes hours of searching and (manual) data labor!  Talk to this guy and learn all of his marketing secrets.
We made some great connections before even arriving at the event!  If anyone from Startup Grind is reading this, you should totally do this next year.  Nobody likes to show up to camp and not know anyone else.
Startup Grind App
About a week before the conference an app for the event was introduced and it was pretty slick.  You could post on a common feed, connect with people and set your agenda.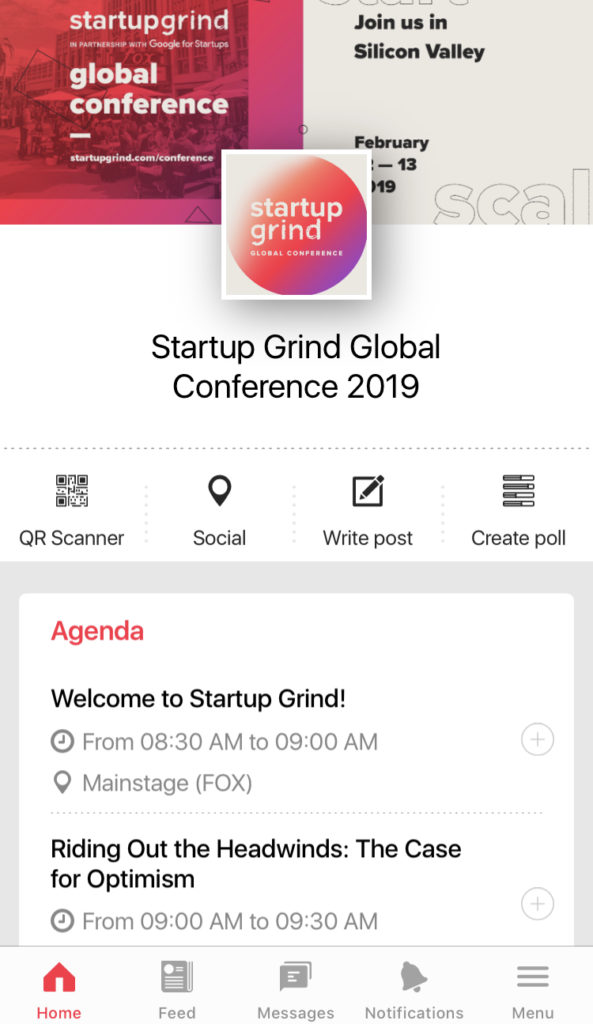 Registration
We registered on Monday, the day before the event.  YOU REALLY SHOULD DO THIS.  Unless you like lines.  I totally get it if you have something important to do the day before like work, but if that's not the case- you should totally register in advance.
We were all set up and (not) cozy in our exhibition tent on the first morning.  I went outside and was confronted by this ginormous line of people going down the street waiting to register.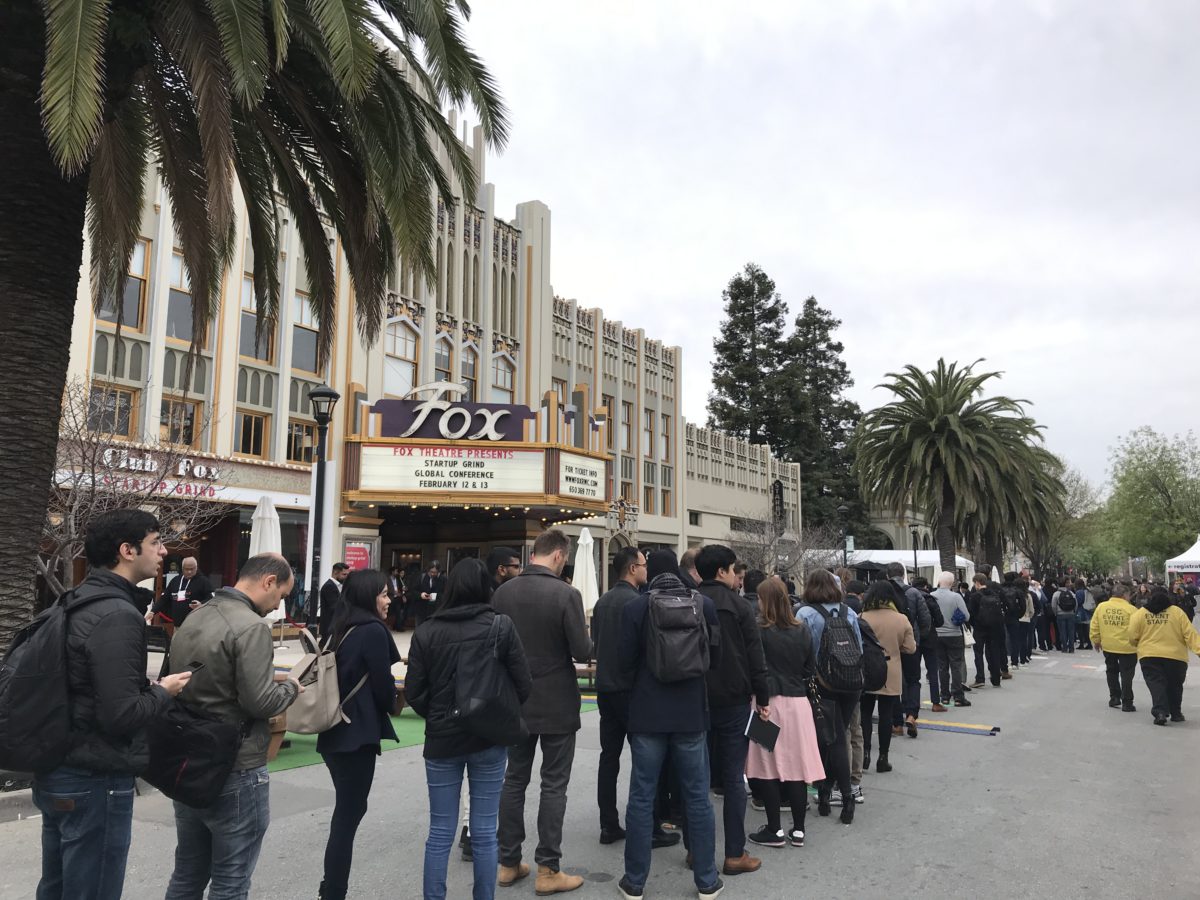 The Grinding
Welcome Event
There was a kick-off networking event hosted on the night before the conference started.  It was a good opportunity to get into the awkward mode of talking to strangers.
We mingled and tried our best to meet new people instead of clustering together in the corner.
I had made a few buddies before the event and were able to connect with them on Monday night.  I had been introduced to Travis from Bootkik by a few different people before hand, so I was happy to finally meet him in person.
Startup Grind was a phenomenal experience for us. Nowhere other than in Silicon Valley can you find more serendipitous conversations per square foot. From conversations with interested investors to new users and enthusiastic thought leaders signing up for Bootkik, we see ourselves as the next global social platform for knowledge transfer, and we got closer to that thanks to Startup Grind.

Travis Parker Martin
Bootkik (a platform for creating, sharing, and following step-by-step guidance and expertise, available on web and mobile) made it into the Startup Grind accelerated program  and was mentioned in a 'who to watch' Forbes article dedicated to the conference, so be sure and check it out!
Exhibition Day
We exhibited on the first day- which I was super happy about!  We arrived early and set up our little table.
We joked that it looked like a lemonade stand compared to some of the other set-ups.  Which was totally fine by us -we were there to spread our message, not impress people with our table display.
View this post on Instagram
Our entire day was spent in the tent talking to everyone and anyone who would even make semi-eye contact with one of us.  Tarek's gift of gab came in very handy.
The biggest drama of the day was the temperature in the tents.  It was freezing!  I couldn't feel my toes for the entire day (except for when I snuck out for Ramen and basked in the heat of the restaurant).
One of our neighbors in tent A was Om from SQRL – a way to build up a habit of walking 10k steps a day and grow a savings habit at the same time. User can track their steps and see how much they can be saving. For every 1,000 steps $1 is saved.
I love the grassroots feeling of Startup Grind and it was a very positive experience for me to meet other founders.  The energy and optimism is tangible!  I think it's a great place to start.

Om Suthar
It was a really fun experience for us.  Meeting all sorts of businesses and getting to share how our platform can help them would have made me all warm and fuzzy inside if it wasn't 40F in the tent.
We met and talked with many SaaS startups (which happen to be the majority of our current users) and also small business owners who were attending the event to learn about new startups that can help their business (like us).  We gathered all sorts of feedback from the people we spoke with, which was a main objective of ours.
Our team made some great connections and hopefully inspired a few entrepreneurs to take their growth into their own hands by scheduling calls with growth mentors.
.@GrowthMentorHQ growth marketing mentor marketplace # SGGlobal pic.twitter.com/k1RkXatxOC

— Rich Foreman (@ApptologyCEO) February 12, 2019
Since I had done my homework ahead of time, there were a few apps that had caught my eye before the conference even started.  One of them was Find Sisterhood – an app for everyone identifying as a woman to share stories anonymously. It is untraceable, safe and judgement free.  A space for women to ask anything we want.
A second one that I really like the idea of is KiddieKredit – a mobile chore tracking app that teaches kids about credit. Premise of the app is that the better a child performs their household duties the better their "Kredit" score.
We went to StartupGrind Conference not knowing what to expect honestly. We exhibited our tent the second day of the conference and our app was well received by attendees. This was important for us to see as a team because it really validated to us that we were on to something big. We left StartupGrind with momentum and energy to continue on our startup grind… Pun intended

Evan Leaphart
We were very happy with the whole experience!
If only we could figure out how to not get jet-lag, we'd be hitting up these Silicon Valley events more often!