On November 18th 2019, we launched the GrowthMentor Summit.
55 speakers
32 hours of content
+2,000 subscribers
Planned, orchestrated, and launched in 10 weeks
Lot's of people have been asking us for advice on how they too can pull off a virtual summit like the one that we did so I decided to write this article outlining exactly how we did ours.
Hopefully it helps!
Why we decided to host a virtual summit
Our value proposition predicates itself around offering easy access to high caliber growth marketing talent that otherwise would have been out of reach for most people. Our biggest marketing challenge in our earlier days was communicating just how awesome the growth mentors are.
Organizing a virtual summit where the growth mentors could take the stage seemed like a no brainer, plus, it was a win-win-win situation.
Win for mentors: The mentors would be able to promote their personal brands
Win for the platform: We'd get to showcase the impressive talent on our platform
Win for anyone that watches the content: Free high-value content
Choosing the theme for the summit
From our research in the planning phase of the summit, we took away that it's recommended to focus your summit's theme around a tight niche or buyer persona.
In our case, roughly 50% of our users are founders and the other 40% are marketers, with 10% as "other."
Our dilemma:
Should the summit be themed for founders?
Should the summit be themed for marketers?
Ultimately we decided neither.
It'd be themed around growth.
Something both personas can subscribe to.
Deciding to use HeySummit
Organizing a virtual summit is tough.
You'll need the right technology stack to pull it off.
Here are the options we considered:
It was an easy sell.
My first exposure to HeySummit was when I saw the ProductLed Summit successfully organized by Wes Bush. But it took me 6 months before I summoned up the momentum to actually sign up to their free trial and test the software out.
After playing around with the free trial for a few minutes I knew that this was the most purpose-built solution on the market and decided to pull the trigger on the whole summit idea.
For the most part, it's pretty self-explanatory. Although I do find that it takes quite a few clicks to find what I'm looking for sometimes. @HeySummit – if you're reading this, would be happy to do a user testing sess with you and tell you what I mean 😉
Zapier integration
You'll definitely want to setup a Zapier integration to push your subscribers to whatever email CRM you're using, Mailchimp, Drip, ActiveCampaign, etc.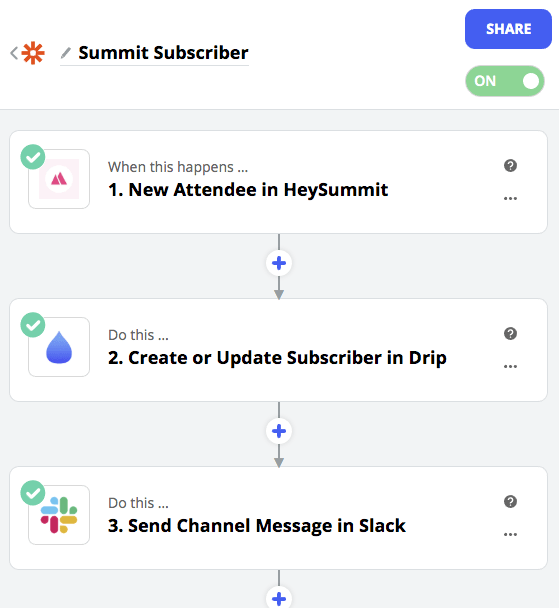 We had just two steps.
Push to Drip, our email CRM
Push to Slack, we like to see the "ping"
How we got speakers to take part
This was ridiculously easy for us due to the nature of our platform.
All we had to do was ask the growth mentors.
Warm outreach for mentors to speak
Here's a very typical email cadence: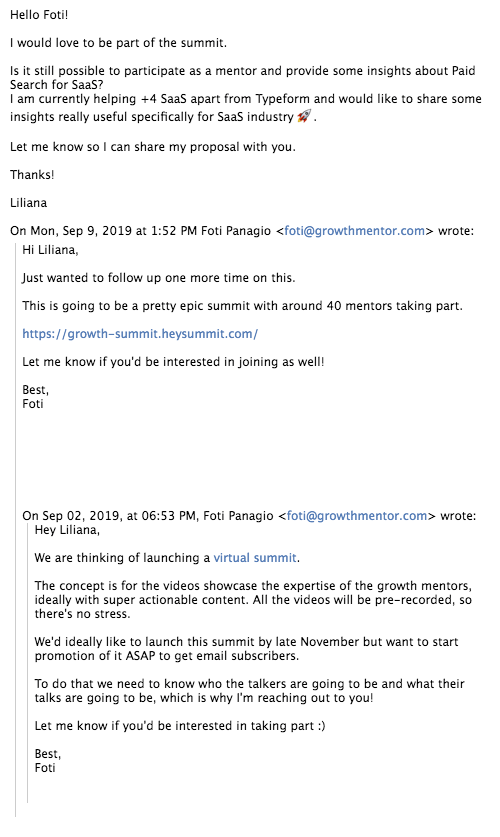 Notice that it was only after I followed up that Liliana accepted to take part. I'm sure it helped that I mentioned that 40 other growth mentors are taking part as well. #FOMO
It's also really important to be clear that this is a pre-recorded event. It takes the edge off.
Cold outreach for speakers
If you're not like us with a pre-existing pool of potential speakers, you'll have to do some outreach to get your speakers.
Here's a template we experimented with.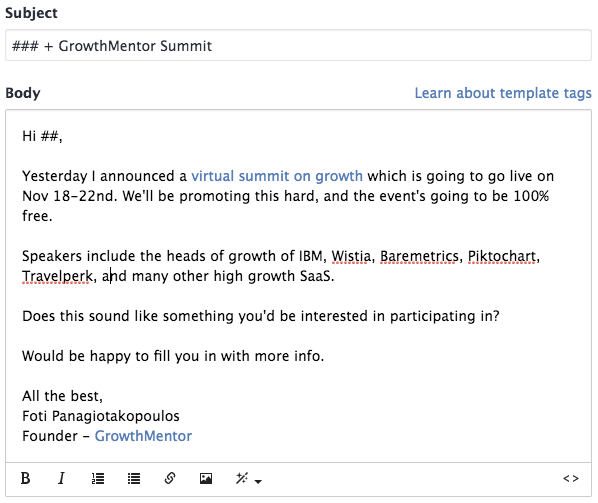 Take away on outreach email:
Easy yes or no question
Name dropping other speakers from top companies (if you're starting from scratch and don't have any bluechip speakers, start small and work your way up)
Link to Summit so they can check it out + 2 months notice on a date giving them ample time
One mistake we made with this email outreach campaign was that we weren't upfront that you needed to be a mentor in order to join the summit, which led to friction.
Our logic was to invite some heavy hitters, start a dialogue, and if they were interested in taking part in the summit, they'd join GrowthMentor as a mentor. This didn't work, they just got annoyed.
Ultimately we scrapped our outbound process as we decided that we'd keep this a "mentor only" summit, so it didn't really matter anyway.
How we project managed the video creation
Project managing a summit isn't easy, and organization is key.
What worked for us was creating a Google Sheet with the following columns:
Speaker Name
Talk topic
Talk Description
Bio Set
Expert Credentials
Exclusive Giveaway (this was optional)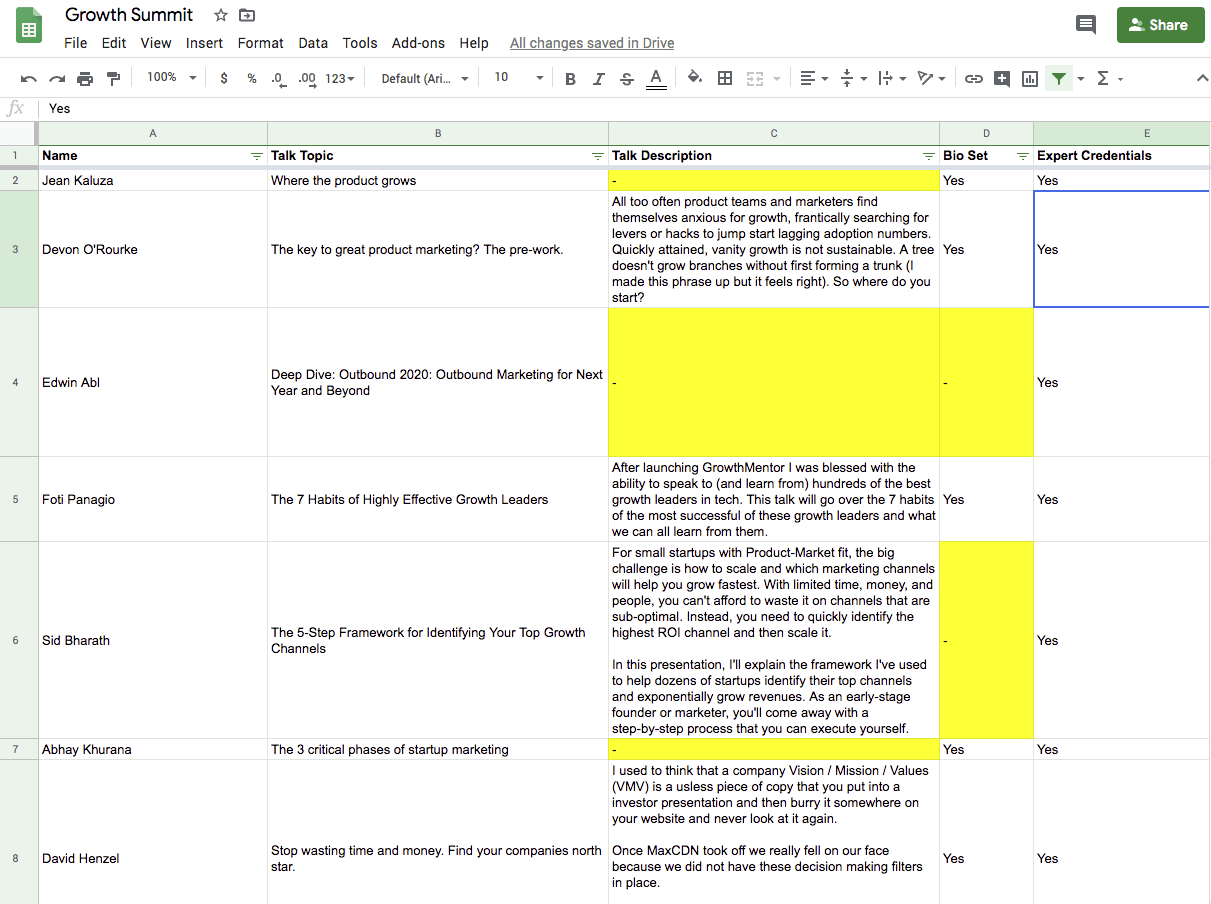 All the speakers would get edit access to this sheet.
Any cells with a "-" got a yellow highlighting with conditional formatting.
This served two purposes:
Everyone could see what everyone else was going to make a talk on so that there wasn't any overlap in topics
Everyone could see who the stragglers were so there was a bit of peer pressure to "not be that guy" who is taking forever to set their profiles up.
We call this the "Don't be Yellow" campaign.
Below is the email we sent to the speakers letting them know how it all works: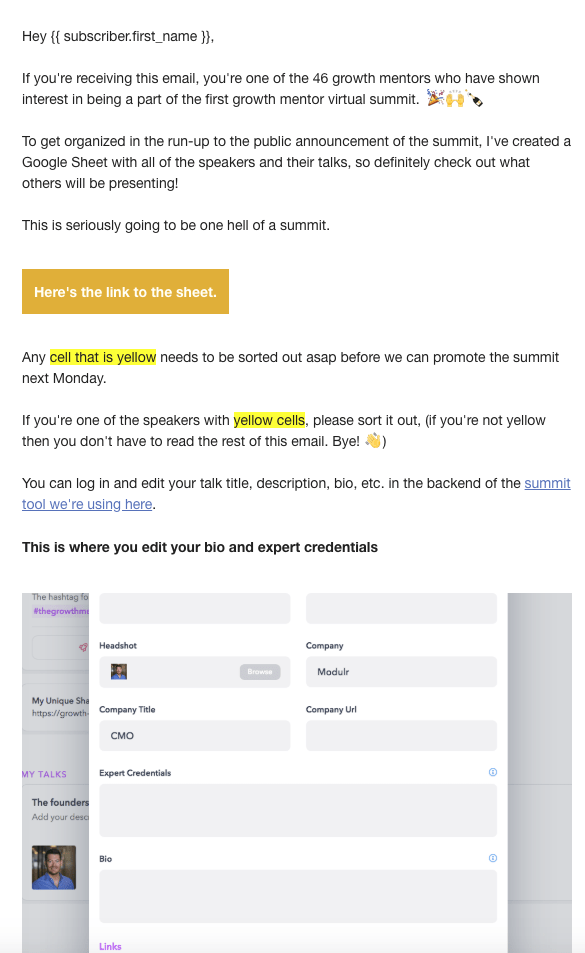 This worked really, really, well.
Filling in the Bio and Expert credentials section (see above screenshot) is something that only the speaker can do from their end.
I've seen a few other virtual summits using HeySummit where these details aren't filled in and it doesn't look as nice.
It's worth the extra effort to make sure all your speakers fill this data in, and that was the purpose of creating the sheet above.
If you're going to spend the time to make a virtual summit, go all the way and do it properly.
Collecting videos and uploading them to HeySummit
This part's super easy.
Tell the speakers to just send you a Loom link
Download the Loom video
Upload to Youtube as an unlistedvideo
No need to complicate this.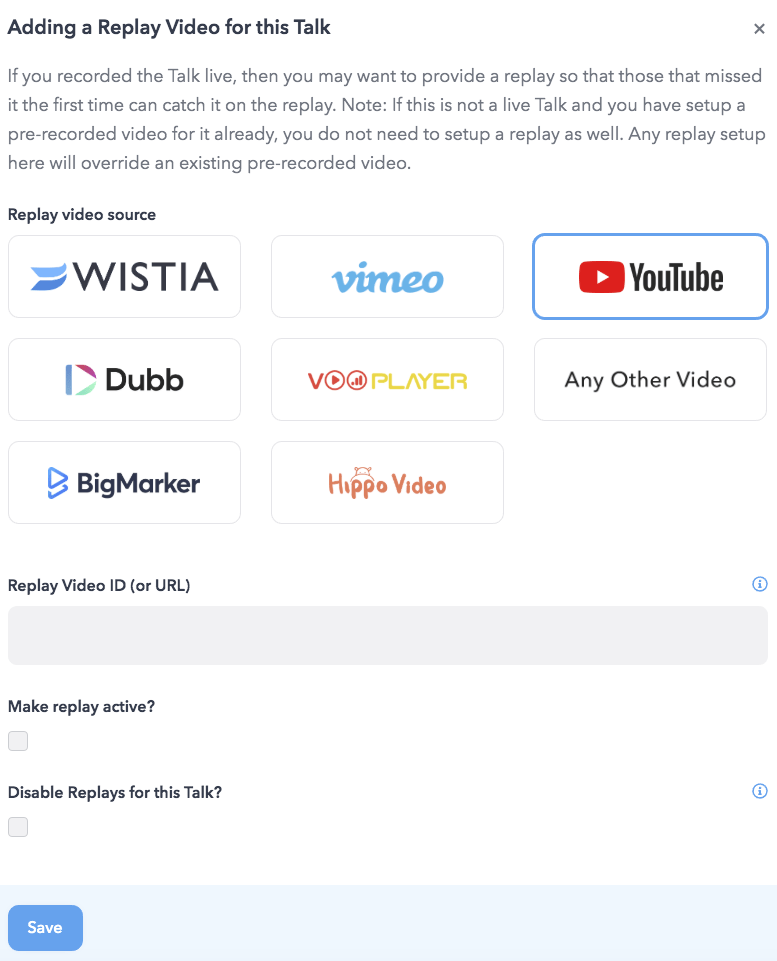 Even if you don't plan on charging for your summit you should still keep the videos unlisted.
If people can just find your content on your Youtube channel then why would they go through the hassle of signing up to your Summit?
We kept the our summit videos unlisted for 3 months and then changed it to public on Youtube to ride the next wave, organic Youtube search.
Promotion before the event
Creating graphics for our speakers
If you use Heysummit you know they'll create some automatic images for you here.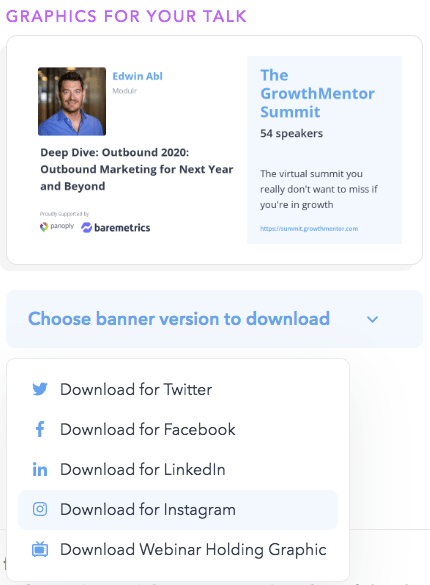 Unfortunately, you can't edit the default banners created by HeySummit.
I don't really like how half the real estate on the banner is used to promote the summit itself, I think the whole banner should be 100% used to promote the individual speakers talk.
We ended up re-creating each speakers banner ourselves.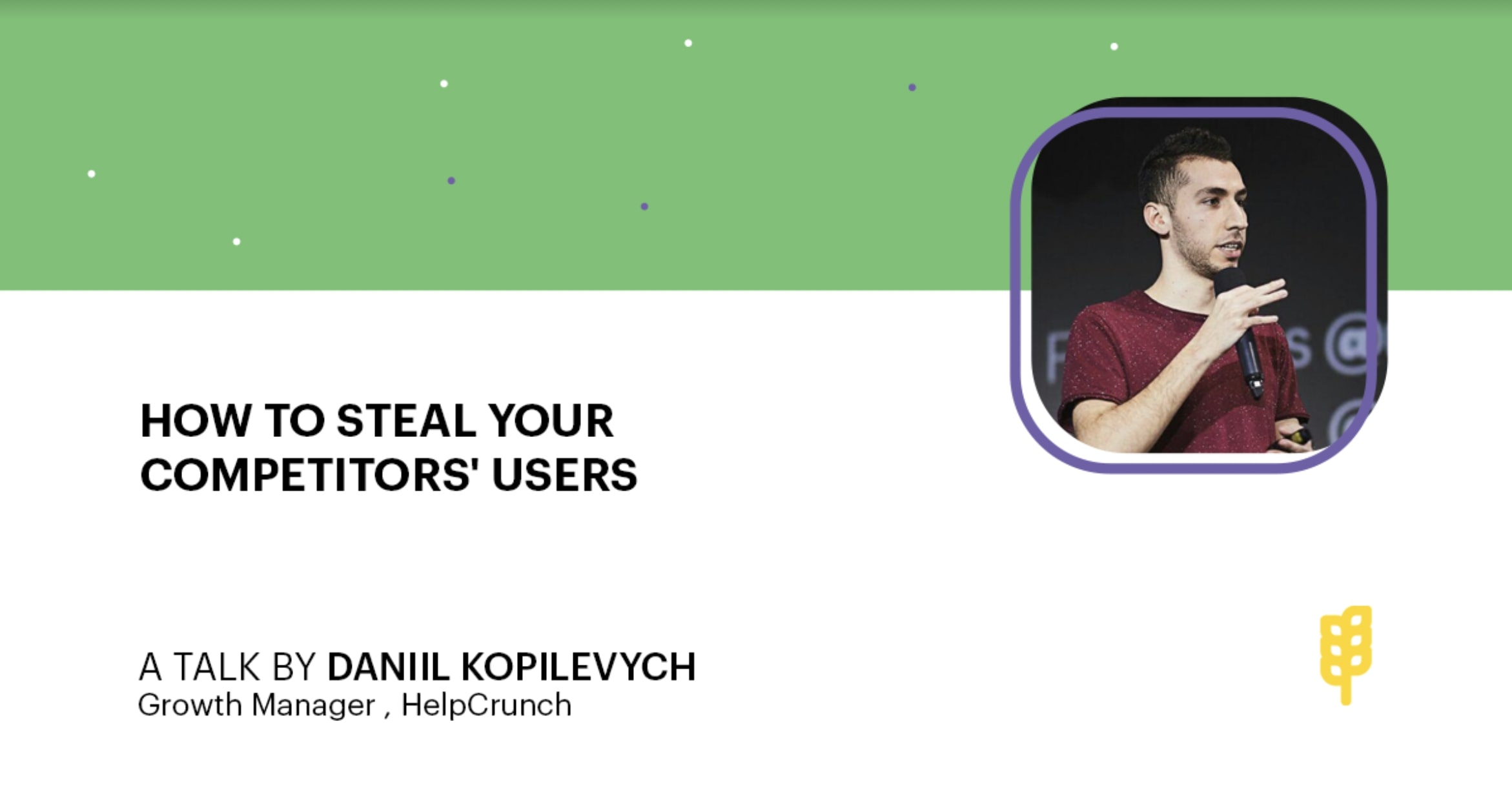 Below is the email we sent to the speakers letting them know that we made custom graphics for them (as well as a soft nudge to get us their videos!).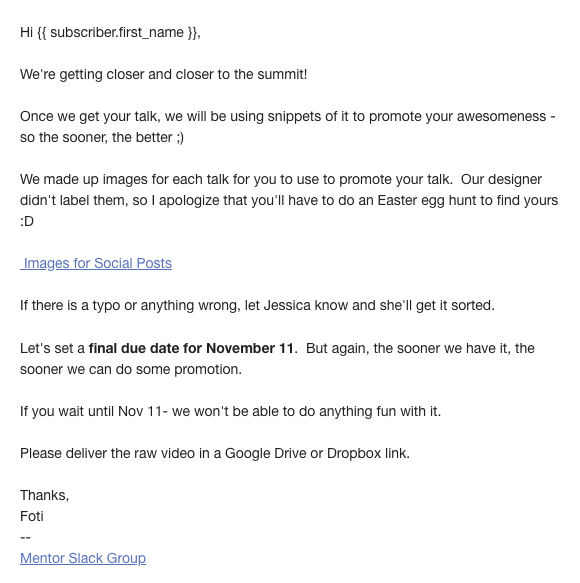 If you create something pretty for the speakers, they're much more apt to share on social media.
Social Media
Obviously you're going to want to promote your talks on social media, and hopefully, have your speakers promote their talks as well.
We preferred a sustained release vs. a sugar rush style promotion.
How to do this? Straight up ask the speakers to not all promote their talks at the exact same time (and pray for the best).
LinkedIn
This channel was huge for us.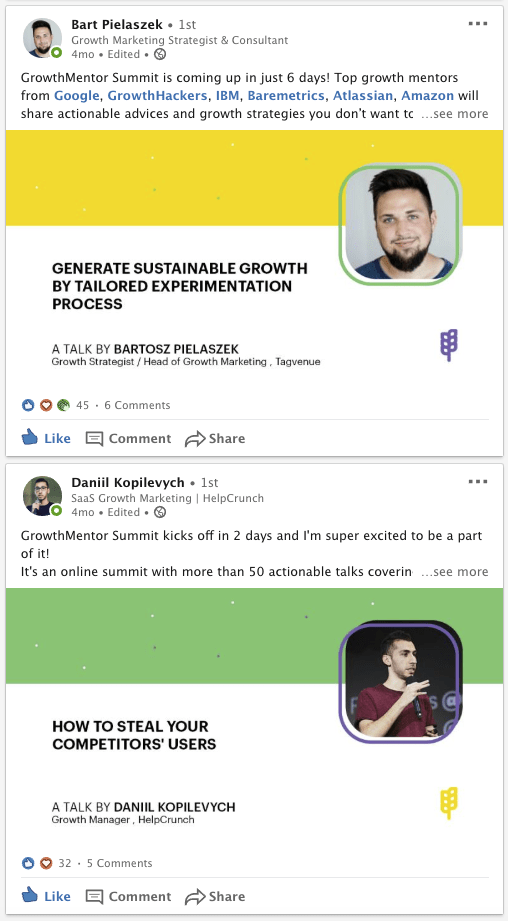 Sorry to mention the obvious, but make sure to engage on the speakers posts!
Helps if you have some sort of engagement pod with the speakers to encourage cross-pollination.
Twitter
Didn't get that many sign-ups from Twitter but it was pretty cool to see the buzz!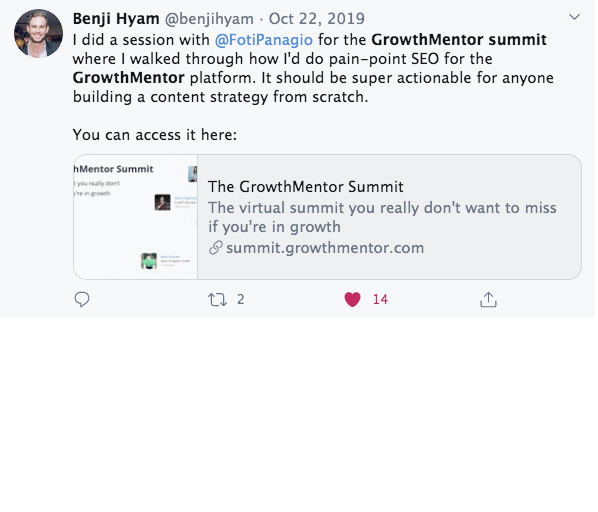 Facebook
Once we started to get the first few videos in, we cut out 30-60 second segments and create little teaser videos.
We did this a bit on Facebook and LinkedIn, but didn't get as many sign-ups as we thought we would from this.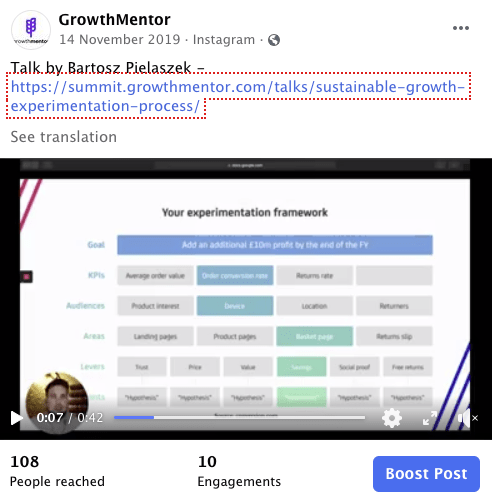 We spent around $20 on Facebook ads and then just gave up on it.
If you have the bandwidth and budget to invest in Facebook / IG ads, it could probably work really well at getting subscribers, as long as your summit's free…
Getting sponsors
Sponsorship was a bit of an afterthought for us, we weren't really too fussed about it. If something awesome organically happened that seemed like a good fit we wouldn't be against it, but we weren't exactly looking for it either.
But if you're looking for sponsors, here are some options:
Charge for sponsorship
Request free stuff for sponsorship
Request newsletter blast for sponsorship
We took routes 2 and 3 with our sponsors.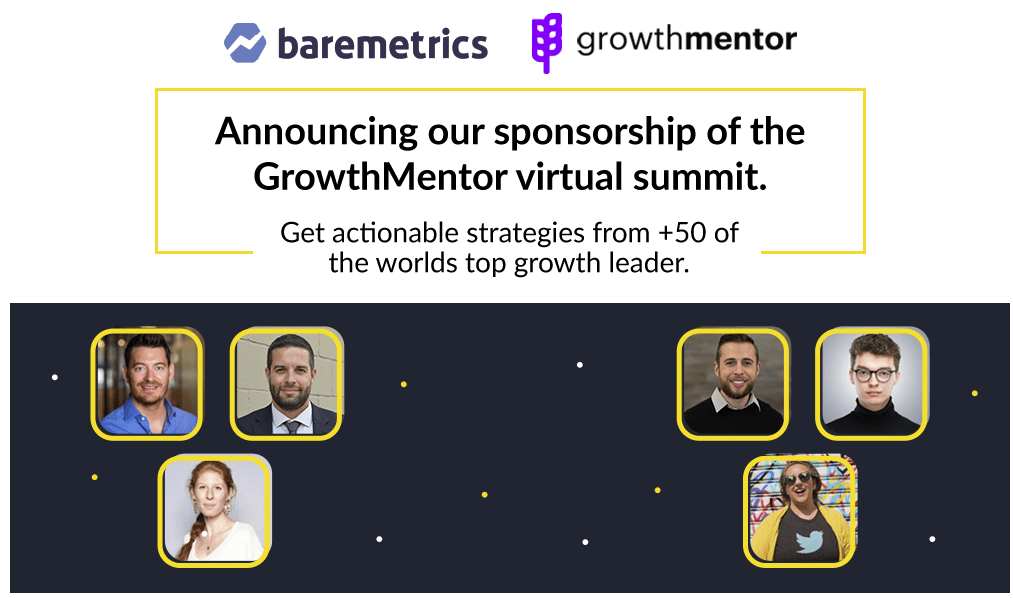 How did we get the sponsorship with Baremetrics?
Corey Haines was one of the original Growth Mentors from back in the day, but in October 2019, I had the chance to meet him in person at a sales and marketing conference in Gdansk, Poland.
If you don't know him, he's the Head of Growth at Baremetrics and an overall really nice guy. I asked him if Baremetrics would be interested in sponsoring the conference in exchange for a newsletter blast to their subscribers and a year's free service of Baremetrics. He said yes, and the rest is history!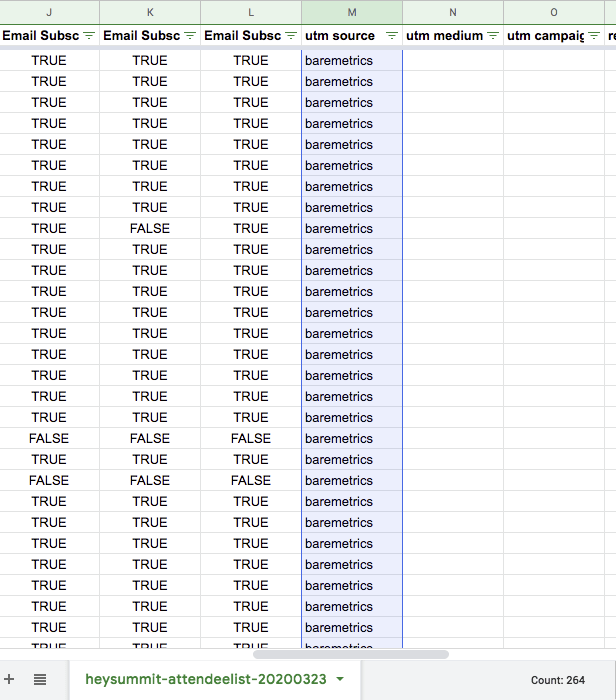 We got 264 subscribers from that email blast and quite a few of them ended up converting as GrowthMentor members.
At the stage we were at building relationships and associating ourselves with brands that we respected was 10x more important than the short term gains of scoring a few quick bucks by selling sponsorships.
Promotion during the event
If you have good content and you did a good job at promoting your event prior to launch, you honestly don't really have to do much here. The speakers and the attendees should be doing most of the promotion for you.
Be mindful of HeySummit's automated emails
During the event, HeySummit will send out a LOT of emails.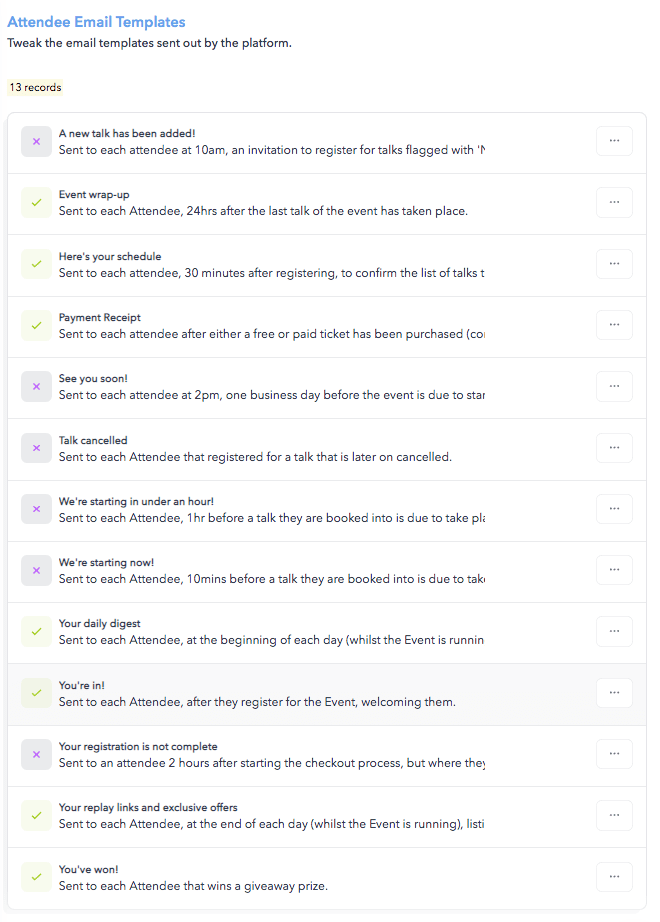 During the first 3 days we had all of these emails enabled.
Luckily, someone replied to one of them in all caps and cursed us for spamming them.
If they hadn't reacted so violently, we would have had no idea how tragic the situation was with the emails. We quickly rectified the situation by deactivating most of the reminder emails.
Nobody needs to be reminded about your event 10 minutes before, 60 minutes before, and a recap email at the end of the day.
It's 2020.
What happens after the summit ends?
After your summit is over you have a few choices.
Give videos away for free
Charge for access to videos
Hybrid approach
We went with a hybrid approach where access to the summit videos were free with GrowthMentor membership, or $200 (one-time fee) without it.
Using your summit videos as a value-add to your existing core service is a great alternative to the classic approach of just slapping a price tag on access.
Below is the email we'd send out to people that registered for the summit at the top of the funnel but dropped off when it came time to pay.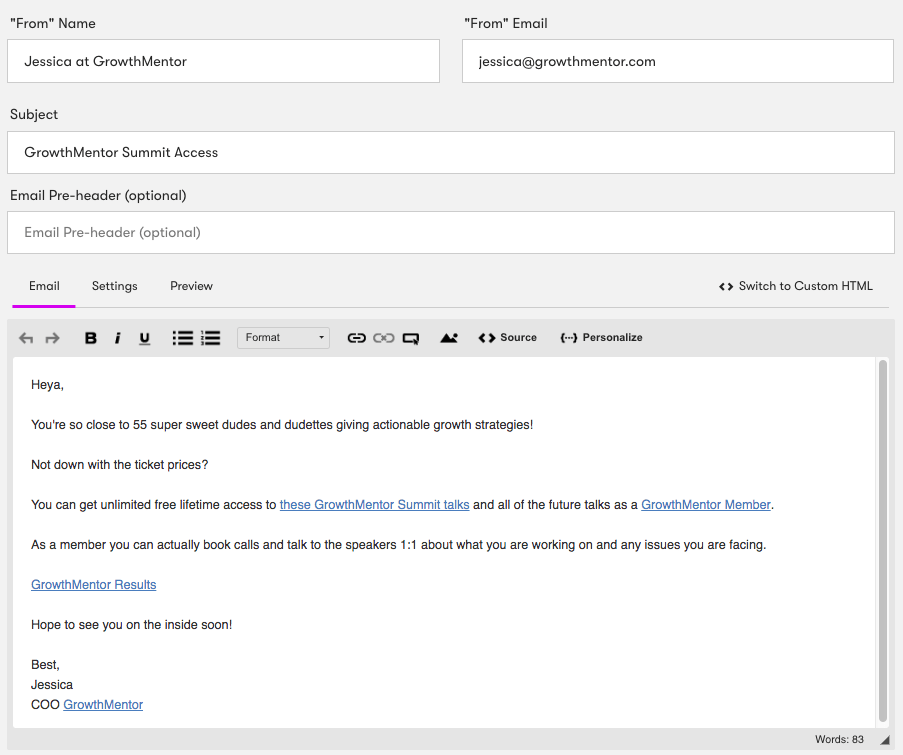 Create an automated email workflow
You'll want to setup some sort of an automation so you don't have to manually send emails.
We use Drip, here's a screenshot of our flow.
If you want to see the emails inside I'd be happy to show them to you, just sign up to GrowthMentor and book a free call with me.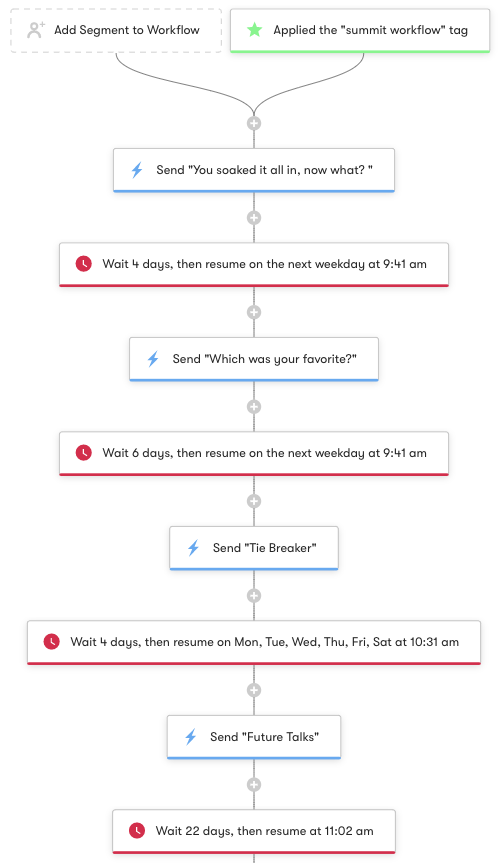 Using your summit as a value add touchpoint in your cold email campaigns
I love talking with Mark Colgan about cold email campaigns and he's a big proponent of "just add value!"
Mark, I love you man, but that's easier said than done though.
For example, if I want to read a blog post on a topic, I'm pretty damn good at Googling by now and I can find it on my own.
I don't need people cold emailing me their latest blog posts on the "ultimate guide to ABC."
BUT!
If you spent the time and effort to create an awesome summit packed with high value video content you can't find anywhere else, and you normally charge $$$ for it, and you're offering it to me for free …
Hmmm. I actually might answer that email!
Cold Email Outreach
Here's the email we send in email #4 in a cold email sequence we made.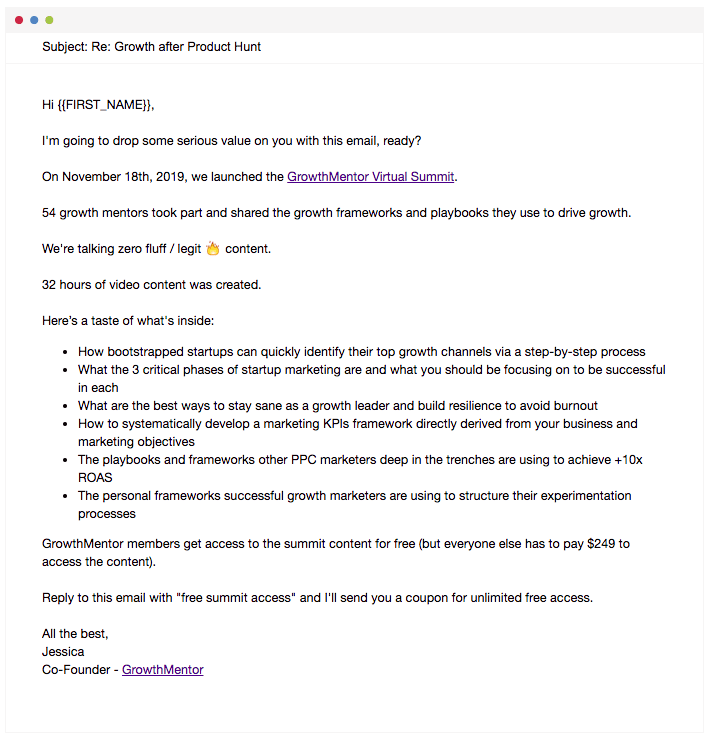 This email is the highest performing email in our sequence.
LinkedIn Outreach
You can also use it in LinkedIn outreach.
Below is an autoresponder (touch point #2) in a LinkedIn message sequence.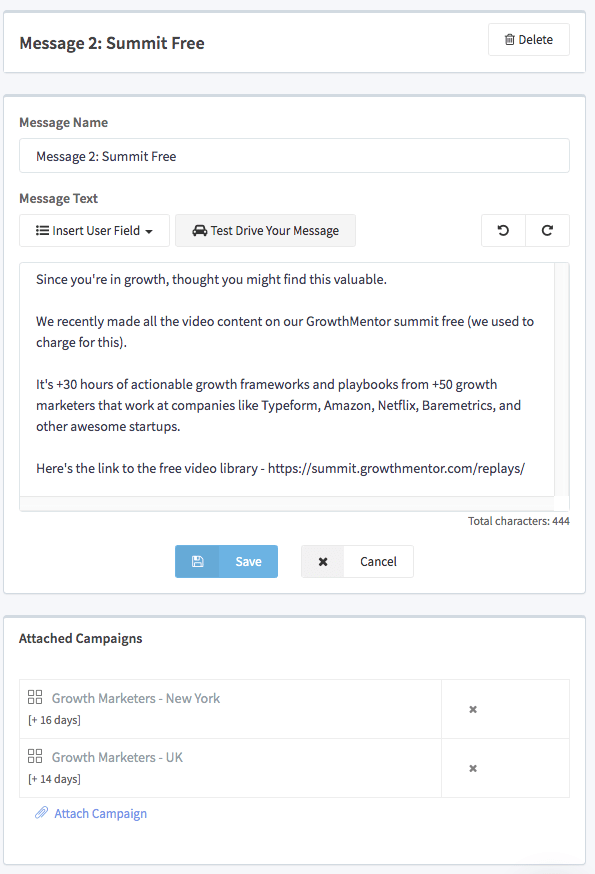 Here's what it looks like in someone's inbox.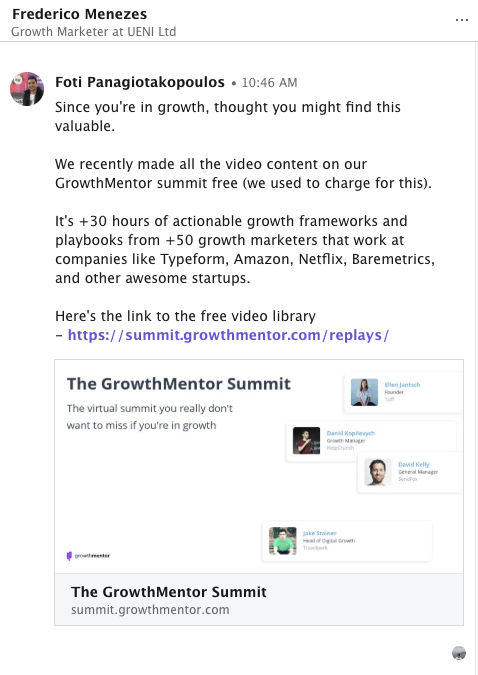 This works really well because you're offering pure value while asking nothing in return. If you're like me and have nightmares about angry recipients of your cold emails cursing you and calling you a spammer, this is a great way to reduce that risk. It's hard to get angry at a message like that.
Repurposing virtual summit content
As far as we're concerned, I think that GrowthMentor has actualized around 50% of the total potential value available due to the summit. There is much more untapped value that we haven't gotten to yet.
You can amplify the value and ROI of your summit by repurposing your content.
Below are a few ways that we're thinking of repurposing our content from the summit.
Turn it into content for your blog
Transcribe the summit talks for your speaker (use a tool like Descript)
Hire a VA to edit it into a blog post
Present it to the speaker and them if it's cool if you use that as a guest post your blog
Giving them full attribution
Turn it into a podcast
Sort through your videos and locate those that could stand alone without visuals
Rip the audio from the video
Create an intro with disclaimer that this is from a summit video (nobody will give a crap)
Upload it as a podcast (if you don't have one yet, this is a great way to jumpstart one out of nothing)
Put it on Youtube
After you make your content free, simple go on your Youtube editor and change settings from unlisted -> public
Update your cover photo on video with something custom
Freshen your meta keywords, description, on video
Make sure there's proper linkage back to your digital real estate
Promote your new Youtube videos
Share snippets on LinkedIn, Facebook, Twitter
Find your most popular summit videos
Cut 10-30 second snippets of the best bits
Share (native video) on above social networks
Link back to summit to drive more subscribers or just don't link anywhere and use this as an opportunity to just build stronger relationships with the speakers. You're sharing their stuff, it's a nice thing to do. They'll appreciate it!
Even if you make $0 from summit ticket sales and new leads, the value you'll get from building relationships with your speakers and from strengthening your brand makes all the hard work well worth it in the end.