When you book an appointment with GrowthMentor, you're taking the first step towards establishing a fruitful and hopefully long-lasting relationship. But as with most things in life, you get out what you put in.
That means that if you want to get off to the best possible start and to make the most of your relationship with your new mentor, you're going to have to put in a little work.
Fortunately, we've done the research for you and asked our community of mentors and mentees for their top tips on having a productive first meeting. Here are the insights that they shared.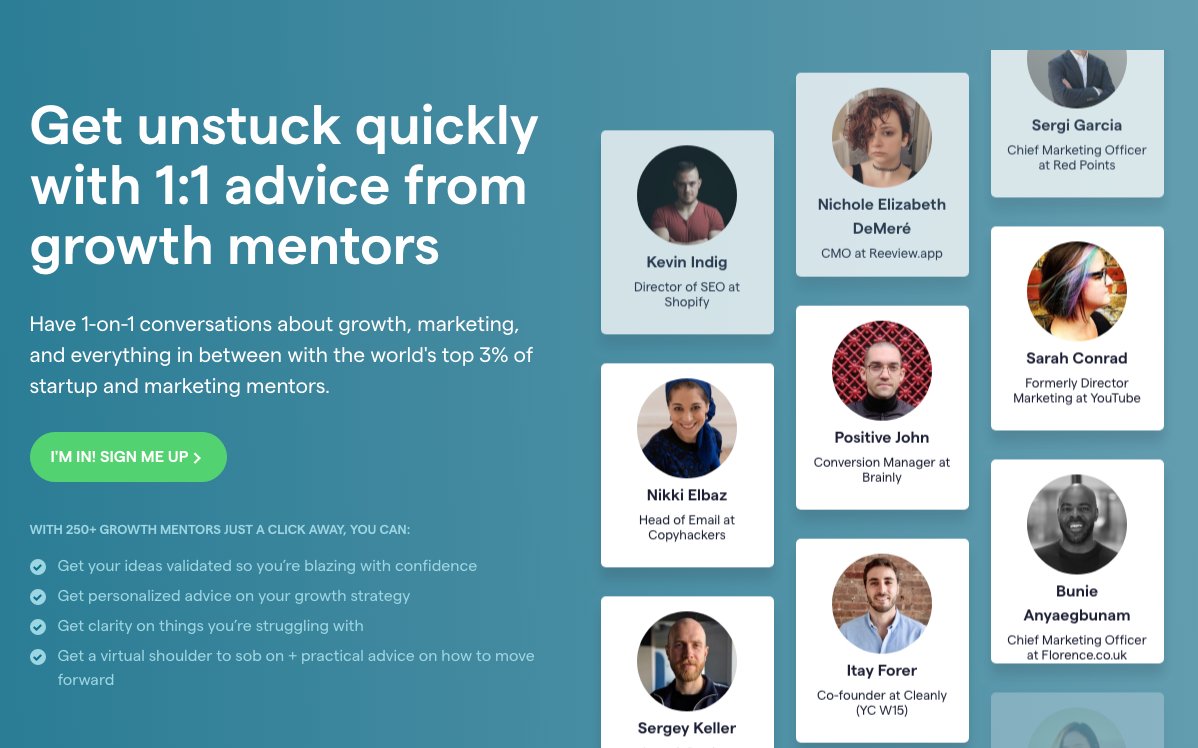 How to Have a Great First Meeting with Your Growth Mentor
1. Stay focused
Staying focused will help you to make sure that your meeting is productive and a worthwhile use of your time. Sessions usually last for 15-60 minutes and so you'll want to make sure that every second counts.
Have realistic expectations before you start and don't try to cover too much. Remember that they're mentors and not magicians and that they won't be able to solve all of your problems in a single call.
We've specifically designed the GrowthMentor session request page to push you to answer the following two mandatory prompts: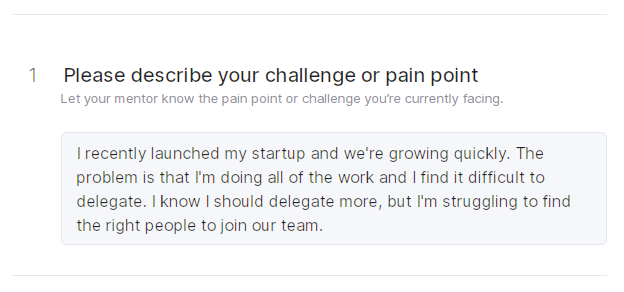 Please describe your challenge or pain point: A place for you to brief your mentor on the issue that you're facing. Try to focus on one key challenge per session and to pick your biggest challenge for the first meeting.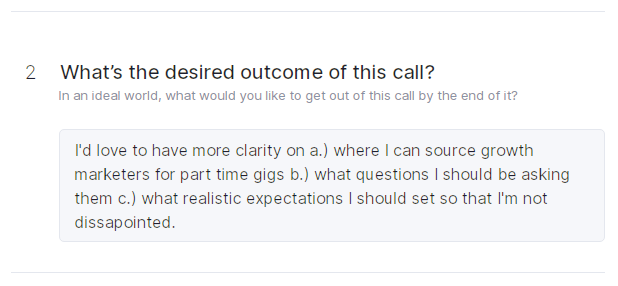 What's the desired outcome of this call?: Answering this will help your mentor to understand what success looks like to you so that they can reverse engineer a path from where you are now to where you want to be.
2. Do your homework
Once you've selected your mentor, you'll want to familiarize yourself with the contents of their GrowthMentor profile page.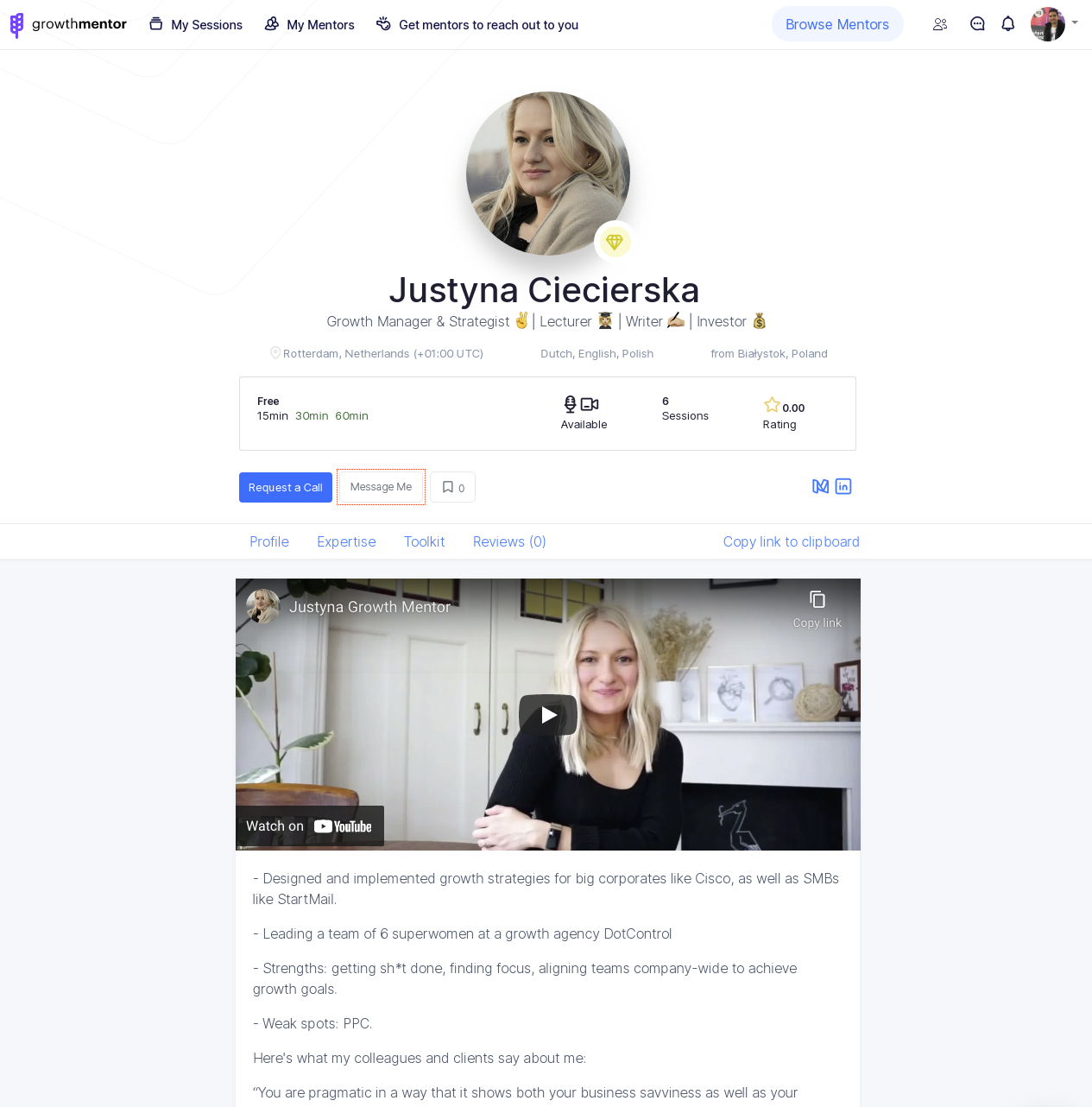 While you're at it, you can also click through to their LinkedIn profiles and send them a connection request.
Have a look at some of their past work and take notes on the highlights. That way, you can reference it during your call to show that you took the time to understand them and how they can help you. It's a great way to build rapport.
3. Respect their time
A lot of this is simple stuff, like showing up on time and letting your mentor know if you're going to be late. If you need to cancel, give them as much notice as possible. Remember that a lot of mentors (67% on GrowthMentor) are offering up their time for free.
Make sure that you're not the only person talking, and don't try to tell them your entire life story. There'll be plenty of time for that later on as you continue to work together.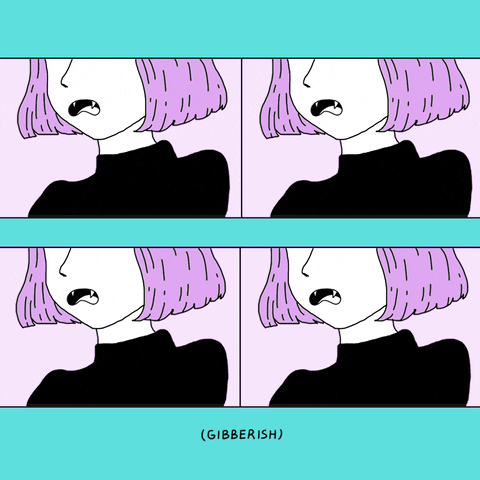 One tip is to look at the clock and to be mindful of how long you spend talking. If you've been talking for over two minutes, take a breath and just pause for a few seconds, something good might happen.
Remember, they didn't agree to a call just to hear you talk.
4. Try to build a genuine relationship
Finding a mentor isn't a short-term fix, and if you want to see results then you need to be in it for the long haul.
Try to be likable by doing the basics: be friendly, receptive, polite, and appreciative.
After the call, spend some time writing a thank you message, and be sure to leave a thorough review.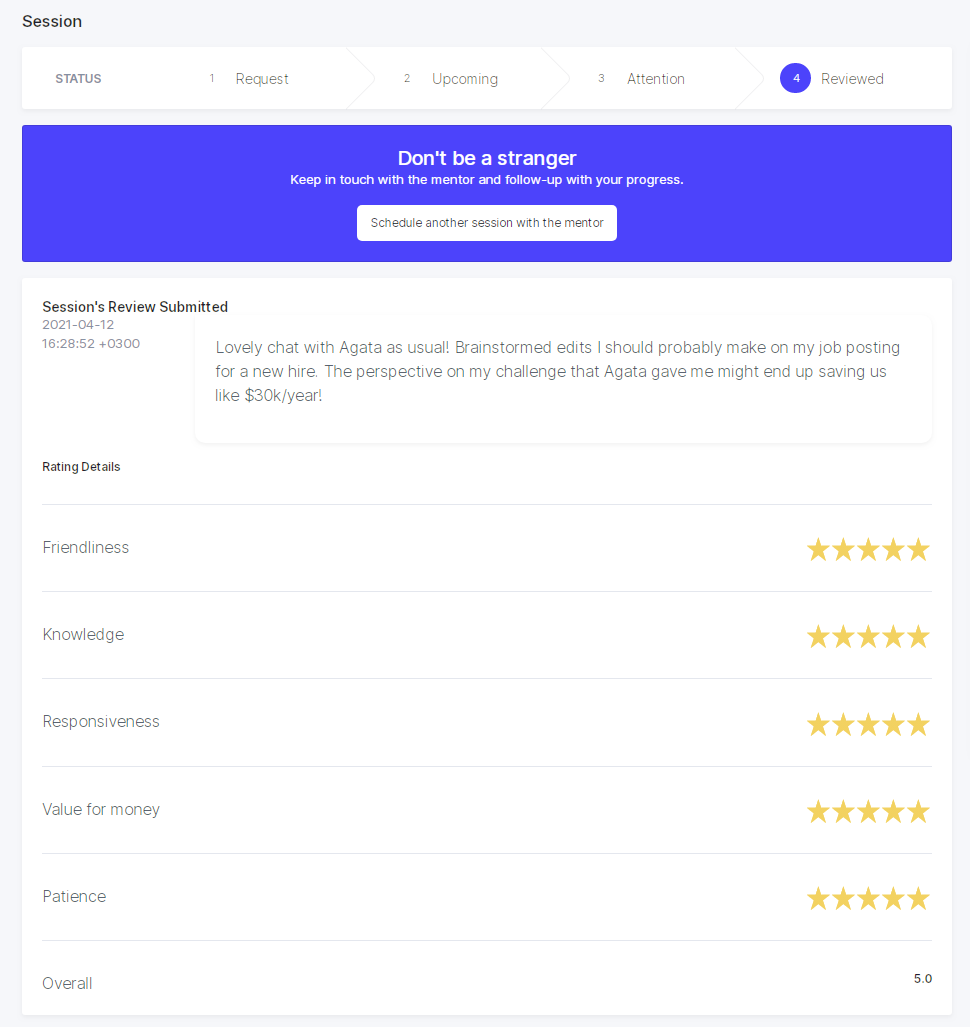 Follow them on social networking sites and start interacting with their posts by liking, sharing and commenting on them.
If you found their advice useful, follow up with them to let them know. Remember, this is what they do it for – they want to feel like they're making an impact.
5. Aim for transparency
If you're not transparent with your mentor then they're not going to be able to help you.
Give them the details that make you feel uncomfortable and go out of your way to share wherever possible relevant metrics and numbers like conversion rates, LTV, CAC,  churn stats, and growth rates.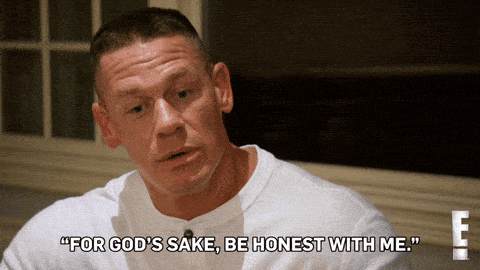 The more data that you give them, the more they'll be able to understand your business and give you advice that helps.
Think of it as a counseling session – if you want results, you need to open up and be honest.
And don't forget to accept positive feedback. That's an underestimated skill.
6. Respect boundaries
Mentors are doing you a favor by helping you, but they only have a limited amount of time to engage with you. As tempting as it can be, don't spam them with messages or pester them with follow-up questions right after your first call.
Much of this comes down to expectations. They're not going to be at your beck and call and they're not going to do the execution work for you.
If you want to share screens to tackle hands-on challenges, be sure to ask them beforehand to make sure that they're happy to do so. If you want to record the call so that you can refer back to it, ask them for permission before you start. Most mentors will be fine with it, but it's still polite and best practice.
If you can't fit everything into a single call, ask them if they're happy for you to book them again in a couple weeks' time. Explain to them that you won't book them until you've made some progress on what you talked about in the first call, and hold yourself accountable for doing so.
We can't stress this point enough: their time is valuable, and they'll want to see that you've listened to their advice and acted upon it before they give you some more of it.
7. Deck out your mentee profile page
GrowthMentor allows mentees to create profile pages, so you should take the time to fill yours out with as much information as possible. Mentors read these pages before they accept calls, so it's important for you to put your best foot forward.
You can add some flavor to your profile page by providing a link to your website or a well-planned digital brochure, if you're in the design industry, to provide mentors with extra information and stand out.
If your profile is interesting, mentors will be more likely to take some time out of their day to help you. If you're a founder, there's a dedicated section for you to talk about your startup, as shown in the image below.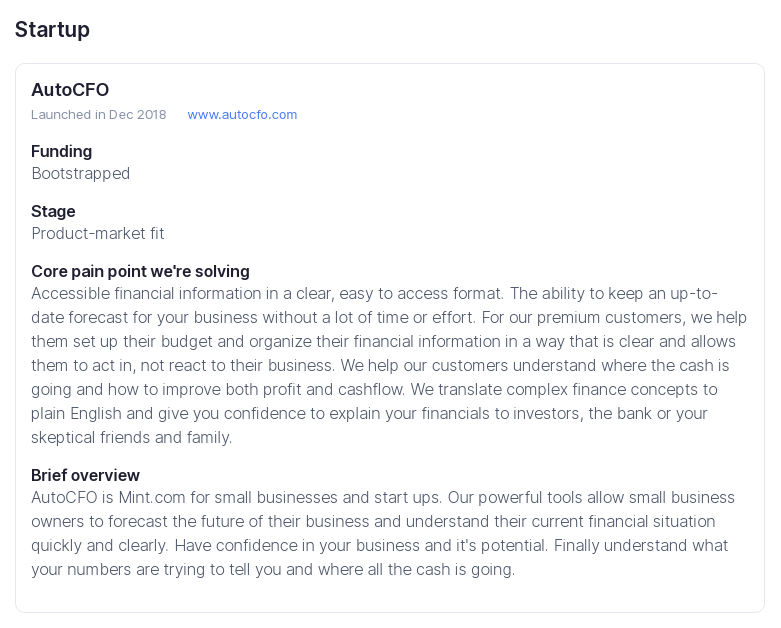 Be specific about the pain points that your company solves and write a brief but clear overview so that your mentor understands what you do and why you do it. Getting this right will help them to hit the ground running.
8. Ask how you can help them
Take some time after the call to ask your mentor how you can help them.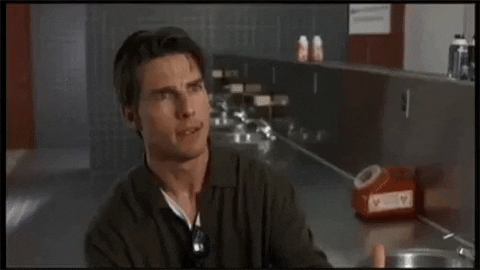 Real relationships are built on give and take, and if there's anything that you can offer them then it can help you to develop a more even footing. Even if you can't help them, it's always worth offering. Be nice!
First Meeting Checklist
Getting ready for your first meeting with a new mentor? This checklist will help you to make sure that you're as prepared as possible.
Before the Meeting
Establish your expectations and communicate them with your mentor
Familiarize yourself with your mentor's GrowthMentor profile page
Connect with your mentor on LinkedIn and get to know their history and subject matter specialisms
Share relevant metrics and statistics (even if it makes you feel uncomfortable)
Decide whether you want to share screens or record the call and ask the mentor for permission
Fill out your GrowthMentor profile page
Have a goal in mind for the call
Establish where your boundaries lie
Google your mentor's name and learn as much as you can about them
Prepare some discussion points and conversation starters
During the Meeting
Keep an eye on the clock and try not to talk for more than two minutes at a time without taking a breath
Try not to be shy or intimidated
Share contact details and establish which medium is best
Be ready on time
Ask direct questions
End the conversation on time
After the Meeting
Send your mentor a thank you message and short summary of what was talked about
Write a review for them on GrowthMentor
Follow your mentor on social networking sites and start interacting with their posts
Let them know how the advice that they shared has affected your business
Respect their boundaries and avoid spamming them with waves of follow-up questions and random requests
Consider booking them for another call after you've made progress on what you talked about
Ask how you can help them
Follow up within 24 hours
Advice from the Community
While we were working on this article, we threw it out to the GrowthMentor community to ask them what worked well for them.
Here are the tips that they wish they'd had before their first meetings with their mentors:
Try multiple mentors to get a feel for who you resonate with.
Look at your mentor's profile and do some prep work before the meeting. Send them information on what you'd like to discuss (e.g. a screenshot of your PPC campaigns or email copy in a Word document).
Spend some time scrolling through the feed of mentors. I started out by contacting people at the top of the feed and later found some real gems lower down in the feed using GrowthMentor's filters.
Be persistent and follow up with your mentors and their suggestions.
Make mentors feel empathetic about you so that they want to help you more.
Continue learning, trying things out and making mistakes until you figure out what works for you.
Have a goal in mind to make your sessions grounded and practical, and put some thought and care into the reviews you leave.
Take advantage of GrowthMentor's accountability program.
Try not to be shy or intimidated. Remember that the mentors are there to help you.
Ask multiple mentors about the same question or problem. You'll get different answers and from a wider perspective thanks to their different experience levels and backgrounds.
Set learning goals and aim for at least 1-2 sessions with your mentors each month.
Don't be afraid to get mentors to reach out to you.
What's Next?
Now that you know just some of our top pieces of advice for having a great first meeting with your growth mentor, it's over to you to start setting up calls and making the most of the functionality that GrowthMentor has to offer. Sign up today and start browsing available mentors!
Got some tips of your own to share? Be sure to let us know in the comments!