Member Profiles highlight networking objectives, strengths, current pain points and what you are working on to better enhance networking with other members.
Effective March 24, 2021 users will need to complete the required fields on their profile before requesting any new calls.
These profiles are only visible to mentors and other members who have their profile listed in the community.
Edit your Profile
Click on View profile in your account menu on the upper right corner of your dashboard. Then you can start editing right on the page!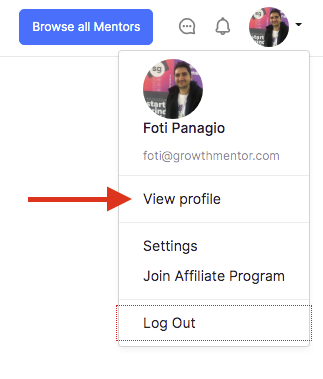 Mandatory Sections
Profile Pic: Yup, everyone needs a profile pic. If you are shy, get creative!
Headline: Role & Company
Looking for: Identify what you hope to get out of networking with the community (the search function for this is coming soon).
About: Spill the beans! Tell the mentors where you are at in your growth journey and what you hope to get out of joining this community. Show personality!
Skills: Share your strong points
Challenges: List your top areas that you are looking to improve
Interests: Tell us what you do when you are not slaving away at the computer
Startup: (This section is only mandatory if you have identified yourself as a founder or co-founder in your settings) Fill in your company information so the mentors can get a better understand of where you are at.
Enter Dashboard

IF your checklist shows that everything is complete and the system still shows the warning bar on the top, please message us via live chat.

Community Feed Participation
In order to be able to browse the community and message people directly, you must have your profile active.
You can adjust your profile visibility in your settings.