As your startup grows and changes, so does the size of your team. With this growth, comes the importance of getting your new hire off on the right foot to help them succeed and thrive at their jobs. As a leader or founder, it's easy to get sidetracked with product development or one of the million other things that may be on your plate, but effectively developing the talent on your team is one of the most crucial investments you can make.
For startups, recruiting new talent is no walk in the park, but helping that talent succeed once they're onboard is where many companies fall short. So when hiring new employees, you should start by developing a program that gets them off on a good foot. One effective way of doing this is to give them an actionable introduction to their position, corporate culture, and the demands of their role. A successful onboarding experience helps employees feel welcome, valued, and invested in your brand from the get-go. It also allows your team to set realistic expectations around what a typical day at work will look like for them, so there are no surprises along the way.
GrowthMentor is an online resource for startups looking to deploy mentor programs or individuals hoping to find a mentor for themselves. In this article, we give you a rundown of everything you need to know about mentoring new employees and ensuring they become top performers within your company.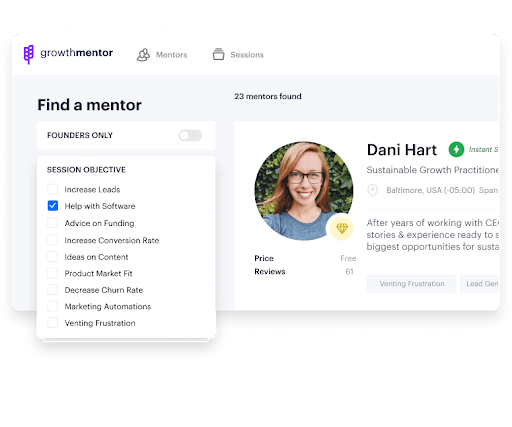 Why startups need to prioritize employee development
Training employees is a critical aspect of running a successful startup. While many startups rely on trial by fire for training, it's much more effective and ultimately saves time and money if you can implement mentoring programs for new hires. Employees learn more when their peers, mentors, and managers support them—and eager, developing employees are what help your organization excel.
How a mentorship program can help your new team members
Investing in the development of your new hires can help them propel their careers forward and offer more to your company. Mentorship is a great way to develop your employees and also improve morale.
New employees can benefit greatly from having someone more experienced taking them under their wing and teaching them how things are done. A new employee mentor can provide tips on learning new skills, advice on becoming more valuable at work, answers to questions that arise, and much more. In addition, giving new employees someone they can lean on offers two benefits: it helps foster your company culture by creating a relationship based on trust, loyalty, and respect—and it helps the new hire learn by example.
Faster onboarding
Congrats, you finally added new talent to your growing team. But now, the real work begins. Unfortunately, there is often a learning curve that will prevent new hires from maximizing their contribution to the organization. For this reason, training and mentoring new hires can help them get onboarded quickly.
Mentorship can expedite this process by ensuring they understand your company's mission and goals, how their work fits into that bigger picture, and what resources are available if they need help (mentors, experts, or senior leadership). In addition, by onboarding new employees quickly, you can ensure they're up-to-speed on their jobs as soon as possible. This helps foster a positive working environment and gives them time to make an impact right out of the gate.
Improved retention
When new employees first start, there is a lot of excitement about starting their job. But as time passes and reality sinks in, it can sometimes be difficult for new hires to see how they fit into an organization. If you want your new employees to stick around, make sure you communicate your expectations from day one. It's also a good idea to include a training program tailored to each new employee's skillset so that they can quickly gain experience and learn what it takes to succeed within your organization. Implementing new hire mentors can help accomplish this goal and boost morale, confidence, and overall happiness in the workplace.
If you want great employees who stick around for a long time, make sure you set them up for success. Help them learn new skills and gain experience with your company by providing consistent mentoring. A formalized mentoring program will also help grow strong relationships between senior members of your team.
Better productivity
Mentor programs can not only accelerate the runway to when an employee becomes a contributing member of the workplace—but can also result in increased lasting productivity. According to this study by Halo.com, 67% of businesses reported increased productivity due to mentoring.
Role clarity
Communication is essential, so make sure your employees understand their roles and responsibilities. This will allow them to have a sense of purpose and feel comfortable with their position within your company. Even if you're running a small startup, it's important that everyone knows what they need to do for everything to run smoothly. If there are key projects that need attention, break down who is responsible for each aspect so they can start working on them right away. With every new hire comes new challenges and opportunities; when you bring someone new into your team, it's important that you help them grow and develop their skills by providing proper training. Helping them get up-to-speed quickly will make things easier for everyone involved—and save time in the long run.
Leadership development
Studies show that most leaders get better with experience. This is why mentoring new employees can help make them better leaders. When employees are onboarded, they often have a lot of passion and initiative but need guidance and training to help them succeed in their roles.
Even if you already have veteran staff, taking time out of your day to mentor new employees can help foster growth among all team members. Everyone deserves a chance to develop new skills and perspectives, especially leaders who will be tasked with managing teams of their own one day. But mentoring takes time and effort, so it's important for new employees (and their managers) to set goals before beginning a mentoring program—both professional and personal.
Better culture adoption
When employees are hired and onboarded, it's your job as a manager to make sure they have a solid understanding of how things work in your company. It's not enough for them to learn about the day-to-day logistics of their role; you need to instill your values throughout every level of your business. A mentor can help instill these values throughout their time working with the employee.
Higher employee satisfaction
Many startup employees can feel discouraged during their first few weeks on a new job. If you're a company founder, you may have already made plans for your employees and how they will grow within your organization. The truth is that while many new hires are excited about their jobs at first, they often become disillusioned after a while because they don't feel as if they have much responsibility or growth opportunities. However, there's good news: it's easy to combat these feelings by implementing (and following through with) an effective mentorship program for new employees that will help them feel inspired and excited about work for the long haul.
Designating mentors
It's essential to select the right mentors and develop a system for assigning them. Deciding who will mentor whom will largely depend on the size of your startup and your goals for the program.
For example, if you are a larger company that can assign function-specific mentors, this can help your new hire develop skills and knowledge around their specific role. On the other hand, assigning a mentor from a different functional area can promote diverse thinking and help the new hire work better with a broader team.
At GrowthMentor, we match mentors with mentorees based on your unique goals and needs. We are also happy to help advise on the best way to effectively mentor new employees.
Be sure to check out our available mentors here.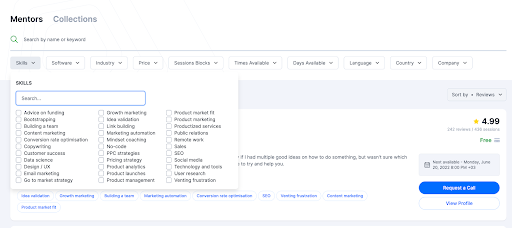 Experience
One of your main goals should be selecting mentors with more experience than the new hires. Ideally, mentors should have more than three years under their belt. A mentor who has been through the trials and tribulations of the company will likely have more advice and can provide more support to a new hire than someone relatively new on the job.
Better yet, for maximum benefit, we suggest selecting your top-performing employees to mentor the new hires. This will make it more likely that the mentee will adopt more effective habits and behaviors that will help them contribute more to your startup.
Commitment
Another critical assessment for deciding upon mentors is their commitment to the organization as a whole. You should do your best to ensure that mentors are committed to the organization's success and will be around for the long haul. A team member's dedication to the company will be reflected in their enthusiasm and attitude, which will impact the new hire's onboarding experience.
If you are still a relatively small startup, it's worth asking some of the initial employees, executives, or founders to mentor new staff. These folks typically have equity in the organization and generally be more committed to its success.
Leadership
If the size of your team permits, selecting mentors who are already leaders will be likely to offer more value and support to a mentee than someone at a contributor level. In addition, those in leadership positions likely have experience hiring and training and typically have more insight into the organization's vision and what it takes to be successful. For this reason, they are excellent mentor candidates for new hires.
Alternatively, if you have contributor-level employees who are on the verge of a promotion or are on the leadership track, mentoring can be a great way to let them dip their toes into the leadership pond. This can also be a great way to assess whether or not the employee is ready to take the next step in his career.
Related: Interested in starting a mentorship program for your startup, here is how
Building a successful new employee mentorship program
Now that you've realized the benefits of employing a new hire mentorship program and you hopefully have some candidates in mind for the mentor positions, it's time to work out the program's logistics.
Company-led sessions vs. mentor-led sessions
The next step in building a successful new employee mentorship program is determining who will lead the mentor-mentee sessions. Some larger organizations will host group sessions where there is a designated activity; others will leave it up to the mentor to organize and lead meetings with their mentee. There are pros and cons to each. For instance, if it's company-led, you can ensure that the mentors are meeting and can use it as an opportunity to dedicate efforts toward some of the most prominent company issues.
On the flip side, if you let mentors hold and lead the sessions, the sessions can be more fluid and personalized to the mentee and the specific role.
Session or meeting frequency
Next, you must decide what the program meeting cadence will look like. Biweekly is ideal for most mentor-mentee meetings. That way, you can be transparent about the involvement expected from mentors upfront and set the standard for mentor and mentee check-ins.
The meeting frequency again depends on your specific goals of the program. If you want the mentor to help the mentee solve a large organizational problem, an hour session once a week may be best. If you want the mentor to simply be a resource to the mentee, check in periodically to see how things are going, and answer questions, a lower frequency may be acceptable.
Meeting content
You should also be forthcoming about what your mentors should be using the meeting time for. It is unlikely that new employees will come with a list of things they want to discuss. While of course, this makes the meetings much easier to tackle, this often is not the case. So mentors should have an idea of how best to use the meeting.
Again, the content of the mentor check-ins depends on your specific goals. For instance, they can use the time to discuss real business problems or challenges they are facing, work through team-building activities, or simply talk about the company, its vision, and the mentee's career goals or aspirations.
By giving the mentor a rough agenda to follow, you can keep the meetings meaningful and purposeful for both parties.
Defining objectives
When you launch the new employee mentorship program, it's essential to set SMART goals, which are: specific, measurable, attainable, relevant, and time-bound. These goals will be your touchstone to measure if the program is having the desired effect and help you decide whether to continue to keep it as is or make tweaks.
Onboard employees the right way
When hiring new employees, it's essential to provide them with support and guidance. Mentoring programs provide startups with an easy way to train and mentor new hires, effectively developing their skills. Once you start seeing results from training, mentoring is likely one of the most rewarding parts of managing a startup.
Growth Mentor provides startups with a bank of experienced mentors from various functions to help you tackle some of your biggest challenges. Sign up today to find a mentor that fits your unique needs.