Running paid ads for the very first time can be scary.
Big money is at stake.
If you don't know what you're doing, you can waste thousands of dollars that could have been put to better use improving your product or building an inbound content marketing engine.
Having a mentor who's successfully spent millions of dollars on multiple paid channels to coach you through the early days can help you avoid some of the most common mistakes and reach positive return on ad spend quicker.
In this post, we're delivering no-fluff advice on how to approach ads if you're a total beginner
What the right ad campaign structures look like for small, medium, and large ad budgets
How to setup creative testing frameworks so that you're constantly learning and iterating based on data
Crash course on how to approach social ads targeting and keyword research for google search
How to approach delegating paid ads as a founder who doesn't know paid ads themselves
We'll also suggest some mentors that would be perfect to speak to about running paid ads as a beginner.
Because otherwise, let's be honest, you'll probably spend countless hours watching Youtube videos, courses, and reading conflicting blog posts.
These mentors have spent big bucks on all the popular ad platforms and are down to help you 1:1.
Suggested paid ads mentors
Sunni Sukumar
Spent 7 figures on ads for mostly high-ticket courses / coaching (with a positive ROI).
He built a custom tracking and analytics platform for the world's #2 travel community back in 2005, as a software engineer.
Helps people see their funnels from a higher view to not just optimize one step while messing up another. For example, boosting opt-in rates isn't always wise.
Tested strategies for growing both B2C and B2B businesses in various industries (especially education and tech).
Dealt with all of Facebook's crazy policies. Had accounts and Business Managers disabled, as many others have, so has learned how to adapt.
Got Google Analytics IQ certified in 2014 and have been helping companies set it up and tune it ever since.
What mentees are saying about their sessions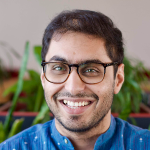 I had a great chat with Sunni. We discussed many topics, including the challenges of being in a marketing leadership position, some technical aspects of analytics which are his core expertise, and thoughts on career choices. I have to say, he has a high EQ, is pragmatic, full of ideas, and has a great sense of humor! I really enjoyed our conversation, got a ton of value and felt heard. If I could give him six stars, I would! Thanks Sunni!

Madhav Bandari - Head of Marketing at Weflow.com
Faith Storey
Managed over $10M in ads on search, linkedin and facebook/ig. Can break down your current campaigns and make recommendations for improvement or build a campaign from scratch.
Managed easily over $1M in search ads through various clients. Can help with keyword research, improving QS, reviewing your account and making recommendations, and also setting up a new account from scratch. Can be more tactical or strategy based on your needs.
Managed over $1M in FB ads for various clients. Can help with account structure, optimization or creative suggestions.
Managed both big (100K+ monthly) or small budgets on LinkedIn for various clients. Can help you with account structure, ad creative, audience targeting suggestions and other misc LinkedIn ads tactics. Can also help you build up a campaign from scratch.
What mentees are saying about their sessions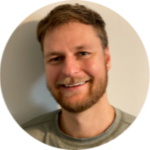 Faith knows her stuff when it comes to paid marketing channels. She helped me assess what was in reach for our budget (and what wasn't). Knowing how much ad spend you need to move the needle on a particular is essential if you want to avoid wasting thousands on inadequate tests. Faith helped us fill in a lot of gaps in our knowledge.

Justin Chaddick - Founder at Treepost
Enrique Hoyos
After a successful acquisition by Canva, joined Pexels to accelerate and guide their growth as CMO. With an already successful product, began to work in systems and processes to structure the growth process and begin ideation and experimentation.
Enrique specializes in running and optimizing campaigns and landing pages to help you get the most out of them. Look at things with two very different lenses. The first one is a strategic one – a high level view to understand where you are going and how you plan on getting there. The second one is tactical – zoom into the nitty gritty data to maximize your efforts.
Leverages quantitative and qualitative data to develop integrated marketing strategies that connect brands to their consumer needs. While many marketers will focus on your follower count, likes, impressions or sessions Enrique focuses on what matters most to you – your business objectives.
What mentees are saying about their sessions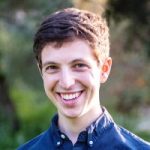 Enrique gave me golden nuggets, he knew when I was overthinking and when extra thought was needed. He was understanding and encouraging. I loved talking with him, can't wait to use hotjar!

Hal Zeitlan - VP of Marketing at TheFarmersJuice.com
Jack Gierlich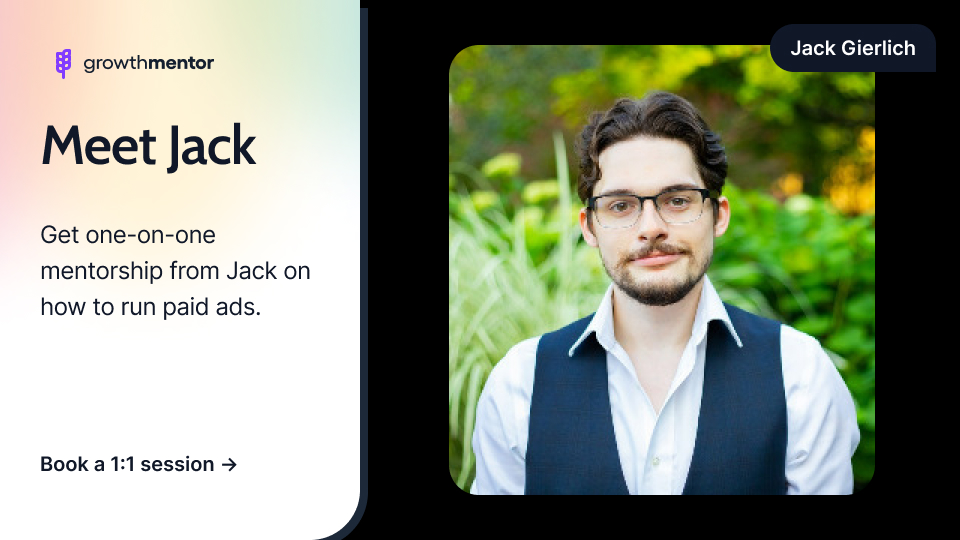 Why?
100+ Businesses worked with
$150M+ in Attributed Revenue
$40M+ in Managed Ad-Spend
Consulted/Worked for teams across 20+ Countries
Married to a Nerdy Neurologist
Drank 1,000+ Cups of Tea
Music Lover
Avid & Active Archer
Goldfish Cracker Aficionado
What mentees are saying about their sessions

Signing up for GrowthMentor has already been a 100x investment just because I met Jack. This was my second session with Jack, and he has already had a material impact on the direction of the business.

Max Fram-Schwartz - Cofounder at Glimpse
Lynn Patchett
A Google partner since 2015 and a premier partner since early 2017. Experience in a wide range of industries including ecommerce, travel and B2B lead generation.
12+ years experience running campaigns both big and small for a wide variety of industries including e-commerce and tourism and a Google Premier Partner with Kollective. Google Ads can be confusing and an ever changing environment but getting the basics right goes a long way to guaranteeing success. Let's have a session to get it set up right!
On Growth Mentor I mainly advise on organic (SEO) and paid search strategies that are straight forward in implementation and analysis and scaleable once the approach is verified because… who wants to give all their cash to Google and Facebook for no good reason? (Sorry Google and Facebook).
20+ years in digital travel marketing working with hotels, villa and yacht rentals, ferry and flight ticketing operators and travel startups. If you have a travel or tourism facing operation, I am always interested in having a chat 🙂
What mentees are saying about their sessions

Great to chat with a PPC expert. Couple quick wins: 1) I turned off the google auto-suggest feature, which was over riding my keyword match types from exact to broad. 2) Got a great overview of how to structure a custom intent campaign. Thanks Lynn!

Michael Holmes - Founder at Vidpros
Common mentor topics
Over 1,000 mentor sessions are booked on GrowthMentor every month.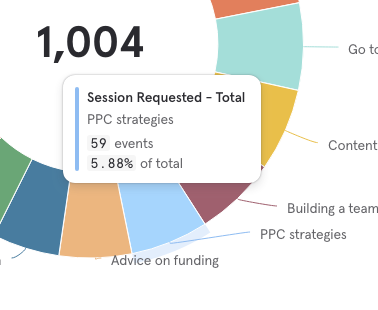 Here are just a few of the session topics booked over the past years:
Best practices on structuring your campaigns across all popular PPC platforms
How to deal with attribution in a cookieless world
What's the minimum amount of money you need to start running paid ads
How to spot that signs that you shouldn't (or should) be running paid ads
How to know whether you should be the one to start running the ads or if you should delegate it to someone else
How to approach targeting, e.g. interests? regions? demographics? narrow? broad?
How to integrate paid ads into a more holistic marketing strategy
How many creatives you should be testing?
How to setup an experimentation framework for running ads
Run Ads with More Confidence
Stop wasting time Googling for answers when you can just speak to people who have literally done exactly what you want to learn
Create Account