Many companies, especially startups and businesses in early stages, struggle to offer their employees educational opportunities to help them grow as professionals and achieve their long-term career goals. However, learning and development (L&D) is increasingly becoming one of the more important factors when determining an employee's job satisfaction.
Luckily, over the past several years, more and more companies have created professional development plans (PDPs) and learning stipends to help employees pay for these professional development opportunities.
PDPs offer many benefits to an organization, such as increasing company morale, attracting more employees, promoting retention, and improving team performance by keeping employees up-to-date with their industry's newest practices and technologies.
At GrowthMentor, we are experts in professional development and help individuals and organizations grow, learn and develop. In this guide, you'll learn everything you need to know about learning and development stipends and what they could look like at your company.
What is a learning and development stipend?
A learning and development stipend is a compensation incentive that helps employees learn and grow professionally.
The idea behind a stipend is simple: companies want to invest in their employees and ensure they are constantly learning, feeling challenged, and getting more skills and knowledge they can take back to the company. L&D stipends or PDPs can be an excellent way for employees to take advantage of additional training opportunities or classes, become an expert in a new software or technology system, or simply get better at their day-to-day job. Stipends usually are set up as part of an employee's total compensation package and generally are offered on top of salary.
Although different companies and organizations might have specific stipend guidelines, all stipends follow a similar format: an employee is offered a sum of money they can voluntarily apply every month, year, or quarter toward approved learning expenses.
For instance, the money can be used to attend courses or seminars related to their current job, position in your company, or simply for professional development. Of course, the amount of money awarded varies between organizations. One key benefit of a learning and development stipend is flexibility—it generally can be applied toward various things such as online coursework, tuition, books, mentorship programs, and non-traditional learning events like conferences or networking meetings with experts.
Other facets of a professional development program
In addition to the stipend provided by many organizations, larger companies also offer their own internal development or learning programs. For instance, promotion candidates or receivers may undergo an internal leadership course. Similarly, more technical or role-specific boot camps may be offered to employees who are interested in making a lateral move. Companies may also choose to bring in external speakers, host internal conferences or provide their own library of development content, resources, or content.
Professional development doesn't always need to be a compensation incentive. Instead, it can be embedded in your company culture. For example, consider purchasing a Udemy business account for your employees to access or employing a GrowthMentor team account. Integrating development into the internal organization sometimes makes more sense than offering an individual stipend. The best option for your business largely depends on company size and available resources.
The benefits of offering a learning and development program to your employees
Training and development is one of those things that many companies tend to neglect but can be highly beneficial to your company. Below are some reasons you should consider offering learning and development perks to your employees.
Improve employee morale
According to research, employee morale improves when employees feel they're learning and growing. For this reason, providing them with a professional development stipend can be an effective way to satisfy this need.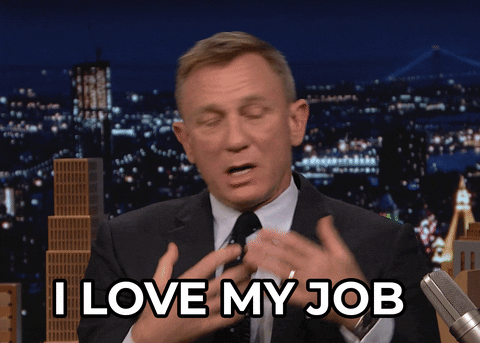 Improve Employee Retention
Professional development stipends are a fantastic way to improve employee retention. Employees who feel they're learning and growing with their company are likelier to stay happy and productive than employees who don't. According to this study by Better Buys, employees with access to learning and development resources are significantly more engaged than their peers. Similarly, LinkedIn Learning also found that 94% of employees say they would stay at a company longer if adequate learning and development opportunities exist.
Many companies can also leverage their learning programs to create a clear path for career development that your team can reference. For instance, in order for an analyst to become a senior analyst, they must complete a particular course or go through a specific boot camp. This can be a great way to transparently communicate the expectations of a more senior role while giving the employee an incentive to continue developing and growing.
Improve Employee Performance
The benefits of a solid L&D program don't end at employee retention. According to this study by Deloitte, Companies with a prominent learning culture are 92% more likely to develop novel products and processes, 52% more productive, and 17% more profitable than competitors. Professional development stipends let employees learn new skills and stay privy to industry happenings, all of which they can take back to their workplace.
Attract New Talent
In addition to retaining employees and improving company performance, learning and development stipends can also be an excellent way to attract new talent. Growth opportunity is a determining factor that many job candidates take into consideration when choosing a company to work for. This study by SnackNation claims that 80% of employees stated that continuous learning is important or very important to them.
Therefore, offering a PDP that allows employees to learn and grow without financial commitment is a tremendous selling proposition for employee candidates.
Development Program Best Practices
Now that we have convinced you of the benefits of a development program, let's talk about how to build one yourself and critical considerations to keep in mind.
Enable Ongoing Development
The first step in developing an effective development program is ensuring that the learning opportunities are never ending.
It's not enough to provide a book or an online course here and there. Instead, employees must be empowered to engage in consistent and ongoing development opportunities.
Why is ongoing development so important? Firstly, it ensures that your employees never stagnate in their careers. Instead, they're continually expanding their skills and learning new things relevant to their work. Secondly, ongoing development is more effective than short-term training—quick sessions or one-off lessons provide little lasting benefit. Providing various ongoing development opportunities can ensure your employees reach their potential and are satisfied in their job.
Allow Employees to Learn at Their Own Pace
While employees want the option to learn and grow, they don't want it to be a mandatory component of their already-busy schedules. To get the most out of your development program, companies must allow employees to learn at their own pace.
For this reason, we suggest offering online, self-paced courses and voluntary in-person programs. This will allow your team to choose programs that work for them and their schedule. Let your people know that you want them to succeed, but you also want it to be a privilege or opportunity rather than an obligation.
Things You Can Include in Your Stipend or Program
If you're considering implementing a professional development stipend or program, here are some great items you can include in your plan. Below is an example of a learning stipend from Buffer.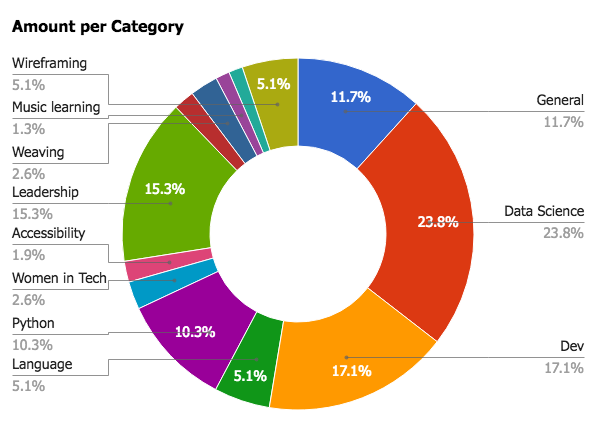 GrowthMentor
According to Forbes, 100% of Fortune 50 companies have mentoring programs—for a good reason. In addition to mentorship satisfying employees' desires to learn and develop, it also can single handedly improve retention and employee satisfaction.
GrowthMentor can connect employees with mentors who can impart guidance and knowledge from their experience. This online mentorship platform is a great way to expose employees to people outside of your organization so they can get external perspectives on their challenges, projects, and aspirations.
GrowthMentor offers plans for both individuals and organizations and has been instated by companies including Google, Facebook, and Amazon. Get started or learn more today.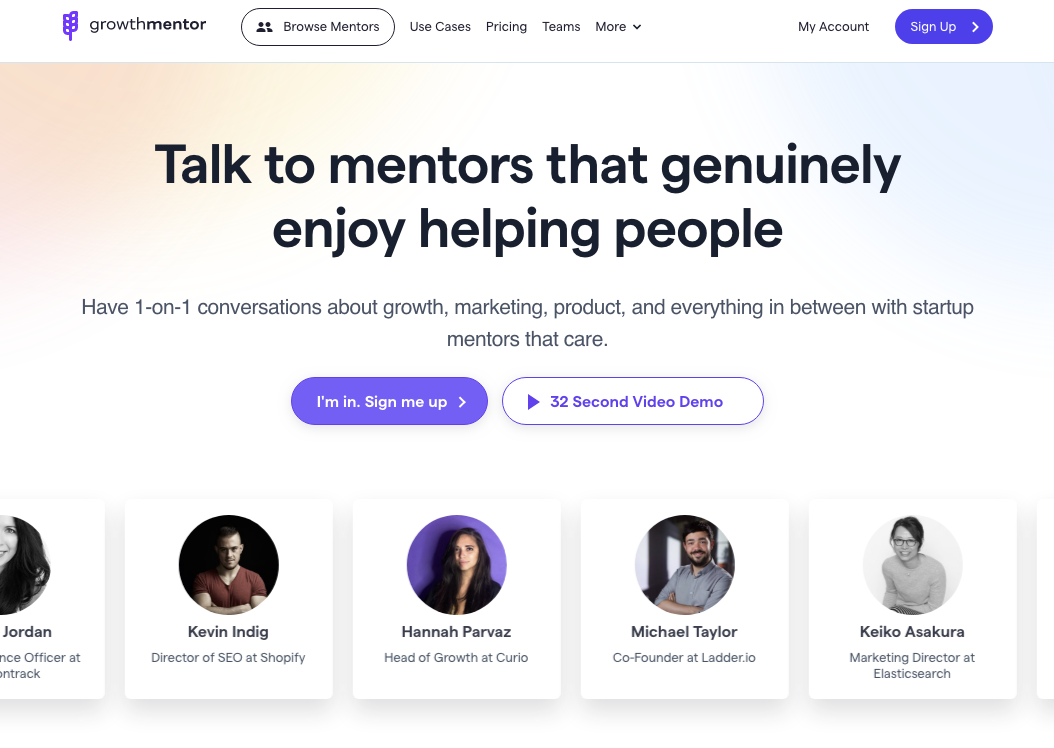 Udemy or LinkedIn Learning
Today, in the digital world we live in, there are many online learning platforms that can help students and employees learn new skills without having to leave the comfort of their desks.
Some of our favorites include Udemy and LinkedIn learning. Both provide extensive libraries of courses on various topics and functions—they cover everything from accounting and psychology to data science and management.
Employees can consume these courses on their own time, but under their corporate plans, you can also see which employees are taking which classes and the progress they have made.
Local Meetups
When employees have a chance to connect with others in their industry and share insights, it helps them develop professionally. Funding local meetups for your employees to attend is a great perk to include in your learning and development stipend. These meetings give your employees a sense of community and help them network and connect with others in similar positions.
If your company is large enough, you can also host internal meetups where employees can connect with others they wouldn't normally work with.
Books, AudioBooks, or Ebooks
Among the fancy online learning platforms and expensive conferences, we cannot overlook the value a simple book can offer a reader. Reading can help progress employee development as much as an online course or local meetup. For this reason, consider covering select books as part of your learning stipend.
Encourage your leadership teams to compile a list of recommended reads. Consider using a service like Audible, where staff members can listen to audiobooks on their commutes or while working.
Another option is setting up an eBook collection of relevant books on your intranet, so staff can access information about their professional development by logging in whenever they need a refresher. These stipends don't have to be fancy—but they should foster learning that directly relates to your business and its goals.
Conferences & Seminars
Paid conferences and seminars are a fantastic way for employees to develop professionally in their field of expertise. Check out the Center for Professional Education (CPE) website, which provides info on conferences and seminars with an expert or industry leader as the keynote speaker.
The CPE also offers professional development stipend ideas, such as using your company's meeting room space to host live webinars or workshops about topics of interest. You can share these events internally to gauge interest or allow your employees to choose conferences that interest them.
Conferences and events are not only educational to your employee but can also be a great way to develop new connections for your business—whether it be vendors, partners, or clients.
Internal Training
Larger organizations often opt to have their own database or program for L&D. For example, Google has its training platform called Rework that offers courses on everything from goal setting to management.
Rework has courses and articles created by Googlers for Googlers but is also available to the public. This content can be consumed on the employee's time and offers valuable insights from employees in all different functions and levels.
Similarly, Meta has a platform called Access which allows employees and external individuals to enroll in training programs, career pathway programs, or training and apprenticeship programs. Meta, Google, and many other technology companies also offer in-person training and boot camps to help their employees advance and further their skill sets.
Tuition Funding and Reimbursement
One of the benefits that companies can offer as part of their development stipend is college tuition. This can be a great way to incentivize employees who want to progress their career, change functions or learn a technical skill. By reimbursing some or all of their tuition costs, your company could help an employee stay on track with her education and impact their long-term career goals.
For instance, Amazon recently started paying full tuition for front-line workers as part of their learning and development stipend. In addition, some companies will choose to include retention stipulations as part of their tuition packages. For example, they must stay with the company for two years after completing their program, or the tuition must be repaid.
Offering educational assistance is a great selling proposition for attracting new talent but can also boost morale and improve retention.
Offering Learning & Development Is a Great Incentive
Learning and development is a great way to improve employee performance and satisfaction and attract potential talent. If you want your employees to stay with your company and perform their best, it's worth investing in their future success.
Consider implementing learning and development stipends to better equip your employees with the skills they need to succeed at your company. If you want to start implementing a program, visit GrowthMentor to employ a mentorship program for your team.