Join members of GrowthMentor HQ and our Wrocław based Growth Mentors and be ready to chat 1:1 about what you are currently working on, the challenges you are currently facing, and general Growth-related chit-chat.
Curious about what topics are generally discussed at our events? Pretty much the same things that are discussed on the platform. These are the topics of the calls booked on the GrowthMentor platform in the last year.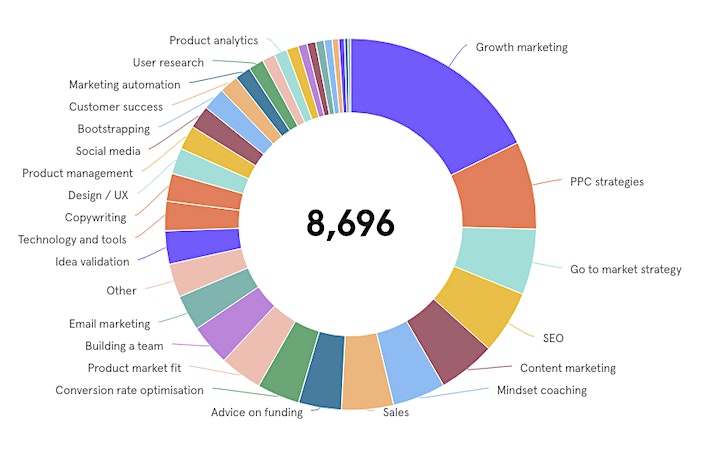 Aided Networking (aka sticker party!)
When you arrive you will have a selection of stickers to choose from to wear for the evening. The sticker topics are all growth-related matters and will help you to connect with others who share your interests! Or even better, you can learn new things about an area that you feel you are lacking in.
Mentors on our platform are highly vetted and one of the biggest characteristics we look for during the interview process is the genuine desire to help others. SO there is no need to be nervous, these folks are super friendly and knowledgeable 😊
Who is this for?
This event is for anyone in the startup community who wants to meet with growth-minded individuals (not just GrowthMentor members).
The GrowthMentor Community consists of a solid mix of founders and marketers with a dash of product managers and UX designers. The atmosphere of our meetups would definitely be classified as lively 🎉
Please don't hesitate to ask if you have any questions at all! We're very excited about this event and looking forward to meeting some new faces in Wrocław!
Want to network with the best startup people in Wroclaw?
Sneak peek from our event in Wroclaw
More of the Wroclaw scene