Almost 3 years to the exact date of our first Speed Marketing event in Barcelona and we're back for more!
This event is sponsored by GrowthMentor at Aticco and everyone is welcome to join! No membership is required to participate.
Participation in the Speed Mentoring is optional- if you just want to join for the networking, that's great!
Agenda
7:00 pm – Welcome
7:10 pm – Speed Mentoring: The mentors will all be seated at their 'station' and participants will have 10min* to chat with each mentor before switching to the next.
8:00 pm – Networking & beers
*Have no fear, if 10 min isn't enough you can reconnect during the networking time.
Speed Mentoring
Barcelona-based Growth Mentors will be in the house and ready to chat 1:1 with you about the challenges you are currently facing.
Curious about what topics are generally discussed at our events? Pretty much the same things that are discussed on the platform. These are the topics of the calls booked on the GrowthMentor platform in the last year.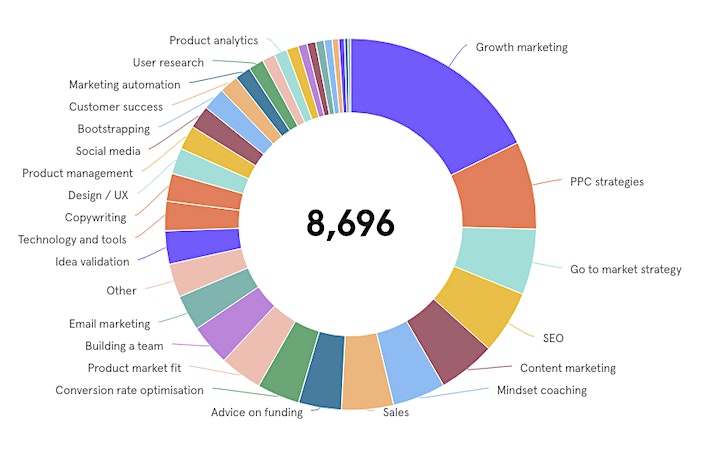 Mentors on our platform are highly vetted and one of the biggest characteristics we look for during the interview process is the genuine desire to help others. SO there is no need to be nervous, these folks are super friendly and knowledgeable 😊
Networking
The GrowthMentor Community consists of a solid mix of founders and marketers with a dash of product managers and UX designers. The atmosphere of our meetups would definitely be classified as lively 🎉
Please don't hesitate to ask if you have any questions at all! We're very excited about this event and looking forward to meeting some new faces in Barcelona!
Want to network with the best startup people in Barcelona?
Sneak peek from our event in Barcelona
More of the Barcelona scene