We've made some exciting feature updates to our platform!
Let's dive right into it.
Expertise Filters
It is now easier for you to filter the mentors and really zero in on the area where you need help. We've added 11 new specialities to the Expertise Filter. There are now 20 areas of marketing for your to choose from!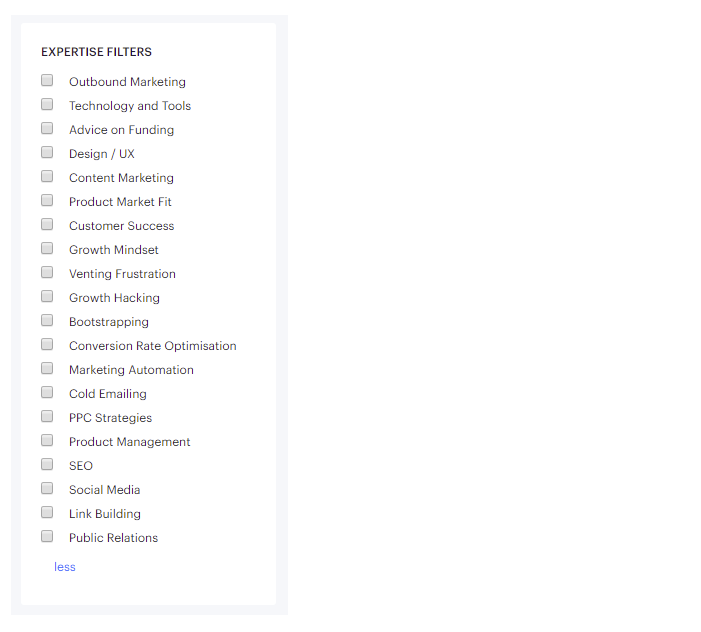 You'll find the above options on the 'Browse all Mentors' page and also on your home 'Dashboard'.
Free Mentoring Sessions
The mentors are now able to offer online mentoring sessions at no cost. That is right, you can talk to industry leading marketers for free!

This filter is also found on the 'Browse all Mentors' page.
This entire Price per hour filter is new to the platform. Now that there are so many mentors on board, we really wanted to make it easier for you to shop around.
Session Details
We've simplified the session detail page so that you can get straight to the point with the information that is needed for the mentor to understand a bit about what you would like to discuss during your session.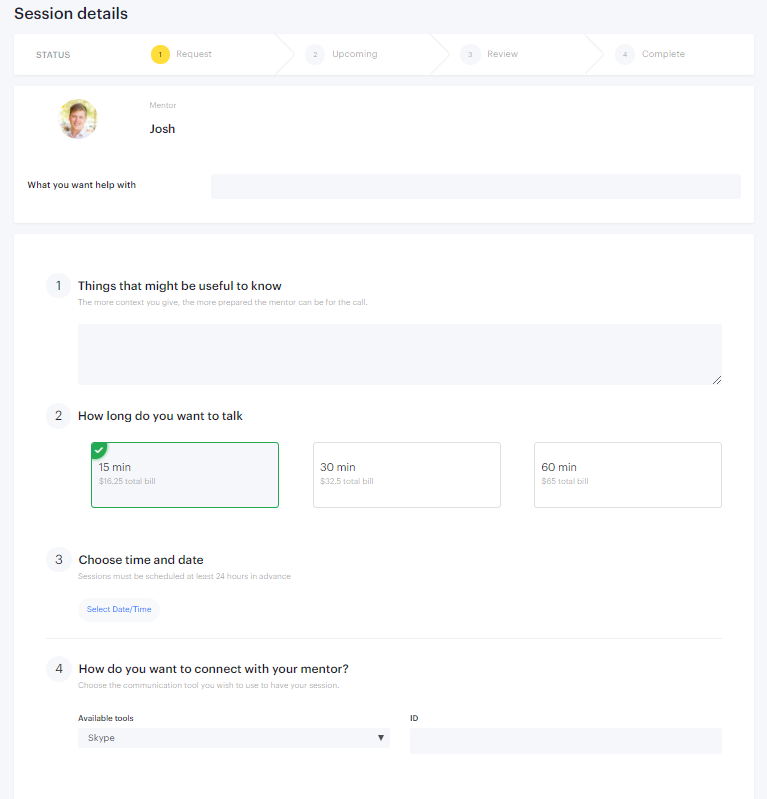 Fields to fill in to request a session with a mentor:
What you want help with (example : Facebook Ads)
Any additional information (your website, what you are currently doing in this area, company background info, etc…) The more info you give, the better!
Choose a session duration. Mentors select which time durations they are available for – 15, 30 or 60 minute sessions.
Select a time and date
Enter your communication tool of choice and id (Skype, Google Hangouts or Zoom)
If the mentor that you would like to speak with is not available at a time that works for you, send them a message and see if you can agree on a time that works for both of you.
Our platform messaging system is an easy way to get in touch with the mentors and make any adjustments. The same goes for if a mentor does not offer the session duration time that you are interested in booking.
Say you only have a few quick questions that and want to book at 15min session. It doesn't hurt to ask!
Help Request
After doing a Growthmentor session with UX mentor Poyi, we decided to simplify the form for Help Requests.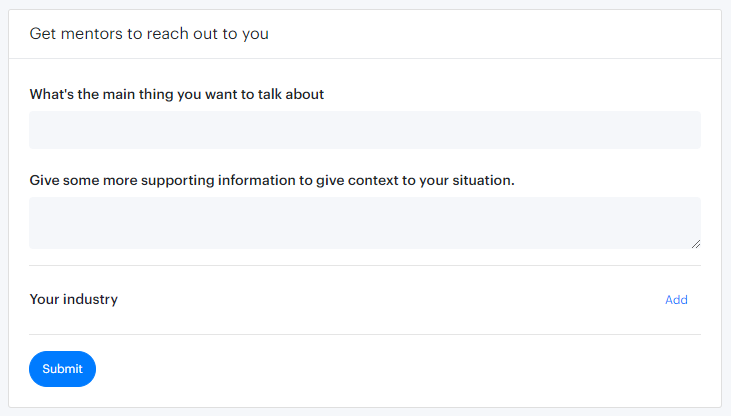 Simply state what you want help with, add some detailed information and your industry (if you want).
Submit that bad boy and let the mentors come to you!
Bookmarking a Mentor
Overwhelmed by all of the awesomeness you are seeing? Us too!
That is why we added the Bookmark feature so that you can save a mentor that looks dope and come back to them later.
Maybe you really want to dive into the world of Google Analytics, but just aren't ready for it yet. Bookmark a mentor that looks like someone you would like to speak with and you will easily find them on the 'My Mentors' tab on your dashboard.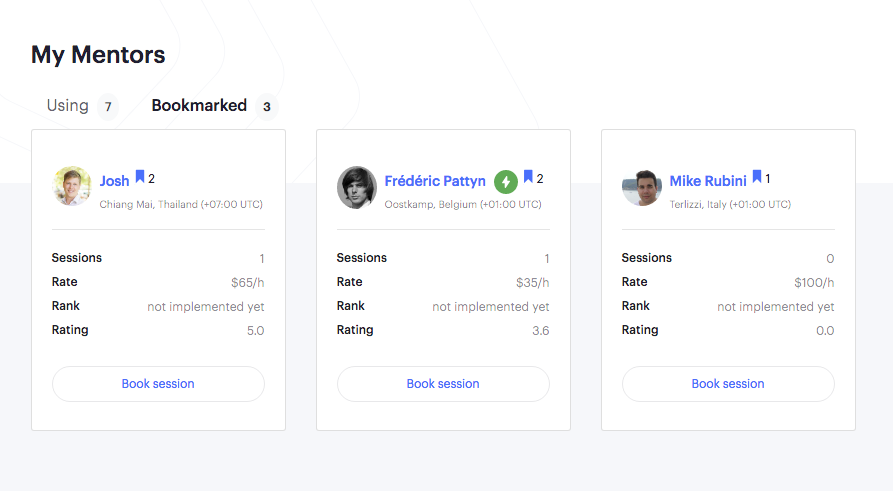 We are collecting as much data as possible from our users on both sides of the platform. Not to mention making adjustments and changes based on feedback from the numerous Growthmentor sessions that we have done ourselves with mentors on the platform.
We strongly believe in listening to different perspectives and talking through our choices with someone who is not as zoned in as we are.
When you eat, breathe and sleep your product, it is imperative to get outside of your happy little 'my product is the best' bubble and talk things over with an 'outsider'. Outsiders rule!