I have 50+ things on my to-do list any given day.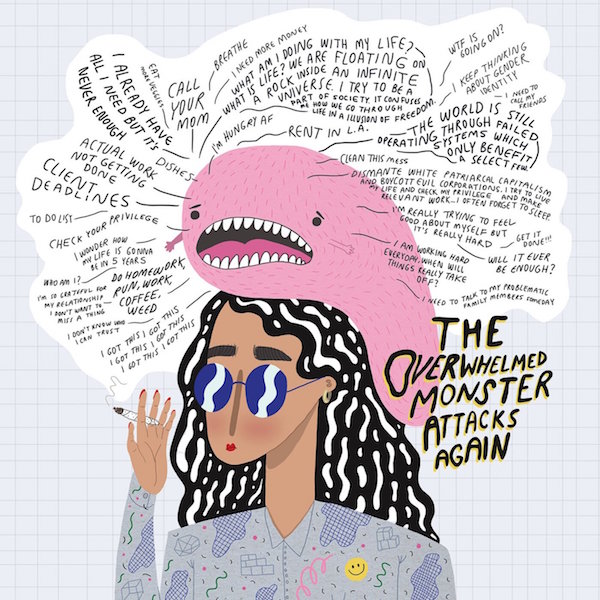 It's only natural to get overwhelmed and often lose track of time.
And keep wondering at the end of the day, week or month:
damn! where did all the time go?
Well, it doesn't have to be this way.
After researching and trying numerous productivity hacks, I put together a simple process for myself using a combination of some of my favorite productivity techniques and a modified Scrum framework. Additionally, having an accountability partner can potentially 10x the impact.
In this post, I'll show you how I use Trello, with a combination of other tools, for maximum productivity.
About Trello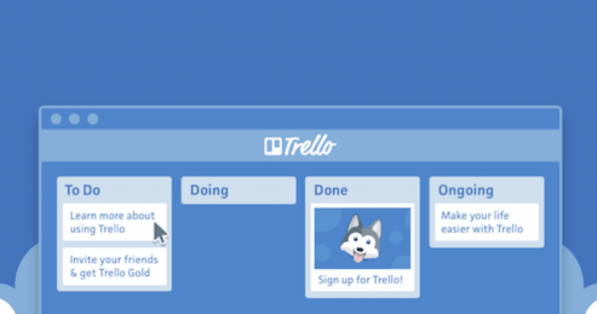 In their own words:
Trello is the easy, free, flexible, and visual way to manage your projects and organize anything, trusted by millions of people from all over the world.
Trello is a great project management tool that makes collaboration and tasks organisation super easy. But we can accomplish so much more with this visual list tool.
Trello's CEO Joel Spolsky explains this beautifully in his personal blog:
Spreadsheets are not just tools for doing "what-if" analysis. Word processors are not just tools for writing books, reports, and letters. PowerPoint is not just a tool for making boring meetings.Similarly, Trello isn't just Kanban boards for developing software the agile way. This tool is for anything where you want to maintain a list of lists.
I'll leave it for you to read more about Trello later.
How I have set up my personal productivity board
A Trello workspace consists of boards, lists, and cards.
Each board contains one or several lists and, again, each list can contain one or several cards. These cards house specific details or information about tasks; description, comments, weblinks, multimedia, deadlines, collaborators, etc.
These cards can be moved between different lists on the board.
Here's a snapshot of my personal Trello board.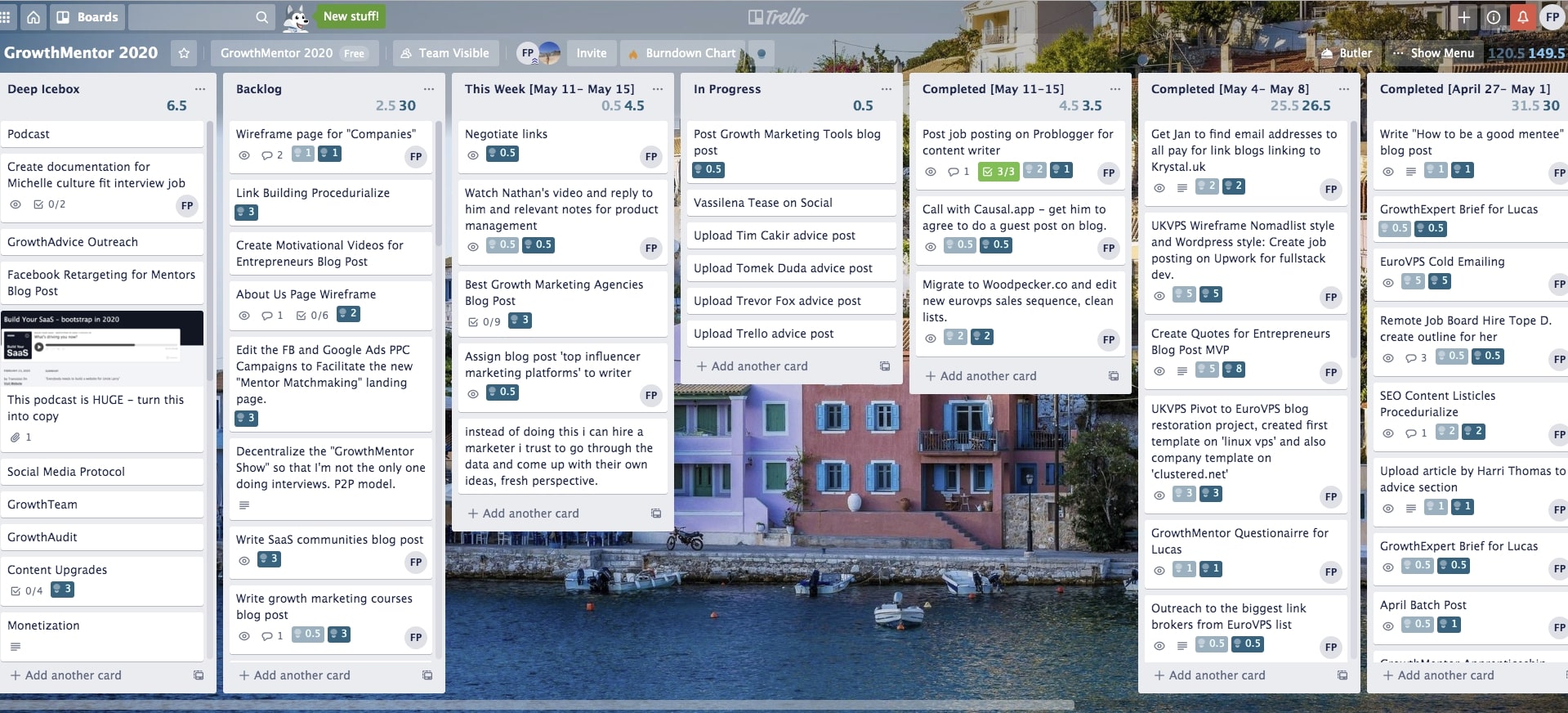 Think of this board as a production line.
Lists are akin to different stages of production, and cards are like specific jobs that need to be done for the production to progress.
The Lists
Each list I've created has a specific purpose. We will go through each list in more detail in the following sections.
Each new task (card) first enters this board in the first list from the left side and moves towards the right, through other lists, until it is completed.
Deep Icebox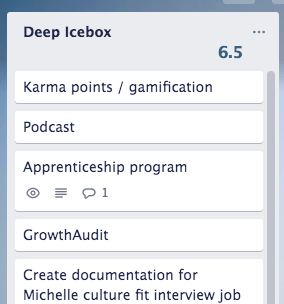 This list is where I throw all my ideas.
You might get random ideas, thoughts and moments of epiphanies many times a week. They can be anything. But you know that now is not the right time to spend time on them.
I use "Deep Icebox" to document all such ideas just so that I can get them out of my head.
This way I ensure that they are not lost. They are documented even if I don't have time right now to take care of or prioritize them.
I can always revisit these ideas some other time.
Backlog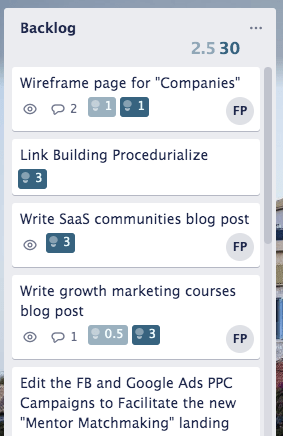 This is my list of tasks that I plan to accomplish in the next 6 weeks.
Whenever I plan a new task that needs to be completed within 6 weeks, I create a card for it in the "Backlog" list.
If you're familiar with Scrum, my backlog is basically the equivalent to the "Epic."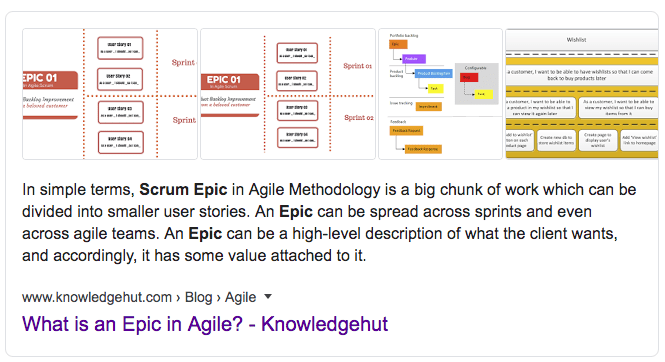 This Week (Dates)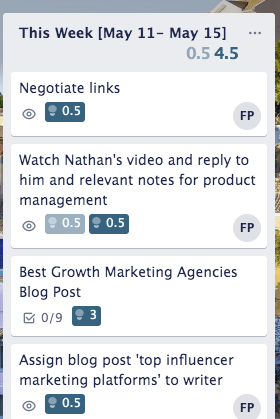 As the name suggests, "This week" has a list of all tasks that are on priority, and needs to be completed by the end of the week.
I usually plan my weeks tasks on a Sunday so when Monday comes around I have my tasks (cards) cut out for the week.
Then, as the week progresses, I empty this list out. It's okay to add new tasks during the week once in a while as they sprout up out of the blue.
In Progress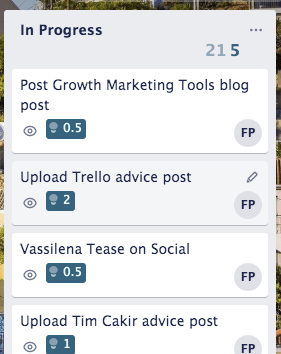 This is what is being done RIGHT NOW.
For example, it's Wednesday today and I am working on task ABC right now. So ABC goes into my "In Progress" list.
Sometimes it may so happen that I might have to work on ABC & XYZ simultaneously. In such a scenario, I add another list "On Deck" as shown below.
On Deck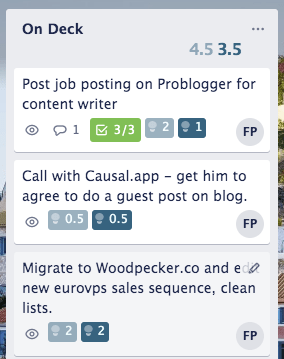 In my current iteration of Trello I don't use this "On Deck" list anymore but I wanted to touch upon it just in case you're better at multi-tasking than I am.
This is useful if you know you're going to work on a couple cards today. You drag those cards in here, and then ONLY the task you're currently working on, like right now, goes in the "In Progress".
Completed (Weekly)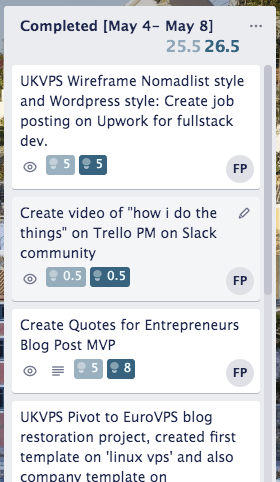 All the tasks that are done go into the "Completed" list for that particular week.
It's very important to have this "Completed" list on a per week basis e.g. 1 x unique "completed" list for each passing week. This forms a record to reflect on and analyse weekly progress later on.
Other useful tools
I use 2 other tools in combination with Trello, to blaze through my day to day work.
Scrum for Trello
Scrum for Trello adds functionality to the cards to add the estimated time required and actual time consumed to complete the task.
Also, it shows totals at the top of each list and the top right corner of each board. This is a free and open-source extension in Chrome, Firefox, and Safari.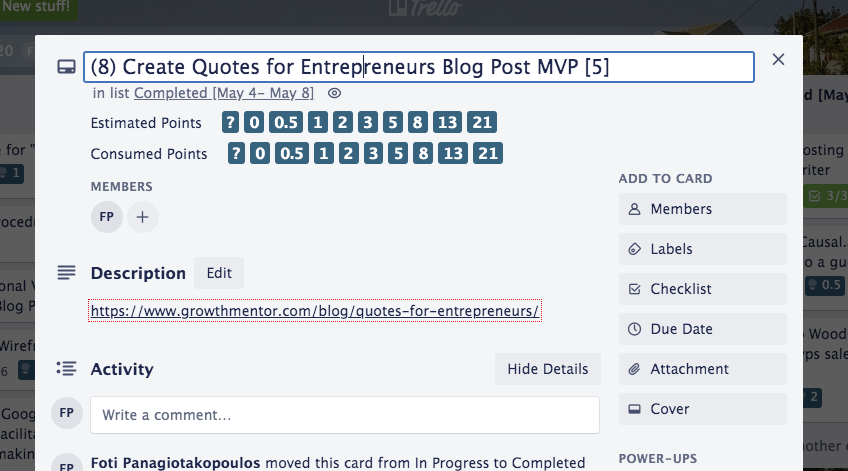 This is how I also keep track of my efficiency in execution task wise, day wise, week wise and so on.
This tool also helps me get better, more accurate at budgeting time for the next set of tasks.
Focus Booster
Focus Booster not only helps track how you spend your time but also visualise your progress, and gives you insights into how you are using your time.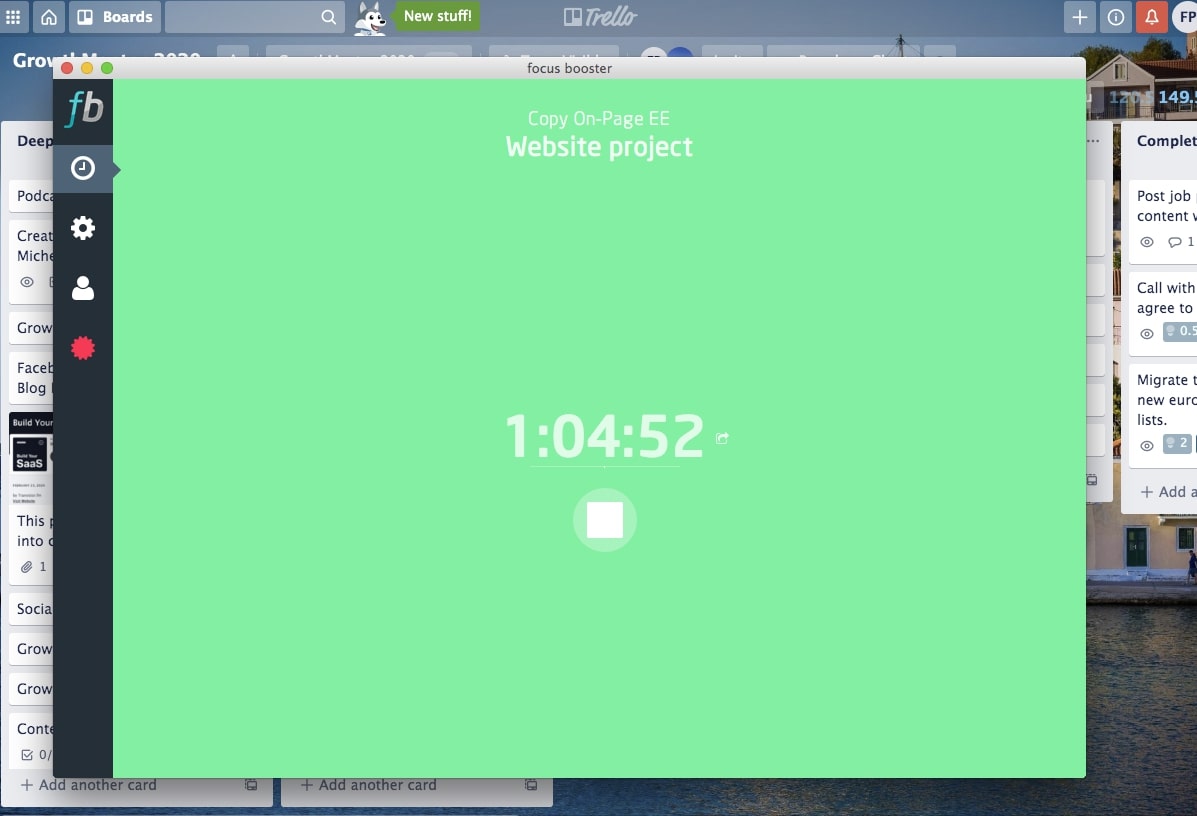 I use Focus Booster to track time spent on each tasks and record it using Scrum for Trello.
Combining these 3 tools, you can also create a similar process that suits your context to get super efficient in your day to day work.
Want more from Trello?
You can plan, organise and blaze through just about anything using Trello!
Organise your day, your reading list, your job search activity, and even your daily household chores!
If you're already excited and wondering how can you get creative with Trello and accomplish more, I recommend you read this.
Watch the video version of this article