A recent survey from Tech Republic reported that 75% of respondents felt stuck professionally without the opportunity to grow in their current role. If you are in that percentile, maybe it's time to take upskilling into your own hands?
If you're a marketer overwhelmed with all the resources out there, this post is for you. We'll take a look at the best ways to upskill and use that knowledge.
There are two key ways to upskill professionally. You can learn passively by sitting through lectures, listening to podcasts, and watching tutorials. Or you can take a more active learning approach and learn by doing.
Let's take a look at different upskilling options and how to blend the two methods.
What is passive learning?
When you learn passively, you read or listen to content created by someone else and try to retain the information.
Passive learning is a one-sided effort from the learner, as it's up to them to create methods to understand and action what they learn.
The great thing about this learning style is it allows you to quickly receive a large amount of information. It's also effective if you don't want to learn something specific but need a general overview of a topic.
As a general rule, the organization of learning materials you consume passively makes the material digestible and logical. Think blog posts and online courses.
Here are some ideas for sources to passively improve your growth marketing skills:
Blogs and online courses
Blog posts and online courses are among the best content sources to learn about growth, marketing, and the startup world.
Here are some of the most reputable: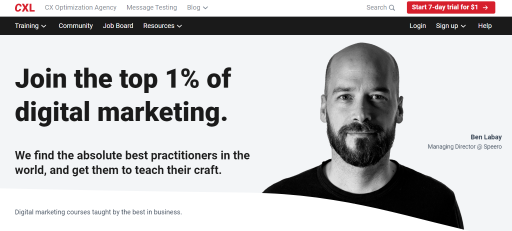 Whether you're looking to learn about acquisition, analytics, copywriting, or user psychology, you can find comprehensive posts on the CXL blog.
Written by experts in the industry, the posts are informative and actionable. CXL also offers dozens of expertly-curated online courses in every marketing category imaginable.

Reforge is primarily a selective course for tech professionals to learn marketing skills. If you aren't interested in getting into one of the course cohorts, the info on their blog is worth reading.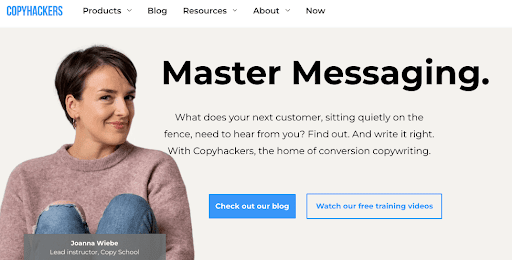 Without good copy, your marketing is nothing. If you want tips and advice that help you craft copy that converts, check out Copyhackers' content.
There are dozens of free videos on the site, and you can sign up for the weekly newsletters to get copy hacks straight to your inbox. You can also opt to sign up for one of their online courses.
Check out these other marketing newsletters if you're looking for more marketing tips straight to your inbox.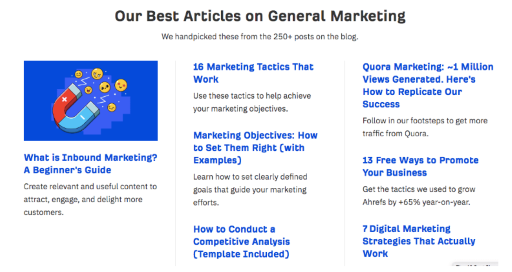 If it's your SEO and organic traffic that you're looking to improve, the content on the Ahrefs blog can give you a helping hand. There are dozens of posts about content marketing, paid marketing, affiliate marketing, analytics, and data.
If you're just starting with SEO and backlink building, then Brian Dean's Backlinko has a bunch of articles and videos with tips and tricks to navigate the ever-changing world of SEO.
Podcasts
If you don't have time to read blogs or sit through hours of online course videos, another practical option for continual learning is via podcasts.
Listening to experts talk about their experiences and what they've learned through experimentation is an effective way to get inspiration for your work.
Here are some marketing podcasts to give a listen to: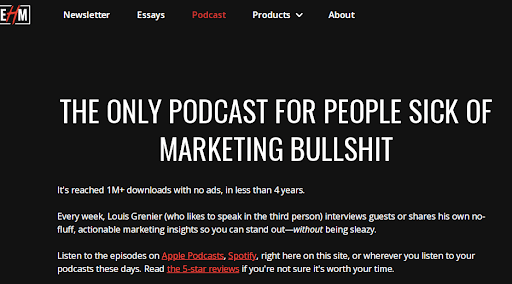 Louis' philosophy is to help listeners use their marketing strategy to stand out. He cuts through the noise and has no-nonsense conversations with marketing experts who share their advice.
Actionable content is given out weekly in the Copyblogger podcase. You can experiment with the advice and use the learnings from the content marketers that Darrell and Tim interview.
If you want an insight into the secrets behind big brands' social media strategies, check out the Social Pros podcast.
Daily 10-minute podcasts with tips and advice on upping your marketing game. From tools and guidance to learnings, it's an easy way to get ideas for your marketing strategy.
Twitter
Are you looking for some nuggets of marketing advice but don't want to spend hours reading?
Follow some marketing pros on Twitter. Of course, it's unlikely you'll get any in-depth learnings from this, but it's an easy way to stay on top of what's new in the marketing world.
Some ideas for marketing pros to follow on Twitter:
What's the problem with passive learning?
These passive learning sources shouldn't be dismissed. Consuming them will help you learn great stuff. Stuff that will help you in your role and help you become a better marketer.
The main problem with passively consuming content is that you will remember very little of it.
If you don't need to solve the specific problem you learn about when you read, watch or listen to the content, chances are you'll forget what you learned.
Ever heard of the Ebbinghaus Forgetting Curve?
The theory suggests that as soon as we learn something new, we're likely to forget it. Unless we do something about trying to reinforce what we learned, we won't retain it.
The curve looks like this:
The theory suggests that we forget the majority of what we learn immediately after learning it.
What is active learning?
When we learn actively, there is more opportunity for us to reinforce the new information by putting it into practice.
Active learning allows you to apply new concepts and make them relevant to your day-to-day work.
Some great ways you can actively learn:
When is active learning effective?
When you upskill using these methods, you have a feedback loop, the opportunity to discuss your knowledge and ask specific questions.
Learning by doing should be the primary method for upskilling. When you make mistakes by actively applying your learnings, you're more likely to remember what went wrong and not repeat them.
Perhaps something is holding you back in your ability to excel and grow in your role. Active learning is effective when you have something specific you need to know. If you can identify what skill you lack, you can take the proper steps to learn it and then experiment using it.
Blending passive and active learning
Everyone learns differently, which means there's no blueprint for how you should upskill and seek out new information.
The main thing to keep in mind is that you should never stop learning.
The famous quote from Aristotle reminds us that 'the more you know, the more you realize you don't know.'
You will never be done with learning new things.
Cohort-based education could be a good option if you want to blend both passive and active learning.
When you learn as part of a group, you'll still watch content passively; you just have other people watching it with you and will discuss the topics. Having conversations and asking questions will help cement the learnings into your mind more effectively.
Learning from someone who has been there before you
Another effective way to learn actively is to learn from someone who's been there before you.
Speaking with a mentor who has been in your shoes and made the same mistakes can give you specific, relevant advice on your shortcomings. They can help you navigate the struggles you're currently facing.
With a mentor, you try things out and have someone go through the steps in the learning process. It's possible to discuss your challenges and collaboratively develop solutions for the problems in your business.
When you work with a mentor, your learnings are 100% contextually relevant to your business and not generic like courses, blogs, and podcasts.
The more information you can provide, the more your mentor can help you, and the faster you can learn the skills required to reach your goals.
Want to speak to an expert in your field and get personalized advice? Book a call with one of our mentors.