What do I get with GrowthMentor membership?
Do I get access to all the mentors for free or do I have to pay again after signing up?
You can book unlimited calls with mentors listed as FREE. Over 65% of the mentors on GrowthMentor offer their time for free.
Are there any limits to the free calls?
We do have a "three in the queue" policy which encourages mindful booking. But once you complete one call, you can book another one if you so wish.
Please note that for mentors that charge for their time, there is no limit on how many you can book at once.

Why do mentors do it for free?
Because they are nice people and enjoy helping. Learn more here.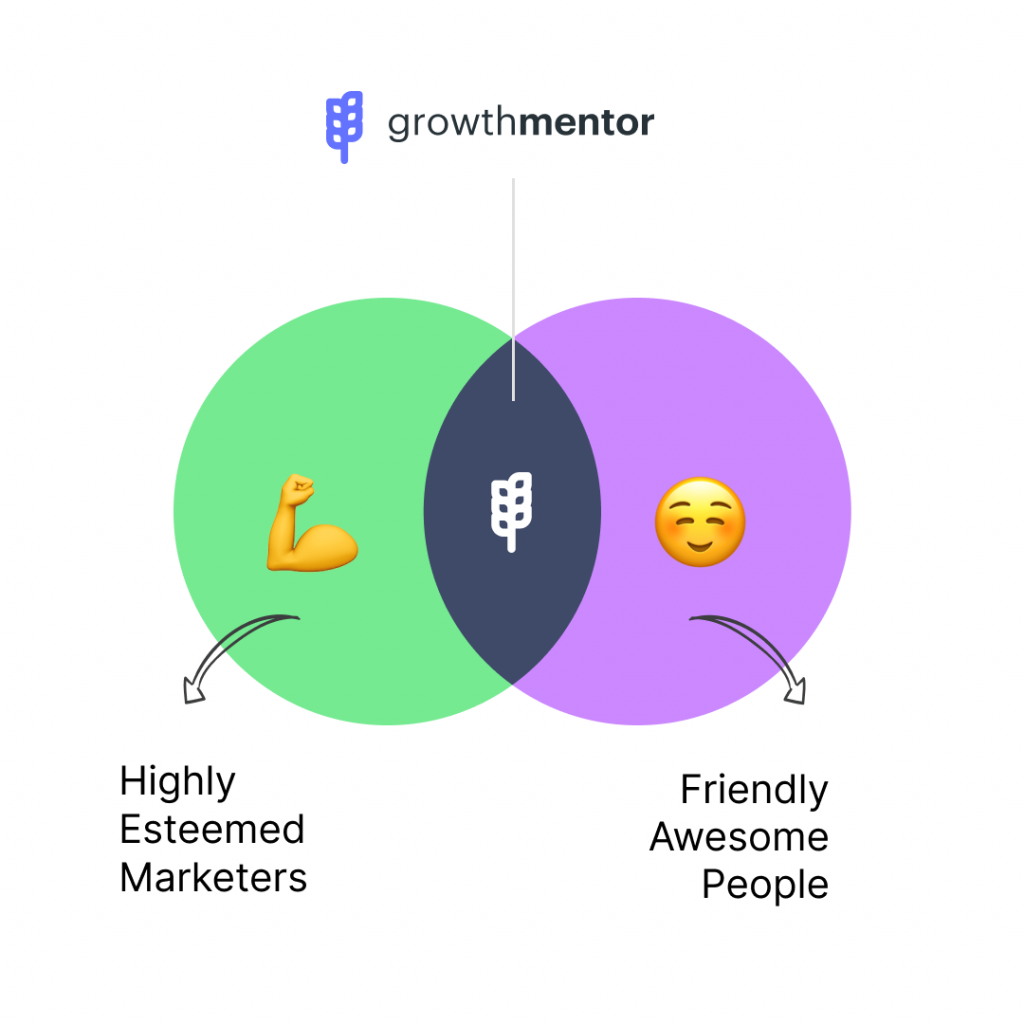 What happens during a call with a growth mentor?
Online sessions with mentors have no set or defined structure. Each and every circumstance is different, so each session will be unique.
Mentors are responsible for driving the direction of the call.
They'll be there to listen to your story and identify critical points in your decision making and help you understand your situation.
Make sure you share information relevant to the context of the problem that you're trying to solve. This will help the mentor understand what's important to you and give you usable insights based on their experience.
If you have technical questions about tools or software, the mentors are here to answer them, sharing your screen will help the mentors can get a better idea of your workflow.
Can sessions be extended beyond the originally scheduled time?
Each party is only responsible for being present and online during the agreed upon, scheduled time.
If you are having a great call and the time is almost up, ask the other person how they would like to proceed.
Options include:
Stopping the call and scheduling a follow-up call
Just keep going if both parties are cool with it 
If a paid call, the mentee can offer to book additional time to compensate the mentor if the mentor agrees to keep going
What's the catch? Will the mentors just pitch me?
We get this question a lot.
We are very good at weeding out mentor applicants that view this as a lead gen source.
You can rest assured that there is no "catch" or hidden upsell here.
What you get is simply a bunch of friendly startup and marketing mentors that just really enjoy helping people with growth. Nothing more, nothing less.
How do the mentors and mentees connect?
When you are requesting a call with a mentor you will choose with method you prefer based on what they have listed as available. The three main methods are Skype, Google Meet and Zoom.
If you prefer an alternative, please arrange that amongst yourselves.
The mentors that charge, what are their average rates?
We encourage startup-friendly pricing for mentors that choose to charge. Many mentors charge just $10-50/hour as a qualifier. The rates that the mentors charge are substantially less than what they'd normally charge for consultancy, so even with paid mentors, you'd be getting quite a bargain.
How do I know the mentors "know their stuff"?
We get around 300 applications per month from people wanting to become growth mentors.
We accept ~3% of them.
Through lots of trial and error, we've established a comprehensive four-step application process to help us to identify the individuals who will flourish as growth mentors.
Check out our Trustpilot reviews to see what our members are saying about their experiences speaking to the growth mentors.
Where are the growth mentors from?
North America, South America, Europe, Asia, Africa, Australia.
We're proud to be a thoroughly international community.
Can I book with the same mentor more than once?
Yes, but with a caveat.
Some of the free mentors only do repeat calls through their monthly coaching package.
How do I know I'll get the help I'll need?
Full disclaimer- there are no silver bullets for Growth, so we can't make any false promises.
If you have a growth mindset and are looking to connect with various experienced individuals and learn from them, you will get value from this platform.
We have a great filtering system and you can also post a help request for the mentors to apply to you. We are always around on live chat to help you with your selection as well.
Why are free trials not available?
Because we respect the mentors' time and want to ensure that the people reserving their free time are serious about the call and the advice the mentors are sharing. Learn more here.
Why are monthly subscriptions not available?
Because it's a marathon, not a sprint.
GrowthMentor is a community for those who are looking to constantly be evolving and developing their skills. This doesn't happen in one month's time.
The members who benefit the most from their membership are those who make a habit out of booking calls here and there if they have something they would like to go over with someone more experienced.
Can I get a refund if I decide I don't like GrowthMentor?
Yes. If it's not for you, simply cancel your membership within 14 days and contact support for a full refund.
Note that refunds are not possible if you've scheduled any calls or have breached our terms of service.
Why do mentors have to get three reviews before they can charge for their sessions?
GrowthMentor is a GIVE FIRST platform.
This policy literally enforces that.
This allows members to get access to high level advice at no extra cost.
If an extremely experienced mentor comes on to the platform with a super impressive resume, they will do their first few calls for free – so even bootstrapped startups can get on a call with them.
How long does it usually take for a growth mentor to respond to my session request?
Some mentors respond to session requests the moment they get the first email notifications and some take a bit longer and may reply once they get a reminder email from us.

Please keep in mind that mentors are located all over the world in different time zones and fall into the category of 'doers' who tend to have a lot on their plate at one time 
Can I share my account with my team members?
No, accounts are only for a single person. If you'd like your team members to get on calls, contact us for special team pricing rates.
What if I have just a quick question?
If you are looking for an answer and Google isn't cutting it, try asking in our Slack group. It's full of all types of marketers and founders from around the world!
Why did you create GrowthMentor?
Growth is hard, and sometimes we just need to talk to someone that "gets it."
And that's exactly why we founded GrowthMentor.