Changing the date or time of a session
Our system allows you to make changes to a session any time before the 24 hour start time of the session. This is to avoid last minute changes and respect both parties' time.
You will find your scheduled sessions in your 'Upcoming' queue.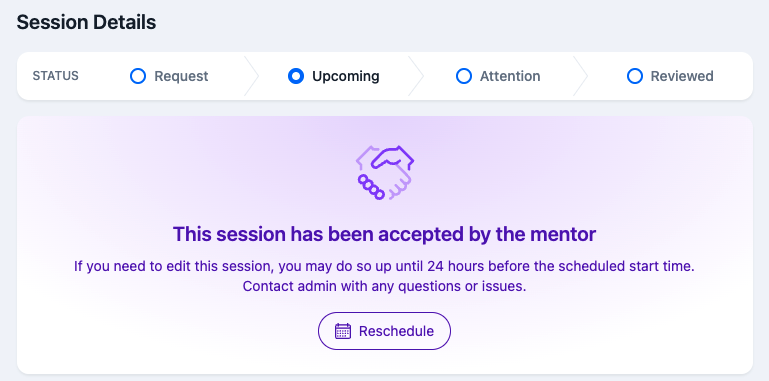 If you need to reschedule a session simply click 'Reschedule' and select a new time on the mentor's calendar.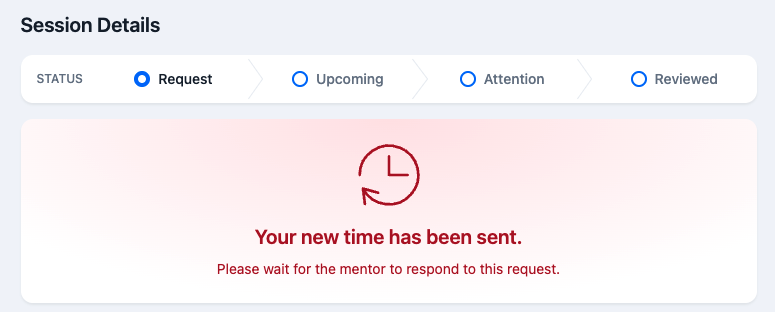 The mentor will then accept or decline the new time.
If the new time doesn't work for the mentor you will be prompted to pick a new time again.
Communication is key in these situations. To avoid the back and forth, simply ask when a good time is and go from there.
*Our system converts time zones, so be sure to mention your time zone when you are communicating via messaging. We have members and mentors all over the world.
Rescheduling a session that is scheduled to start in less than 24 hours
Contact the other person ASAP and explain your situation.  Hopefully you can come to an agreement and set a time to meet.  Admin can always help you with editing session times. Contact us via live chat or [email protected]
The mentor has the right to consider the session complete because they have set aside the time for your session and can not reschedule another one at such short notice. Attendance Policy
Read more > https://www.growthmentor.com/faq/what-do-i-do-if-i-cant-attend-my-session-that-is-within-24-hours/