2020 has proved a year of surprises and less than smooth sailing. But this chaotic year has opened up opportunities. The explosion of remote work offers the chance to revolutionize how your startup functions — if you do it right.
We're not just saying that because we have a penchant for working in pajamas, either.
But, there's a huge difference between "remote" and "remote-first" working. It comes down to one key point: do you encourage your employees to work remotely, or do you allow them to work remotely?
For remote-first startups, working virtually is more than just an option — it's the default. Even if these firms have an office, they ensure all their activities and decision-making processes don't revolve around their physical location. So whether employees are working in the same city as HQ or halfway across the world, everyone is equally involved.
Remote-first policies are great for employees: they can work however suits them best without worrying about missing out. As it so happens, it's also great for employers, especially startups. Don't believe us? Read on to find out why.
Create a Healthier Business
Startups thrive when they're able to keep costs low and stay agile. And it turns out not tying your company to a physical location only helps with those goals. From office costs to talent retention, going fully remote can improve your bottom line.
Cut Office Space Costs
Imagine a world where you didn't have to spend a penny on renting premises or buying furniture. That world is already here today.
It's not feasible for every startup to ditch the office altogether — maybe you need a physical base to meet clients or work on your products. But chances are you'll need much less real estate for a meeting hub than a full blown office. With an efficient way to talk, collaborate, and send important files to one another, your team can go a long way, working remotely. With a multitude of organizational applications available, you and your team can facilitate all your projects and interactions online
On average, companies save $11,000 for each part-time telecommuter. And that's just for your part-timers. Think of how much you can save with full-time remote employees. Not bad, huh?
Open Up A Worldwide Talent Pool
Most companies can only hire people who live within commuting distance of their office. That narrows your hiring pool significantly.
Sure, tech startups in the Bay Area might not need to worry about finding local programming talent. But it's tough to find people with specialized or specific skill sets.
Going fully remote opens your startup up to talent from all across the globe, increasing your chance of finding the absolute perfect fit for a role.
Amplify Your Agility
COVID-19 turned the winner board of business upside down. Traditional non-remote companies had to scramble to adjust while their employees were in lockdown. And all that adjusting meant lost productivity —and lost profits.
Remote working might not solve all your problems, but it sure makes it easier to cope with unexpected crises. If your business doesn't hinge on everyone making it to the office at 9 am, you'll be ready for almost anything.
This is what Matt Mullenweg calls Level 5 of remote work or the "Nirvana."  When employees have a greater capacity to fit their work around their life, it's easier to face challenges and adapt.
As we enter an increasingly uncertain future, that's no small matter.
Run Leaner and Better
It might sound cliché, but remote work can improve the productivity and efficiency of your startup. Wondering why?  Let's talk stats.
Boost Your Company's Productivity
Despite worries that remote working policies encourage employees to spend their work time with Netflix on one monitor and Excel on the other, remote-slacking isn't as widespread as some people think.
In fact, a Harvard study proved US Patent Office remote employees were 4.4% more productive than their in-office counterparts.
It shouldn't be surprising that people perform at their best when they wake up well-rested and work on a schedule that suits them. We all have different circadian rhythms. Remote work lets employees take advantage of their top performance times, whether that's 8 AM or 8 PM.
Plus, decision fatigue is real. it's common knowledge in the productivity world we should perform our most-important tasks as soon as possible after waking. Wasting that period on long commutes and "getting ready for work" is a tragedy.
Use technology to increase efficiency
There has been a drastic increase in the need for technology and remote work tools with many companies announcing permanent shifts to remote workforces. But remote work has its fair share of challenges, especially when it comes to maintaining high levels of productivity and communication. For this, you can use various Saas products and tools available in the market. Many startups are using project management tools like Monday for their team projects. There are also various marketing and communication tools that help in managing teams and processes. Many startups are also using unified CRMs for their business and remote teams. Using all these tools, you can automate processes and improve overall efficiency.
Reward Your Top Performers
Ever heard a manager say they're reluctant to go remote because they wouldn't be able to monitor what their employees are up to? Maybe you've even thought it yourself.
Instead of building your company based on a pessimistic outlook of how your worst-performing employees will react, consider the positive impact it will have on your top performers.
For employees who use their time well and get results, it's demotivating if management doesn't trust them to manage their time effectively. Don't drive these people away — reel them in by letting them structure their days.
This creates a culture where results are valued over arbitrary measures like time spent at the office.
Retain Your Top Talent
If your startup is remote-first, you'll have an edge over your competitors in hiring and keeping the best of the best.
35% of employees would change their job for flexible working locations. Former Procter and Gamble executive Scott Mautz observed that offering a work-from-home option decreases employee turnover by 50% on average.
But running remote-first shows a company is on the cutting edge. That innovative attitude can win the loyalty of your top talent. And it goes double for the younger generations in your workforce who dream of digital nomadism and designing their lives.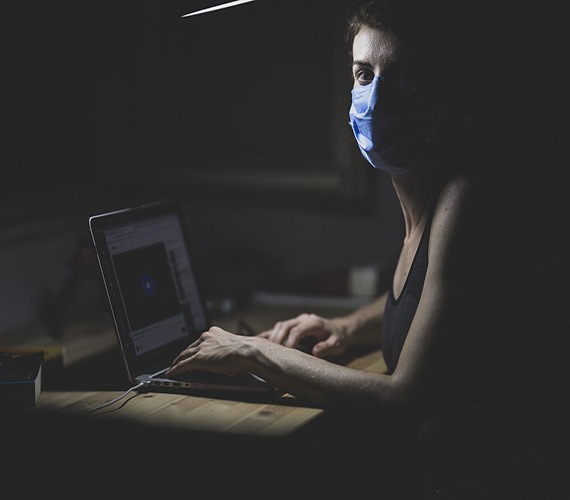 How to Network as a Remote Worker in a Post-COVID World
Read More
Keep Your Employees Happier and Healthier
In their mission statements, practically all companies claim to value their employees. But it's hard to implement policies that make a real impact.
Fortunately, remote-first work can be your best bet to prioritize your employees' health and wellness.
Increase Employees' Quality of Life
The numbers speak for themselves on remote work and living the good life. 97% of people say remote working would have a positive impact on their quality of life — it's tough to beat that!
Even if some employees are in that 3% minority, they can continue to work in your office or another coworking space if they want to.
Improve Your Employees' Overall Health and Reduce Sick Days
Does one guy like to meditate for two hours in the morning? Another goes jogging in the hour before lunch? Remote-first startups say: that's cool. As you empower your employees to structure their days and design their lives, their bodies will thank you.
50% of remote workers say they take fewer sick days and absences. Need I say more?
Provide Greater Inclusivity
Strict working hours without remote working can exclude certain groups, no matter how unintentional. For obvious reasons, parents are likely to struggle with keeping to a set office timetable — especially single parents.
Then there are those who suffer from physical or mental health conditions. 80% of people with disabilities say remote work is the most important perk for them.
By running remote-first, you'll provide everyone with the opportunity to do their best work.
Embrace Remote-First Policies Now
Remote work is here to stay. And for the startups who go remote-first, the possibilities are endless.
If you're worried about being a trailblazer, never fear. You won't be entering completely uncharted territory — there are plenty of firms to take inspiration from. From giants like Slack and Stripe to startups with fewer than 100 employees, these companies are paving the way for the future.
So stay ahead of the curve. Take your startup remote! And if you're looking for advice on how to do that, check out our remote work experts standing by to help!