How to stop taking notes but still remember everything in your mentorship meetings
Mentoring and getting advice from mentors is a great way to grow your skills and further your company/career in a given field. The insights you can gain are incredibliy valuable and sometimes you don't know whether you should be asking more questions, paying attention, or writing down notes.
Recording meetings could be a solution, but who has time to go back through and revisit sessions after you've gone through them? More importantly, it can be difficult to keep all your recordings categorized and searchable.
So they end with having one place to store their recordings, and another one with notes scattered around multiple google docs and notion pages.
What if you could have someone record your sessions, take notes for you, and store everything in just one place?
About Meetgeek
Meetgeek is a virtual meeting assistant that automatically joins your Growth Mentor sessions hosted on Zoom, Google Meet, or MS Teams, records, takes meeting notes, and sends the meeting highlights to participants.
Some of the main benefits:
Automatically records and transcribes your meetings so you can focus on getting all the insights you need, 30 minutes pass really fast
Have all your sessions and insights in one place to reference them later
Share impactful stories and key takeaways with your team
Repurpose your transcription in blog posts or other educational assets
Improve your follow-ups, live up to your commitments, and never forget the details
How mentors use MeetGeek in their sessions
Peter Murphy Lewis who started 3 B2C brands successfully in South America, each in different customer segments, is using Meetgeek for his team meetings at StrategicPete, his healthcare team at Experience Care, and with his podcast guests on LTC Heroes.
Ari Bencuya, 3x Founder and Start-up Mentor, is recording all his meetings with other fellow mentors and plays around with the AI meeting assistant features to custom build his highlights. He is now part of the Meetgeek team and shares his passion and product feedback with other like-minded people.
How mentees manage their insights
Daniel Pirciu has been a mentee for over a year now and he's crazy in love with our Slack community and so many insights he's gathered for a couple of startups he's working with. A Growth Marketer he almost always shares his screen during his sessions showcasing ideas in Notes, numbers in Google sheets, or charts in Whimsical, so having a video recording available to capture feedback on the spot is crucial. Also, he often revisits the recording and the transcription after a couple of days and manually labels key takeaways.
He often shares (with the mentors' approval) some key insights from his sessions on his Linkedin profile. This helps him to look smart, and improve his brand and reputation.
As an example, here are the main highlights after my session with Nick Schwinghamer, Former Director of Growth, Operations, and Partnerships at Shopify. Daniel got crazy insights on how to approach and structure a partnership program, and what worked for Nick at Shopify.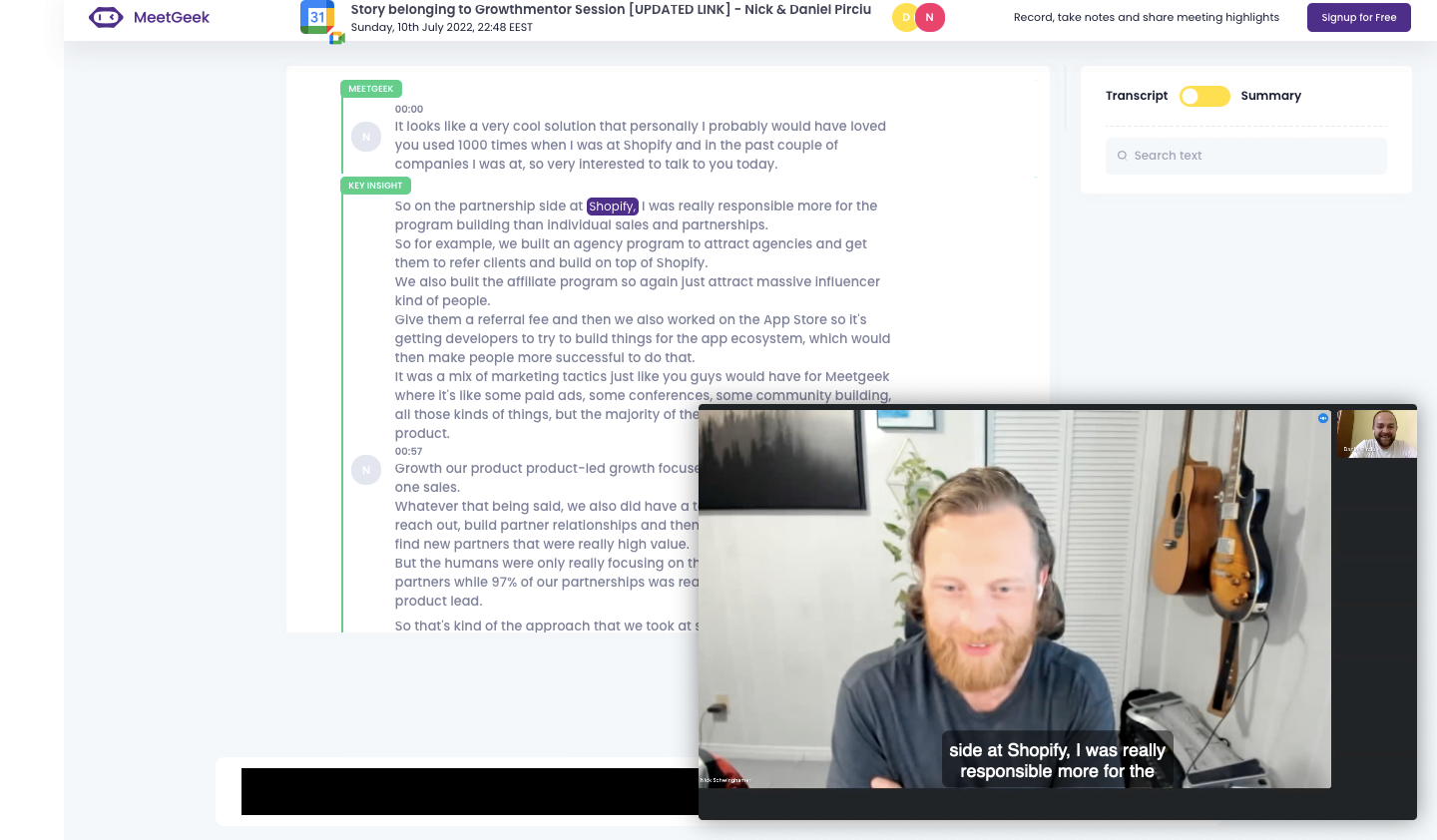 Another insightful session was with Yoav Farbey, Product Manager at a CleanTech startup. Here are the main highlights. They talked about how to structure a product-led funnel and what metrics you should look at, and how they are interconnected.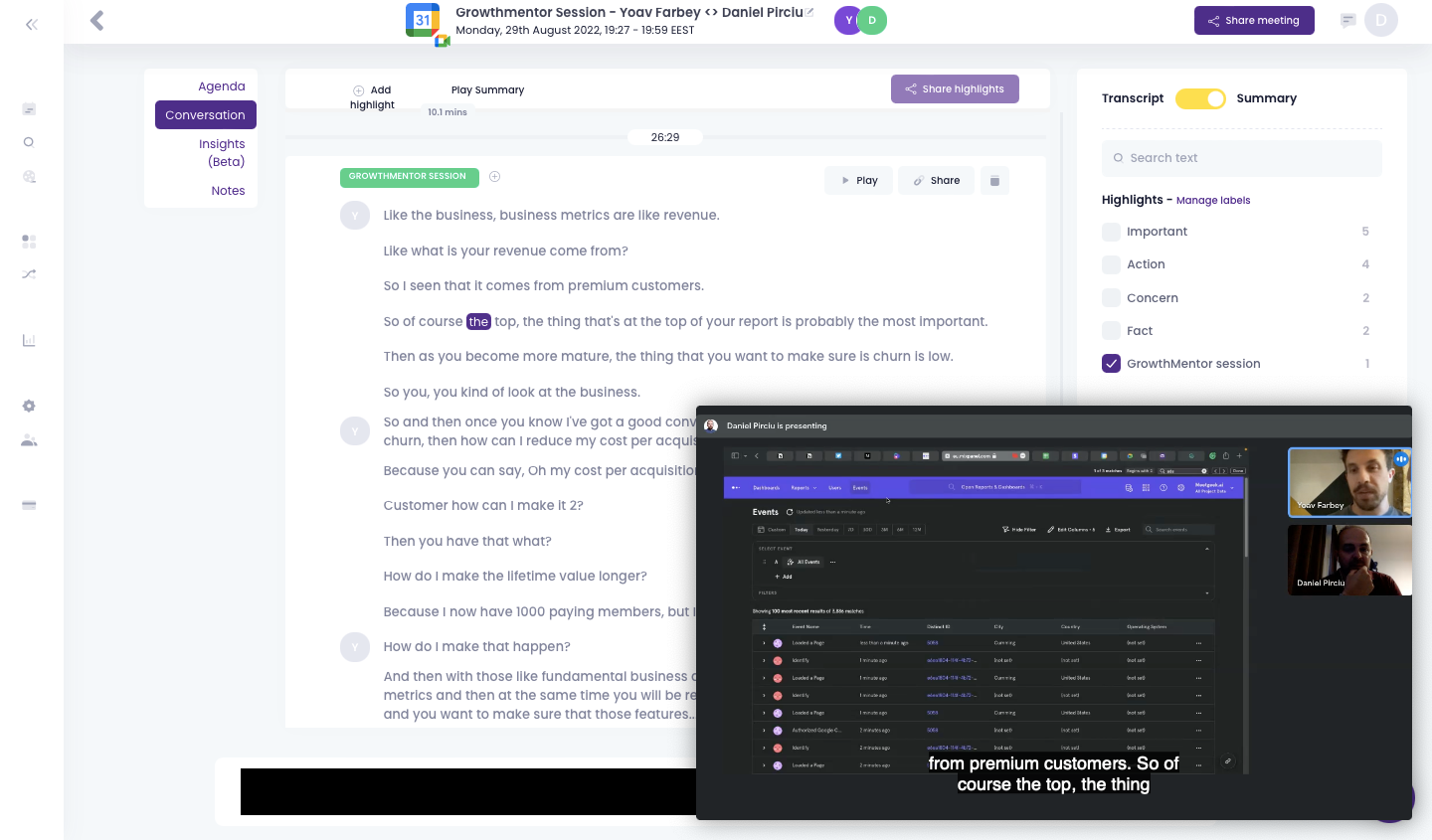 Other use cases
Outside of recording mentorship sessions, MeetGeek is used for:
Consultants – Focus on having high-quality conversations while all the important information is automatically captured for you
Sales & Account Management – Gong and Chorus at a fraction of the cost
Hiring & Recruiting – Listen to your candidates and capture subtle remarks and concerns.
Because Meetgeek is part of our community, you have 20% OFF for your first 6 months. Just reach out to Foti and he'll send you the discount code.