According to Crunchbase, there are more than 11,622 SaaS companies out there. This means that competition is rough.
It also means that most link building strategies for software companies have already been tested.
The question is:
Can you still build high-quality backlinks for your SaaS and if so, how?
In this quick guide, I'm going to share with you a step-by-step process to improve your backlink profile and grow your organic traffic.
Let's get started.
Step 1: Define Your Target Pages
The first thing you need to do when it comes to building links for your website is to define your target pages.
When it comes to content marketing and SEO, in most cases, only a handful of pages will be responsible for the majority of traffic on your website.
For example, knowledge base software HelpJuice receives almost 40K organic visitors per month as per Ahrefs.



You might assume that this is an indication of a website with many pages, among which are numerous top-performing ones.
However, if you take a look at the top pages report on Ahrefs and filter content pages (pages including /blog/), you'll see that it's actually a small number of pages bringing in the most traffic for HelpJuice.
This is something fundamental to many websites across different industries and verticals.
Of course, not all of these pages have the same commercial value for HelpJuice.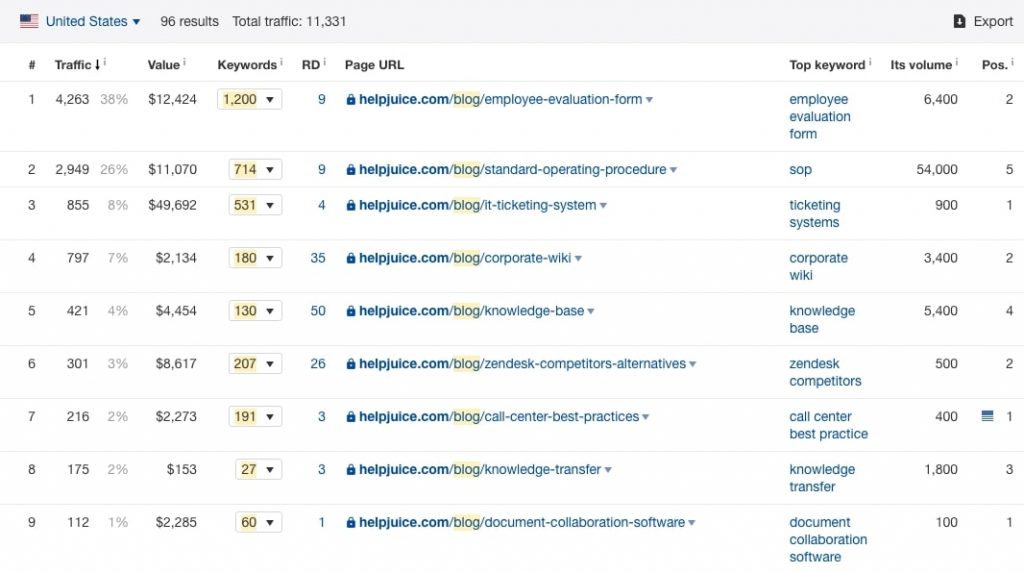 Our job, before we start building links, is to find the pages that have the most value for us and focus on them.
Why have your marketing team or vendor focus on pages that underperform or have no business value?
Roughly speaking, the purpose of a page may be:
Customer education
Lead generation
Organic traffic
Social shares
Backlinks
When deciding on what pages to focus on, you should always keep in mind that your content creation and amplification efforts should be based on at least one of these goals.
For example, if a page is intended to generate some buzz on social media (e.g. get retweets and comments) or be shared by influencers, why bother investing in link building for that page?
If, on the other hand, a page has the potential to generate traffic with commercial value, then you need to consider investing in amplifying it.
Once you define the pages that are most important to you, you then need to divide them into the following categories:
Commercial Pages
Content Pages
Let's look at some examples to better understand this idea.
The following page by GrowthMentor on content marketing consultants is obviously a commercial one.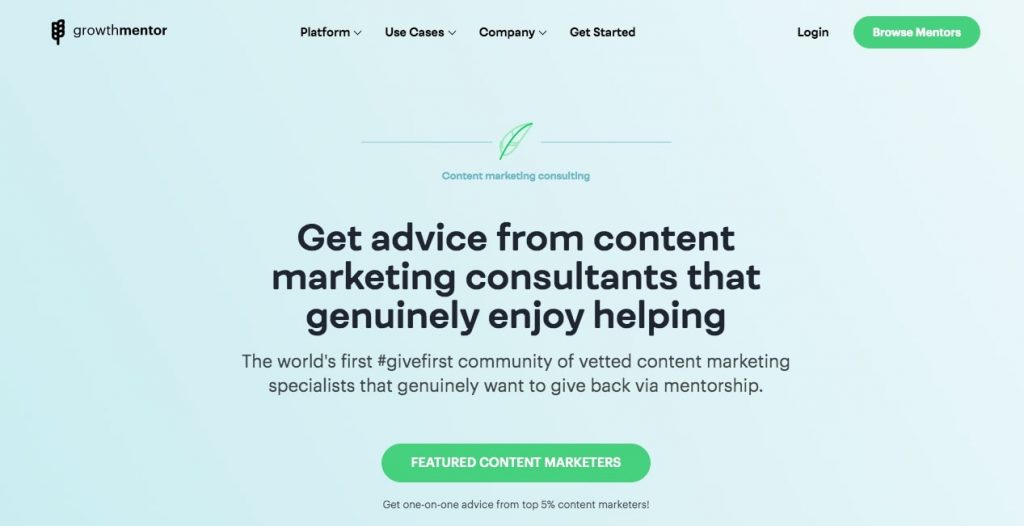 It aims to get people to sign up for the platform and find a content marketing consultant.
On the other hand, this guide on how to create an online course by LearnWorlds is clearly a content page.
It educates users on how to create online courses.
However, at the same time, it generates organic traffic, a percentage of which can be converted into leads for the company.
Another example of a content page is this page on proactive customer service by messaging tool Tidio.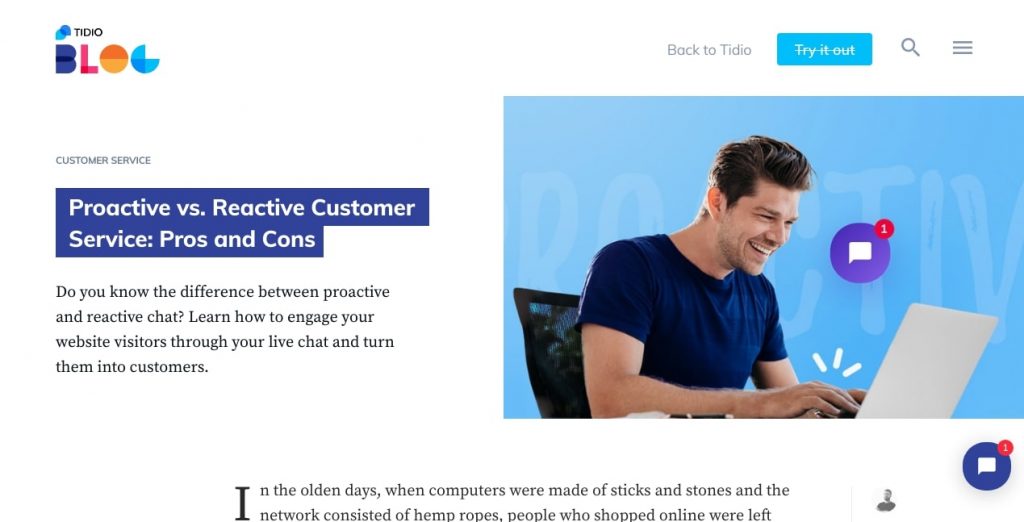 Its primary focus is to educate customers (and Tidio users) on a topic that's relevant to the product.
Last but not least, a page on Mailchimp alternatives like the following by Moosend falls into the intersection of commercial and content.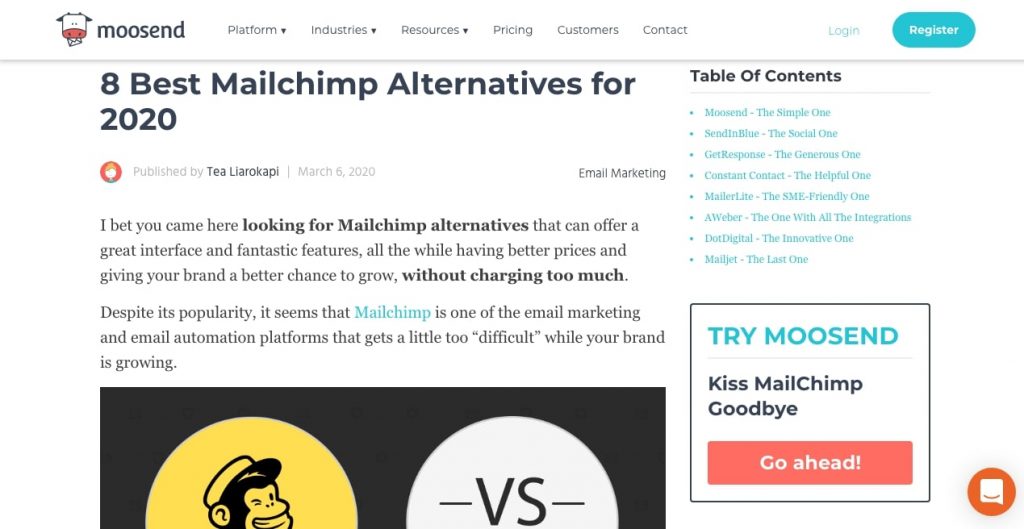 This is primarily a content page, but one with quite high commercial intent, since the target keyword here ("Mailchimp alternatives") has an average CPC of $30.


Once you define your target pages, you can start prospecting.
Step 2: Prospecting
Once you've identified and defined your target pages, you need to start prospecting for link building.
According to a guide on email outreach by Digital Olympus:
"Link prospecting is the art of finding opportunities for link building."
It is in fact that prospecting for link building is some kind of an art.
It requires hard work, a process in place but also creativity that will help you find unique ways of finding prospects to reach out to.
In our experience working with SaaS businesses from all over the world, we've identified certain tactics to be the most effective ones.
Of course, this doesn't mean that other tactics can't be effective.
It just means that these tactics happen to be the ones that we mostly use for our own clients.
Tactic #1: Guest Posting
Guest posting is when you're creating content that's getting published on other people's websites.
The post you're reading right now is a guest post.
Ideal for:
Guest posting is ideal for early-stage SaaS businesses—companies that haven't yet found a product-market fit (PMF).
A great case study here comes from Clearscope's co-founder, Bernard Huang, who in the early days of his software company was publishing guest posts as a way to build links and raise awareness for Clearscope.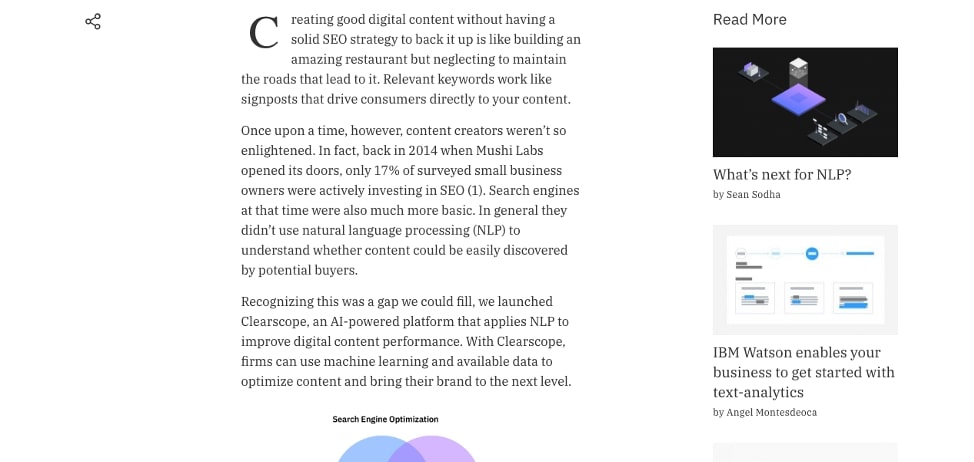 Why we like it:
Even though we mostly work with post-PMF companies and not early-stage SaaS startups, we still like this tactic because it helps you build relationships with publishers and editors from really popular SaaS blogs.
What we don't like about it:
It's not scalable.
If you think about it, you can produce only a certain number of pieces of content each month.
Thus, even though a great tactic, it's not as scalable as other tactics for building links.
However, if you're not interested in scalability—which is typically the case for companies still in their early days—then you should definitely use this tactic for your business.
Tactic #2: Content Promotion
Content promotion is when you promote a piece of content to bloggers or websites that could be interested in including it in their published posts.
Ideal for:
This tactic can work really well for companies that consistently publish quality content or are good at creating linkable assets.
However, you need to keep in mind that in order to be in the position to promote your content, you have to feel confident that it's good enough.
Using the metric Active to Passive Link Building Ratio, we're in the position to know whether or not a page is "capable" of acquiring links on its own through the visibility it has on Google, for example.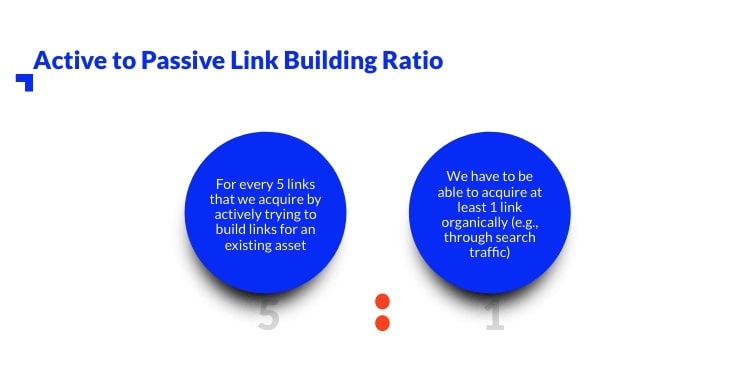 If the page doesn't acquire any links on its own, this may indicate that the content isn't as good and thus can't be promoted as heavily.
Why we like it:
This tactic can lead to some quick wins, especially when we're promoting something linkable like an infographic.
What we don't like about it:
You have to be determined to consistently create content that stands out.
Unfortunately, most companies can't afford (or don't want) to do that.
Even though a great tactic, if the content isn't good enough, you simply won't be able to promote it accordingly.
Tactic #3: List Posts & Comparison Guides
When it comes to software, people are constantly comparing and looking for solutions online.
This is when you can pitch your own solution—in case you're not included in the comparison or list—and get featured in that post.
Ideal for:
This tactic is ideal for companies that want to promote their feature pages (in most cases, pages with commercial value) or homepage.
However, to be able to suggest yourself as a solution, you need to have generated some awareness in your market first.
For example, if you want to be included in a post about the top mentoring platforms like the following on HackerNoon…



Then you'd better be able to pitch something that people already know about.
Otherwise, it is highly unlikely you'll make it to the list.
Why we like it:
For SaaS companies with a strong brand and high authority in their market, it's really easy to get features and mentions.
Most importantly, this tactic allows us to get links back to feature pages, which by nature aren't linkable but in most cases still have high commercial value.
What we don't like about it:
If the company isn't as popular or its features aren't yet well-known, it's not easy to get results.
You also need to be sure that your pitch is highly relevant in order to get a reply and a link placement.
Once again, there are many other tactics you can use to find prospects and build links (e.g. podcasts).
These just happen to be the ones we primarily use for our clients.
Let's move on to the next section, which is about qualifying your selected prospects.
Step 3: Qualification
So, you've come up with a list of tactics that you're going to use.
You've also started prospecting and now have a list of prospects to whom you want to reach out.
The question is:
Should you reach out to all of these prospects?
The answer is that you shouldn't.
This is because you need to qualify your prospects and reach out only to those who are really worth it.
Your set of criteria may be different, but for us at MINUTTIA, the main qualifiers are the following: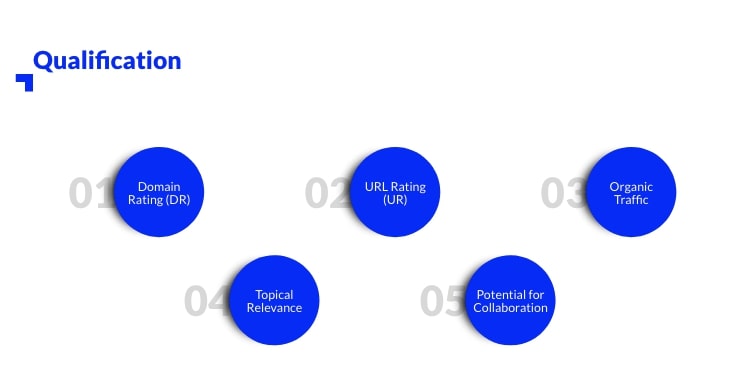 At this point, we should mention that the qualifiers we use will differ based on our tactics.
In other words, we're not going to judge an opportunity for guest posting—where the time investment is much higher—and another for link reclamation the same way.
Besides the typical metrics that most link building agencies and freelancers use, we're also paying attention to the potential for further collaboration.
This means that we're looking for co-marketing activities and other synergies that may come up with the prospects we're going to reach out to.
Very often, some of these activities include:
Webinar co-hosting
Guest posting to each other's blog
Sharing content on each other's email list
Some additional qualification criteria we use include: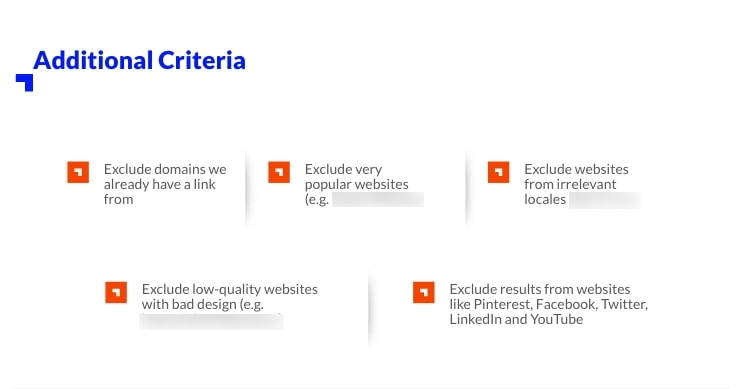 The truth is, many people think that any link is better than no link.
We don't believe in this approach.
Instead, we believe that every link should have a purpose and value to pass on.
Some of the most prominent goals of acquiring a link are:
Passing on link equity
Sending referral traffic to your website
Helping certain pages on your website rank in higher positions
This is why, based on the purpose a link serves, even a nofollow link may have a significant impact on your business if, for example, it comes from a high-authority website like Forbes.
Thus, it's important to not judge websites solely by their Domain Rating (DR) or URL Rating (UR).
Use a holistic approach when it comes to judging and qualifying your link prospects.
Step 4: Outreach
So, by now you should have chosen the tactics you're going to use and made a list of prospects you're going to reach out to.
The final step of the process requires you to actually start reaching out to prospects.
Author's Note: If you're just starting out with link building, make sure to conduct an audit on your backlink profile before launching your link building campaigns. This guide on how to conduct a backlink audit will show you how to do that.
For this reason, we're using the link building tool Respona.
The good thing about this tool is that it helps you find the best contact to reach out to.
For example, for a company like GrowthMentor, the best person to reach out to is the company's Founder, Foti Panagio.


The tool will then find the best email for you and help you draft a highly personalized email for your outreach campaign.
When it comes to outreach, you have to be aware of the following points:
Try not to promise links or mentions in exchange for a link placement unless this is a specific part of your strategy
The scope of the communication is to acquire a link, so leave discussion about any further collaboration for after you achieve your primary goal
Be honest and transparent about your intentions
Be nice to people, even if they gave you a negative answer
Remember, link building is all about building relationships.
Therefore, be sure to keep it real, build and follow a process, and be consistent with your efforts.
Wrapping Up
I hope that by now, you're a step closer to understanding the importance of link building and how to best go about it.
I also hope that you're closer to understanding how building links can truly impact your business.
If link building isn't part of your SaaS marketing strategy yet, you should reconsider the way you're doing things.
My advice is this:
Experiment and come up with a link building process that works for you.
Following a specific and repeatable process will allow you to consistently build quality links for your SaaS website.
Most importantly, always remember that link building is only a by-product of creating and publishing great content.
Simply put, you can't build links without having something linkable to pitch.
Good luck with your link building efforts!