Aspiring remote marketer?
Whether you are looking for your first remote marketing gig or an experienced growth marketer considering switching over to a WFH setup, 2020 is the year of remote work.
The COVID-19 pandemic has finally normalized the working from home.
One thing is clear: remote work is here to stay – and can't be considered a "nice-to-have" perk anymore.
Below we've listed the best sites for finding remote marketing work online.
Where to find remote marketing jobs
Hey Marketer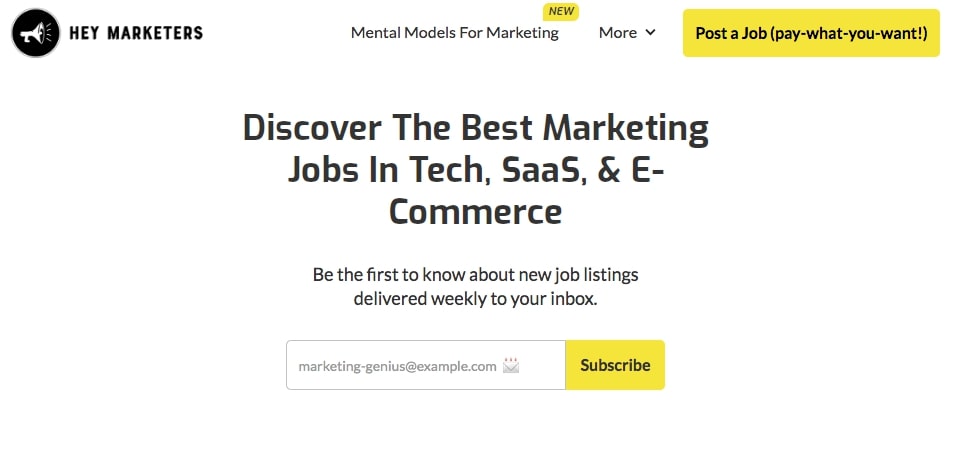 Key Facts:
A well-curated site for remote marketing job listings. Best of all, the site is free for job seekers.
Focused on marketing jobs in tech, SaaS, and eCommerce. They also have a great variety of roles – content marketing, social media management, paid ads, and more.
Demand Curve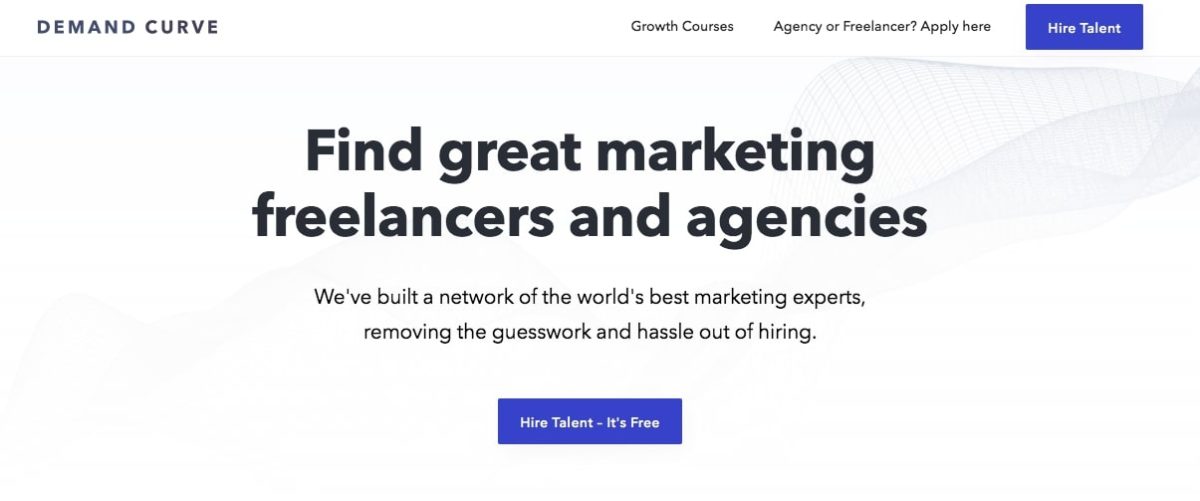 Key Facts:
A premium network of some of the best marketing talent in the remote marketing space. The Demand Curve team extensively vets each freelancer (including yourself) before being added to the network.
Trusted by entrepreneurs, startups, and businesses of all sizes.
Job categories range from brand marketing, conversion rate optimization, email marketing, and more.
MarketerHire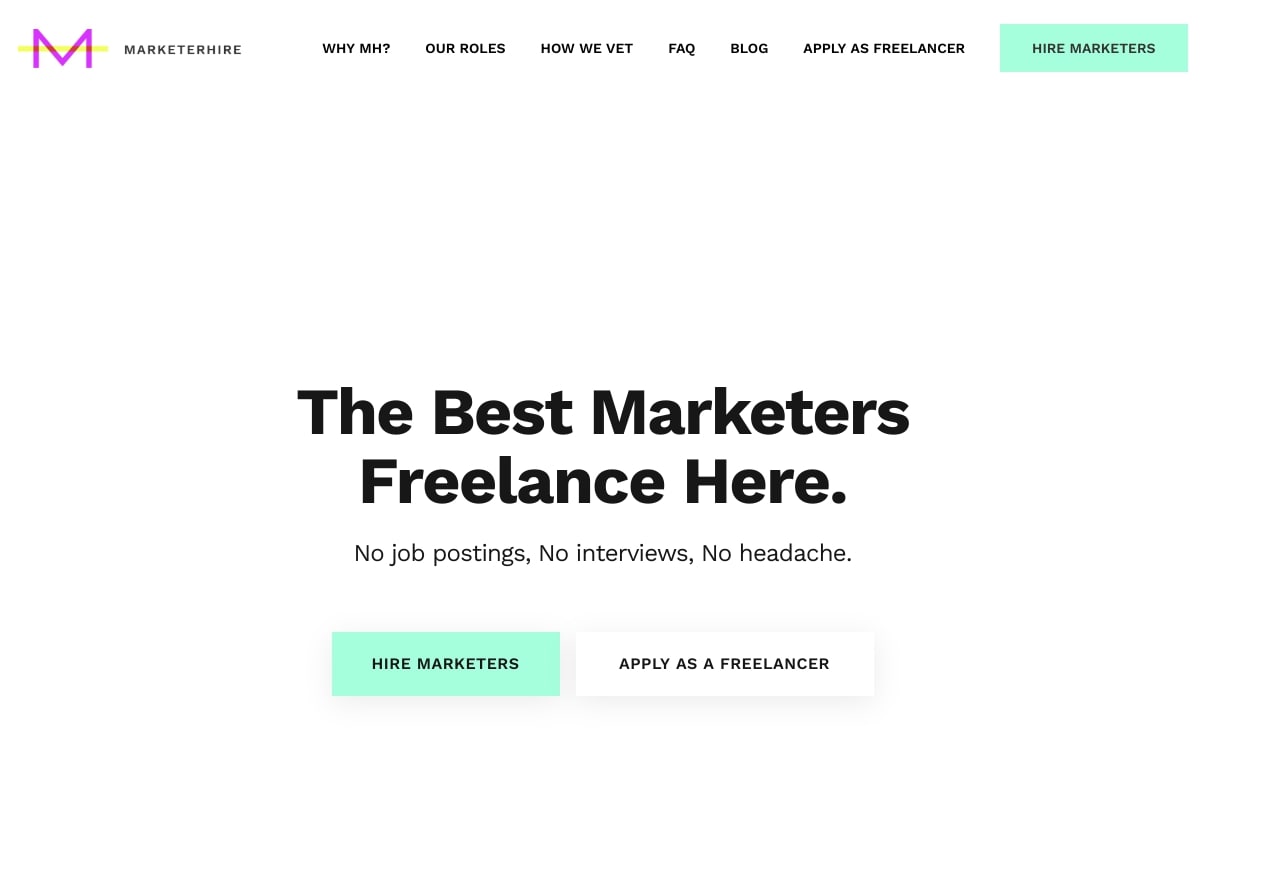 Key Facts:
A robust job board of some of the best companies and brands in every category. Expect a rigorous screening process when applying to join the MarketerHire network of freelance marketers.
They only accept the top 5 percent of marketers from the mountain of applications they receive yearly.
A wide range of roles ranging from Amazon marketer to remote Chief Marketing Officer roles.
Advisable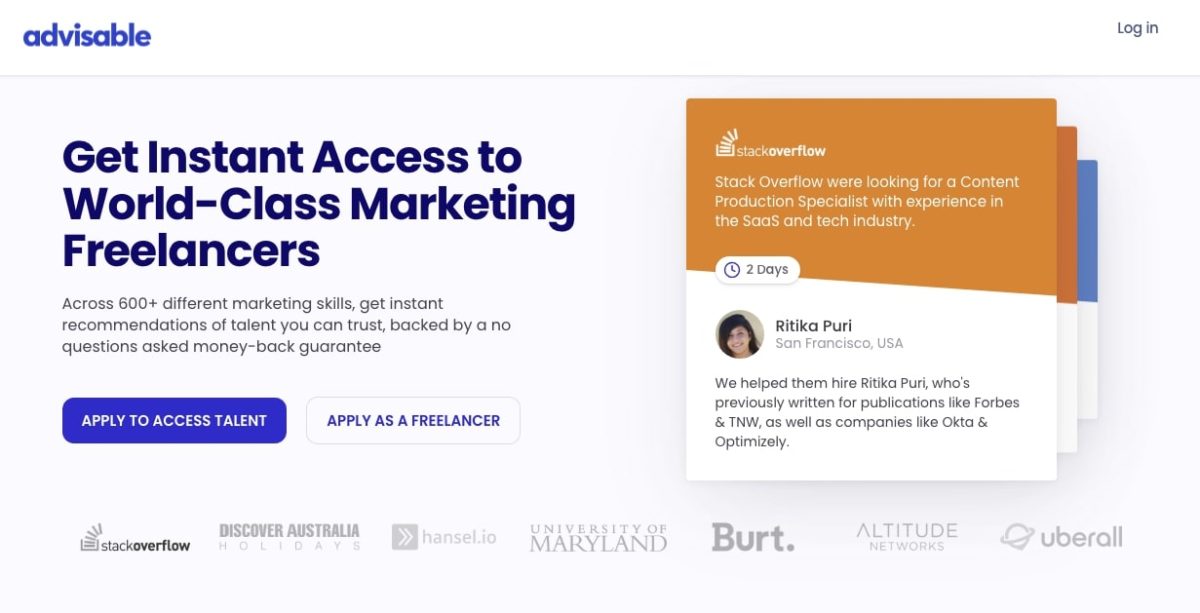 Key Facts:
It provides you with high-quality opportunities based on your background and niche skill.
Every freelancer on the Advisable network is vetted, and reference checked.
Also offers project management services to help you manage your tasks.
High-caliber clients such as Stack Overflow, Intel, and Barclays.
Growth Collective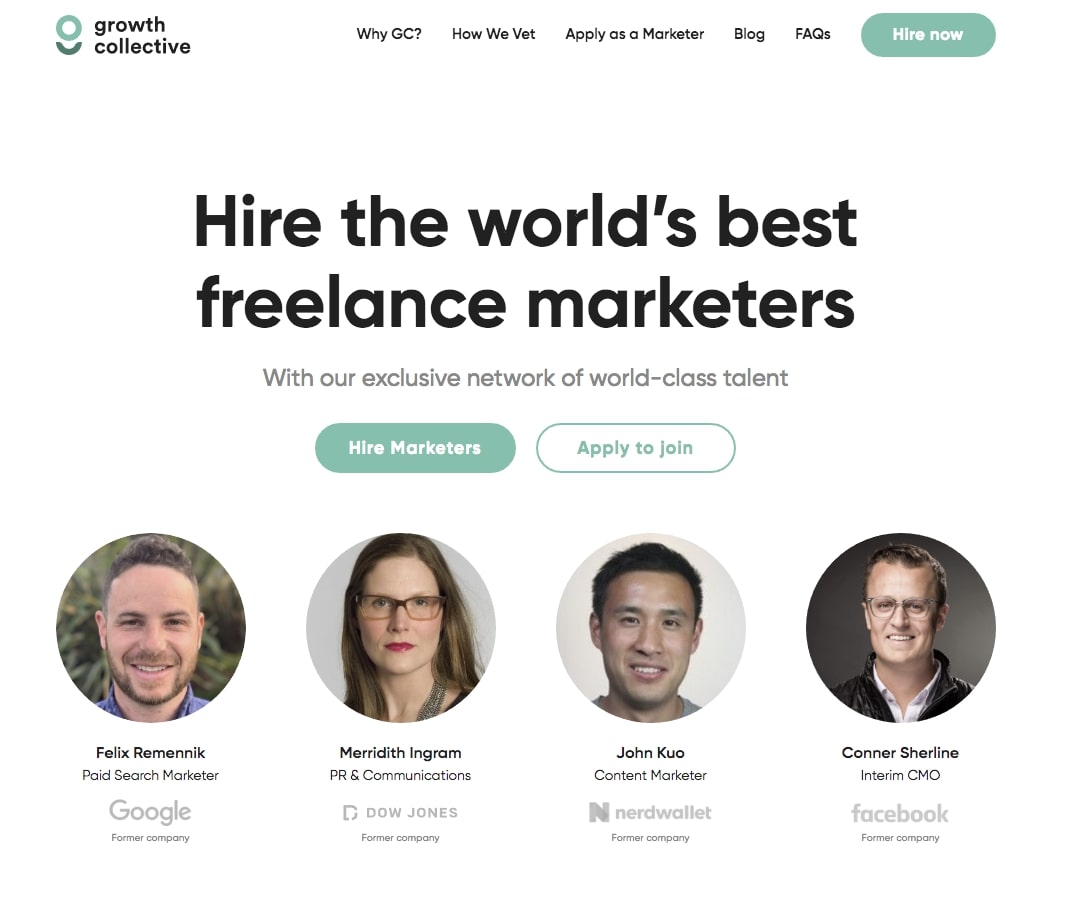 Key Facts:
Identifies top tier marketers through its proprietary vetting process and connects them to high-caliber clients.
Primarily a referral or invite-based network.
It is an incredible resource for freelance opportunities with quality clients in growth marketing, paid search, SEO, and more.
Remote job platforms to avoid
If you want to enjoy your remote working experience, there are a couple of platforms you might want to avoid.
The two most prominent culprits are:
Upwork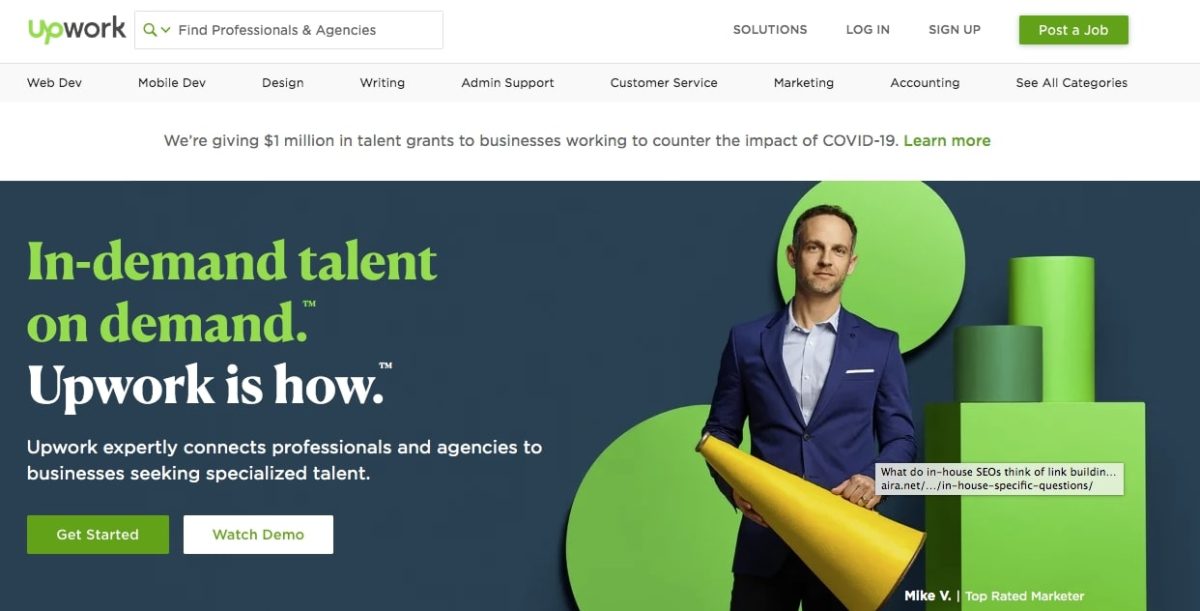 Why?
Its pricing dynamics are structured that you have to undercut your competition to win the job.
Low-quality jobs that do nothing but demean your confidence.
Their pricing and commission model is somewhat excessive.
Fiverr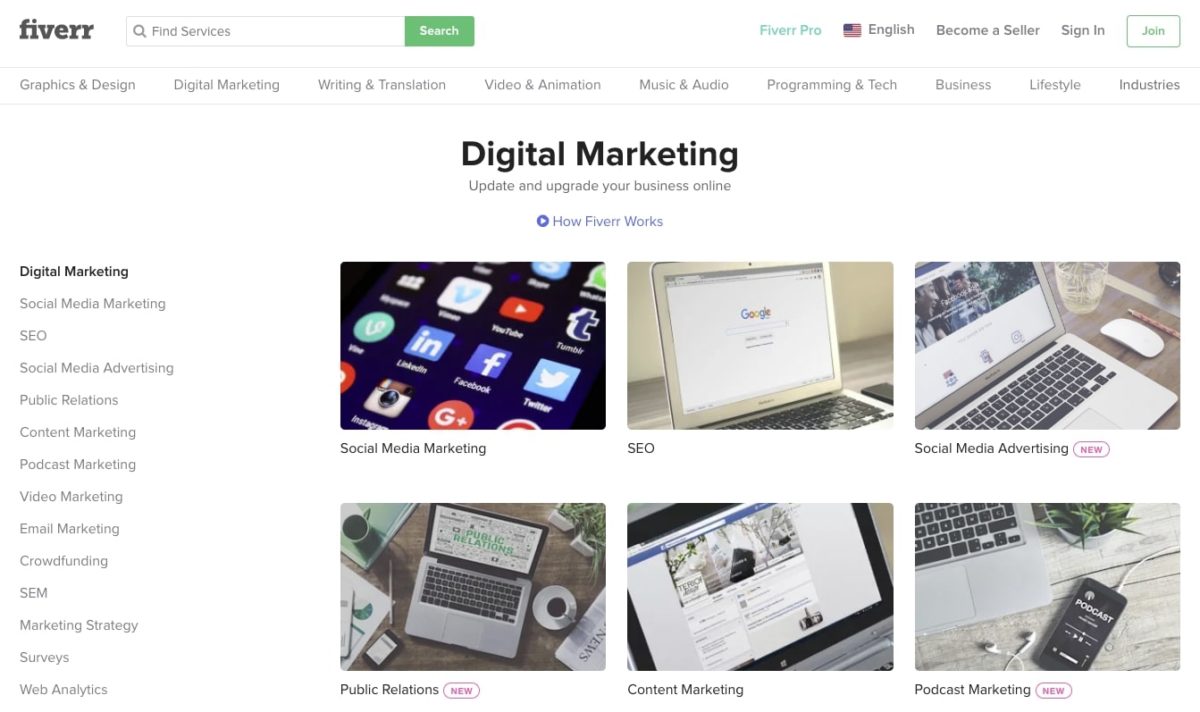 Why?
Forces you to put cheap rates on your skills and services.
Quantity over quality – loads of clients, but all are cheap employers looking for a freelance marketer at the lowest possible cost.
The Caveat
If you're new to remote marketing, you can use the above platforms to get some quick wins:
Boost your confidence
Build up your portfolio
Get into the remote working groove
Getting your first remote marketing gig
Finding your first remote marketing gig can be a tad challenging.
Here are three best practices for securing your first remote marketing job.
Highlight the appropriate skills
Hirers need to know that you've got the skills necessary to do what they want.
Make sure you highlight the skills that match those listed by the recruiter. Where you have deficiencies in one or more of the skills needed for the role, highlight similar capabilities, and demonstrate the similarities.
For example, an Amazon marketer should be able to handle email marketing comfortably.
Practice your elevator pitch and remote interviewing skills
Remote interviewing is a different kettle of fish.
Most first-timers are shocked at how different it feels from an in-person interview. Spend some time polishing your elevator pitch and your interviewing skills.
Practice how to handle a slow or bad network connection or how to break the ice without sounding too awkward.
It's still a human at the other end of the connection.
Find a quiet area for the interview
Ensure you get a quiet spot for your interview.
You don't want to go through the painful experience of not being able to hear the recruiter or vice-versa.
Full-time vs. part-time vs. gig roles
Firstly, before we decide on which is best for you, let's explain the difference between these terms…
Full-time: Employee who works 40 hours a week.
Part-time: Employee who works 30 hours a week or less.
Gig worker: Independent contractor or freelancer who works by the shift (hour) or by the project.
Pros & Cons
| | | |
| --- | --- | --- |
| | PROs | CONs |
| Full-time | Stability in earnings, Health & insurance benefits, Fixed working schedule | Risk of career becoming stagnant, Work hours are not flexible |
| Part-time | Ideal for family-oriented individuals, More time for side projects, Reduced stress levels | Lack of benefits, Career growth is sometimes slower, Lack of job security |
| Gig worker | Flexible work schedules, Allows you to explore a new passion or side project | Inconsistent cash flow, Lack of benefits, Risk of burnout |
Related: Learn more about what Fractional CMOs are
How much money can you make?
As a remote marketer, you can make as much as a traditional 9-5 marketer, especially if you are smart and well-organized.
As at writing, Indeed.com states that:
An entry-level marketer with under 1-year experience in the United States earns an average of $35,696 per year. Examples of such roles would be a marketing coordinator or a social media specialist.
A remote marketer with 1-3 years' experience would earn an average of $45,399 per annum in the United States. An example of a role that requires that level of experience would be a social media manager.
A marketer with 3+ years' experience would earn an average of $52,921 per annum. Roles such as marketing specialists would require that level of expertise.
Getting a remote marketing job if you're inexperienced
Inexperienced?
Not to worry!
Jessica Lim, HR Manager at MyPerfectResume, says "You can increase your chances of landing the job you want by making your CV look more attractive. You can do this by including certifications, internships, or any side gigs you've done in the past that are relevant in the field, especially if you don't have much work experience."
Here's how to land your first remote marketing job despite your greenhorn status…
Find an apprenticeship or internship position: The conditions are usually not as stringent as the full-time roles, and you can get in and prove yourself.
Start a side gig: A side-gig allows you to build a portfolio of relevant projects and skills. You can then showcase these projects and expertise on your resume.
Get certifications: Certifications are a great way to quickly upskill yourself and catch the eye of your potential employer. Remember earlier on when we said you needed to stand out from the crowd?
Find a mentor: The right mentor can significantly improve your odds (we speak from experience). You can leverage your mentor's insights and guidance to crush your interview with ease.
Need help finding a remote marketing role?
Get matched to a remote work mentor that's got experience working in remote job roles.
Remote jobs trends (post COVID-19)
While you are still considering whether to start your job hunt, here are a couple of remote job trends to look out for in 2020…
Rise in remote focused working tools, services, and resources.
As more firms move online, expect an increase in the launch of tools that facilitate virtual collaboration and communication of remote teams. There are already quite a few remote-friendly tools and software like Slack and PukkaTeam.
There will also a rise in services, guides, and resources to help a first-time remote worker get started as seamlessly as possible.
Increased interest in work-life balance by companies
The world is currently trying to make sense of the devastating damage to the global health system. In response, most companies are beginning to institute policies that ensure employees have a healthier work-life balance.
This means that more companies are open to flexible job schedules for existing employees. They are also willing to seriously consider candidates who exclusively state that they are only interested in remote opportunities.
Increased competition for opportunities
More people plan to work remotely in the near future – this means that competition for spaces will be fierce.
General marketing skills might not be enough to get you through the door. Niche skills or specializations that differentiate you from others will help you stand out. If you aren't sure how to go about it, this post about T-shaped marketers is a great place to start.
Ready to start your remote job search?
Famous fully remote startups
The COVID-19 pandemic has disrupted the workplace as we know it. However, a handful of startups have been working 100% remotely for a while now.
Termed "virtual companies," some have no physical offices. Everyone telecommutes to work. Here's a list of some of the most prominent startups who are currently at the bleeding edge of remote work:
Basecamp: Basecamp is a real-time communication and project management for teams of all sizes; Freelancers, small shops, mid-sized companies, and multinationals all rely on Basecamp.
Automattic: The mission of the folks at Automattic is to make the web a better place. They are the creators of some of the most popular tools and platforms on the internet: WooCommerce, WordPress.com, Tumblr, Akismet, and more.
Github: GitLab is an open-source development platform that allows for collaboration across projects. Users can host code remotely or work with distributed teams on issues across a unified user interface.
Aha: Aha is a product road mapping and project management tool for product management teams.
Zapier: Zapier is a work automation tool that allows you to focus on what matters. It connects to 2000+ apps and is a significant boost for productivity.

Remote work offers advantages for women in the workplace, mitigates biases against them, and creates opportunities that they might not otherwise have.

Deb Tennen, Senior Editor, Zapier Blog
Skills needed for a remote marketing roles
Remote working is not all unicorns and rainbows.
Yes, you get to pick your working hours, you can even show up to check-ins in your pajamas.
But you can also spend most of that time battling distractions and procrastination.
To succeed as a remote marketing ninja, you need to hone and master these three essential skills:
Excellent self-organization
The life of a remote worker is mostly unstructured. While this has its advantages, it can also be a time sink if you don't create some schedule or routine for work. Some remote workers can work within this kind of structure.
So, the most important advice here is – "Know Thy Self."
If you are among those who need a routine to be at their productive best, then make sure you create one. Stick to it for the first 2 – 3 months, at least. That way, you can optimize for distractions, breaks, and "focused time."
Time management
Working from home means you don't have your line managers or co-workers physically around you. This means there is no one to remind you about deadlines or the need to stay focused on a task.
If you are always late with your tasks or seem to show up to team online meetings late, you would be back scanning through the remote marketing job boards sooner than later.
Time management is a crucial skill. There are tons of tactics and tools you can use to manage time much better. A popular technique most remote workers use is the Pomodoro technique. With this tactic, you work for 25 minutes intermittently with 5 minutes break in-between to recharge. You can also use a post-it note or a day planner to list out your tasks and tick them off as you complete them.
Strong written and verbal communication skills
A remote marketing job will entail a lot of video conferencing, email, and instant messaging with your team and clients. This would mean that any lack of clarity in communication would not only waste time, but it could also cause frustration and mistakes among other workers.
To prevent this from occurring, you need to be able to speak and write clearly. No matter the medium, your message should be concise and unambiguous. This is key in any sort of role, but it is even more critical in a remote job.
Your ability to showcase these three skills will set you apart from the sea of marketers out there.