I've been in the game a little while now, and I've had my fair share of hiring flops.
In my content agency, DSLX, we work with a mix of in-house and freelance talent. Our in-house team is mostly freelancers on a 40hr p/w contract. We work with our freelancer talent pool on a per-project basis—this is currently around 40 people strong.
As an entrepreneur bootstrapping my startup, working with freelancers has been a more financially viable way for my business to grow. I don't have hundreds of thousands in funding that I can play around with, nor do I have hiring targets to be hitting for investors; you win some, you lose some.
We hire slowly. We grow slowly. And, that's all okay. However, the DSLX business model wouldn't function without a stellar freelance workforce that we've vetted, trained, and now work with regularly.
But, where have I found them? How can you, as a fellow entrepreneur, find freelance talent to help your business grow?
I'm about to share freelance sourcing, recruiting, and retention strategies that work for DSLX, and I hope can work for your business too.
DSLX: the backstory
Sorry, I'm getting ahead of myself. First up, context. Here's a bulleted list of my journey so far:
My full-time job took a hit in the pandemic: my hours and salary were cut
I picked up freelance writing to help make ends meet
I walked out of the first pandemic with four happy clients and earning more than my full-time salary
I quit my job
I freelanced for a year, building relationships, a client base, and my craft
Things kept growing, and I was maxed out. I decided to launch an agency to cope with the demand
I thought: if I'm going to launch a business, I may as well do something good with it. The agency is called: DSLX. DSLX = Dyslexia. It's a content writing agency founded by a dyslexic writer (that's me!). The mission of the agency is to empower dyslexic and minority group writers to write.
Today the agency:
Has 4 full-time team members
Has 3 part-time members
Works with around 12 writers on a regular basis
Has ten B2B, tech clients

Now you've got the history of DSLX down, let's get into the (beyond) meat of this freelance sandwich.
How entrepreneurs can start advertising for freelancers
The biggest thing here is that I say how, not where. Although I'm sharing specific places, there's no point being there if you're not attracting those freelancers in the first place, and that takes a how.
Job advertising is a holistic strategy that many companies overlook when it comes to hiring freelancers. Freelancers are no lesser workforce than your full-time, payroll employees. They deserve your respect, your empathy, and your patience. Yes, you are paying them for a service, but they are still humans and often a core business function.
These are the places—and their strategies—that have worked for me.
Social media
I've worked in social media for businesses for over a decade. I was there at the start of it all. Yes, yes, I'm showing my age. Your personal social media as an entrepreneur is crucial in showcasing your story, and gathering people for your mission.
Instagram: I use my Instagram feed to keep people up to date on DSLX and build my community. I actually found my second full-time hire thanks to an Instagram story. The platform is budding with freelancers and those happy to celebrate your mission.
View this post on Instagram
LinkedIn: LinkedIn statuses are powerful, and virality is not so far away these days. Consider your hashtags wisely and actively ask your community to share your post to give it the kick up the algorithm it needs.
TikTok: my fickle friend. I've shared a few truly intimate moments on TikTok that have gone viral, and they've been a huge help in bringing freelancers to my door. The great thing is, at the time of writing this article, older TikTok videos continue appearing in people's feeds.
Twitter: the freelance community is rife on Twitter. Hashtags like: #freelancechat #freelancers and #Freelance[industry] are fantastic ways for you to instantly connect to those minds that you need.
Hey, Twitter! DSLX is well and truly running, and we're on the hunt for our next hire! I'm looking for a Lead B2B Writer & Editor to help us create quantity & quality for our clients—who said you can't have your cake and eat it? https://t.co/Wyb0PLz4jy#writingcommunity #writing

— rayslaterberry (@rayslaterberry) February 17, 2022
Reddit: is a relatively new strategy for us, but some DSLX account managers use Reddit to put a shoutout for niche writers. This is something that's been successful for us on a small scale, and it does take quite a bit of vetting!
Word of mouth
If you're leading well, then word of mouth will follow organically. Our third hire was a word of mouth recommendation that was sent to my inbox from a past writer. Keep in mind that word of mouth goes beyond the people you work with.
Stay at the top of people's minds with your content.
Introduce yourself for what you do and what you want to be known for in social situations—this took a lot of battling with imposter syndrome for me to finally introduce myself as a writer.
Everyone you meet can be an ambassador for your business, regardless of context. Stay kind.
Your clients are well-connected. However, they won't think to refer you to a partner business unless they know you're looking—let them know!
Newsletters
At DSLX we have a small newsletter to our writers. We send out around six per year. This newsletter is always packed with useful information for freelance writers. We refer jobs that weren't a fit for the agency, share learning resources, work we're particularly proud of, and we have a pretty decent open and click-through rate because the content is useful.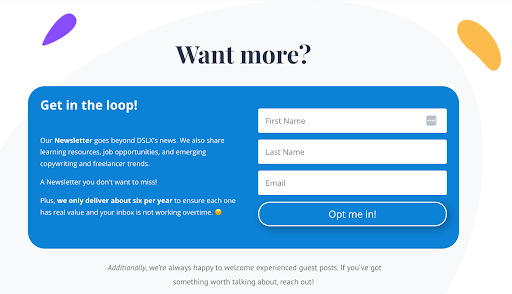 Newsletters can still provide a lot of value if you're sending the right information to the right people. Build a community and ask for freelance referrals from this community when you need them most.
SEO & In-bound Marketing
SEO is a powerful, long-term, inbound marketing strategy. Yet so many businesses overlook it for recruitment purposes. It's a huge gap in the market. If you have the time and talent, you shouldn't have too much of a problem to fill that gap.
At DSLX, we have two audiences that we write for.
Potential clients: part of our SEO strategy writes to the pain points and daily problems our potential clients face, and we educate them on how they can be solved.
Potential writers: the flip side of our content strategy is writing for freelance writers. We educate them on how they can lift their craft, navigate finding clients, and provide useful resources to better manage their freelance business.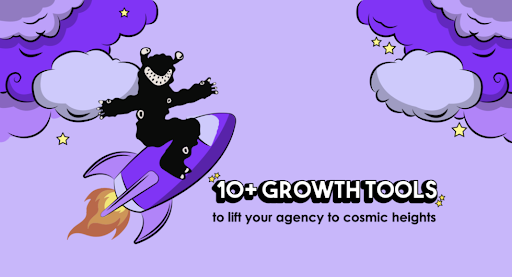 At source
Last, but not least, don't be afraid to go directly to the source of the talent you're looking for. For example, if I read a rocking blog while doing research for an article, I'll take a look at who the author is and track them back to their LinkedIn or Twitter.
Do the equivalent in your field. Wherever you see great work, find out who is responsible for it and find them!
Hurdles to filter out those freelancers that are not a match
I also want to take a moment to mention some necessary hurdles I've put in place when vetting freelancers. These have come through trial and error.
People can spend weeks on a portfolio and have it looking fabulous, however, they've failed to meet deadlines or produce a similar standard of work when I've started working with them. This is what we now have in place to combat this problem.
A paid test
We assign a written test article to all freelance writers we think may be a match. It needs to be paid. Set your freelancer a brief, a deadline, and set them on their way. Sure, they may make a couple of mistakes as it's their first time doing it, but here you're looking to see if they've answered your brief and if they've hit your deadline.
A test rendition
This is probably more important than the test itself. I really pay attention to how freelancers take my feedback and work with it. Are they actively listening and making a conscious effort to implement feedback? Are they taking it onboard with grace? How quickly can they implement your feedback?
A referral/s
This one is huge, and yes it may sound like I'm taking you back to school, but so many businesses fail to put the time in to get referrals.
If you want to be 100% sure on your freelancer, then ask for some referrals and get on the phone to them. At the same time, don't be afraid to offer your freelancer referral contacts so they can do their research on you. This partnership needs to work both ways if you want it to last.
Benefits to put in place to say thanks to your freelancers
Okay, I'm well aware I'm at my word count but the last piece of advice I want to swing your way when it comes to managing a freelance workforce is to find ways you can say thanks to your freelancers, and truly make them feel like part of your team. They are more than service providers.
Here are a few tactics I've put in place at DSLX:
Financial bonuses
When the business does well, our freelancers do well. I share a percentage of DSLX profits with DSLX account managers (half of which are freelancers). It's a stable way I've found to reward the team that fluctuates with the eb and flow of business growth. It ensures I'm not over-promising what I can't afford.
Offering a pay rise
If we find a particular freelancer is absolutely crushing it with their deadlines and quality of work we'll proactively offer to pay them more. This is something we've started doing recently, but I see it as only being fair.
Many freelancers I know are introverted, we're solo artists, and tend to shy away from confrontation or awkward conversations with clients. This means freelancers go underserved or under paid when their craft is rising alongside this inflating economy.
Reach out to your top performers and offer to pay them more.
Allow time-off
People get sick, they need holiday, and they need mental health breaks. Recognize this. Freelancers are not someone you can dump work on during festive periods, nor should you be cutting back a their monthly retainer fee if they get sick and deliver late. Recognize they are human and treat them so.
Perks & gifts
Some companies bat this one to the side, but as an Entrepreneur working with a small workforce I've found and seen huge gratification in gifting. Maybe it's just my love language. I get to know my freelancers, and remember what we chat about. Once a month, I send a small gift their way (if I can) to say thanks.
Retention recognition
This is a massive one. As a freelancer, some of my favorite clients are those that recognize my time with them. In fact, even as DSLX grows, I still stay as the account manager for a couple of my clients from my early freelance days because I value the relationship we've built and I know they feel the same.
It's important to recognize those freelancers that have been with you for so long that they're a part of the furniture. It will encourage them to stay with you.
Referrals for more work
Lastly, I'll often refer freelancers we've worked with to brands looking for writers / designers / developers etc. and DSLX is not in a position to help. This showcases the trust I put in these people, it helps connect the right people to do great work, and everyone walks away happy.
Go build that epic freelance workforce
That's everything, for now, on how you can attract, find, and keep freelance talent. I wish you every success on your journey as an entrepreneur. And, if you're a freelance writer—or know someone who is—you know where to find me! 😉