Are you a marketer or website owner who needs some help with search engine optimization (SEO)?
You're not alone.
Whether you're a rookie, have mastered a few essentials, or consider yourself a master SEO, there'll always be something new for you to learn.
And thanks to the numerous SEO courses taught online, people don't have to go back to college to obtain the knowledge required to climb up the rankings.
Here are some SEO courses GrowthMentor suggests.
Why is training important to learn SEO?
With Google constantly updating the core algorithm and accelerating the implementation of machine learning, you've got to stay up to date with the ever-evolving SEO landscape.
SEO is currently a high-demand skill. Even if you're not a website owner, you could earn an income by charging websites for SEO services as an entrepreneur, marketer, or freelancer. It doesn't matter whether you're an SEO novice, have many years of experience interacting with SEO, or fall anywhere in-between; SEO training is for everyone. And it's definitely worth the investment.
Remember, all SEO courses aren't created the same – so you should look for these attributes in your preferred course:
A knowledgeable instructor
Teaching white hat techniques
Covers the recent SEO material
Here are some choices for the best online SEO courses.
SEO Courses: Our Top Picks
CXL – SEO Editorial Calendar, Link Building & Technical SEO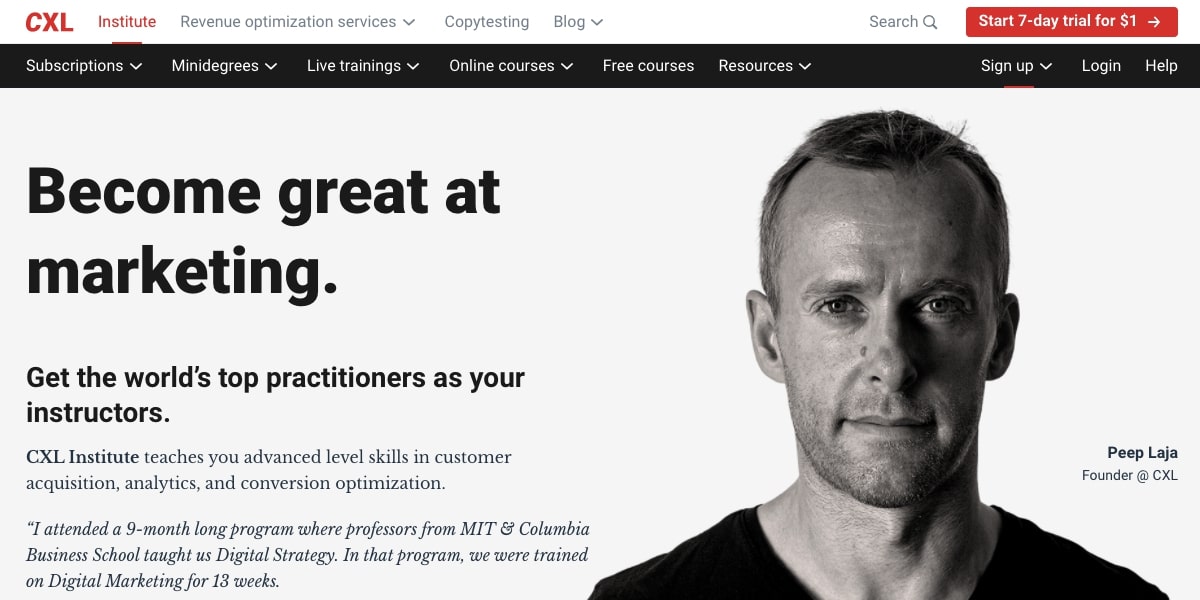 SEO should never be an afterthought and the CXL institute offers three core courses to help you understand the building blocks of a robust SEO strategy. Start with the SEO Editorial Calendar – a 2h 42 minute course that teaches why SEO should be the backbone of your overall content strategy. The course instructor, Dan Shure, covers 4 main topics in the entire curriculum: how to brainstorm topics, content prioritization, building out a content calendar, and the best practices of content-based SEO.
The SEO link building would be a good follow-up course if you're looking to tap into a rare but indispensable skill at the core of SEO performance. Taught by senior marketing manager at HubSpot, Irina Nica, this 4-hour course will teach you how to set campaign goals, plan an effective content and outreach strategy, and how to leverage advanced tactics to boost your backlinks profile. Despite its more straight-forward approach, this course will help you think and operate like a more sophisticated marketer.
An SEO editorial calendar and a proper link building strategy are best complemented by technical SEO – a concept that helps you gain an in-depth understanding of what happens behind the scenes of your website. The 2hr 24 minutes technical SEO course from CXL helps you understand the crucial aspects of a technical audit, what a good URL structure is, how you can utilize JavaScript frameworks to impact technical SEO and more. This 8-module course taught by Martijn Scheijbeler, VP at RVShare is the bullet to outranking your competition with technical SEO.
Offered by: CXL Institute
What you'll learn: These three courses cover the SEO editorial calendar, link building, and technical SEO.
Who're they for: SEO consultants, content strategists & editors, and content marketers.
Price: Personal all-access costs $1,299 for all courses while all-access for teams' costs $5.845 per year. All courses also offer a 7-day trial for $1.
View Courses:
View the SEO Editorial Calendar Course
View the SEO Link Building Course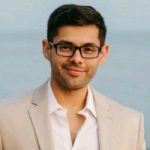 CXL Institute showed me how to go from no optimization program to a fully mature program, and how to handle all the nuances that pop up along the way.

Jonathan R, Product Marketing Manager at RedHat
Ahrefs – Blogging for Business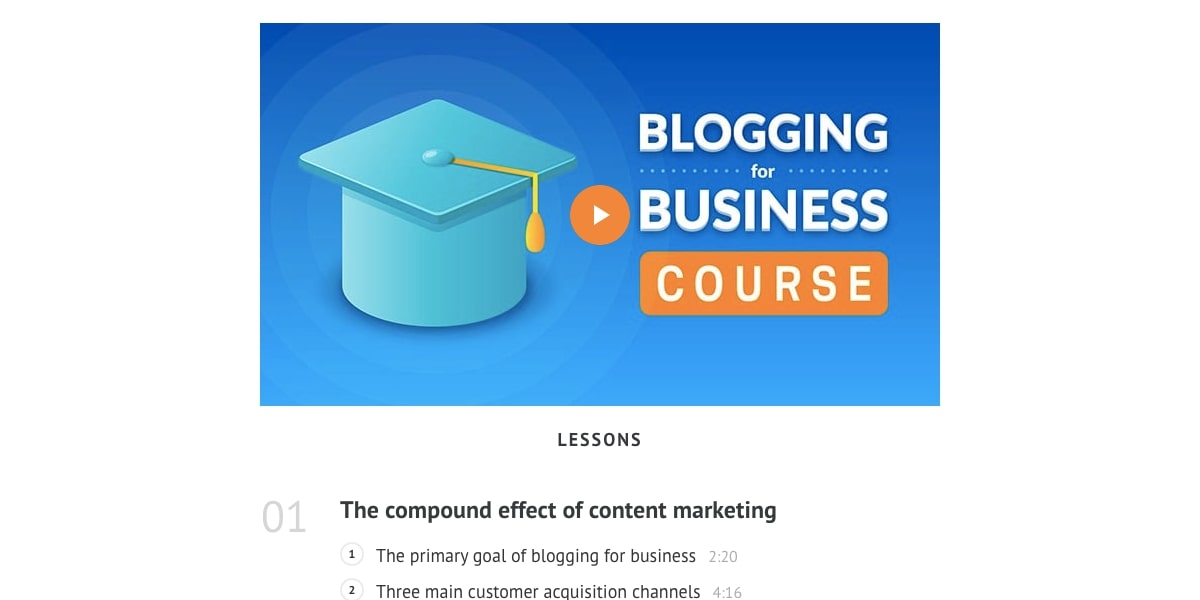 SEO and blogging go hand-in-hand, and the blogging for business course by Ahrefs seeks to emphasize the importance of proper blogging. With this course, you'll learn how to grow your blog beyond the 100k monthly visitors mark and turn hundreds of readers into paying customers. This 4 hour 56 minutes course features 10 tutorials, each of which expounds on various blogging concepts.
The course starts off by highlighting the importance of blogging for your business and the compound effect of content marketing. The 10th tutorial wraps up the course by teaching you how to build links and promote your content through blogger outreach.
As extras, the course also features guest interviews from Noah Kagan, Bryan Harris, and Ramsay Taplin – and it's all entirely free.
Offered by: Ahrefs
What you'll learn: Strategies of growing a blog, analyzing the traffic potential of your blog, how to find excellent content ideas, how to create link-worthy content, and more.
Who's it for: Business owners, bloggers, and marketers
Price: Free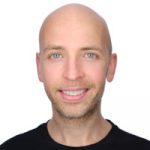 I just had a chance to check out the Ahrefs Blogging for Business course by @timsoulo. Very well done.

Brian Dean, Founder of Backlinko
Moz Academy SEO Essentials Certification (Series)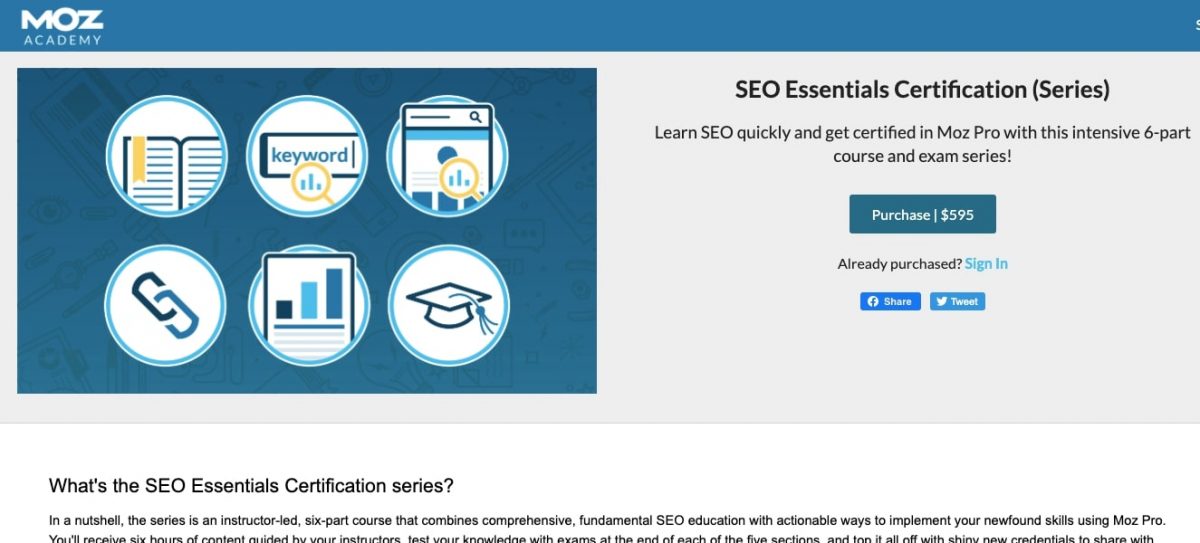 Moz Academy's SEO Essentials Certification is a 6-part, instructor-led course that puts together basic SEO education with actionable ways to implement the skills learned using Moz Pro. This course is a great addition to your arsenal if you're looking to learn and implement SEO fast and efficiently, with the extra benefit of maintaining your proficiency.
This course gives you 6 hours of instructor-guided content, with quizzes and tasks to test your knowledge along the way. There are also knowledge tests at the end of each section, which eventually culminates in a final exam. Upon completion, you'll have credentials to share with your clients, stakeholders, and professional network.
Some of the key course highlights include:
How to prioritize SEO tasks
How search engines determine the value of a site
How SEO fits in with the sales funnel
Important reports to assess the impact of SEO
In-depth application of SEO principles in the Moz tools
You must achieve the required passing score to earn your certification.
Offered by: Moz Academy
What you'll learn: Fundamental SEO concepts, page optimization, keyword research, link building essentials, and reporting on SEO
Who's it for: SEO professionals, site owners, and content marketers
Price: $595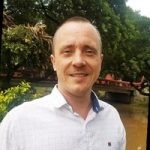 Great stuff. I just signed up. I am an SEO professional, but you can always pick up tips and small snippets from everywhere. I'll spend the next few weeks consigned from home watching the videos! Thanks a lot.

William Lake, Co-Owner at Olive & Lake
Distilled University SEO Course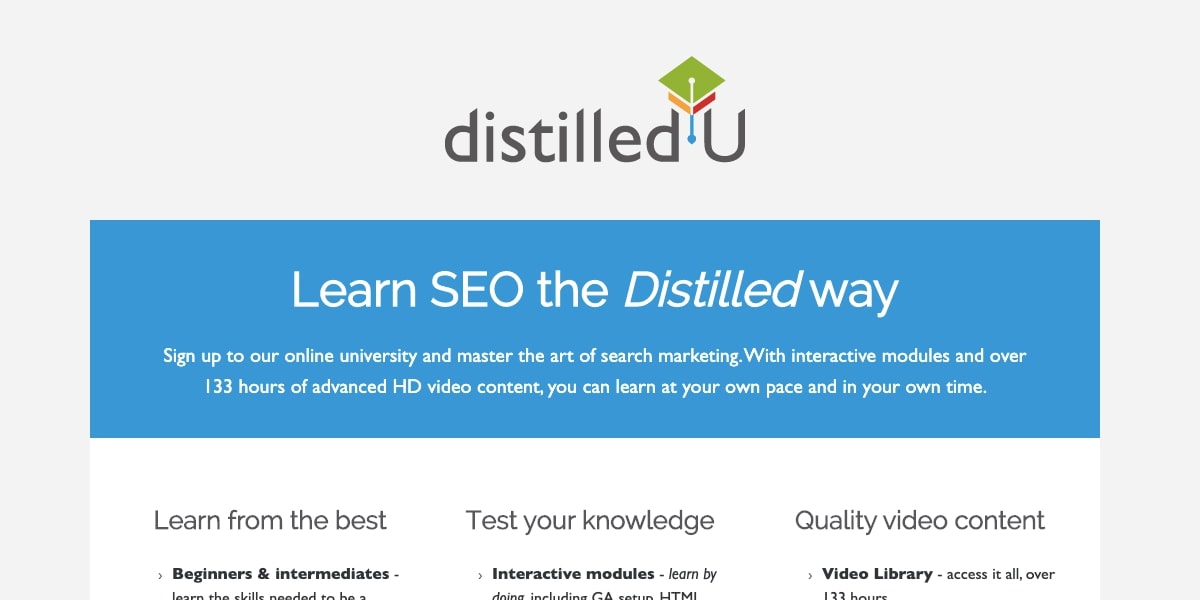 Are you looking for an online university where you can enroll and become an SEO genius? Then Distilled University is the place to be. Its SEO course features two sections: SEO 101 and Further SEO. The introductory SEO 101 course covers the fundamental skills that every SEO professional should know besides their skill set.
Beginners can start with the first module – Search Engine Basics – and work their way down the list of subsequent modules. However, intermediate and advanced students can take on modules in any order.
Learners can then move to the Further SEO section which covers more advanced SEO topics, including linkbait, outreach, content strategy, and SEO tools. The entire course comes with over 133 hours of HD video content and interactive modules, this program lets you learn SEO at your own pace. You can test the waters with the course's demo version that only gives access to 3 modules.
A paid Distilled University account comes with access to all its conference videos including all recent updates. These videos contain top tricks, tips, and tactics from top online marketers across the globe.
Offered by: Distilled University
What you'll learn: Search operator basics, on-page optimization, technical SEO, competitor research, expert outreach, and international SEO among others.
Who's it for: Beginners, SEO professionals, and marketers
Price: $40 with the monthly plan and $33 with the annual plan
Basically, you are bringing the entire process into one place, step by step, in plain English. Simplicity is a genius thing! … Congrats guys, awesome job.

Peter Van den Broeck, Discount Vacation Rentals
Siege Media SEO & Content Marketing Course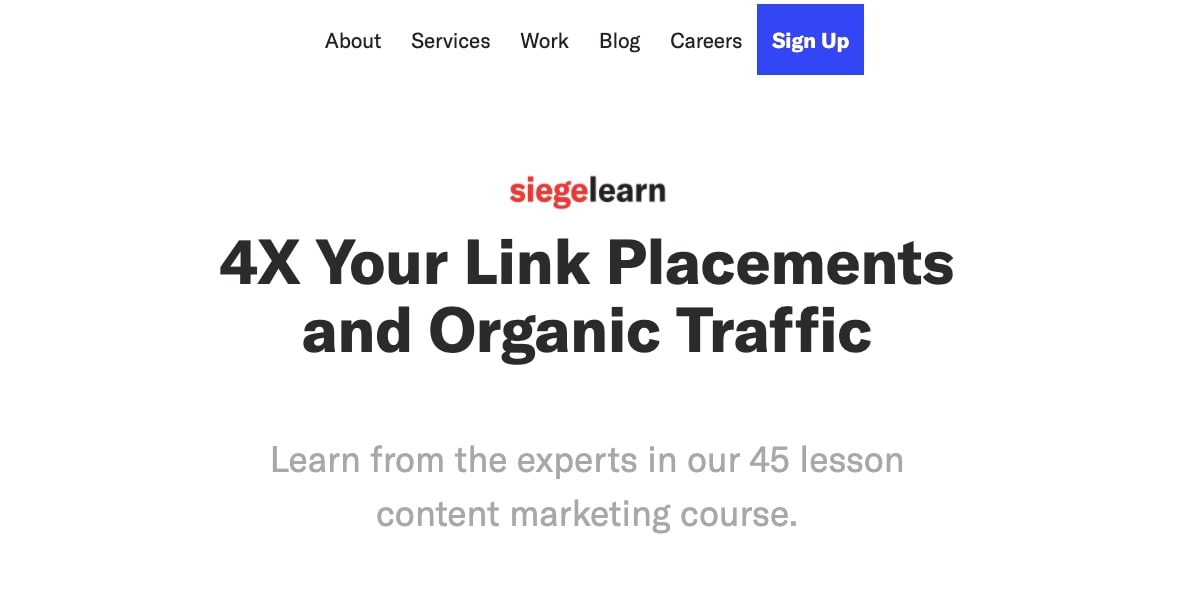 Want to level up your SEO knowledge without investing in expensive tools? The SiegeLearn SEO and Content Marketing course is the easiest way to achieve that. The course curriculum maintains a simple structure to cover three core concepts: content marketing, outreach, and SEO.
The three-course instructors, Ross Hudgens, Caroline Gilbert, and Vince Nero are all experienced SEO and content marketing professionals who will guide you on how to get your content ranking faster. The course also offers practical solutions – its ready-made outreach templates guarantee 20% or higher open rates on average.
Although the course takes on average 2 months to complete, your subscription license gives you lifetime access. The course also promises to continue adding more lessons to keep stabs with the evolving SEO space – at no additional cost.
Offered by: Siege Media
What you'll learn: Content marketing, SEO, and outreach
Who's it for: In-house SEO teams, SEO consultants, link builders, and small business owners
Price: $749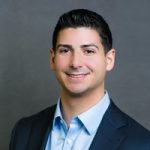 Each individual section is packed with easy to understand tactical advice. I've already begun implementing their recommendations and look forward to tracking the results.

Andrew Saladino, Co-Founder Kitchen Cabinet Kings
Authority Hacker Beginner Program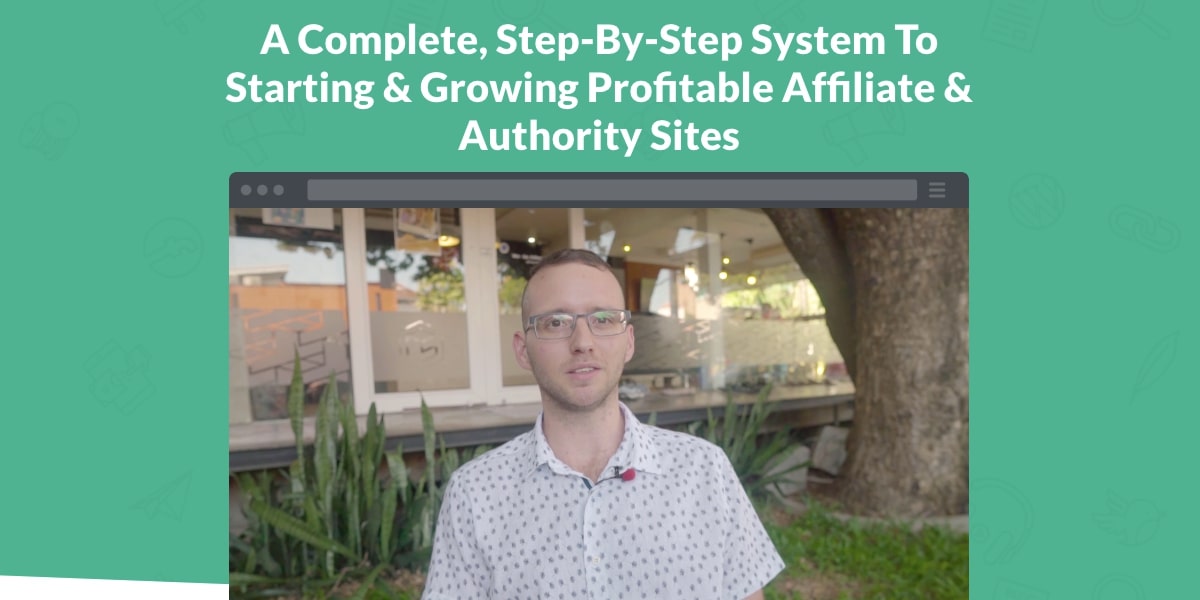 The Authority Hacker stater program is a beginner-friendly course that teaches how to build an authority site around the core SEO fundamentals. This course walks you through each step, from choosing a niche to content creation to site-building to link building. It's simplified to ensure that even those without any online marketing experience can feel at home with the content.
In 5 in-depth modules, more than 120 shoulder videos, and over 70,000 words of support content, you'll have mastered what it takes to build a highly profitable authority site from scratch. For better practicality, this course implements everything presented in its actionable videos. Authority Hacker has also built templates for literally every section of the course – you can use them to replicate exactly what you're doing. The templates cover design, niche research, link building, and full blog content templates.
The course offers a 30-day money-back guarantee just in case you're not satisfied.
Offered by: Authority Hacker
What it does: It teaches beginners how to create a profitable authority site from scratch
Who's it for: Online marketing newbies and website builders
Price: $997
Loving this course! It's set out a straightforward, no-nonsense format that's easy to follow. I've learned so much already and always look forward to the next module! Thanks, Gael and Mark!

Neal McEvoy
Need actionable SEO advice?
Let's face it – SEO can be a tricky concept to learn on your own. Most of those who claim to be experts have no solid idea of what works and what doesn't. Luckily, taking an online SEO course can be a bold move and equally helpful in accessing the newest techniques.
While the courses above can provide knowledge that will come in handy as your online business grows, a few obstacles could hold you back from getting the most out of your course. But that shouldn't be a setback – GrowthMentor can provide actionable advice to help you become a practitioner from day 1. Just book a call with highly accomplished SEO experts for personalized advice you can start implementing immediately.