First, we'll take a look at the growth funnel used for many mobile app marketing strategies.
Then we'll work through user acquisition and how to stand out in the crowded mobile app scene.
The Funnel
The funnel for getting people to use your app is not dissimilar to the pirate growth marketing funnel. There are seven key stages of the funnel. These are:
Awareness – Focusing on how much reach you have in front of potential users.
Consideration– The phase when someone decides whether or not to download the app, this can be tracked by clicks or analyzing web or app searches.
Acquisition– The number of installs of your app.
Activation – The first order or purchase made by a user on the app.
Retention– An important metric to measure- it shows if the app is a success or not. If people only download the app for a day and then delete it, it shows you it isn't serving the intended purpose.
Revenue– Everything around the monetization of the app.
Referral– People telling others to use the app. This is a difficult one to track in the mobile app world.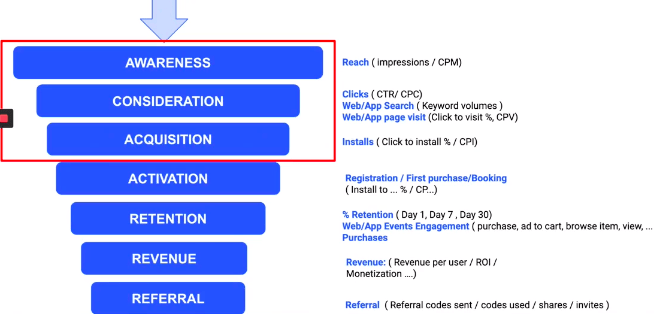 For the purpose of the article, we'll stay focused on the first three stages of this funnel, focusing on the Apple App Store.
The principles can also be applied to other mobile app stores Google Play and Huawei.
How can you fuel volumes of traffic to your app?
When marketing your mobile app, you have unlimited paid opportunities. But for successful app marketing, you mustn't forget the significance of the organic channels. People can find you organically in the app store, by word of mouth, PR, and referrals.
Too often, people start their app marketing strategy by burning through money in the paid channels before considering the potential of the organic channels.
The growth loop
Your app marketing growth loop should focus on a combination of organic and paid strategies. Leverage a combination of app store optimization and app store adverts.
App store optimization is essential for the growth of your app! 70% of apps are found through the app store, and 65% of all downloads come from search.
If you succeed at optimizing in the app store, you will have a growth loop that looks like this: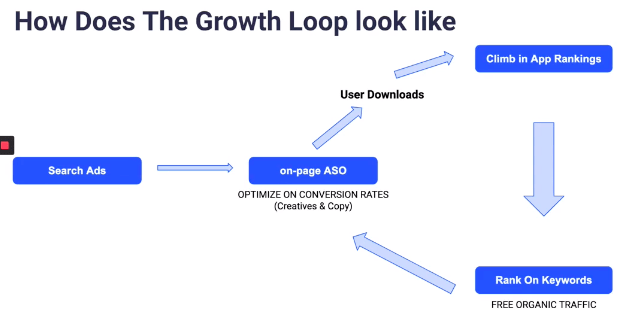 What are the benefits of this growth loop?
Reduces your overall cost per install
Has a direct and positive impact on your organic traffic
The user who searches apps is more loyal – they search because they need something
It provides a clear strategy to keep your User Acquisition team focused
How to get started with app store optimization
Good optimization helps improve your visibility within the app store and improves your conversion rate. You can attract a relevant target audience and won't get random downloads from irrelevant people who just saw your ad.
Getting more downloads via paid ads may seem tempting because you want the immediate reward of your download numbers increasing. But remember, you are playing the long game and don't want people dropping out further down your funnel.
ASO can be compared to SEO
It's your way of finding the right users through the app store. When you type in a keyword in the app store, it shows you all the relevant apps.
Keyword research is just as crucial for ASO as it is for SEO. You should use keywords that are not super competitive but are still highly relevant to your business. If you use relevant keywords in your app description, it should help fuel your app's organic ranking.
For ASO, your title, subtitle, and creatives are essential too.
How do you describe what your app does, what tone of voice do you use?
What are the calls to action? These need to be relevant to your target audience.
Ratings are important for ASO too; for people to find you, good reviews are essential! Encourage customers to leave positive reviews.
Along with reviews, the total amount of installs, the performance of your app, and your retention rate all have a significant impact on the ASO. These factors all tell the algorithm how well your app is doing.
Not sure how well your app is doing with these metrics? Appradar.com is a valuable audit tool that gives you a checklist to set your priorities.
The visuals and wording are super crucial for optimizing your app organically.
Don't underestimate the importance of having great design and visuals
Get creative with your cover picture and screenshots; these will draw people to download your app. You only have three screenshots to explain precisely what the app does and why someone should download it.
Look at your competitors and do better than them.
How to get started with Apple search ads
Just like Google Ads, Apple Search Ads target you with an ad linked to the keyword you searched for in the app store.
Using Apple Search Ads is one of the only channels you can actively promote within the app store. This makes it highly competitive as not everyone can rank in position 1. If a customer sees an ad for the type of app they are looking for, they are likely to click on it and immediately end their search.
You may think about trying the strategy of ranking for your competitor's keywords, but remember they can do this to you too.
The ad needs to be super relevant to the keyword you're bidding on. Don't use the automatic bidding setting of Apple search ads; you will burn your money! Keep it relevant to your app. Try to optimize your search ads on precise keywords.
Do organic optimization and paid ads work together?
Consider App Search Optimization and App Serch Ads as one. They are one machine that works together for the same goal. Get the ASO basics done first. When you get this right, you can explore optimizing your search ads. If you want your app promotion to succeed, remember to use your learnings to make constant tweaks to your strategy.